NEWS
The transfer window opens tomorrow (January 4th) and the speculations continue as to which players will leave and arrive at the club.
It was recently revealed that Maxi Gomez did not participate in the last game due to an attitude problem. To incentivize better performances from the team's main striker, Javi Gracia put him on the bench for the game. Maxi Gomez has taken to social media to say that he will work hard.
Javi Gracia reassured fans in the pre-match press conference that he has no problems with Maxi Gomez. He also reaffirmed that he is absolutely committed to this project with his maximum capacity.
It was also announced today that Marcelino will take over at Athletic Bilbao until 2022 after their current coach was sacked.
PREVIEW
In the last round, Valencia suffered a 2-1 loss away to Granada. While Valencia did well to take the lead via a first half goal from Gameiro, he would later score an own goal at the end of the first half to level the game. The second half saw three red cards, 2 for Valencia (Guedes and Jason) and 1 for Granada (Duarte). With Valencia outnumbered they managed to hold on till the 88th minute before Molina headed in the winning goal.
Cadiz played out a 0-0 draw at home against Real Valladolid in their previous game. Although the away team had the bigger share of possession, the game was otherwise even in chances.
Valencia are currently in the relegation spots at 18th with 15 points from 16 games. Cadiz are 12th with 19 points from 16 games.
FORM (all competitions)
Valencia: LLDWD
Cadiz: DLLLW
SQUAD
Toni Lato has been recovered and has finally tested negative from COVID-19. Guillamon overcame his muscular injury. They are both available for selection. While Racic has somewhat recovered from his vertigo and participated in some training but will not be ready for this game.
Guedes has been handed a 2 game suspension following his comments to the referee last game, and Jason gets just the one game for his red card. Paulista and Cillissen are still dealing with their injuries.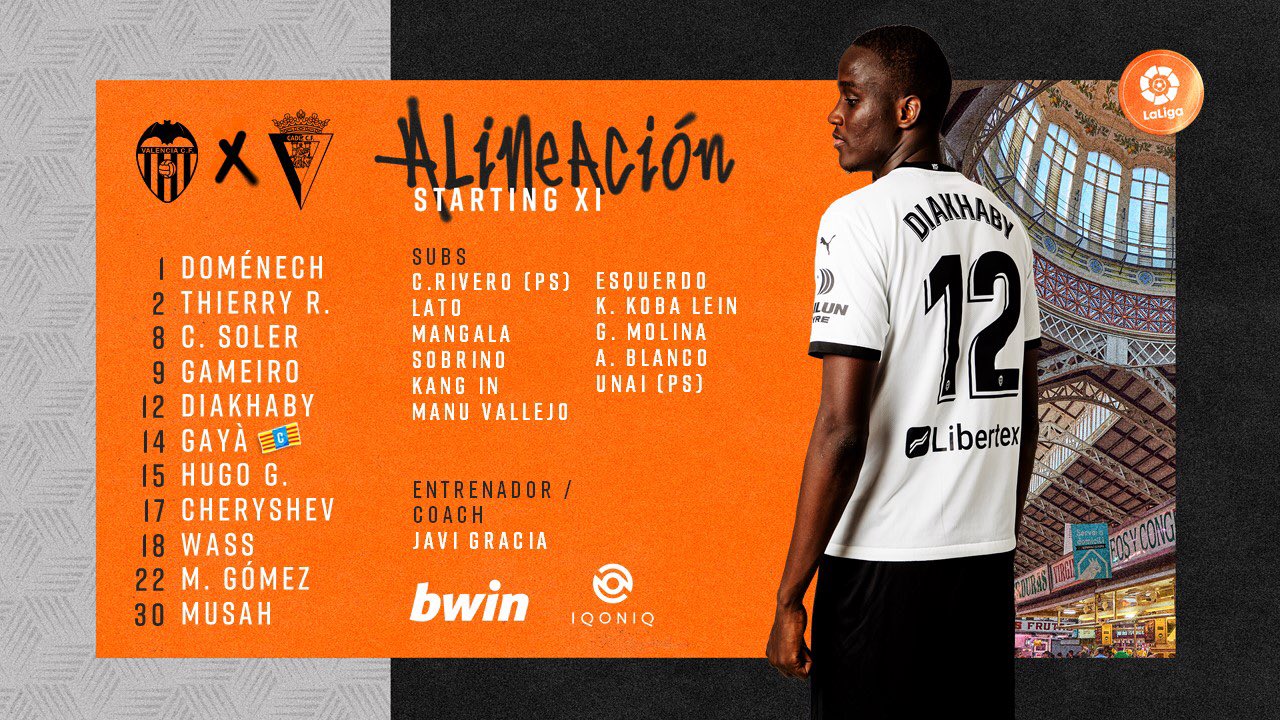 FIRST HALF
15' - Yellow card shown to Cheryshev for a challenge on Iza
18' - Yellow card shown to Guillamon for a heavy foul on Negredo
23' - Good cross into the box from Correia is headed by Maxi Gomez on target but Ledesma taps it over the crossbar.
25' - Gameiro picks up an injury and is forced off the field. Look of frustration on his face having just returned from an injury.
26' - First substitution for Valencia, Kang In Lee replaces the injured Gameiro
35' - Yellow card shown to Lozano for a late challenge on Guillamon
38' - Soler picks out Wass with a forward pass. Wass finds Cheryshev nearby, he controls the pass with one touch and shoots with his left foot to the far post, narrowly missing
45' - One minute added by the referee for stoppages
HALF-TIME
Very tame half from both teams, no one really threatening or testing the opposing keeper. The introduction of Kang In for Valencia energized the team and sparked some improvement in play. Yet, the final pass is always lacking, preventing Valencia from taking the lead.
Half-time stats. 4-4 shots, 1-0 shots on target, 72-28% possession, 88-66% pass accuracy
SECOND HALF
46' - Substitution for Cadiz. Akapo replaces Isquierdo.
58' - Goal for Cadiz. 0-1. Espino beats Correia with a quick change in direction, cuts inside and puts in a cross, which is hit by Iza into the air and setting up an overhead kick by Lozano. Jaume gets a touch but cannot keep it out
64' - Double substitution for Valencia. Cheryshev and Musah are replaced by Vallejo and Blanco
67' - Soler takes a shot from distance and manages to test the keeper, who spills the save. No Valencia players are nearby to capitalize
69' - Yellow card shown to Negredo for an elbow to the face of Guillamon
72' - Corner for Cadiz is headed by Lozano and it strikes the post and deflects away from goal. Almost a second for the away team
74' - Double substitution for Cadiz. Alvaro Gimenez and Malbasic on, Lozano and Negredo off
76' - Final substitution for Valencia. Sobrino comes on for Wass
78' - Goal for Valencia! 1-1! Espino makes a mess of the clearing header and gives possession to Gaya on the left channel. Gaya looks up, takes a touch and picks out Maxi Gomez at the far post who heads it past the keeper.
89' - Final change for Cadiz. Perea off, Alex Fernandez on
90' - Four minutes added by the referee for stoppages
FULL-TIME
Another draw to maintain the point per game average for Valencia. Cadiz took the lead and Valencia equalized but there were many chances on the counter attack in the final few minutes of the game that would've given all three points to Cadiz. They failed to take those chances due to poor final passes, fortunately for Valencia.
Full-time stats. 11-9 shots, 4-2 shots on target, 72-28% possession, 86-67% pass accuracy
Next game for Valencia is on Thursday January 7th away to Yeclano for the second round of the Copa del Rey.