NEWS
Alex Blanco's contract has been renewed to 2022. There was a clause in the player's contract that will automatically trigger the renewal should he play 10 games this season and that has been fulfilled in the Copa del Rey game against Sevilla.
The club is trying to secure Kang In's contract renewal with new interest coming from other clubs. These are rumored to be Juventus and Real Madrid.
Pablo Longoria has been hired as the President of Olympique Marseille.
There were also rumors that Valencia maintain their interest in Pepe Bordalás as coach. With Getafe also struggling for form, his position has been questioned and Valencia is reportedly keeping an eye on the situation. Apparently, the choice made in the summer was between him and Javi Gracia, and management settled on the latter since he was without a team and could be lured easier.
PREVIEW
Getafe come into the game on the back of a 1-0 defeat away to Real Betis. The home team dominated the possession and chances but Getafe managed to hold on up until the 84th minute when they conceded a penalty.
Valencia arrive with a 2-0 home against Celta Vigo in their previous fixture. While Valencia played better than in their past few games, the game was at a deadlock until injury time where Valencia scored twice. The goals came from Manu Vallejo and Gamerio, both introduced as second half substitutions, with set ups from Kang In and Correia who put in some good work this game.
Getafe are currently 15th in the standings with 24 points from 24 games. Valencia are 12th with 27 points from the same number of games.
FORM (all competitions)
Getafe: LLLLD
Valencia: WLDWL
SQUAD
Diakhaby has recovered and expected to be in the squad that travels to Getafe.
Javi Gracia has served his suspension and will return to the sidelines.
Piccini requires many weeks to get back to match fitness according to Javi Gracia and will likely not appear until close to the end of the season.
Cheryshev still deals with some discomfort and will not be part of this week's squad.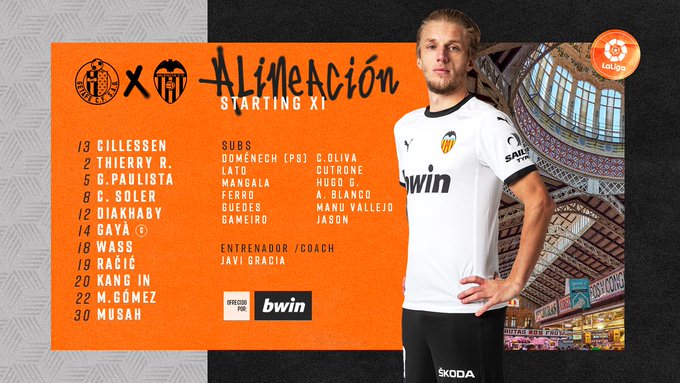 FIRST HALF
6' - Yellow card shown to Theirry Correia for a tactical foul on Mauro Arambarri to stop the counter-attack
13' - Yellow card shown to Enes Unal for an arm to the face of Gaya
28' - Yellow card shown to Djene for an off-the-ball challenge on Kang In before the corner
31' - Yellow card shown to Cabaco for a challenge on Kang In Lee who had robbed him off the ball in a dangerous position
39' - Goal for Getafe. 1-0. Mauro Arambarri gathers the attempted clearance from Correia, takes on touch and shoots from quite a long way out. Cillissen gets his fingertips to it but cannot keep it out.
45' - Three minutes added by the referee for stoppages
HALF-TIME
Half-time stats. 8-2 shots, 1-0 shots on target, 42-58% possession, 54-64% pass accuracy.
Rough half for both teams with 4 yellow cards already. Both teams struggled for chances and the difference is a long range strike that not much could be done about.
That being said, Getafe picked up a lot of yellow cards and two of them went to their central defenders. Under more pressure, this will force them to back away from challenges or get a red card which Valencia can capitalize on.
SECOND HALF
51' - Red card shown to Diakhaby for pulling down Maksimovic as the last man, thereby denying a goal-scoring opportunity. First game back and a costly error.
53' - First change for Valencia. Guillamon replaces Musah to reinforce the defense after the card.
54' - Unal with a 1 v 1 chance against Cillissen but he cannot score. That was very fortunate.
55' - Goal for Getafe. 2-0. Jaime Mata finishes a good pass from Unal
57' - Yellow card shown to Cucurella for a rough challenge on Paulista
64' - First change for Getafe. Chakla replaces Cabaco
68' _Second change for Valencia. Gameiro on, Racic off
73' - Second change for Getafe. Cucho Hernandez on, Enes Unal off
75' - Red card shown to Paulista but overturned by VAR. That would've been really bad.
76' - Yellow card shown to Nyom for a challenge on Gaya. Yellow card shown to Gaya for dissent against the referee after that challenge.
81' - Double substitution for Valencia. Cutrone and Oliva on for Maxi Gomez and Carlos Soler
85' - Triple substitution for Getafe. Alena, Kubo, and Timor come on for Nyom, Mata and Arambarri
86' - Goal for Getafe. 3-0. Cucho Hernandez with a cross that was volleyed by Alena past Cillissen.
89' - Cillissen with good save to deny a fourth goal.
90' - Five minutes added by the referee for stoppages.
90+5' - Gullamon with a brilliant through ball to break down the defense. Gameiro pull its back for Kang In but he takes too many touches and the chances fizzles out.
FULL-TIME
Full-time stats. 15-5 shots, 4-0 shots on target, 42-58% possession, 58-68% pass accuracy.
Another embarrassing game. A defeat to rivals that allows them to go ahead in the league standings. And yet again, not a single shot on target for Valencia. The team failed to build on the positive result of the previous game.
The result of the first half was rescuable especially with the vulnerable central defenders of Getafe (both on yellow cards). However, it would be Valencia who would pick up the red card first, taking away any chance at a comeback and would widen the gap between teams. Getafe would grab a second goal soon after. The situation was comparable to a challenge by Getafe in the first half and they walked away with only a yellow card.
Valencia almost picked up a second red card after Paulista's challenge but the situation was rescued by VAR which overturned the decision.
Getafe kept up the pressure sensing weakness and grabbed a third, and almost a fourth. Valencia almost produced a goal in the final minute but there was no finish.
Paulista in the post-match interview was in tears as he reflected on the current situation of the team. Where do they go from here?
Next match is on Friday March 5 against Villareal at Mestalla.