PREVIEW
Real Madrid's previous fixture was midweek at home against Getafe - a game that they won 2-0. The game was fairly one-sided with Real Madrid dominating possession and the vast majority of chances. A header from Benzema to meet a cross from the right wing put the home team in front, before Mendy extended their lead with a tap in from a cross from the opposite flank.
Valencia played out a 1-1 draw at home against Athletic Bilbao in their last fixture. An own goal by Hugo Guillamon put the away team in front just before half-time. Valencia equalized in the second half through a corner set piece delivered by Soler and converted by Paulista.
Real Madrid are currently 3rd with 46 points from 22 games. Valencia are 12th with 24 points from 22 games.
FORM (all competitions)
Real Madrid: WWLWL
Valencia: DWLLD
SQUAD
Javi Gracia and Guillamon will both serve their suspensions this game, having delayed it for the past two games. This will be the first of two games for Gracia and the only one for Guillamon. With Diakhaby and Mangala injured, Ferro will certainly start this game.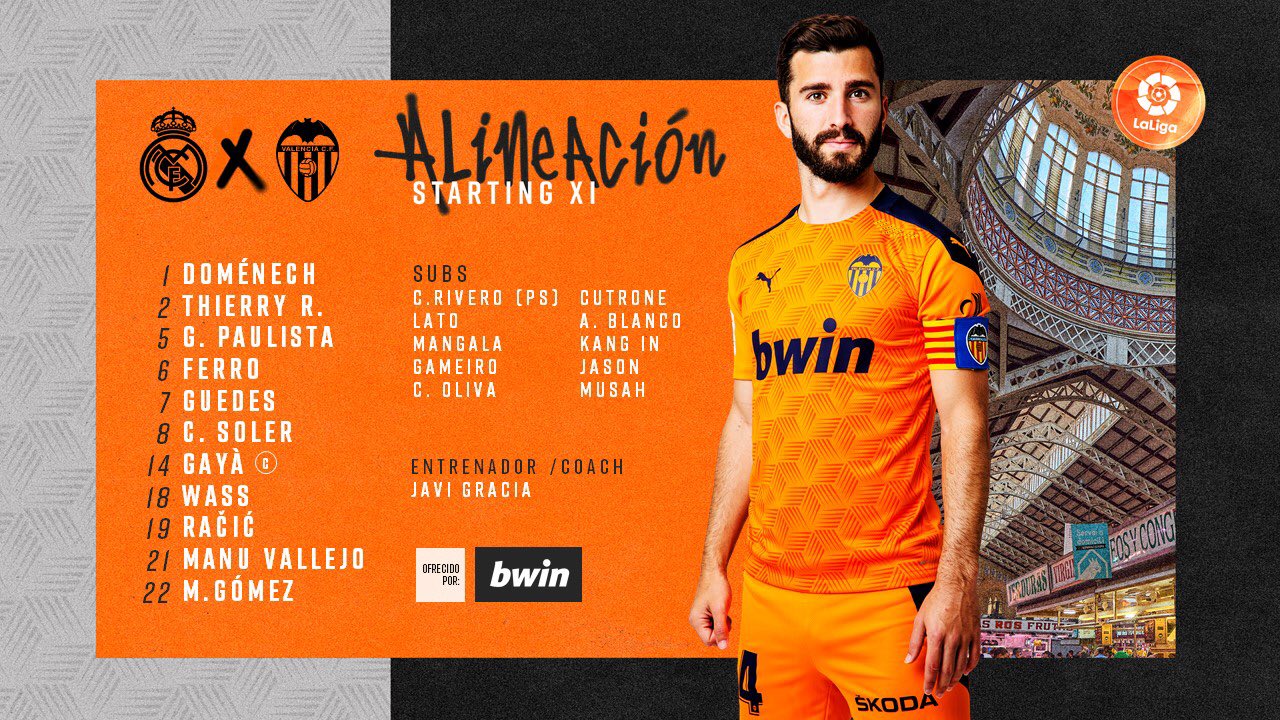 FIRST HALF
12' - Goal for Real Madrid. 1-0. Benzema with an effort from just outside that box that travelled across and into the goal at the far post.
27' - Yellow card shown to Guedes for a tackle from behind on Varane
28' - First change for Real Madrid. Vazquez replaces the injured Carvajal.
30' - Modrid receives the ball wide on the right and plays a first-time cross to Benzema who attempts to flick the ball past Jaume. Paulista throws his who body in front of the shot to deny the goal.
40'- Modric gets free from Soler at the edge of the penalty area with a couple of touches before firing at goal. Jaume punches the ball back into play towards Modric who wins a corner after his shot deflects off of Paulista.
42' - Goal for Real Madrid. 2-0. No urgency from Valencia as Madrid pass the ball around. Kroos to Asensio to Modric while Gaya does little to pressure. A pull-back to Vazquez and another to Toni Kroos who hits it low and into the net at the near post.
44' - Yellow card shown to Racic for a rough challenge on Vinicius
45' - One minute added by the referee for stoppages
HALF-TIME
Half-time stats. 10-0 shots, 5-0 shots on target, 67-33% possession, 91-79% pass accuracy.
The stats speak for themselves. This was very poor from Valencia. Despite the urgency of the situation the team is in with the standings, and the quality of the team in front of the them, they have failed to step up.
Real Madrid got away with playing at a very tame pace without challenge or punishment. Even still, they managed to get 2 goals doing so. Valencia meanwhile, not a single shot, let alone any on target.
Gracia needs to wake the team up in half-time or else this could get really bad in the second half.
SECOND HALF
45' - Double substitution for Valencia. Musah and Gameiro on, Guedes and Vallejo off
46' - Yellow card shown to Theirry Correia for a challenge on Vinicius
53' - Maxi Gomez gets the first shot on target from a long way out and forces a save out of Courtois
61' - Goal over-ruled. Real Madrid put the ball in the back of the net but he was offside when he received the ball.
64' - Double substitution for Valencia. Kang In and Oliva replace Wass and Soler.
71' - Second change for Real Madrid. Asensio is taken off, Sergio Arribas takes his place.
78' - Double change for Real Madrid. Benzema and Modric are replaced by Mariano and Isco
82' - Final change for Valencia. Cutrone on, Maxi Gomez off.
90' - Three minutes added by the referee for stoppages.
FULL-TIME
Full-time stats. 16-4 shots, 7-1 shots on target, 61-39% possession, 91-84% pass accuracy.
Valencia barely managed to contain the damage to the 2 goals conceded in the first half. They also managed to get a shot on target and test Curtois. Other than that, it was more of the same lethargic team that showed up in the first half.
The commentary on beIN sports was saying how embarrassing the first half was for Valencia and that they would struggle to find another game that was this easy for one team this season as the one they've seen today. That about sums it up.
Next game for Valencia is on the 20th at home against Celta Vigo.