NEWS
There was confirmation in the past few days that Guedes was left out of the Sevilla game by technical decision rather than illness/injury. Apparently, there are attitude problems, same as what happened with Maxi Gomez earlier, and Gracia decided to send a message to him. In training, the captains had a word with Guedes, as they did with Maxi, to try to get him motivated and relay his importance to the team.
The player that tested positive for COVID turned out to be Kevin Gameiro. There was a report of another positive test since the Sevilla game.
Javi Gracia and Hugo Guillamon were handed a 2-game and 1-game suspension, respectively, following a recent ruling by the RFEF committee. This was for the intentional yellow card received by Guillamon under instruction from Gracia which was caught on camera in the Atletico Madrid game on November 28. In that game, Guillamon was on 4 yellow cards, 1 away from suspension, and picked up an injury. Before being subbed off, Gracia instructed the player to get a yellow card to waste time, and since he would be out for 2 weeks due to the injury, it wouldn't matter. This is against the rules. Valencia is trying to postpone the punishment due to the shortage of players in defense.
Alex Blanco has been officially promoted to the first team. The Mestalla B team recently signed Outtara from Lille on loan with a purchase option, he takes the spot left by Alex Blanco.
Gracia, in the pre-match press conference, reflected on the fact that the transfer window is in it's last stages and he is still in the dark about whether or not signings will be made.
A decision of Kang-In's future will be postponed until summer, for now it appears he will stay. Gracia added in the press conference that he think he is a promising player who showed a lot of maturity and that he hopes he will stay.
There were reports though that Gaya was at least willing to listen to offers. Barcelona is lurking about and have reportedly made a 15 million euro offer already.
In other transfer rumors, there were reports that Valencia had all but closed of Patrick Cutrone from Wolverhampton and the only obstacle left is facilitating the departure of Sobrino to Cadiz. In midfield Valencia is currently pursuing Luis Florentino (Monaco), Nakamba (Aston Villa), Edson Alvarez (Ajax) or Lucas Torreira (Atletico Madrid).
PREVIEW
Valencia come into this game on the back of 3-0 away defeat in the Copa del Rey round of 16 to Sevilla in midweek. Javi Gracia fielded a weakened team to rest his players for the La Liga fixtures and ended up suffering a big loss.
Elche's previous fixture was last week, giving them an additional few days rest. They played at home against Barcelona and suffered a 0-2 defeat.
Valencia are currently 14th in the league with 20 points from 20 games. Elche are 19th with 17 points from 18 games.
FORM (**all competitions)
Valencia: LLDWW
Elche: LDLLW
SQUAD
Cillissen and Diakhaby are still out with injuries with Gracia saying that the former could be back after 2 weeks in the best case. Mangala also has an injury but there is some hope that he will be available. Guillamon and Gracia has been cleared to participate after the success of the appeal on the RFEF decision.
Cheryshev has had some discomfort and it is a doubt whether he will start. Gameiro still hasn't tested negative and will miss the game as well. There are still question marks as to who the second player with the positive result is.
Gracia was asked about Piccini's situation and answered that he believes Piccini has a ways to go to be match fit due to his long-term injury and not playing much with Atalanta.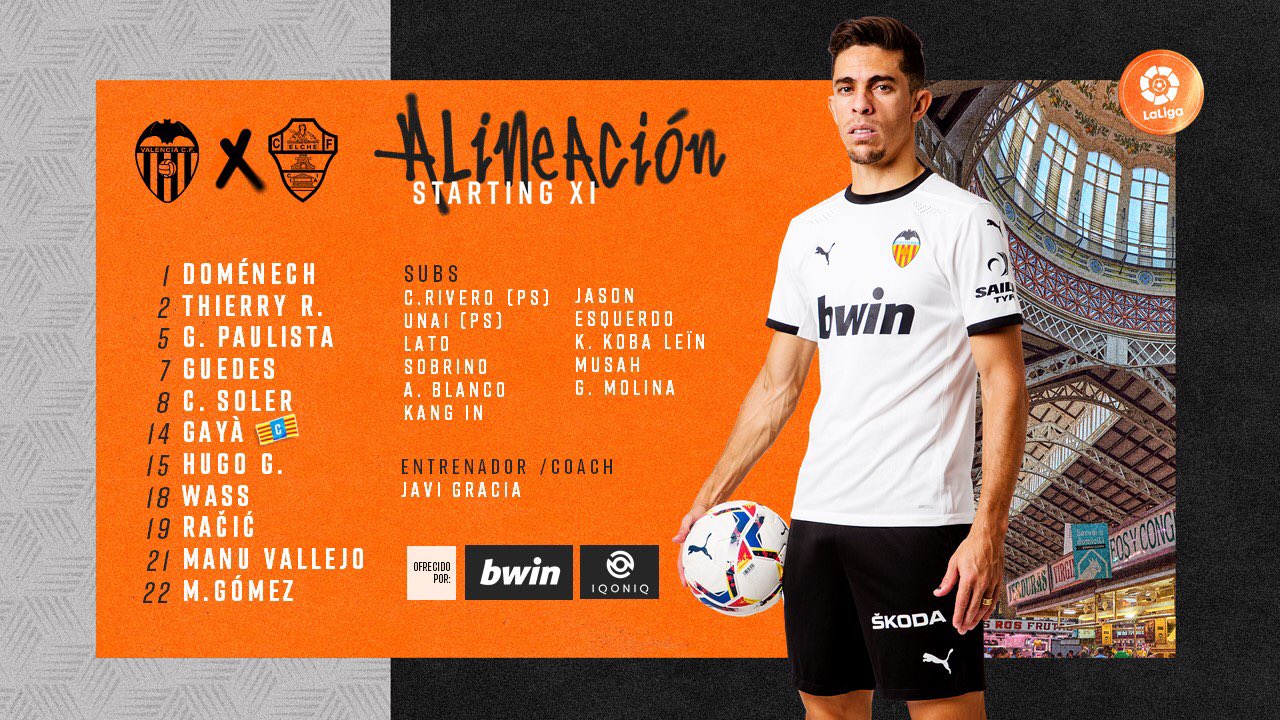 FIRST HALF
4' - Yellow card shown to Gonzalo Verdu for a late challenge on Manu Vallejo
9' - Gaya plays an early cross into the box after spotting the run from Wass. Both Wass and the keeper come from the ball but Wass gets there first and heads it away from him. He takes a few touches as the defenders scramble to cover their exposed goal. He decides to take the shot but it hits the chest of the defender. There are some appeals for a hand-ball but they are shut down.
22' - Goal for Valencia! 1-0! Racic finds Guedes wide who beats his marker for pace before crossing. Wass meets the cross with a header into the ground which the keeper gets a touch to, but cannot keep out.
30' - Mojica lobs the ball over the defense and sends Morente through towards goal. He into the box with Paulista scrambling back to meet him. He fakes him and takes a shot at goal, but it is over the crossbar.
33'- Penalty for Valencia and yellow card shown to Barragan. Manu Vallejo was taken down in the penalty box to prevent him from getting on the end of Wass's cross. Soler steps up to take the penalty.
34' - The penalty is saved. Badia guesses the correct way and pushes it for Barragan to clear.
37' - The corner delivery into the box is cleared by Maxi Gomez and out of the box. Mojica is strikes the clearance on the volley and manages to keep it on target, Jaume does well to save it.
42' - Yellow card shown to Morente for dissent
HALF-TIME
Half-time stats. 7-5 shots, 4-1 shots on target, 56-44% possession, 83-83% pass accuracy
Decent half from the team, although clearly would've been better if Soler had put away the penalty to give Valencia some breathing room.
Valencia looked the better team in most areas of the field but that is not to say that Elche didn't cause a threat. It was good to see the team press their defense so well in the first 20 minutes or so in an attempt to force errors.
Guedes did well to set up the goal for Valencia, beating his defender and crossing into a good position for Wass to connect with it. Credit to Wass for keeping his eye on the ball and attacking it, ahead of all the defenders.
Valencia would have a chance to make it 2-0 after Vallejo was tackled in the penalty box to deny him a chance to head Wass's cross. Soler stepped up and despite his good conversion, couldn't beat the keeper today.
SECOND HALF
Double substitution at half time for Elche. Barragan and Jose Pomares are replaced by Pere Milla and Miguel Cifuentes.
48' - Yellow card shown to Ivan Marcone for a rough challenge on Soler
49' - Soler with a bit of individual skill drives the ball forward and beats a few defenders, opening up a chance at goal. His shot is deflected wide. Would've been a wonderful goal.
61' - Guedes with another well-hit cross, this time low and across goal towards Manu Vallejo. It hits Cifuentes, takes another touch off Verdu and into the post. Soler is closest but he cannot get it past the keeper.
65' - Yellow card shown to Diego Gonzalez for an elbow to the head of Maxi Gomez
70' - Yellow card shown to Wass for a shoulder into the back of Milla
73' - Yellow card shown to Rigoni for dissent
74' - Substitution for Valencia. Vallejo is replaced by Kang In Lee
75' - Guedes attempts to test the keeper from distance but misses the target.
77' - Substitution for Elche. Guido Carillo on, Rigoni off
80' - Substitution for Elche. Raul Guti is replaced by Victor Rodriguez
87' - Substitution for Valencia. Musah replaces Guedes
89 - Substitution for Valencia. Koba Lein replaces Racic due to injury
90' - Three minutes added by the referee for stoppages
90+1' - Yellow card shown to Victor Rodriguez for a heavy challenge on Kang In
90+3' - Guillamon does well to deny the cross from reaching its target.
FULL TIME
Full-time stats. 14-10 shots, 4-1 shots on target, 45-55% possession, 80-82% pass accuracy.
Despite, the uneventful second half, a very important three points were secured and some distance gained on the relegations spots.
Valencia managed to hold onto their one goal lead for the entirety of the second half without conceding. The scoreline was much closer than they would've wanted and caused additional stress in the half.
Valencia's next game is away to Atheltic Bilbao on Sunday February 7th. The transfer window closes end on Feb 1st.