NEWS
Valencia have recovered Cristino Piccini from Atalanta this week by cutting his loan short. The player was largely unused in his time in Italy and agreed to a pay-cut to facilitate his arrival. Gracia welcomed his arrival saying that he will be reinforcing a position where they don't have a lot of strength. He added that he needs to evaluate Piccini's fitness level and decide how he can contribute the most to the team. Most likely this transfer will free up Wass and move him to a midfield or wide-midfield role.
The draw for the Round of 16 of the Copa del Rey was made and Valencia drew Sevilla. It was decided that the game will be played at Sevilla's ground, adding to the difficulty of the challenge for Valencia.
The club also announced the renewal of Paulista's contract this week, extending his stay at Valencia to 2024.
PREVIEW


Atletico come into this game having beat Eibar away from home 1-2 in their last fixture. Atletico gave away a penalty 10 minutes in and strangely enough the keeper Dimitrovic took it and converted it. Five minutes from half-time a defensive error by the home team gave the ball away to Suarez in the penalty area who scored from a tight angle to even the game. The game would remain deadlocked until the final minute of full-time where a penalty was awarded to Atletico and Suarez would put it away to secure all 3 points.
Valencia's previous game was a rather dull 1-1 draw at home against Osasuna. Jonathan Calleri put the away side in the lead a few minutes from half-time from a counter-attack in which Osasuna would get more than one go at goal as their blocked shots would fall back to their own players until they scored. Valencia would get the equalizer after a link-up play between Musah and Maxi at the edge of the penalty area to penetrate the defense, however, the ball was put into the back of the net by Osasuna's own defender.
Atletico are currently top of the league with 44 points from 17 games, while Valencia are 14th with 20 points from 19 games.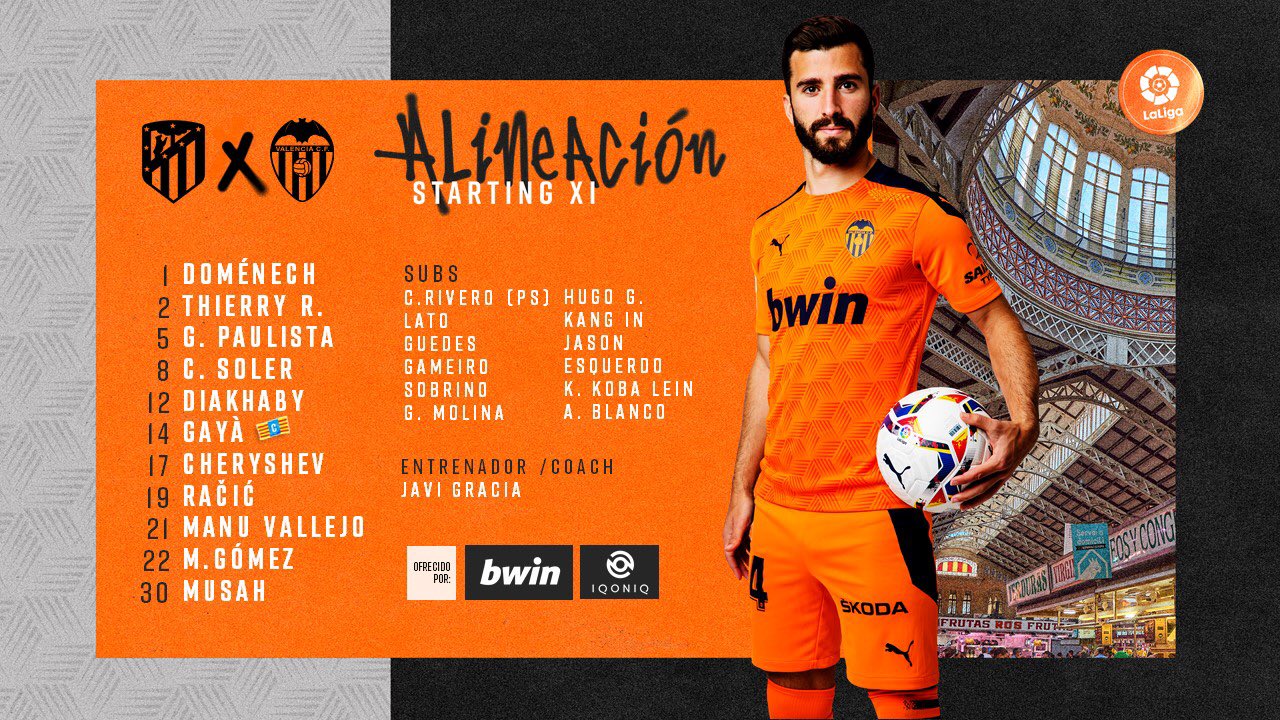 SQUAD
There were reports earlier this week that Racic was struggling with knee problems and Soler with ankle discomfort in training. This put question marks on whether or not they would start. Koba Lein and Esquerdo's names was brought up in the pre-match press conference as a possible starter in their stead. However, it looks like both felt good enough to start with the academy players available on the bench if necessary.
Wass misses the game through supension caused by accumulation of yellow cards. Mangala seems to be out by technical decision and Cillissen is still dealing with his injury.
FIRST HALF
6' - Jaume produces a diving save in response to the Gimenez header following the corner but he puts it back into play. Thankfully Soler is the closest to it and can clear
8' - Valencia respond with a good chance of their own on the counter-attack. Cheryshev does well to beat his marker and pick out Vallejo with a through ball. Vallejo takes a shot from a tight angle and it is saved by Oblak. Cheryshev sets up another chance fooling his marker again and gets into the box and puts in a cross for Maxi Gomez but he cannot capitalize.
11' - Goal for Valencia! 0-1! Gaya squares the ball to Racic, just outside the penalty area and unmarked with no one stepping up to pressure him. Racic surprises everyone with a shot first time from range that curls away from Oblak and settles in the back of the net.
22' - Goal for Atletico Madrid. 1-1. Lemar's corner is sent to the far post. Joao Felix gets ahead of Correia and hits it at goal. Jaume gets a touch to it but cannot keep it out. VAR checks for a foul but none found.
30' - Yellow card shown to Vrsaljko for an elbow to a head on Vallejo
34' - A deflection of Soler sets the ball onto Llorente's path and gives him a shot from distance which takes another deflection on the way out
40' - Diakhaby is on-target with a header from a Soler corner kick
45' - Two minutes added by the referee for stoppages
HALF-TIME
Half-time stats. 5-3 shots, 2-3 shots on target, 51-49% possession, 79-80% pass accuracy
Valencia have done well to keep up with Atletico this first half. They took the game to them, pressured them and threatened them on the counter.
Valencia took the lead in a unconventional way with a long-range shot from Racic catching Oblak off-guard as it curled away from him and into the net.
Atletico would equalize 10 minutes later with a poor defensive display from Correia as he allowed Joao Felix to get a head of him to meet the corner and beat Jaume.
Racic has struggled with clear discomfort this game yet has barely put a foot wrong in this first half. He seems confident and decisive in his actions.
There were plenty of questionable moments from several players. Maxi Gomez took too long on the ball the Cheryshev supplied him early in the half, and allowed the defense time and space to regroup. The right side of the team looked very shaky with Correia losing the ball several times and being directly responsible for the goal. Musah has provided little off-the-ball. Paulista had a poor pass to Soler from the back that got away and set up a dangerous shot for Llorente. Gaya received the ball in plenty of time and space, yet produced one of the worst crosses so far, flying over everyone and to the opposite side. The performance overall was decent but Valencia needs to be even better against this Atletico team and Gracia has some work to do at half-time.
SECOND HALF
45' - Half-time substitution for Atletico. Renan Lodi replaces the booked Vrsaljko
46' - Diakhaby appears to have picked up an injury and signals to to the bench to replace him.
47' - First change for Valencia. The injured Diakhaby is replaced by Guillamon
54' - Goal for Atletico. 2-1. A diagonal ball from the back finds Joao Felix in plenty of space on the left flank. He drives the ball forward and threads a ball for Suarez in the penalty box. Suarez goes for the shot by himself and beats Jaume from a rather narrow angle.
58' - Second substitution for Valencia. Cheryshev off, Guedes on.
62' - Substitution for Atletico. Joao Felix is replaced by Angel Correa
72' - Goal for Atletico. 3-1. Carrasco picks out Llorente on the right flank with a through ball. He gets forward and into the box before pulling the ball back for Correa who pokes it past Jaume.
74' - Substitution for Atletico. Llorente off, Kondogbia on.
76' - Yellow card shown to Savic for a late challenge on Guedes
79' - Final changes for Valencia. Musah, Racic and Vallejo are replaced by Jason, Koba Lein and Gameiro
85' - Final change for Atletico. Thomas Lemar off, Lucas Torreira on
87' - Torreira wins the ball from Gaya near the goal-line, finds Correa who makes a similar attempt to his goal but this time it's saved
90' - Three minutes added by the referee for stoppages
90+3' - Correia seems to have picked up an injury as he chased the ball to prevent the Atletico player from going clean through on goal.
FULL-TIME
Full-time stats. 14-8 shots, 5-4 shots on target, 49-51% possession, 81-82% pass accuracy
A very poor second half. After working so hard in the first half, the team was undone in the second. An early injury to Diakhaby was the first disturbance to the team. Soon after, the space left by Correia was exploited by Joao Felix who set up Suarez for the goal.
Valencia did not have much say in what went on after, with Atletico getting forward time and time again while they absorbed the pressure. The introduction of Guedes for Cheryshev was not effective and Atletico sensed the drop in performance from the team and took advantage. The third goal was only a matter of time, this time from the opposite flank with Llorente setting up a good chance for Correa.
A fourth goal was very likely still and with 10 minutes left to go, Gracia threw on three substitutions, none of which did enough to move the pendulum of the game one bit. Atletico got their best chance a few minutes from full-time with a similar chance to their third goal but couldn't finish this time.
Two more names added to the injury list, Diakhaby and Correia, will hardly please Gracia as he deals with the challenges ahead with a limited squad.
Based on today's second half performance and the mentality shown by the players, it is tough to see any of the names rumored for transfers, to be make that significant of an impact.
Valencia's next game is away from home against Sevilla on Wednesday the 27th for the Round of 16 of the Copa del Rey.