NEWS
With regards to the transfer window, there were rumors that Lim approved two transfers in this window. Both will be loan deals without obligation of purchase. The positions to be reinforced are likely a central defender and a midfielder. Whether or not these two transfers include reclaiming Piccini from Atalanta is still uncertain. It also seems like Ruben Sobrino will be the first player out of Valencia in this window, with Celta and Cadiz both interested in his services.
There was also a report saying that Gracia is only being retained as coach of the club due to financials. If the club fires him, they would have to pay him compensation and they simply cannot afford to do so at this time.
Finally, there was one outlet that reported about Jorge Mendes advising Lim on club affairs, telling him that he should get rid of Anil Murthy and bring on someone with more sporting know-how like Mateu Alemany. Whether Lim takes that advice would be interesting.
PREVIEW
Yeclano's previous game was actually in the first round of the Copa del Rey where they narrowly beat Rayo Majadahonda with a 2-1 scoreline away from home. They took the lead a few minutes into the second half but the home team was quick with the response to equalise four minutes later. A red card late in the second half would set up a nervy extra-time period, eventually ending in Yeclano grabbing the winning goal in injury time of the second half.
Valencia played out yet another draw in their most recent game against Cadiz at Mestalla. Cadiz took the lead around 15 minutes into the second half with an overhead kick. Maxi Gomez would equalize around 10 minutes from full-time with great header following Gaya's cross
In the previous round of the Copa del Rey, Valencia struggled against Terrassa, going down 2-0 early but managed to level it up before full-time. In extra-time, they scored 2 more goals to finish the game with a 2-4 scoreline.
FORM (all competitions)
Yeclano: WLLLD
Valencia: DLLDW
SQUAD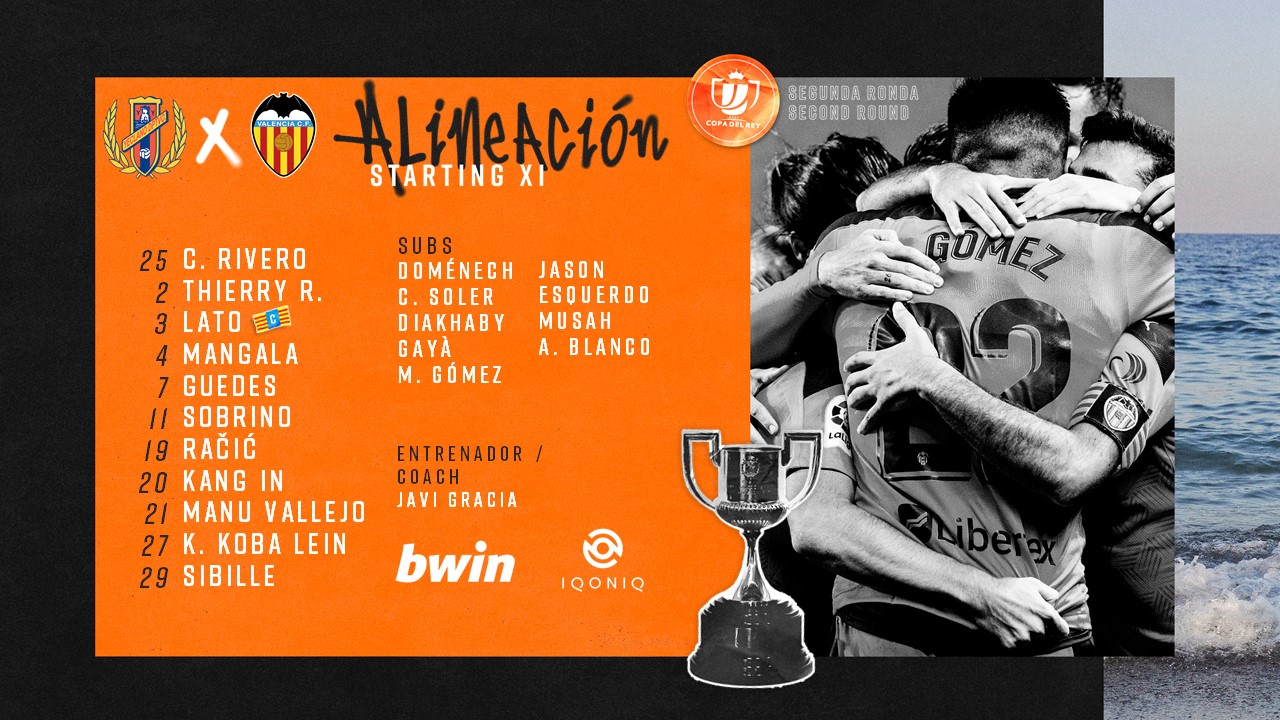 FIRST HALF
7' - Goal for Valencia! 0-1! An initial attempt from Guedes on the right was blocked. Correia picked up the pieces and ran into the box. He pulls it back for Vallejo who scuffs the shot but it slips through for Kang In who makes no mistake in his shot
9' - Goal for Valencia! 0-2! Racic with a tame shot from range that the keeper made an absolute mess of and let it go through into the net.
16' - Really good chance squandered by Sobrino. Guedes threaded through a well-weighted ball behind the defender for Lato to run onto. Lato cuts inside, taking out his marker and draws another defender to him. He squares the ball to Sobrino who is unmarked since the penalty area but his resulting shot is skied. Should have been 0-3.
27' - Yeclano came close to a goal with a shot that struck the crossbar. A cross from a wide position found the forward who sets up Oca for a strike on goal just outside the box, resulting in the shot.
35' - Goal for Valencia! 0-3! Sobrino and Vallejo with great teamwork, exchanging passes between them several times before passing the ball into the net.
HALF-TIME
Dominant performance from Valencia. The team had a lot of success with stringing together quick passes along the ground to expose the defense of Yeclano. There was a lot of intent going forward, with Gracia clearly intent on putting this game to bed early and leaving no room for doubt as was the case with Terrassa in the previous round. There could have been 2 or 3 more goals had it not been for Sobrino's miss and a few efforts from Manu Vallejo that have been ruled offside.
Half-time stats. 4-9 shots. 0-5 shots on target. 29-71% possession, 65-86% pass accuracy
SECOND HALF
46' - Double substitution for Yeclano, Luis Castillo and Victor Sanchez replace David Martinez and Antonia Tormos
47' - Goal for Yeclano. 1-3. A defensive error by Correia gave the chance for Oca to score
52' - Yellow card shown by the referee to Manuel Ortega
53' - Goal for Valencia. 1-4! Thierry Correia plays a pass to Guedes and continues his run forward. Guedes plays an ambitious through ball for him to chase. Correia manages gets there ahead of the defender despite starting further back and picks his spot and the far post.
57' - Yeclano hit the woodwork yet again. Guedes was dispossessed in his own half to set up the shot from distance. It took a deflection on its way and hit the post.
60' - Double change for Valencia. Esquerdo and Jason replace Racic and Kang In Lee
61' - Double change for Yeclano. Carlos Martinez and Iker Larranaga on, Christian Moya and Alejando LaFuente off.
65' - Cristian Rivero with a fantastic save to deny a second goal for Yeclano. The corner from Yeclano was headed away by Thierry and then takes a deflection off Vallejo to find Pedro at the edge of the penalty area. He strikes the ball with a lot of power but Rivero is equal to it, punching it over the crossbar.
71' - Yellow card shown to Oca.
75' - Substitution for Valencia. Gaya on, Lato off. Substitution for Yeclano. Oca is replaced by Luis Romero
81' - Substitution for Valencia. Koba Lein appears to have picked up an injury. He is replaced by Carlos Soler.
86' - Yellow card shown to Theirry Correia for taking down Pedro after he got past him
90' - One minute of time added by the referee for stoppages
FULL-TIME
Valencia advance to the round of 16 of the Copa del Rey in convincing fashion. After a strong first half, the team regressed in the second and didn't build much on their lead. Yeclano got more into the game and created dangerous opportunities yet still Valencia finished the game with a good margin due to the first half performance.
Full-time stats. 12-12 shots, 5-6 shots on target, 32-68% possession, 68-84% possession.
Valencia's next game is away from home against Real Valladolid on Sunday January 10th.