PREVIEW
Sevilla put on a dominant display at home against Cadiz for their most recent fixture. They score 2 in the first half and one in the second, all scored by En-Nesyri to produce a 3-0 scoreline.
Valencia's last game was against Atletico Madrid away from home and they suffered a 3-1 defeat. Valencia started it out well, scoring first through a long-range shot by Racic. Atletico tied it up in the first half through Joao Felix, who had got ahead of Correia in the corner to score. Valencia looked very good in the first half against the league leaders, but the second half was a different story. Atletico dominated the half and score 2, one from Suarez and the other from Correa, on the counter.
FORM (all competitions)
Sevilla: WWWLW
Valencia: LDWWW
SQUAD
In the pre-match press conference, Gracia said that there would be rotations this game but that it shouldn't be taken as a sign that they won't take the game seriously. He said he field a balance team and rest some others.
Correia and Diakhaby have both picked up injuries in the last game and it remains to be seen whether they can start.
Piccini has been cleared to participate, passing all health checks.
It was also reported that an undisclosed first team player may have tested positive for COVID after the game against Atletico.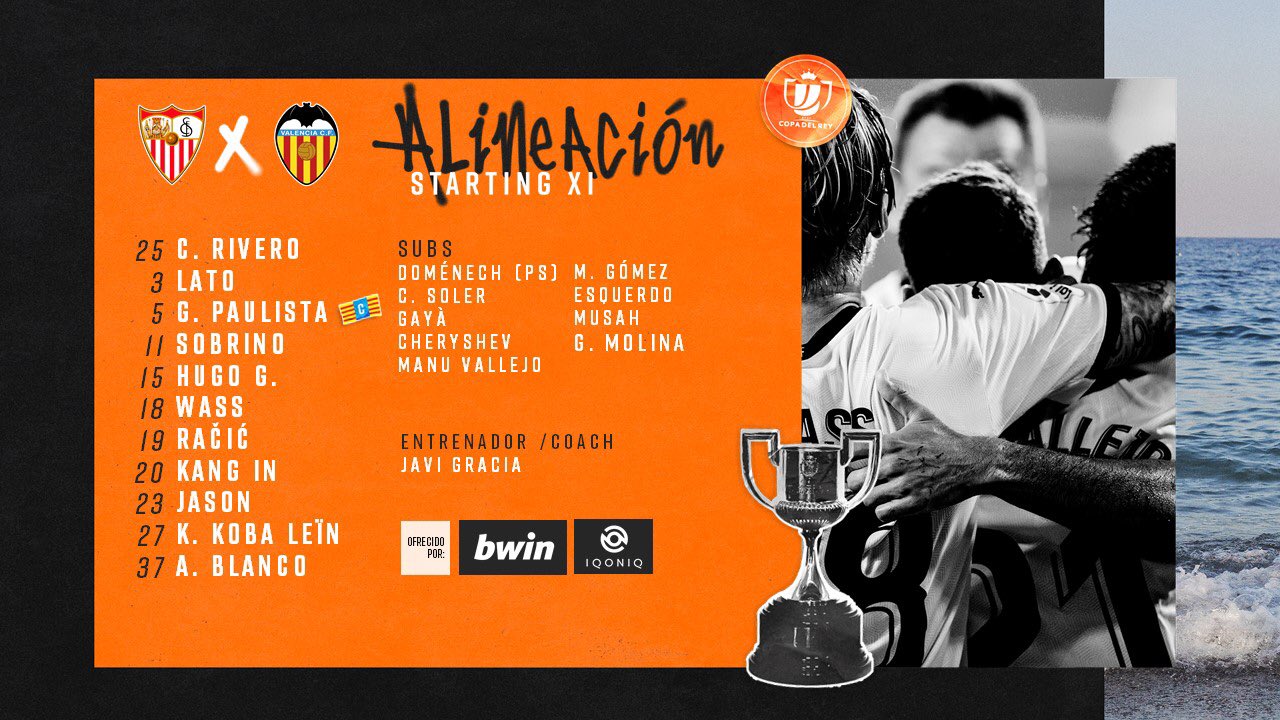 FIRST HALF
20' - Goal for Sevilla. 1-0. Luuk de Jong gets away from Racic and gets on the end of the Acuna's corner kick and heads it past Rivero
23' - Koba Lein wins the ball in midfield, turns past the opposing player and moves to the edge of the penalty area before striking at goal, hitting it directly at the keeper.
28' - Luuk de Jong with another dangerous chance at goal following a cross from Suso. The shot just falls on the wrong side of the post.
30' - Jason tries a shot from distance but it's very tame and hit directly at the keeper
33' - Goal for Sevilla. 2-0. Munir crosses the ball from the left to the opposite side where Suso controls before pulling it back for Luuk de Jong who finishes despite the presence of Guillamon
36' - Paulista gets really high up the field and plays a one-two with Alex Blanco before threading a through-ball behind the defender for Lato. The cross is delivered to Alex Blanco who hits it over the cross-bar. Best chance for Valencia.
39' - Goal for Sevilla. 3-0. Rakitic takes advantage of a deflection of Paulista to lob the ball over Rivero who was off his line.
HALF-TIME
Half-time stats. 9-4 shots, 4-2 shots on target, 66-34% possession, 91-84% pass accuracy.
Embarrassing half for Valencia. This was at best a training exercise for Sevilla.
Regardless of the situation or the pressure of the season, there is no excuse for being humiliated like this against a rival team.
This could very well get way worse in the second half.
SECOND HALF
46' - Sevilla almost grab a 4th right off-the-bat as Joan Jordan heads the cross over the cross-bar
50' - Double substitution for Valencia. Paulista and Racic are replaced by Molina and Esquerdo
62' - Yellow card shown to Marcos Acuna for a tackle of Esquerdo
63' - Two changes for Sevilla. Suso and Jordan are replaced by Oliver Torres and Idrissi
68' - Double change for Sevilla. Acuna and Jesus Navas off, Rekik and Aleix Vidal on
80' - Yellow card shown to Aleix Vidal
85' - Change for Sevilla. En-Nesyri replaces de Jong
89' - Change for Valencia. Koba Lein picks an injury and is replaced by Musah
90' - Four minutes added by the referee for stoppages
90+1' - Yellow card shown to Munir for a skirmish with Lato
FULL-TIME
Full-time stats. 16-8 shots, 6-4 shots on target, 62-38% possession, 90-83% pass accuracy.
No improvement in the second half but not any worse either. The team managed to hold it at a 3-0 scoreline.
A game likes this raises several questions. Has Gracia had enough and is trying to get Lim to fire him so he avoid paying the penalty? OR has Lim ordered that the team not take this competition seriously as he was said to have done to Marcelino? OR is Gracia really incapable of changing the situation at this team.
As for what happens after the game, it remains to be seen what will happen to Gracia or in this transfer window in general as a consequence.
Next game for Valencia is against Elche at Mestalla on Saturday the 30th of January.