NEWS
The draw for the next round of the Copa del Rey has been made and Valencia drew Yeclano Deportivo. Valencia will play the game away from home on January 6th
In the pre-match press conference Javi Gracia was asked yet again about signings in the winter transfer window, to which he replied 'nobody knows'.
PREVIEW
Barcelona come into this game on the back of a narrow 2-1 home win against Real Sociedad. The away team took the lead, against the run of play, 27 minutes into the game from a set piece play that was poorly dealt with by the defense before being finished by Willian Jose. Barcelona managed to equalize before half-time with Jordi Alba finishing a good team effort, before a fortunate deflection set up Frankie de Jong for the second goal.
Valencia's previous fixture was mid-week in the Copa del Rey in which they struggled against 4th division Terrassa. Valencia went down 2 goals 50 minutes before Molina was shown a red card and could've easily could've gone 3 down if not for a horrible miss. A penalty from Carlos Soler and a stoppage time goal from Musah would tie the game and send it to extratime where Guedes scored 2 goals to finish the game at 2-4.
Barcelona currently occupy 5th position in the league with 20 points from 11 games, whereas Valencia are in 13th position with 14 points from 13 games.
FORM (all competitions)
Barcelona: WWLLW
Valencia: WDDLD
SQUAD
Good news is Gaya is back in the squad and will start the game.
In attack, Guedes will start next to Maxi Gomez. He scored 2 goals in the midweek fixture and this must have influenced this decision.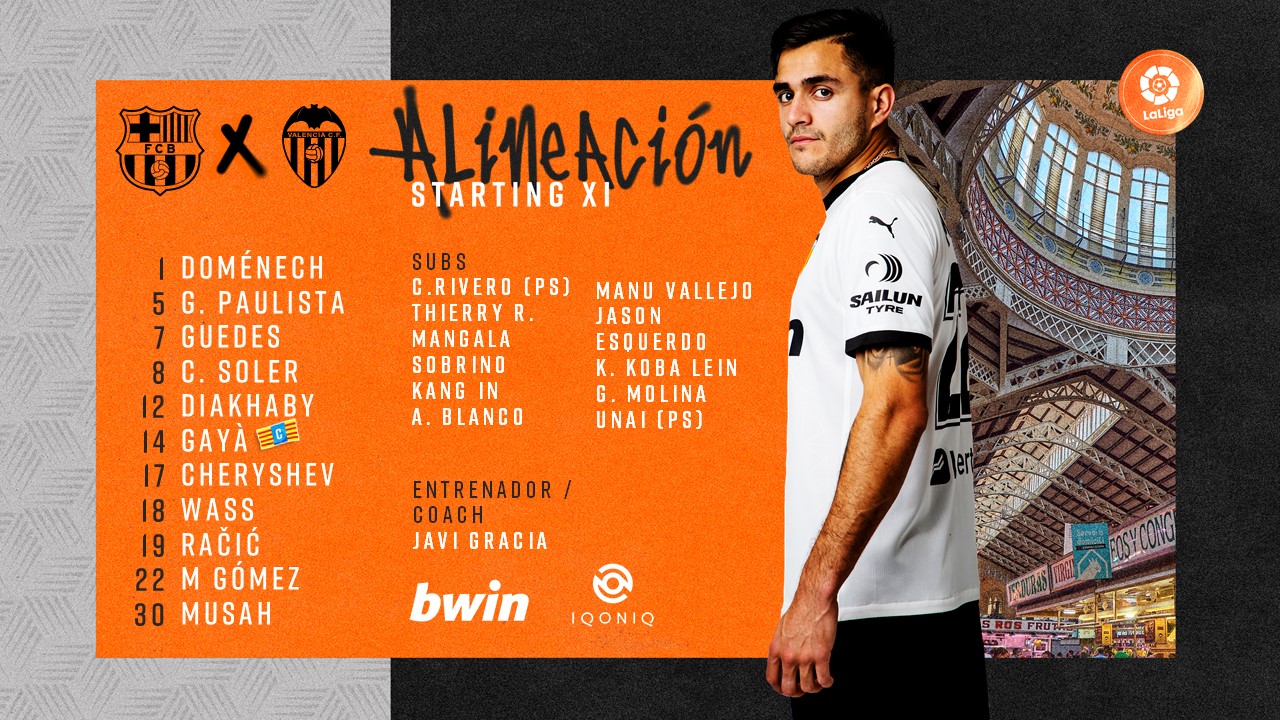 FIRST HALF
12' - Yellow card shown to Griezmann for taking down Guedes to stop the counter
24' - Cheryshev does well to catch Busquets off-guard at the back to set up a a counter-attack. The team exchanges passes with no one willing to take the shot. Cheryshev found Guedes, who takes a touch and finds Maxi Gomez who does the same and finds Musah. This gives enough time for the Barcelona defense to track back and set up their defense.
27' - Another chance for Valencia but Gaya and Cheryshev both attempt to take a shot from Yunus's pass but the shot is blocked by Araujo.
29' - Soler with a shot from distance that forces a save by Ter Stegen. Corner kick.
30' - Goal for Valencia! 0-1!. Diakhaby loses his defenders in the box to meet the delivery from Carlos Soler and head it past the keeper.
33' - Barcelona with a counter attack off the Valencia corner kick. Pedri outpaces Wass and has space to run into. He finds Griezmann to his right in the box but the angle had closed down so much, he can only hit it straight at Jaume
41' - Musah is forced off the field with an injury. Valencia temporarily down to 10-men.
42' - First substitution for Valencia. Alex Blanco replaces the injured Musah.
44' - Good counter attack from Valencia. Carlos Soler finds Gaya in space. Gaya drives the ball forward, passes to Guedes who plays a through-ball for Cheryshev. It's a bit ahead of him but he managed to get a touch to cross for Maxi. The header is saved by Ter Stegen. Should've been a goal.
45' - Messi picks out Griezmann with a through-ball putting him clean through on goal. Gaya gets a shove on Griezmann who goes down. Referee shows Gaya a straight red card and awards a penalty. Risky play from the captain.
45+2' - After a VAR check, Gaya's red is overturned and a yellow given instead. Penalty still stands.
45+3' - Jaume saves the penalty! Messi is denied.
45+4' - Goal for Barcelona. 1-1. The ball is still spilled to his right and the cross is put back to the far post where Messi gets the header to it into the open net.
HALF-TIME
Good start to the first half from Valencia. Barcelona were given the majority of possession, as usual, but they were reduced to just that. They had no chances at goal and Jaume wasn't tested.
Barcelona mainly tried to exploit Valencia's right-side. Wass had to deal with Braithwaite as well as the overlapping runs from Jordi Alba. Even with Yunus Musah, tracking back to help out at times, Barcelona still got the ball to Alba and put in cross after cross. The defense was solid and did well to clear all these efforts away.
Valencia would get a few chances to counter-attack and threaten the two inexperienced Barcelona defenders. There was initially a lot of hesitation in going for a shot, but this wouldn't be the case for long with Valencia getting shot after shot on target.
The goal for Valencia would eventually come from a corner set-piece where Diakhaby cleverly his marker, Griezmann, to get clean contact on the Carlos Soler delivery and beat Ter Stegen.
Valencia would get another chance soon after from a counter-attack that ended with a Maxi Gomez header but he failed to beat the keeper.
Unfortunately, Yunus Musah picked up an injury and Alex Blanco was called off the bench to replace him. Hopefully, it isn't a long-term injury as this stretches the squad thinner.
A silly challenge by Gaya in the penalty box, gave Barcelona a way back into the game when they had none to start. There was a scare that Gaya would be sent off but this was overturned by VAR. While Jaume did well to save Messi's penalty, the spillover wasn't dealt with well-enough and the resulting cross found Messi again who made no mistake this time.
Half-time stats. 6-9 shots, 3-3 shots on target, 77-23% possession, 89-76% pass accuracy.
SECOND-HALF
Substitution for Barcelona. Frenkie de Jong replaces Busquets.
48' - Quick free kick in the middle of the pitch for Valencia, finds Guedes on the right. Guedes beats his defender and has Maxi in the middle and Cheryshev at the edge of the 18-yard box. He pulls it back for the latter who scuffs his shot way wide. It was a good chance to get a shot on target.
52' - Goal for Barcelona. 2-1. A botched counter-attack from Valencia as Guedes is dispossessed. Griezmann finds de Jong in the center of the box who sets it up for Araujo who then beats Jaume with a volley.
55' - Messi gets a cross to find Braithwaite at the far-post. He gets a header on target but Jaume clears off the line.
56' - Yellow card shown to Mingueza for taking down Geudes on the counter-attack.
59' - Guedes switches play from an advanced position to find Alex Blanco. Blanco cuts inside and sets up a pass for Racic to strike at goal. The shot is wide.
68' - Goal for Valencia! 2-2! Guedes plays a fantastic ball from a wide position to find Gaya's well-timed run into the box. Gaya puts in a cross to the center where Maxi Gomez gets in front of Mingueza and flicks it past the keeper
71' - Mingueza takes a strike from distance and forces Jaume to stretch to make contact. The ball falls to Wass who makes a mess of the back pass and gives Barcelona a corner
72' - Jaume forced to make another save, this time from Coutinho at close range
73' - Second hange for Barcelona. Trincao replaces Griezmann.
77' - Coutinho cuts past Wass and into the box. He gets a shot in that fizzes past the far post.
78' - Second change for Barcelona. Coutinho is replaced by Lenglet
85' - Third change for Barcelona. Pjanic replaces Pedri
86' - Second change for Valencia. Vallejo comes on to replace Guedes
89' - Final change for Valencia. Kang In replaces Cheryshev
90' - Three minutes added by the referee for stoppages
90+1' - Yellow card shown to Lenglet for a tackle from behind on Maxi Gomez. Jordi Alba also booked for dissent against the referee
FULL-TIME
Decent second half. There were chances for both teams to win the game but in the end they share the points.
While Valencia started off the half strongly, Barcelona would be the first to take the lead less than 10 minutes into the half. A Valencia counter-attack failed due to Guedes getting dispossessed and Barcelona turned it around to score in an unconventional way as their central defender volleyed it past Jaume.
After plenty of back and forth between the teams, Valencia managed to equalize with a great combination between Guedes and Gaya. With the former playing a delightful ball to meet the run of the latter into the box. Gaya fools the defender with movements one way then the other before playing a ball for Maxi Gomez who got in front of his marker to slot the ball past Ter Stegen.
Barcelona had a ton of shots in the final part of the game, although most of them were off-target.
Full-time stats. 25-12 shots, 9-4 shots on target, 73-27% possession, 89-75% pass accuracy.
Next game for Valencia is on Tuesday the 22nd at Mestalla against Sevilla.