NEWS
At the Valencia Shareholder's Meeting, Anil Murthy answered some questions, mainly about financials but also about other matters related to the club.
There was discussion that the club was still in the process of playing Marcelino what he is owed. Murthy assured that the club is honoring their agreement with the coach.
Murthy added to last week's comments saying, that he doesn't feel like Valencia gave players away since their high salaries were high and the club was saving on them by selling.
About the Nou Mestalla, he said that the stadium cannot be completed without selling the old stadium. In a talk about sponsors, he said that the club was looking for a new sponsor since some European countries have either passed or are in the process of passing a ban on betting/bookmaker sponsors on kits. This would result in a loss of revenue for Valencia since bwin is a betting company. He added that if the new stadium is completed, Valencia would acquire several other sponsors.
With regards to some players not receiving salary payments, Murthy explained the delay was due to the pandemic. The club was also required to make payments to Bankia and used Ferran's sale to help make that. You may read other details from this interview here if interested.
Superdeporte reported on the financial relationship between Valencia and Meriton. Apparently, two big loans were made to the club from Meriton in the 2014-15 and 2020-21 seasons. The money was loaned with a right of pledge. If the loan's could not be re-negotiated and should Meriton choose to make a claim on payments, Valencia would sell players at a price and time convenient to the club to make the payments. Meriton has not asked for any payments thus far but has reported the club to begin the payment of the 54 million euro loan. Read more here.
Finally, Javi Gracia took part in a pre-match press conference where he talks about how despite all the work the team is done, he still views it as insufficient as evidenced by the results. He added that only a few teams have managed a high level at all this season, with everyone struggling. He also expressed hope on a successful appeal for Hugo Guillamon's previous yellow card. Finally, he said that he was looking at Fran Navarro and other players from the academy to supplement the squad in the midweek Copa del Rey fixture.
PREVIEW
Valencia played out a 0-0 draw against Eibar. Valencia played a very dull and lackluster first half. The game opened up a bit more in the second half with both teams getting chances. Gameiro had the best chances of the game in stoppage time but the keeper managed to deny him the goal.
Athletic Bilbao come into this game on the back of 0-2 loss at home to Celta Vigo. They conceded two goals in the second half, one from a well-worked cross and the other due to a goalkeeping error. In the end, they didn't manage a single shot on target.
The two teams are tied at 13/14 position in the league with 13 points. Athletic have a game in hand though.
FORM
Valencia: DLDWD
Athletic Bilbao: LDWLW
SQUAD
Cheryshev has trained with the team and should be available for selection after testing negative from COVID.
Gracia estimates that Gaya should be available for next week's fixture against Barcelona and would prefer not to risk him by playing him early.
Cillissen's expected recovery data is well in the new year, meaning that the club could be on the market for another keeper.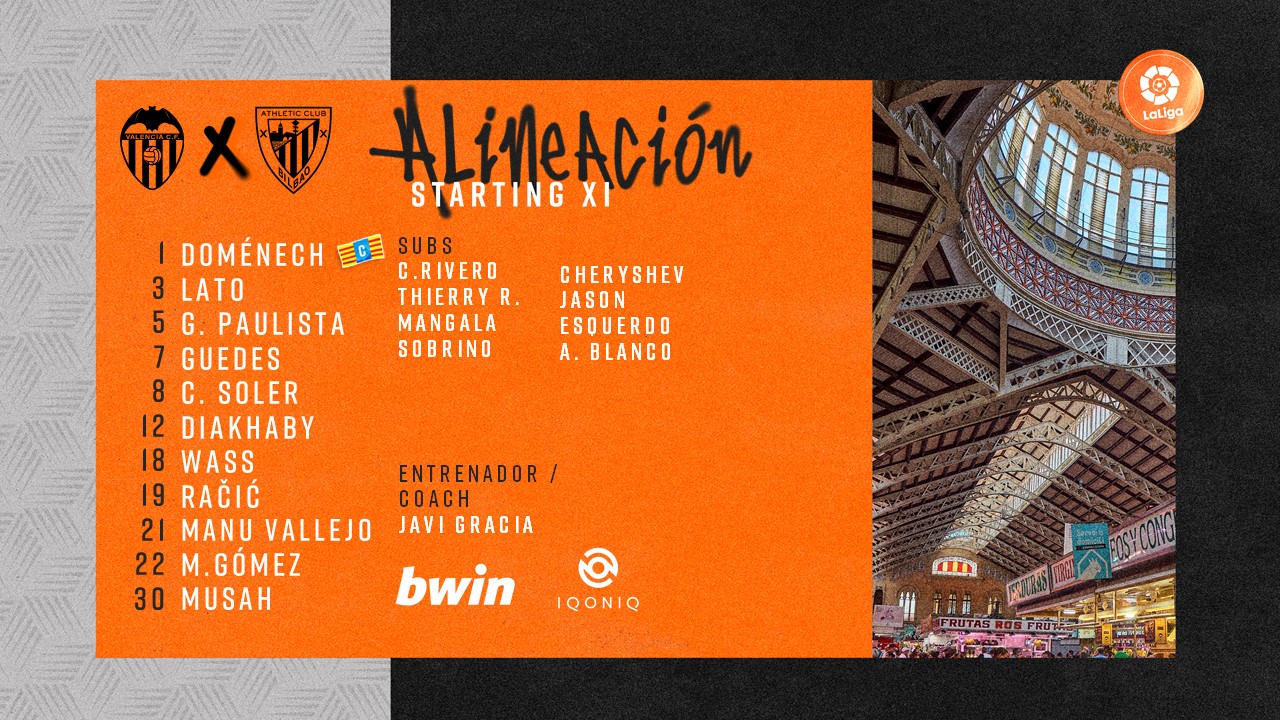 FIRST HALF
24' - Racic with a shot from range that deflects off the post
25' - Penalty awarded to Valencia! Maxi Gomez was fouled by Dani Garcia in the penalty box. His initial shot was blocked by the defender and he was fouled on his second attempt
26' - Goal for Valencia! 1-0! Carlos Soler converts the penalty.
31' - Yellow card shown to Mikel Vesga for tripping Carlos Soler
36' - Yellow card shown to Maxi Gomez for pushing Inigo Martinez
45' - One minute of stoppage time is added by the referee
SECOND HALF
46' - First substitution by Bilbao. Mikel Vesga is replaced by Unai Lopez
55' - Goal for Athletic Bilbao. 1-1. Musah's clearance falls right to Yuri Berchiche, who plays a one-two with the nearby player, before putting in a low cross that Asier Villalibre converts at the near post.
60' - Valencia's first change of the game, Musah is replaced by Manu Vallejo
61' - Yellow card shown to Dani Garcia for tripping Manu Vallejo
67' - Second substitution for Athletic Club as Ander Capa is replaced by Oscar de Marcos
71' - Double change for Valencia. Wass and Guedes are off, Correia and Jason are on.
73' - Yellow card shown to Unai Lopez for a strong challenge on Jason
77' - Third change for Bilbao. Asier Villalibre off, Raul Garcia on.
78' - Poor challenge by Racic, gives Bilbao a penalty. Munain was running along the goal line and there was plenty of cover in the box, the challenge wasn't good enough and missing the ball entirely.
79' - Goal for Athletic Bilbao. Raul Garcia converts the penalty. Jaume got a leg to the ball but couldn't keep it out and is deflected into the roof of the net. 1-2.
82' - Yellow card shown to Yeray Alvarez for tripping Maxi Gomez
83' - Goal for Valencia! 2-2! Carlos Soler's free kick delivery was dealt with poorly by the keeper who had attempted to punch it away but missed. The ball fell to Manu Vallejo who had headed it into the goal.
84' - Final change for Bilbao. Iker Muniain is replaced by Unai Nunez.
85' - Yellow card shown to Berenguer for tacking Correia
90' - Yellow card shown to Jason for pulling down Unai Lopez. Five minutes of stoppage time added by the referee.
90+4' - Yellow card shown to Raul Garcia for a push on Carlos Soler
FULL-TIME
Full-time stats. 11-13 shots, 2-5 shots on target. 39-61 %possession, 67-78% pass accuracy.
Next game for Valencia will be on the 16th of December away against Terrassa in the Copa del Rey.