NEWS
Since his transfer, Kondogbia has trained with Atletico and even came on a substitution in their 4-0 win over Cadiz this matchday.
Gracia gave pre-match news conference in which he was asked about whether there would be a winter signing to replace Kondogbia. He refused to answer and said that he preferred to talk about the players he currently has and not what he doesn't have.
The other news revolved around which national team Yunus Musah would play for with some indication that it will the United States National Team.
PREVIEW
Valencia come into this game having played out an intense 2-2 draw at home to Getafe. Javi Gracia successfully got the team to get into the game in the first half and even took the lead with a Yunus Musah goal on the counter. Getafe would struggle to get the equalizer despite Valencia being reduced to 10 men after a 10 minute period where Correia got yellow carded twice. In the last few minutes of regular time, Getafe equalized after Jaume failed to clear the ball from the initial save. Moments later in injury time, Getafe grabbed what they thought would be the winning goal before conceding a late penalty which Carlos Soler converted to give the teams a point a piece.
Real Madrid played 2 games this past week, a 4-1 home win against Huesca in La Liga and a 3-2 home win against Inter Milan in the Champions League. The former of the two games was a dominant display by them going 4 goals up before dropping their guard and conceding a goal in the final 20 minutes of the second half. The latter game saw Real Madrid looking vulnerable for a period as Inter Milan made up a 2 goal deficit to even the game. They would still come out winners after a late goal from Rodrygo in the second half.
Valencia are currently 15th in the league with 8 points from 8 games. Real Madrid are 3rd with 16 points from 7 games.
FORM (all competitions)
Valencia: DLLLW
Real Madrid: WWWLW
SQUAD
Diakhaby will miss this game as he continues to recover from the injury he picked up against Elche. Mangala also struggles with an injury problem and will miss this game. Finally, Cillissen picked up a training injury this week. More tests are required to determine the extent but he will miss this game as well.
Correia picked up a red card in the previous fixture against Getafe and is suspended from this game. Wass is the likely option but Gracia hinted that there were other options as well. In training sessions, Jason has practiced in that role so that could be what the coach is talking about.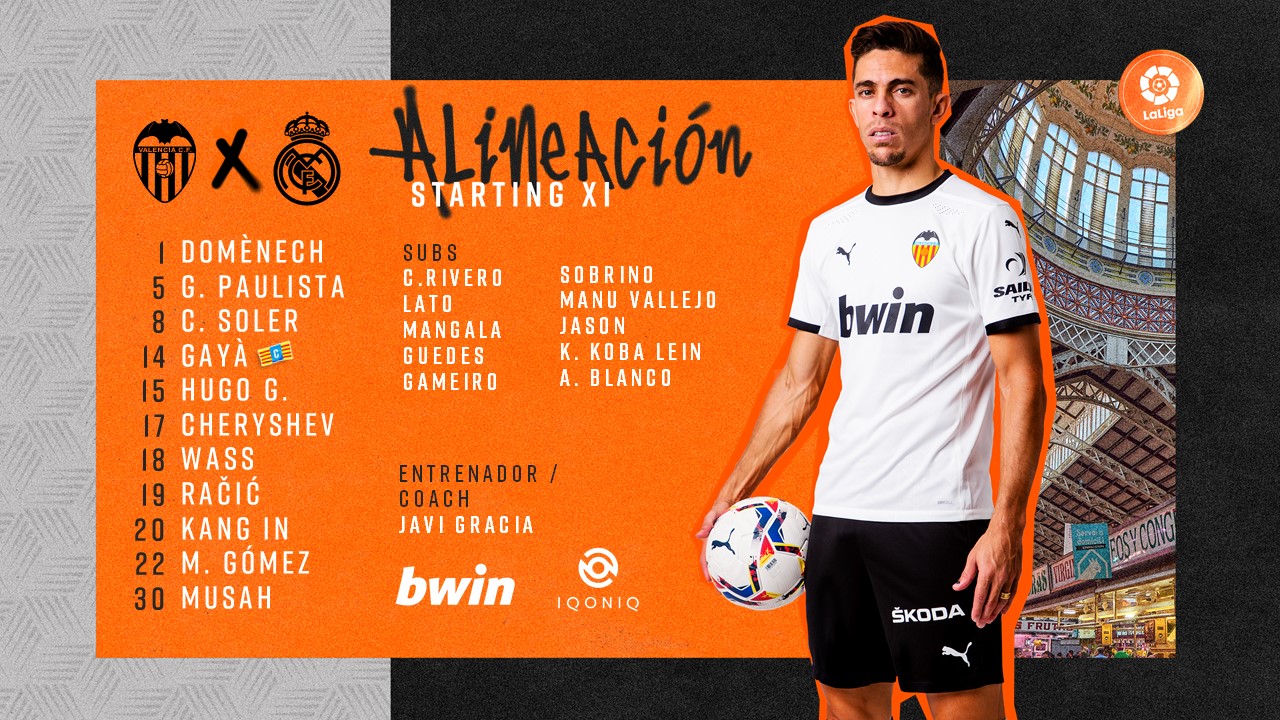 FIRST HALF
12' - Good save from Jaume to deny Modric's shot from the edge of the area.
23' - Goal for Real Madrid. 0-1. Benzema plays a one-two with Marcelo, receiving the ball at the edge of the box and striking it at goal. The ball seemed pretty close to Jaume yet he couldn't save it. May be he could've done better with that but it seems like his vision was blocked.
28' - Penalty awarded to Valencia. Guillamon plays a diagonal ball for Gaya who hits it first time for the cross and it strikes the hand of Vazquez in the penalty area. Carlos Soler steps up to take it.
29' - Goal for Valencia! 1-1! Soler's penalty is saved by Courtois and the ball falls back into play. Soler takes a second try and it hits the post. The deflection falls to Yunus Musah who makes no mistake in beating Courtois. VAR is checking the run of Yunus Musah into the box as he appears to have gotten into the box before the kick was taken.
33' - The goal is overturned and the penalty will be retaken. It appears Vazquez also encroached into the box so a retake is a fair decision. Game is still at 0-1.
35' - Goal for Valencia! 1-1. Soler successfully converts this time, narrowly squeezing it past Courtois. Great confidence from Soler after missing the first time.
40' - Yellow card shown to Soler for a foul on Asensio who had gotten away from him
44' - Goal for Valencia! 2-1! Racic leads the counter-attack for Valencia and picks out a great through ball for Maxi Gomez out wide on the right. Maxi puts in a cross for Cheryshev and hits Varane who, under pressure from Cheryshev, puts the ball into the goal. Courtois attempted to scoop it out but it had passed the line. The play initially moved on but VAR gives the goal to Valencia as an own-goal by Varane.
45' - Four minutes added by the referee for stoppages.
HALF-TIME
A good first half by Valencia. They took the game to Real Madrid and did not look the weaker team. The team learned from the vulnerabilities shown by Real Madrid in the mid-week Champions League fixture against Inter, absorbing the pressure and hitting back with quick counters.
Real Madrid took the lead just past the 20 minute mark with a Benzema shot after having exchanged passes with Marcelo. Jaume, with his vision, block reacted late having initially began diving one way and adjusting mid-way.
It took Valencia only 5 minutes to strike back with Gaya winning a penalty after his cross struck the hand of Vazquez in the penalty area. The penalty was saved, the spilled ball hit by Soler at the post and the rebound scored by Musah. The goal was overruled after Musah encroached into the box before the kick was taken. However, with Vazquez also encroaching the kick was retaken and scored by Soler.
Valencia did not let up the pressure and another counter, this time lead by Racic, resulted in a cross by Maxi Gomez to Cheryshev which was turned in by Varane to his own goal, giving Valencia a lead to take into half-time.
Still a lot of work to do in the second half, no doubt. The team need to continue to maintain focus while attempting to absorb the increasing pressure from Real Madrid. They will no doubt leave more spaces as they try to equalize and go for the win. Valencia must exploit those spaces.
Valencia have had much success going down the left flank and most attacking plays go through there. Real Madrid have similarly attacked through their own left flank.
Half-time stats. 3-5 shots, 1-4 shots on target, 41-59% possession, 85-90% pass accuracy.
SECOND HALF
45' - A bad pass from Guillamon to Paulista is intercepted by Vinicius, setting up a 2 v 1 at the back. Jaume is quick to react and clear the ball once before running out of his own box to clear again as Benzema approaches. Great clean-up work by Jaume to mitigate the consequences of Guillamon's mistake
47' - Soler finds Kang-In in a tight pocket in an advanced position. Kang In takes a turn and hits the ball from distance. Courtois just gets his fingertips to it and it changes course to hit the post and out.
51' - Gaya takes on Vazquez and squeezes by him. He finds Cheryshev who plays a pass back in to find Gaya again. Gaya drives forward and attempts another cross to Maxi but Marcelo intervenes and takes out the Uruguayan, winning a penalty.
52' - Yellow card shown to Marcelo for the challenge on Maxi Gomez as Soler steps up to take the penalty.
53' - Goal for Valencia! 3-1! Another confident finish from Soler to extend Valencia's lead. Courois guessed the right way again but it was hit with enough power to beat him.
57' - Isco finds Valverde at the edge of the box, he takes a touch and strikes at goal, Jaume saves but puts it back into play. Vinicius is first to react, takes a touch inside to get a better angle but skies the effort.
58' - Modric threads a ball through the defense, giving Asensio a great chance at goal. Jaume is quick off his line and smothers the effort.
59' - Yet another penalty awarded to Valencia for a handball by Ramos. Cheryshev picks a pass for Musah in the penalty box and as he battles with Ramos, the ball flies into the air and hits his hand. VAR took time to check but it is finally awarded. Yellow card shown to Ramos for the handball.
62' - Goal for Valencia! 4-1! Soler with a hat-trick of penalties, giving Valencia a 4-1 lead! So cool and collected to beat Courtois 3 times. Valencia need to remain calm and focused, they cannot get to excited.
64' - First set of changes for Real Madrid. Odegaard and Rodrygo replace Vinicius and Asensio.
75' - More changes from Real Madrid. Kroos and Mariano Diaz replace Valverde and Benzema
77' - Valencia with their first change, Cheryshev off, Toni Lato on.
80' - Second change for Valencia. Kang In is replaced by Gameiro. The youngster picked up a knock and signaled to the bench for a change. Hopefully, it's not too serious.
82' - Final substitution for Real Madrid. Isco is taken off for Luka Jovic
84' - Yellow card shown to Guillamon for handling Mariano Diaz
85' - Yellow card shown to Jaume for time-wasting
87' - Final set of changes for Valencia. Musah and Maxi Gomez off, Jason and Sobrino on.
90' - Six minutes added by the referee for stoppages
FULL-TIME
Good work by Valencia to hold on to their lead for as long as they did. The team put in a lot of hard work although admittedly there was a lot of luck involved in the result. They do say that luck is opportunity meets preparedness. Real Madrid gave up the chances very easily and Valencia were ready to take the chances they were given.
There were many protagonists this game. Soler and Racic held their own and bossed against a world class midfield. Soler scored 3 goals today and is really stepping up as a leading figure in this team, taking on the pressure and converting the penalties against a world class keeper. Gaya caused all sorts of trouble on the flank where most of the Valencia offensive plays occurred. Musah showed speed, power and intelligence to challenge Marcelo and even Ramos when given the chance. Jaume was focused and ready to react, holding the Valencia lead and allowing them to move forward without worry.
The team performed exactly how Javi Gracia would've wanted them to, soaking the pressure and punishing Madrid on the break when possible. Despite Real Madrid thowing everything at Valencia in the second half, the team looked secure enough to deal with the efforts and the opposition did not look likely to score. All this, against the run of form that Valencia is in.
Full-time stats. 7-16 shots, 4-6 shots on target, 35-65% possession, 77-90% pass accuracy.
While this is a great win against the reigning Champions and an unlikely three points to win, the team needs to carry forward this momentum. This cannot be a one-game performance. The team played great but luck certainly played its part as well.
There is a break now as the players head off for their international duties. This will give the team a chance to rest after the effort exerted today. A lot players seemed cramped up and picked up knocks. Next game is on the 22nd of November away to Alaves. Amunt!