NEWS
Denis Cheryshev has reportedly tested positive for COVID-19. The squad has party trained individually as a result. Cheryshev will miss a few games until he recovers.
Gabriel Paulista is on track to secure his Spanish passport. No date has been given yet but it should be soon. This will free up a non-EU slot on the team. As reported last week, this will be useful in case Yunus Musah needs one, or in case any planned signing does as well.
PREVIEW
Valencia played out a 2-2 draw away to Deportivo Alaves in their previous La Liga fixture. The team failed to show in the first half and gave Alaves a 2-0 advantage going into half-time. They then did well to recover in the second half, grabbing to goals via Guillamon and Vallejo to even the score. They could've gone further and snatched a win, but poor finishing from very good chances in the final minutes, denied them the opportunity.
Atletico managed a 1-0 home win in La Liga against Barcelona last week. They took the lead as a result of first half stoppage time mistake from Ter Stegen when he left his penalty area but failed to get to the ball before Cararasco. The player beat him to the ball, went around him and finished into the empty net from distance.
Atletico also played a 0-0 home draw against Lokomotiv Moskow in their mid-week Champions League game. Despite dominating the entire game in almost every stat and every area of the pitch, they could not break the tie. They have an upcoming fixture away to Bayern Munich in the middle of this coming week.
Valencia are currently 9th with 12 points from 10 games while Atletico are 2nd with 20 points from 8 games.
FORM (**all competitions)
Valencia: DWDLL
Atletico Madrid: DWWWW
SQUAD
This week confirmed that Gaya will be out 3-4 weeks due to the injury he picked up late against Alaves. Cheryshev will miss this game due to the positive COVID test.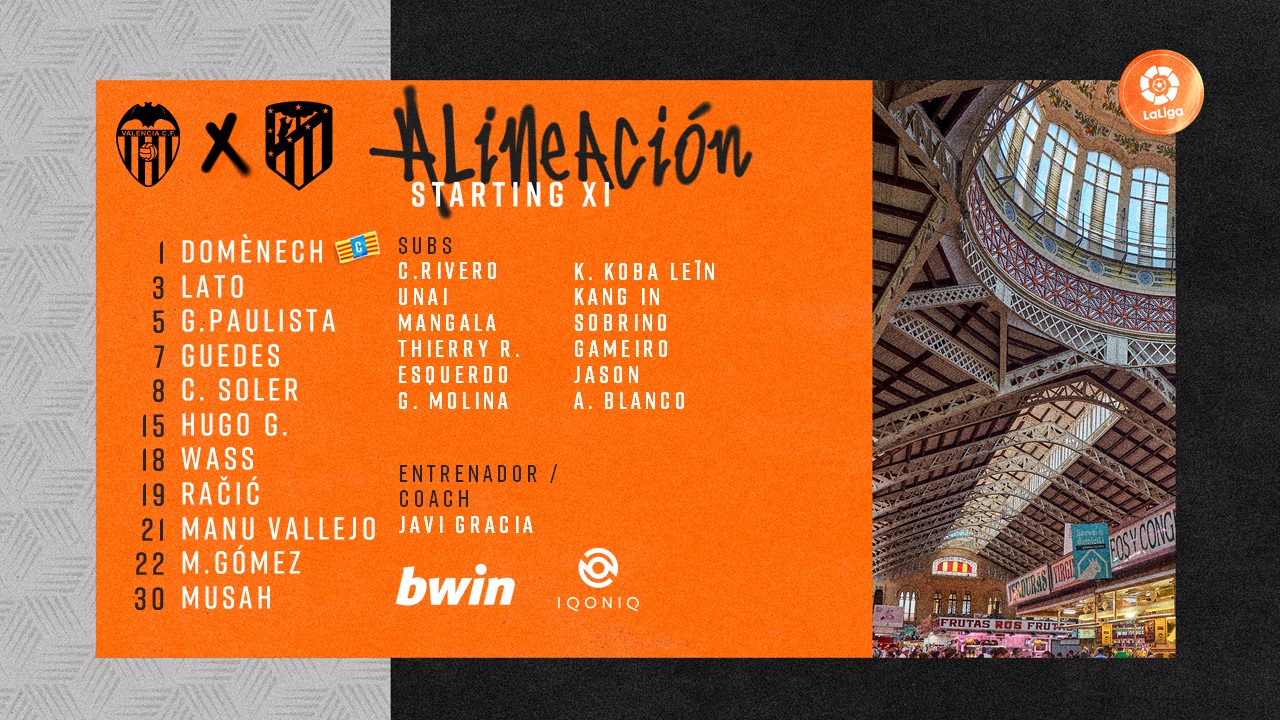 Cillisssen and Diakhaby are still dealing with their injuries. Maxi Gomez just managed to squeeze into the lineup but with caution. Mangala is back and available for selection.
FIRST-HALF
13' - Shot from Lemar deflects off Soler and forces Jaume to make a finger-tip save
22' - Great team play from Valencia. Guedes and Musah link up with one-two on the right flank before Guedes finds Soler at the edge of the area. Soler sends a well-timed lob over the defense to pick out Racic who had snuck in behind the defender on the left. Racic takes a shot at goal but Oblak parries it out for a corner. The shot looked more like a scuffed cross. Maxi Gomez was asking it for it in the center.
28' - Yellow card shown to Racic for an arm to the head of Llorente
38' - Counter-attack from Atletico is stalled through a great tackle by Racic. The ball falls to Lemar who swerves his way though the Valencia defenders and takes a shot just outside the penalty area, testing Jaume again. The keeper puts it out for a corner.
42' - Jaume makes another good save, this time to deny Correa at a tight angle
43' - Yellow card shown to Saul for dragging down Manu Vallejo

HALF-TIME

Valencia have shown up this first half and are doing well to hold Atletico at bay. They are mostly content with sitting back and absorbing the pressure from Atletico and striking them on the counter-attack
Atletico have enjoyed the majority of possession and chances as a result of the playstyle Valencia chose for this game as well as their own imposing presence on the game. They have the majority of chances, most of which have come from outside the penalty area and all to which Jaume has saved well.
Valencia usually come into life in the second half and impose themselves on the game. When they do a decent job in the first half, they set themselves up to go for a win in the second instead of having to climb up to make up a one or two goal deficit.
Atletico have looked vulnerable on the counter-attack. Unfortunately poor final passes from several players has made the dangerous fizzle out into nothing.
Half-time stats. 4-9 shots, 2-4 shots on target, 31-69% possession, 76-86% pass accuracy.

SECOND-HALF

45' - First change for Atletico Madrid. Joao Felix replaces Renan Lodi
53' - Llorente gets a pass just behind Wass and makes a cross into the box which Jaume gets a touch on. The ball falls to Lemar with Jaume out of position. Lemar takes the shot but Wass steps in and blocks it. Guillamon appears to have picked up an injury in the process and signals to the bench that he needs to be subbed.
56'- Yellow card shown to Gullamon for taking his time in walking off. He will miss the next game due to accumulated bookings.
57' - Valencia make their first substitution. Mangala replaces Guillamon.
59' - Second change for Atletico Madrid. Carrasco on, Saul off.
62' - Yellow card shown to Correa for a tackle from behind on Guedes
65' - Final set of changes for Atletico. Vitolo and Kondogbia come on for Correa and Lemar
69' - Second set of changes for Valencia. Musah, Maxi Gomez and Vallejo are replaced by Correia, Gameiro and Sobrino
75' - Yellow card shown to Llorete for a handball and kicking the ball away in frustration after the foul got called
79' - Goal for Atletico Madrid. 0-1. Toni Lato puts the ball in his own net off the cross from Carrasco
81' - Yellow card shown to Joao Felix for a handball
82' - Yellow card shown to Coke for a high boot to the face of Correia
84' - Final change for Valencia. Jason replaces Wass.
90'- Four minutes of stoppage time added by the referee.
FULL-TIME
After holding on for nearly 70 minutes without incident, the team gets undone by an own goal. Unfortunate but often happens when a team is exposed to this much pressure without an outlet.
Atletico built on their advantages in possession and chances that they had in the first half. Simeone responded early and made substitutions that have made a difference to the team.

Gracia took a bit longer to make his substitutions. The first one forced by the injury to Guillamon. Then, he made triple substitution at around minute 70 bringing on Gameiro, Sobrino and Correia for Maxi Gomez, Manu Vallejo and Musah.
The game did not need Gameiro or Sobrino. The only reason for that would be if Maxi Gomez's injury has not fully healed. The team was struggling with the final pass. They were not getting chances and failing to convert them. This game needed Kang In to address the lack of good chances.
With Gracia's second half plan essentially being to hold out for a draw, the team could not really respond when they went down. A complete shift in mentality was required and there wasn't enough time to do that. Not against a team like Atletico.
Full-time stats. 5-14 shots, 2-6 shots on goal, 32-68 %possession, 73-85 %pass accuracy.
Next game is away to Eibar on Monday December 7th.