NEWS
During the international break, Gaya was involved in a heavy collision in the game against Switzerland. This caused him to get substituted early with a head injury. Despite looking serious from the pictures, the player recovered and played a few days later in Spain's dominant 6-0 win over Germany, assisting 2 goals in the process. His team topped their group in the Nations League.
Elsewhere, Cheryshev managed to score one goal for Russia but his team suffered two defeats, a close on against Turkey and a heavy one against Serbia,
Back in Valencia, there were developments as well. Joey Lim was recently announced to join the board of directors, adding yet another voice of Peter Lim in the board room.
Also, a new clause has been proposed about the requirements to attend a shareholder meeting. Previously, only 9 shares were enough to grant access to the meeting. This could change on December 11, where the number could see a jump to 3,598 shares. People with shares less than that must aggregate together to reach the number and delegate a representative among them to attend on behalf of the group.
In addition, Valencia presented some numbers with regards to the financials of the the past season and this one. The highlights are as follows:
Valencia recorded a loss of around 8 million euros in the 2019-20 season despite 60.8 million euros gained from reaching the Round of 16.
For the 2020-21 season, the budget will see a drop from 172 million euros (2019-20 season) to around 119 million euros
For the 2020-21 season, the income from TV rights will increase from 74 million euros to 89 million euros.
For the 2020-21 season, the amount of money spent on the workforce will drop from 97 million euros to around 70 million euros.
For the 2020-21 season, the expected deficit is 26.4 million euros
As a result, there is expectation that 41 million euros of income needs to be generated through sales, of which Kondogbia's sale will go towards.
La Liga announced the wage spending of clubs with Valencia dropping from 5th highest (177 million euros) last season to 7th season (103 million euros)
On the topic of the plan to repurchase Valencia, the Libertad Valencia group has managed to raise 1% of the value of the club's shares.
With regards to player contracts, Kang In has put his contract talks on hold while Yunus Musah is on track to renew. The club also has plans to renew Facu Gonzalez, a promising 17-year old Uruguayan defender from the academy, with 2 clubs already reportedly willing to match his release clause in the next transfer market (one in La Liga, one in Premier League).
There were discussions of the national team of choice for Yunus Musah. He holds a dual passport (USA, England) but he is eligible to play for Ghana, Italy, England or the USA. It was recently reported though that should he choose the USA and with the Brexit cut-off date of December 31 approaching, it would be make him a non-EU player. Valencia has a limit of 3 non-EU players and those slots are currently occupied by Maxi Gomez, Kang In Lee and Gabriel Paulista. This has already caused Valencia to miss out on some signings in the transfer market. Should it happen that he does become a non-EU player, the remaining approach would be to apply for an Italian passport.
Finally, there were words from multiple people on the current situation in Valencia. Marcelino has criticized how management tells Gracia one thing and then does another. Amadeo Salvo has called the management not good and ruled out a return at the current moment. Murthy has said that the toxicity in the dressing room has been eliminated. He also said that he understands the current tension between him and the coach and that the club is bigger than any single person. Javi Gracia responded in the press conference by saying that he does want to be distracted and the statements don't help him.
PREVIEW
Alaves come into the game on the back of a 1-1 draw away from home against Levante. They took the lead early in the game but were then reduced to 10-men with a red card in the 34 minute. They conceded 5 minutes into the second half and managed to hold on till the final whistle.
Valencia produced a great display to beat Real Madrid 4-1 at Mestalla last fixture. Madrid went ahead early but Valencia turned it by forcing a penalty and an own goal out of Real Madrid. The second half saw Valencia pressure Real Madrid and win two more penalties. All three penalties were converted cooly by Carlos Soler for his hat-trick.
Alaves are currently 15th with 9 points in 9 games while Valencia are 11th with 11 points from 9 games.
FORM
Alaves: DDWLW
Valencia: WDLLL
SQUAD
Diakhaby, Mangala and Maxi Gomez are all still out with injuries.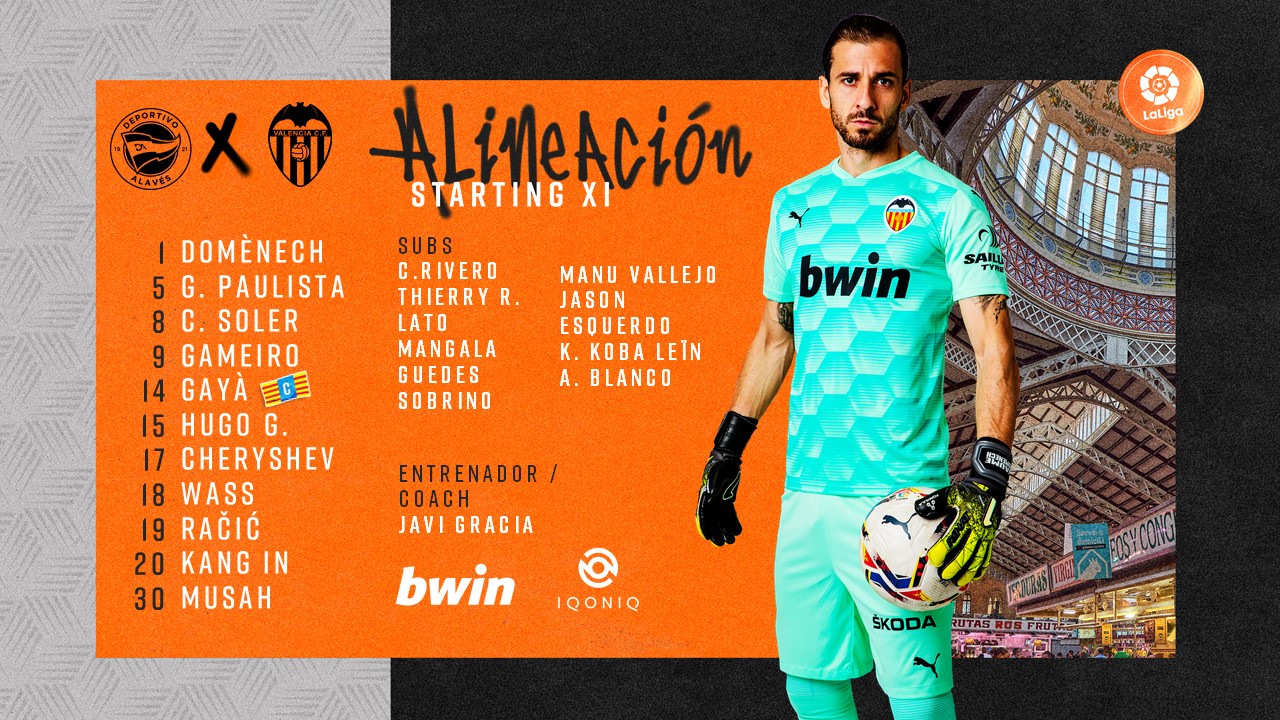 FIRST HALF
2' - Goal for Deportivo Alaves. 1-0. Corner delivery from Lucas Perez is volleyed by Navarro past Jaume. Navarro had wait just outside the box and made unmarked run to meet the corner.
14' - Penalty awarded to Alaves. The home team exploited the space left behind Gaya to counter attack, finding Navarro out wide. Guillamon attempted to stop him but he was beat and Navarro got into the box before being taken down by the youngster.
16' - Goal for Deportivo Alaves. 2-0. Lucas Perez converts the penalty. Jaume guessed the correct direction but the penalty was well-taken into the top corner.
37' - Yellow card shown to Florian Lejeune for a heavy challenge on Gameiro
45' - One minute added by the referee for stoppages.
SECOND HALF
53' - Yellow card is shown to Guillamon for a foul on Joselu. The referee had initially waived the play to go on for advantage, returning later to show the player the card.
56' - First substitution of the match, Manu Garcia replaces Jota
58' - Double change for Valencia. Kang-In and Cheryshev are replaced by Guedes and Vallejo
61' - There was a penalty claim for an alleged handball by Guedes. Despite VAR calling the referee to check, he maintains his original call that it wasn't a handball.
70' - A goal from Alaves's Laguardia is overturned after he handles the ball in the buildup to the goal
72' - Two incoming changes for Alaves. Guidetti and Sainz come on for Joselu and Lucas Perez
74' - Goal for Valencia! 2-1! Good build up to the goal as well. Gaya found Racic in the center of the field, who then plays a short pass to Soler. Soler plays a through ball to Gameiro who races to the keeper for it and just beats him to it, squaring the ball to Vallejo who had no trouble finishing into the empty net.
77' - Goal for Valencia! 2-2! Guillamon heads Carlos Soler's free kick delivery into the net. There is enough time still to go for the win. VAR reviews for a potential offside but the Alaves player had clearly played Guillamon onside, so the goal stands.
89' - Substitution for Valencia as Gaya appears to have been injured, Toni Lato is his replacement
90' - Eight minutes added by the referee for stoppages
FULL-TIME
Back to old ways. A poor first half performance, a half-time wake-up call, and a struggle in the second to tie the score. There were chances in stoppage time to grab a winner as well but the team failed to take them. Valencia did well to come-back into the game and almost take the win.
Whether the international break is the cause of this or not this time has yet to be seen. Gracia needs to get the team back to the point where they can play with intensity for 90 minutes. The team should be capable of that as we have seen it before.
The goals and chances in the second half were set-up really well and if the team started off with that level of play, the game would've been totally different. Maxi Gomez should return next week as well which should give Valencia an added edge in attack.
Full-time stats. 13-13 shots, 3-5 shots on target, 34-66% possession, 68-84% pass accuracy
Next game is on Saturday November 28th at Mestalla against Atletico Madrid. The team needs to show the best version of itself that day against a very good team.