NEWS
Jose Luis Zarargosi resigned from the Valencia board of directors earlier this week. He had notably made a statement when the transfer market was still open that Valencia would, without a doubt, make a signing during the window. In the weeks to follow, Javi Gracia did not get any signings and it is clear that he remains at the club only to avoid his 3 million euro penalty. Seeing the situation as is prompted the director to resign. The official statement of the club though painted a different picture. It said that the director took responsibility for the failure of his mission in achieving social peace within the club. It should be said that Zaragosi was reportedly one of those at the board of directors who stood against the decision to fire Alemany.
Javier Tebas, the president of La Liga, gave a speech this week at the Universidad CEU Cardenal Herrera higher education facility. The event revolved around the operations of La Liga and its plans for the future. During the event, the situation of Valencia was discussed. Tebas gave a lot of credit to Peter Lim saying:
"It's very difficult to evaluate how a club is run without knowing details. When Lim bought Valencia CF I remember that there were 25,000 people who turned out at the stadium to thank him. It seems as if we have forgotten that this man came along and avoided Valencia CF going into receivership -or even disappearing. Peter Lim has my full respect, as without being a Valencian he took this step. After that, there have been things he has got right, and also mistakes that have been made." [Link]
It's funny how his position completely turned around when he was one of those that initially opposed the purchase of Valencia CF by Peter Lim. Further research by one article shows that Peter Lim was instrumental in the opening of the first La Liga office in Singapore - a crucial part of La Liga's expansion plans in the South-East Asian scene. In addition, Peter Lim had reportedly invited Tebas to the Singapore F1 Grand Prix.
The most recent news surrounding Valencia is the closing of a deal between Valencia and Atletico Madrid for the purchase of Kondogiba. As reported by Cadena SER, the deal is a 15-20 million euro purchase deal with Valencia reserving 15% of rights of a future sale. The deal hasn't been confirmed by the club yet but most outlets are reporting this as a done deal.
PREVIEW
Valencia come into this game on the back of 2-1 away loss to Elche. Valencia was on the back-foot for the entirety of the first half and allowed Getafe to take a 2-0 to the half-time break. Valencia came into the game in the second half and, with the introduction of Kang In Lee, pulled one back through a Toni Lato goal assisted by Kang In.
Getafe suffered a 0-1 home loss when they hosted Granada in their last fixture. The difference between a sides was a penalty in the 3 minute of injury time in the first half which was converted by Granada. Getafe had double the shots but Granada had double the shots on target that game.
Valencia currently sit at 16th with 7 points from 7 games, 2 points above the relegation spots. Meanwhile Getafe are 8 with 10 points from 6 games.
FORM
Valencia: LLLWD
Getafe: LWLWD
SQUAD
With Kondogbia having not trained with the team for the past while, and there being rumors of his departure, it is no surprise if he is off the squad list for the game.
It was reported earlier in the week that Diakhaby would miss both the Getafe and Real Madrid games due to the injury he picked up against Elche. Esquerdo will also miss this game through another injury.
The good news is that Maxi Gomez has recovered and trained with the team and is available for selection.
Apparently, Javi Gracia has been experimenting with alternatives in tactics. There were talks of a 4-3-3 or a 4-2-3-1, although it remains to be seen what the effect of Kondogbia's departure is on those plans. Additionally, Jason has been tested as a right-back during the training sessions.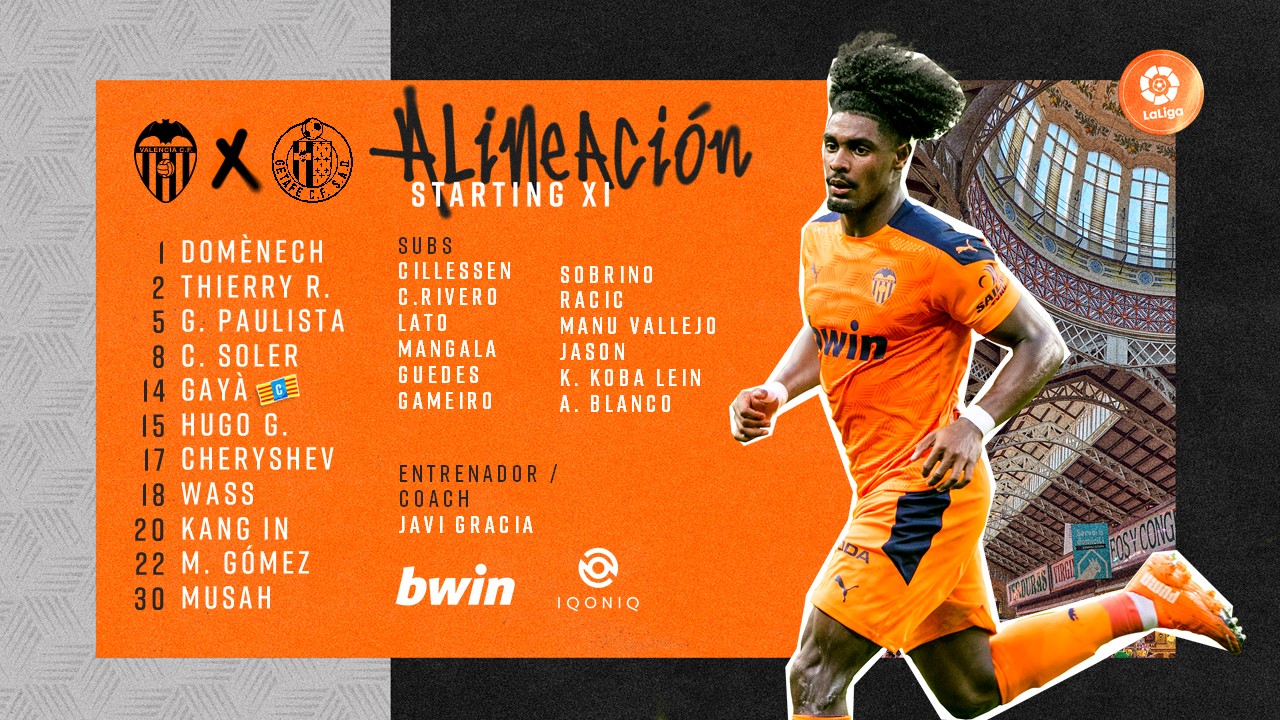 FIRST HALF
10' - Getafe with a close chance to score from the corner. The delivery was flicked on to the far post where Olivera meets the ball with a header. He puts it over the crossbar.
17' - A throw-in from Getafe is header into the box and squared towards Cucurella who takes out his marker with one touch. He picks out Olivera to his left with plenty of time and space to pick his spot. Soler intervenes in the last second to block his shot.
22' - Goal for Valencia! 1-0! Musah with his debut goal for the team. Paulista clears the ball the delivery from the short corner with a header that sets up a counter attack lead by Musah and Cheryshev. Musah takes a great first touch to control the ball and chooses to go the distance himself despite Cheryshev being available. He drives the ball into the penalty box and successfully beats the keeper at his near post.
31' - Yellow card shown to Guillamon for tugging at Arambarri to stop his charge on the counter-attack
39' - Kang-In takes out his marker in midfield with a turn and threads a ball through to Gaya on the left. Gaya cuts inside to bypass the approaching marker and returns the ball to Kang In who sets the ball up for Wass to take a shot at the edge of the penalty area. The shot is tame enough for the keeper to save it without much trouble
41' - Yellow card shown to Paulista for a late challenge on Cucho Hernandez. Both central defenders are now on a yellow card for Valencia.
45' - One minute added by the referee for stoppages
HALF-TIME
One of the main problems in previous games was that the team only begins to try in the second half. Today, Javi Gracia successfully got the team to get into the game as early.
Getafe was more dangerous in the first part of the first half with 2 close chances. The first was a miss and the other denied by Carlos Soler.
Valencia responded after that with a great counter-attack following a clearance of Getafe's corner. Yunus Musah led the break with pace and left his marker behind. Faced with a choice of passing to Cheryshev or taking it on himself, he chose the latter and calmly beat the keeper at his near post.
Valencia would maintain their hold on the game and see it out but not without cost. Both Gullamon and Paulista picked up yellow cards in the process which could come into play with 45 more minutes to play.
Half-time stats. 4-7 shots, 2-1 shots on target, 45-55% possession, 68-70% pass accuracy.
SECOND HALF
48' - Yellow card shown to Correia for a late challenge on Maksimovic
53' - Double substitution for Getafe. Maksimovic and Nymo are replaced by Angel Rodriguez and Timor
56' - Second yellow card shown to Correia for a tug on the shirt of Cucurella. A red card is shown and he leaves the field
58' - Cucho Hernandez forces Jaume to make a save with a shot from the edge of the box.
59' - First change for Valencia. Kang In Lee is replaced by Uros Racic. Wass takes over Correia's position in right-back and Racic takes over Wass's position in midfield.
61' - Yellow card shown to Maxi Gomez for an arm to the face of Cabaco
62' - Both the referee and the linesman miss a very late challenge on Gaya.
64' - Wass picks out Maxi Gomez who had dropped into midfield. Maxi finds Cheryshev in space on the left flank with great vision. Cheryshev takes a few touches and fires from distance after seeing he has no support. The shot is off-target.
68' - Yellow card shown to Yunus Musah for a retaliatory challenge on Cucurella.
71' - VAR overturns a red card shown to Arambarri for a dangerous lunge at Maxi Gomez. A yellow card is shown to the player instead.
73' - Triple substitution for Getafe. Cabaco, Olivera and Unal are taken off. Portillo, Jaime Mata and Diaby are their replacements.
75' - Yellow card shown to Cheryshev for a tug on Diaby's shirt. Gracia needs to make some changes to take some of the booked players off. A second red would be really dangerous.
78' - Second change for Valencia. Lato comes on for Cheryshev.
80' - Angel Rodriguez with a narrow miss as he controlled the pass with his knee and volleyed it at goal
81' - A free kick won by Maxi Gomez is taken quickly by Soler and he picks out Maxi in tons of space in the box. Maxi takes to much time on the ball, the defense recovers, so he is forced to pass instead and the chance goes to waste.
82' - Another chance for Valencia on the break. Toni Lato gets to the edge of the box, takes a few touches in an attempt to dummy the defenders before his shot is saved by the keeper. Maxi Gomez recovers the ball and sets up a shot for Racic at the edge of the box but it's hit straight at the keeper.
83' - Yellow card shown to Wass for a late challenge.
87' - Goal for Getafe. 1-1. Arambarri with a long distance shot at goal that Jaume can only put back into play. Cucho Hernandez reacts first and heads the ball towards goal from a tight angle. Gabriel Paulista tried to scoop it away but couldn't do so successfully.
89' - Yellow card shown to Damian Suarez for a late shove on Racic.
90' - Six minutes added by the referee for stoppages.
90+2' - Final change for Valencia. Jason comes on for Musah
90+4' - Goal for Getafe. 1-2. Angel Rodriguez reacted quickest to Diaby's deflected shot of the post.
90+5' - Penalty awarded to Valencia after Maxi Gomez is taken down by Djene. Yellow card is shown to the player.
90+6' - Second yellow card shown to Damian Suarez for the complaints while VAR reviews. A red card is shown and he leaves the field.
90+9' - Yellow card shown to Jaime Mata for the persistent complaints as the penalty stands.
90+10' - Goal for Valencia! 2-2! Soler calmly slots it past the keeper, sending him the wrong way. Fighting at the net as Valencia try to restart play quiickly.
FULL-TIME
Dramatic ending to a dramatic game. A joy to watch for a neutral no doubt. 11 total cards shown, 9 yellow and 2 red.
Valencia's quest to see out their first half lead was quickly put in jeopardy. With both their center backs on a yellow card from the first half, there was an ominous feeling that a red card was coming, especially given the recent history of these two teams. It would be Correia, however, that would be the one sent off with 2 yellow cards in the span of 10 minutes. This meant Valencia had 34 minutes plus stoppages to play with 10 men and hold their lead. This would test the character and unity of the team.
Valencia coped well given that they were a man down. Wass slotted into Correia's role and Racic, who had come on for Kang In, stepped into Wass' role in midfield. Valencia played with caution, leaving everyone behind the ball with Cheryshev and Maxi Gomez remaining forward. These two would be instrumental to relieve the pressure when the team needed it. They often held the ball up and even began promising counter attacks. Maxi Gomez especially won a few fouls that were essential in relieving pressure. Valencia, meanwhile, continued to pick up one yellow card after the other as they soaked the pressure.
Three minutes from regular time, Jaume spilled the shot from distance and gave Getafe the opening they needed to score. Getafe quickly built on their momentum and got into the box again with Diaby taking a shot which deflected off the post and made its way to Angel Rodriguez who put the ball past the net.
Just when the game looked over and all Valencia's was set for a heartbreak, a quick restart and delivery into the box resulted in a tackle on Maxi Gomez which was converted by Soler. It was a good moment for the team and Soler himself, as this was a symbolic of his stepping up to take over Parejo's role.
Full-time stats. 11-16 shots, 5-5 shots on target, 38-62 % possession, 65-77 % pass accuracy.
Next game for Valencia is on Sunday the 8th at Mestalla against Real Madrid.