Let's go over some news as the team prepare for matchday 6.
Cillissen, Gaya, Guillamon, Wass, Cheryshev, and Maxi Gomez all travelled to play for their respective national teams. From those who went on International break, Maxi Gomez had the best time, scoring the winner in a 2-1 game against Chile. Cillissen also had a great game against Italy with the Netherlands, putting in some crucial saves to keep the game even.
Meanwhile at Valencia, there were rumors about a possible sale for the club. Andrea Radrizzani, the owner of Leeds United, was said to have put in a bid for Valencia, having shown interest from when the deal for Rodrigo went through. This week, Anil Murthy dismissed those rumors.
There were also news circulating of an interest from Atletico Madrid for Kondogbia. The player's clause is said to have dropped from 80 million euros to 30 million euros when the transfer window closed. Atletico were one of the teams approaching the player and were said to be in discussion with him even after the break. Just yesterday, Kondogbia took to twitter to show his dissatisfaction with Anil Murthy blaming him for ruining a winning project, betraying Javi Gracia and fooling him. It looks like there will be some repercussions for his statements.
PREVIEW
Villareal played out a 0-0 home draw against Atletico Madrid in their last game. There were two shots on target in the game and all of them came from Villareal, despite Atletico having more than double their total shots.
Valencia had a rough time in their game against Real Betis. Despite playing at home, they suffered a 0-2 loss to Real Betis. The away team dominated the game completely and Valencia hardly showed any response or effort to match them.
Villareal currently sit 8th with 8 points while Valencia are 11th with 7 points.
FORM
Villareal: DWLWD
Valencia: LWDLW
SQUAD
Valencia recovered several players from injury over the break. Paulista, Soler and Cheryshev are all available for selection. Mangala is still recovering. Kondogiba has problems with his heel but is also in the midst of conflict with the club.
Two changes that fans have been asking for appear to be implemented with Carlos Soler playing in central midfield and Guedes joining Maxi Gomez in attack.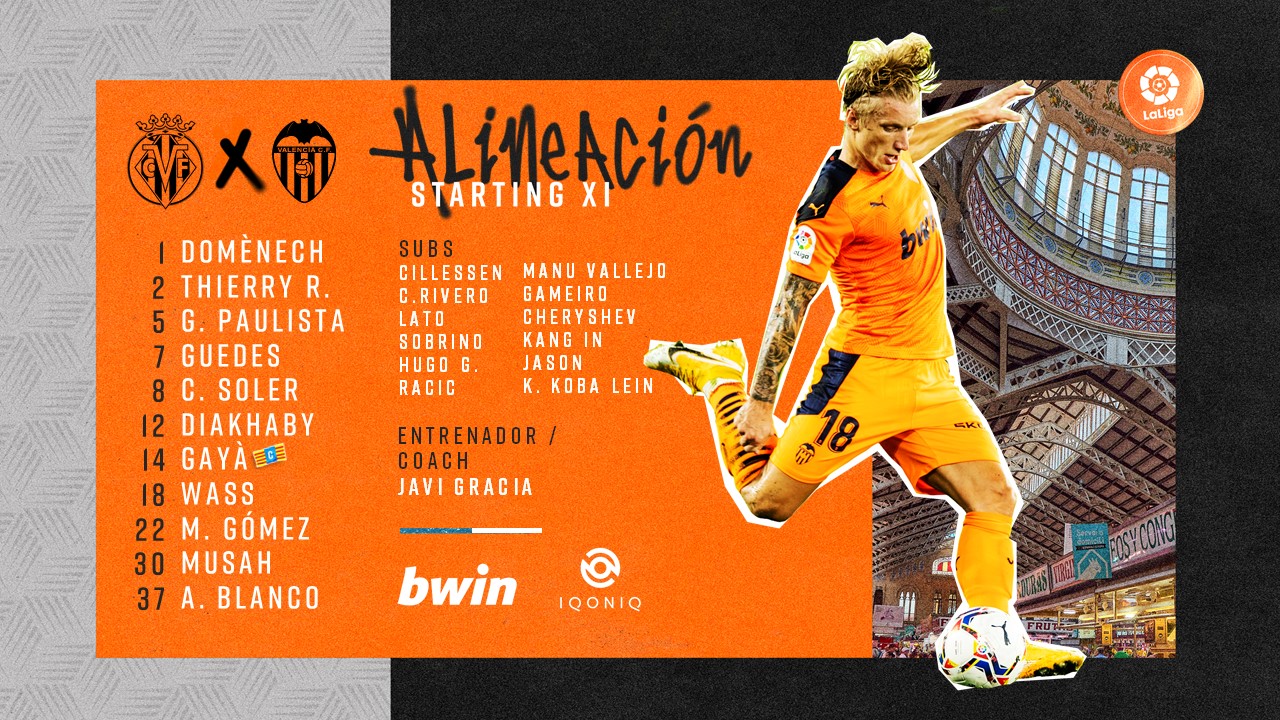 FIRST HALF
4' - Penalty awarded to Villareal after Paulista tackled Pedraza in the penalty area. Chukwueze had put in a ball into the box and Pedraza's touch took him past Correia and created a dangerous opportunity.
6' - Goal for Villareal. Alcacer converts the penalty, sending Jaume the wrong way.
11' - Yellow card shown to Vicente Iborra for a tactical foul on Musah who was beginning to get away from his markers. Free kick in a good position for Valencia. Wass steps up to take it.
18' - This first half is looking like a practice session for Villareal so far with the Valencia players are placeholder defenders. Something needs to change or a second goal is coming.
28'- Guedes hits the ball straight at the keeper from a free kick.
33' - Diakhaby gets a header after a delivery from Soler's free kick.
36' - Goal for Valencia! 1-1! Guedes scores in his usual style. Soler took the corner short and found Guedes who took the ball made a horizontal run along the edge of the penalty area. Once he reaches the center he takes a shot into the top left corner of the goal. This is a glimpse of the version of Guedes that Valencia signed.
HALF-TIME
Despite the scoreline, Villareal dominated the game. They had the majority of possession and chances and had Valencia trapped in their own box.
The home team took advantage within the first 5 minutes of the game with Paulista giving away a penalty which was converted by Alcacer. While Villareal looked threatening after that, they couldn't capitalize on their dominance.
Valencia started to get more into the game as Maxi Gomez and Guedes gave them breathing room when they would go forward and get fouled. Valencia's efforts on target came from Guedes's free kick which was hit directly at the keeper, and Diakhaby's header following a free kick which also easy for the keeper. Out of nowhere, Guedes shows that spark that he shows every now and then and strikes the ball beautifully from distance, leaving Asenjo with no chance at saving it.
Half-time stats. 10-6 shots, 4-3 shots on target, 64-36 % possession, 90-83 % pass accuracy.
SECOND HALF
48' - Soler with a great run in midfield breaking through the opposition players and setting up a 3 v 3 on with the Villareal backline. He opts to pick up Alex Blanco on his right but the youngster's shot is blocked by the defender.
51' - Yellow card shown to Pedraza for dragging down Alex Blanco.
52' - First substitution for Valencia. Cheryshev replaces Alex Blanco. Musah returns to his spot on the right flank and Cheryshev takes over the left.
63' - Double change for Villareal. Trigueros and Chukwueze are replaced by Coquelin and Kubo
66'- Pedraza appeals for a penalty after clashing with Correia for the ball on the goal-line. The referee and VAR dismiss it.
68' - Goal for Villareal. 2-1. Parejo bypasses Wass's challenge and strikes the ball from the edge of the box. The ball hits Diakhaby's foot, goes over Jaume and into the goal off the the crossbar.
72' - Yellow card shown to Take Kubo for a high boot which strikes Gaya in the side of the head.
80' - Third substitution for Villareal. Alcacer off, Carlos Bacca on.
83' - Triple change for Valencia. Jason, Gameiro and Racic come on for Musah, Wass and Correia
84' - Yellow card shown to Paulista for a heavy challenge on Parejo
89' - Final change for Valencia. Manu Vallejo replaces Guedes
90' - Five minutes added by the referee for stoppages
90+2' - Second yellow card shown to Take Kubo for a heavy challenge on Soler. He is sent off with a red card.
90+5'- Final change for Villareal. Parejo is taken off due to injury and Jaume Costa comes on to replace him.
FULL-TIME
After a first half where Valencia managed only one good change to score and against the run of play at that, it was doubtful whether Valencia would be able to do it again if they were to go down again.
Valencia started off the second half strongly with a great attacking move lead by Carlos Soler. That was the peak of the half for the away team with no clear chances after that.
Villareal would get a stroke of luck with a deflection off Diakhaby to go ahead in the game and give Parejo a goal versus his former side. Two former players of Valencia were responsible for their demise today.
Villareal would go down to 10 men in the final minutes of the game but it wasn't enough time for Valencia to capitalize on it, especially the way they were playing today.
Not many would have expected Valencia to walk away with a win, given last game's performance as well as the recent controversy at the club. In a way, the difference was clear between a team that is competing for European competitions and a team that is aiming for a mid-table spot.
Full-time stats. 16-11 shots, 6-3 shots on target, 63-37 % possession, 89-83 % pass accuracy.
Next game is away to Elche on Friday the 23th.