Let's go over some news as the team prepare for matchday 5.
In the pre-match press conference, Javi Gracia stated that there has been no communication from management about transfer activity but as long as the window is still open he will remain hopeful. It is strange why they feel like they have to be so secretive about these operations, if there are indeed any. It will be interesting to see what happens if the promise is not kept and Gracia doesn't get any player or gets sub-par players. This has happened before with Prandelli who was quick to leave after the promises made to him were broken.
Despite the secrecy from management, the papers continue to speculate over which players will arrive. Additionally, despite the suggestion from Gracia before the previous match that he doesn't think more players will leave, the rumors continue about which player is on their way out next. Gracia did leave it open-ended by stating that anything can happen.
Diakhaby was reported to have interest from clubs in the Premier League and Ligue 1. It seems like an asking price of around 20 million euros was given by Valencia. Meanwhile, the club is listening to offers for Mangala and Cheryshev. There are also several questions surrounding Cillissen and Gameiro's destinations.
As for signings, it seems this week's most talked about targets for Valencia are Juventus's Rugani, Lyon's Joachim Anderson and Porto's Diogo Leite. Today, there wer ereports that Rugani seems to be on his way to Rennes on loan. Valencia missed out on another target in Borja Mayoral these past few days, as he is set to join Rome.
Alex Carbonell from the quarry has been transferred to second division side Lucerna with Valencia reserving a percentage of a future sale.
Jordi Escobar appears to be on his way to AC Milan.
Alex Centelles has been allowed to leave, with Almeria looking like the most likely destination. It looks like Valencia will also claim a stake in a future transfer free.
PREVIEW
Valencia come into this game having secured an unexpected 0-1 away win against Real Sociedad. After a poor display against Huesca in the previous match, many fans thought Real Sociedad would be too much to handle. However, Valencia would hold their own against the home team and kept them at bay. Changes in the second half from Gracia had an instant impact as Gaya set up Maxi's goal with a great cross. Sociedad would grab a goal in the 5th minute of stoppage time, only for VAR to overturn the goal due to handball; a rare benefit for Valencia.
Real Betis's last match didn't go their way as they succumbed to a 3-0 away loss to Getafe. The home team grabbed three goals, all in the first half. The first a scissor kick from Angel Rodriguez, the shot from the edge of the box by Cucurella and third a standard counter-attack finished by Angel Rodriguez for this brace. Betis had around 70% of the possession during that game and still couldn't grab a single goal. A red card in the 83rd minute took away any chance at consolation.
Valencia currently sit 2nd in the league with 7 points. Real Betis are 7th with 6 points.
FORM
Valencia: WDLW
Real Betis: LLWW
SQUAD
The big news for this game, is the return of Carlos Soler to the selection. He has been out for a while, recovering from COVID. He can offer something different to the Valencia midfield if he is played there. It still remains to be seen what position he will occupy under Gracia.
Injury list: Paulista, Mangala, Cheryshev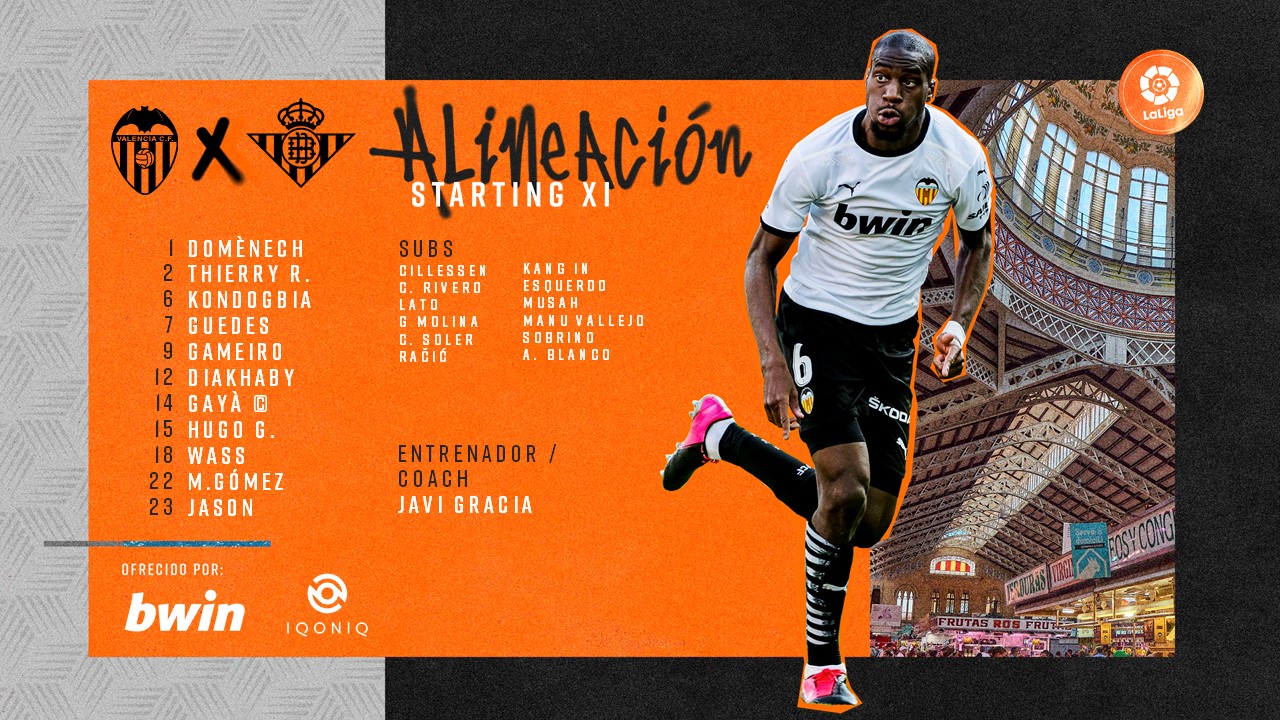 FIRST HALF
1' - Yellow card shown to Marc Bartra for a heavy challenge from behind on Maxi Gomez
8' - Guedes puts the ball in the back of the net after a Valencia counterattack but the goal is overturned due to offside. Gameiro had headed the ball over Real Betis's high defensive line to put Gomez through onto goal. He squared the ball for Guedes who had no trouble finishing from that position.
10' - Real Betis give the ball away in their own half. Gameiro claims possession, sends a pass wide to Guedes who then finds Wass at the edge of the box. Wass gets a shot and hits the target which the keeper spills but no Valencia player is around to take advantage.
12' - Yellow card shown to Guedes for tugging on the shirt of Emerson
19' - Goal for Real Betis. Sergio Canales was set up at the edge of the box after some build-up play for Betis. He takes a touch to set up the shot and it deflects off of Jason and into the back of the net.
22' - Jaume denies Betis from a second goal with a save at point-blank range from Sanabria's header. He had managed to get just ahead of Guillamon to make contact with the cross.
38' - Jaume saves another shot, this time from Fekir, the ball is sent back into play but the defense clears.
40' - Guedes beats his defender on the flank and cuts into an inside position, beating another on the way. He threads the ball through the defense for Maxi Gomez who has a tight angle against him. The shot is hit directly at the keeper who saves easily.
45' - Yellow card shown to Guillamon for tugging on Sanabria's shirt.
HALF-TIME
Another poor first half to add to the the collection this season. Real Betis were allowed to control the game while Valencia did not look like a team playing at home.
Valencia went down due to a fortunate deflection from Sergio Canales's shot. The build-up play to that goal was more telling though as the entire Valencia defense and midfield's attention was occupied by two Betis players. Despite being surrounded, they managed to get their passes off, eventually finding Canales with some space.
Valencia did not respond after that goal. Betis always looked more likely to score after that. with Jaume being called to make more saves to maintain the scoreline. Musah, Kang In and Alex Blanco were seen warming up soon after the goal which could an indication of half-time changes.
Guedes did set up a decent change when he beat two players and picked out Maxi Gomez, but the angle was too tight to produce a goal.
Half-time stats. 2-7 shots, 2-3 shots on target, 45-55% possession, 81-84% possession.
SECOND HALF
51' - Tello gets a free run on the left flank chased by Diakhaby. Tello crosses and finds Fekir but he scuffs the shot completely. Valencia are fortunate to not concede there.
53' - Yellow card is shown to Canales for taking down Wass after he got away from him.
55' - Double substitution for Valencia. Jason and Guedes are replaced by Kang In and Alex Blanco.
61' - Fekir's free kick takes a deflection as it hits the wall and Jaume has to adjust and stretch to reach it to deny the shot. Great save. Replay shows that it was probably going wide regardless but better safe than sorry.
64' - Tello picks out Canales in the penalty area. Canales takes a powerful shot on goal which Jaume pushes over the crossbar. Increasing pressure on the Valencia goal and a response is still lacking.
74' - Goal for Betis. 0-2. Joaquin sprinted from midfield and through several Valencia players on the way. With all the attention drawn on him, he lays off the ball to Tello in total space. He takes the shot on goal and another deflection, this time from Diakhaby, takes the ball past Jaume.
80' - First change for Real Betis. William Carvalho replaces Joaquin.
81' - Valencia with another double change. Soler and Vallejo come on for Kondogbia and Gameiro.
86' - Second change for Betis. Borja Iglesias on, Pablo Sanabria off.
90' - Two minutes of time added by the referee for stoppages.
90+2' - Final set of changes for Betis. Fekir is replaced by Guardado while Tello is replaced by Juanmi
FULL-TIME
The worst performance of the season so far. Valencia hardly looked like they were going to score while Betis had chance after change. If it wasn't for Jaume, the scoreline would certainly be much worse.
The second goal was embarrassing to conceded. Jooquin single-handedly carried the ball through from midfield to the penalty area and not a single Valencia player could stop him. A player at the final stages of his career showed more determination and hunger than what the Valencia players showed today.

While both goals for Betis were scored as a result of deflections, the build-up to the goals exposed huge flaws in the Valencia system that allowed the goals to happen.
Jaume was perhaps the only positive to take away from the game as he attempted to keep Valencia in the game as long as possible.
Full-time stats. 5-17 shots, 2-8 shots on target, 46-54% possession, 80-83% pass accuracy.
The transfer market closes in two days - October 5th. Gracia needs players and it is unknown what his response would be if he is left without any.
International break will begin after this. As such, next game for Valencia is on the 18th of October against rivals Villareal. This should give some time for Gracia to reorganize and prepare.