Let's go over some news in the lead-up to matchday 3.
The club has been working on a couple of contract renewals this past week. Esquerdo had his contract extended to 2024 with a 100 million euro release clause attached to it. Racic's contract is currently being negotiated with the goal of extension.
In terms of transfer activity, Murthy should be travelling to meet with Mendes about signings.
The club remains focused on securing Capoue from Watford, Gracia's former team. The press reported that Capoue has pushed for an exit from the club with a spokesperson from the club confirming this as the reason why he didn't make the squad list. The obstacle in this deal is the price. Valencia have offered 2 million euros while Watford want closer to 8 million euros. After some insistence from Gracia, Valencia may be willing to increase the amount to secure the deal.
The second most common name discussed in relation to Valencia has been Manchester United keeper Sergio Romero. With the club looking for an outlet for Cillissen, it seems Romero is the most likely replacement, if any. A figure around 6 million euros has been reported as the required fee.
From Portugal, there was a reemergence of news surrounding Leite's transfer to Valencia. Additionally, some outlets reported that Mendes is trying to facilitate a transfer of Jota from Benfica. The player has a minimum release clause of 30 million euros, so this one seems very unlikely.
PREVIEW
Valencia's last matchday saw them lose 2-1 away to Celta Vigo. It was undeniable that the home team outplayed Valencia in the game. A breakdown in defense and midfield set up Celta's first goal. Although Valencia would recover in the second half with a half-chance that was converted by Maxi Gomez, Valencia would soon fall behind again. A free kick was given away at the edge of the penalty area and Iago Aspas hit it perfectly to score. Despite change after change, the team couldn't turn around the scoreline. Celta had a few more efforts that hit the post while Valencia had some penalty claims which were turned down. Most of the discussion from press discussed the unfairness of VAR over the shortcomings of the team.
Huesca suffered their first loss of the season at home against Cadiz, a fellow newly promoted club. Despite having the majority (70%) of possession in the game, they succumbed to a 0-2 loss with goals coming around 10 minutes into the first half, and 10 minutes away from full-time. Negredo scored the first goal for Cadiz.
Valencia are 5th in the current standings with 3 points while Huesca are 12th with a single point.
FORM
Valencia: DW
Huesca: LD
SQUAD
The bad news coming out of the camp this week was that Paulista had picked up a muscle tear that will see him miss the next 2-3 weeks. This is a big blow for the team as he is the most reliable center-back. With Mangala having picking up an injury against Levante, this leaves Diakhaby and Guillamon to cover. The need for a center-back signings grows more with this news.
Despite recovering and training with team, Cheryshev has some minor discomfort so he won't be risked this game.
Gracia did recover Racic and Gameiro from their injuries, and both are available for selection this game.
Injury list: Cillissen, Mangala, Paulista, Soler, Cheryshev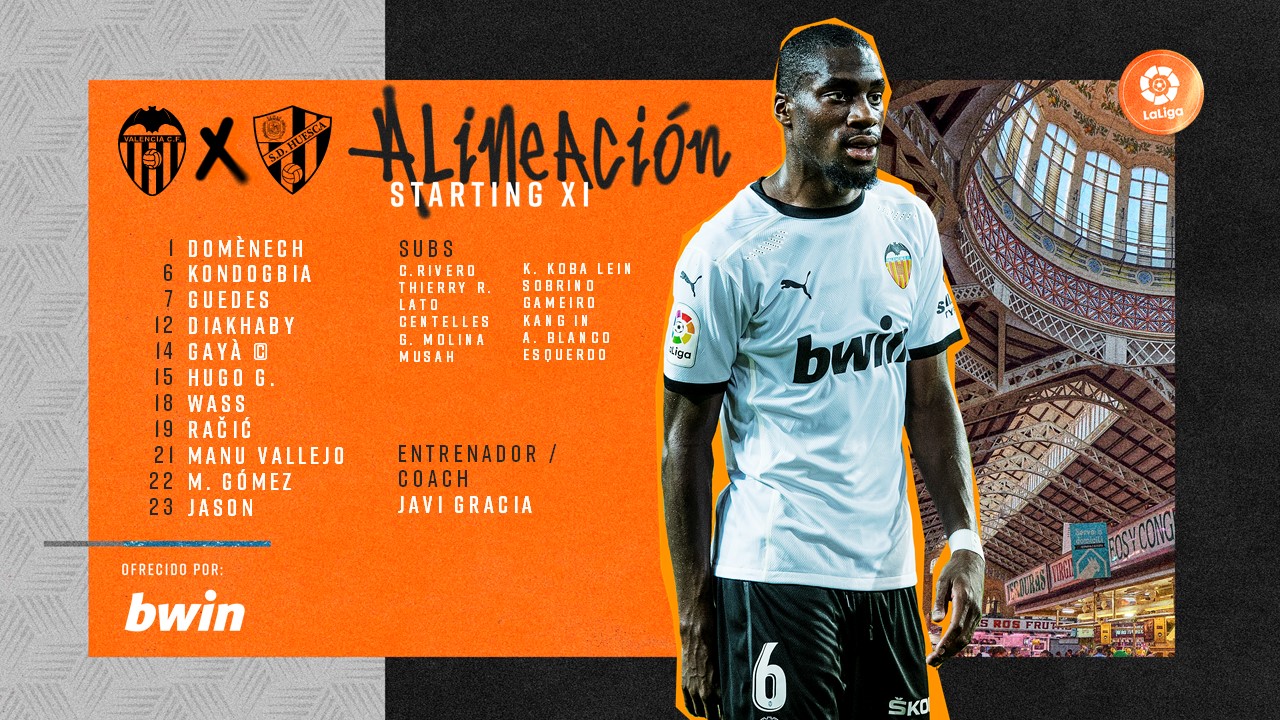 FIRST HALF
7' - Close call as Okazaki beats Guillamon for the ball and send a header towards goal. The effort is wide.
20' - Very sloppy play from Valencia so far. The team is having a head time stringing together 2-3 passes before losing the ball.
30' - It's concerning that Valencia is struggling against Huesca for 30 minutes straight with no response. Most of the time is spent in their own half defending.
37' - Goal for Valencia! 1-0! An expected goal against the run of play from a free kick in a unlikely position. Wass's delivery in the box sails past everyone and takes a bounce, Diakhaby jumps over it and it makes it all the way to the back of the net at the far side of goal. Strange goal to score but Valencia will take it. They needed some luck the way things were going so far. Huesca will be frustrated they went behind in such a way.
45' - Two minutes added by the referee for stoppages.
HALF-TIME
A misleading scoreline given the performance from Valencia.
Huesca dominated the game in practically all aspects. They had more of the possession and most of the game was played in the Valencia half of the field. Huesca pressured high and hoped that Valencia would crack under all that pressure. They were frustrated in the end as they could not trouble the defense much outside of the first 7 minutes. In fact, they didn't hit the target once.
With Valencia barely managing to to put together a few passes, let alone get forward, it was a surprise for everyone when they took the lead. Wass took a free kick practically from the touch line, something like 35 meters out and manages to score. The intent was a cross of course, but it was smart to aim for the far post as it usually causes trouble for the keeper.
Gracia has shown in previous games that he can identify problems and address them as the game goes so it will be interesting to see what his approach this game will be. Guedes seems to be playing with a lot of frustration again and appears to be a likely candidate for substitution.
Half-time stats. 1-5 shots, 1-0 shots on target, 46-54 %possession, 76-82% pass accuracy.
SECOND HALF
No changes from either team as they both head back out after the break.
46' - Diakhaby does well to deny Okazaki from getting into the box or crossing.
60' - Jaume with a great save to stop Saoune's shot, It was heading into the top corner but he managed to paw it away.
61' - Another save from Jaume. The cross looked like it would go over the bar but he gets his hand up correctly and tips it over.
62' - That's a third save in a row, this time from a header at point blank range. VAR checks and the ball did not cross the line.
62' - Borja Garcia replaces Juan Carlos for Huesca's first change of the game.
63' - Goal for Huesca. 1-1. This time Jaume could not save the effort as Siovas heads it past him. He needed help from the defense here under mounting pressure. Siovas was allowed a free header at goal. Jaume did get a touch on it but it hit the corner post and went in.
64' - Double substitution for Valencia. Musah and Gameiro come on for Vallejo and Jason.
65' - Yellow card shown to Galan for a heavy challenge.
72' - Okazaki volleys, despite pressure from Wass, the early cross from Pedro Lopez and hits the cross bar. Close call.
75' - Kondogbia tries a shot from range and forces a save from the keeper.
79' - Second set of changes for Huesca. Okazaki and Pedro Munoz are off, Ontiveros and Luisinho on.
84' - Good string of passes from Valencia results in a chance for Gaya but he misses the ball.
85' - Third change for Valencia. Kang In replaces Guedes.
86' - Guillamon with a major blunder as he gives possession away on the edge of his own penalty area. Thankfully, Mosquera rushes his shot and Jaume saves.
87' - Gameiro with a chance on the other end. There is too much power on it though and it sails over the crossbar.
88'- Final set of changes for Huesca. Rafa Mir and Ferreiro are replaced by Escriche and Joaquin Munoz.
90' - Five minutes of time added by the referee for stoppages.
90+4' - Final change for Valencia. Swap in midfield, Esquerdo for Racic
FULL-TIME
Again. Not good enough. The team has not only played out a draw with a newly promoted team but struggled to do just that.
Having fortunately taken the lead in the first half, this was an opportunity for Valencia to put poor performance past them and build on it in the second. This wasn't the case. Valencia did do slightly better offensively but had big lapses in defense.
The goal from Huesca was coming. Multiple saves by Jaume simply stalled it. It in the end it was all undone with just one corner. There could've been more with chances from Okazaki's volley and Guillamon giving the ball away in a dangerous position. Kondogbia and Gameiro could only give Valencia half-chances.
Overall disappointing and will give Gracia something to think about. These 3 games were an opportunity to build momentum. An opportunity that was taken.
Full-time stats. 5-17 shots, 2-4 shots on goal, 48-52 %possession, 76-82 %possession.
Next game is on Tuesday the 29th away to Real Sociedad. A big step up in quality is needed for that game.