Valencia finished the last matchday as group leaders and will take that with them in their first away game against Celta Vigo.
Let's briefly go over some news from the Valencia camp. A lot of articles this week have been linking various players to Valencia as transfer targets. The list grows by the day, yet still not a single move has been made. This has been quite frustrating. So much so that it has recently come out that a recent meeting between Javi Gracia and Murthy ended in anger and the latter storming out. The timeline on this is just before the Levante pre-game press conference where Gracia delivered those strong words at management.
The line that was missed in that conference was one where he questions if the team will make signings needed to elevate the quality of the team. This was originally interpreted as a critique of the lack of signings in general but it has become evident that this was a critique in the quality of the signings.
Reports this week have mentioned that Javi Gracia identified 5 reinforcements for his team after he learned that the club's plan to sell some major players. A lot of this information was available to him before he joined. He was promised that signings will be made and has generally been upset with the absence of any thus far. He wanted a striker, a central defensive midfielder, a central defender and a right-back and a goalkeeper. He gave the clubs two names: Capoue (if Herrera was not available) and Pepe Reina (if Cillissen leaves). The rest he left for the club to decide.
Javi Gracia watched one player after the other be targeted unsuccessfully and then learned that Murthy had in fact been targeting players of a different profile altogether. The players on the list were either free players or those that could be secured on loan deals without compulsion in purchase. The quality of the players on the list was the most shocking to Gracia as a lot of them are over 30 years old, unproven and in one case from the third division. The statement from the conference was pointing to the fact that Gracia believes the quality in this
list
is insufficient to elevate Valencia. All of this was reported by Plazadeportiva.
PREVIEW
Valencia come in this game on the back of a surprising 4-2 comeback win in the derby against Levante at Mestalla. The start of the game had Valencia looking like a relegation level team after conceding in the first 30 seconds and giving Levante 2-3 more very dangerous chances in the following minutes. Valencia managed to respond with a set-piece header from Paulista. Levante would take the lead again twice, the first overruled by VAR. Valencia would comeback again, turning an unfavorable 2 v 6 into a goal thanks to the combination of Kang In and Maxi Gomez. Substitute Manu Vallejo would grab 2 goals in the second half, the second of which was in stoppage time, to secure the win.
Celta Vigo played out a very even game away to Eibar in their first matchday. The game ended with a 0-0 scoreline.
Valencia currently sit top of the league with 3 points while Celta are 9th with 1 point.
SQUAD
News this week also revealed that Rivero was almost loaned to Malaga before the Cillissen's injury but that has been cancelled since it is believed the injury will extend past the transfer window close date. He will be on the bench again to cover for Domenech.
With Mangala being injured last game, Gracia will have to rely on Diakhaby or Guillamon to partner Paulista. Molina is also available if needed. Lato has been recovered from his injury.
In midfield, Soler tore a muscle during training, and will be out for 3-4 weeks. This is unfortunate as the player had just started training again with the team. With Cheryshev also out with a recent injury, Koba Lein is called up from the youth team. Jason has also recovered from his injury and will be available for selection. It was questionable whether Racic would make the squad after some intense wisdom tooth pain.
In offense, Gameiro has recovered but is not yet ready for the game. No changes from the previous game as Alex Blanco covers for his absence if needed.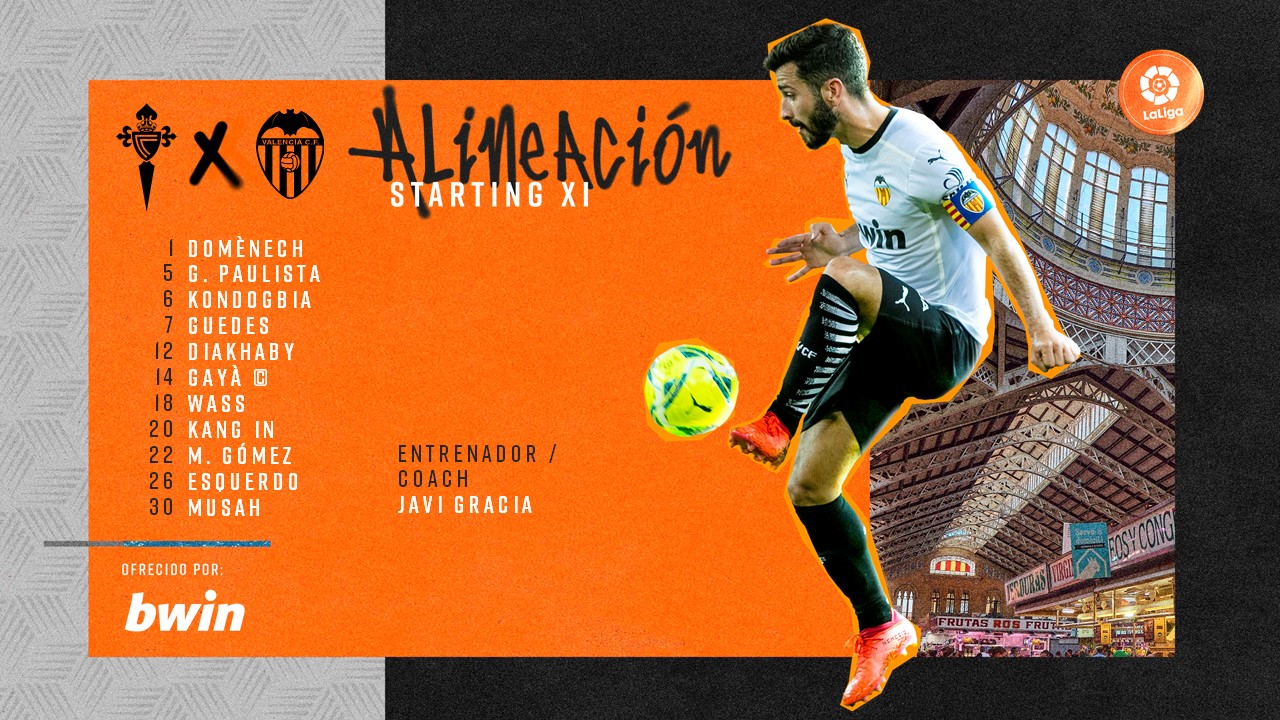 Bench:
Rivero, Guillamon, Lato, Thierry, Centelles, Molina, Koba Lein, Jason, Sobrino, Vallejo, Alex Blanco

FIRST HALF
10' - Several chances for Celta in the opening 10 minutes. Mild efforts but efforts nonetheless.
13' - Goal for Celta Vigo. 1-0. The defense exposed once again. Four players around Nolita and they couldn't stop him. He drives through towards goal and plays a through ball for Iago Aspas who runs around the keeper and pokes it into the net. VAR is checking for offside after the linesman initially overruled it.
14' - Paulista seems to have picked up a knock after that last play. Hopefully he's okay.
15' - The goal stands as Wass had just played him onside. Valencia have to come back from behind for the second game in a row.
20' - Kondogbia with a shot from distance, but it's just wide of goal. Good effort.
24' - Yellow card shown to Tapia for a tackle from behind on Maxi Gomez
34' - Some disagreement between Gaya and Kang In over who should take the free kick. Eventually, Wass gets the ball to Gaya and Kang In walks off in frustration.
45' - Two minutes added by the referee for stoppages.
HALF-TIME
Disappointing half. Valencia conceded early, not as early as last game, but in similar fashion. The complete collapse of the defense and midfield at the hands of a few opposition players. Why was Nolito allowed to carry the ball that long with 4 Valencia players around him?
When they went down, Valencia did not respond as they did last game. Celta's dominance persisted throughout the half. The only chances from Valencia came from a Kondogbia shot and some crosses that just missed their mark. From these, not a single shot actually hit the target.
Half-time stats. 8-3 shots, 4-0 shots on target, 46-54 % possession, 81-84 % pass accuracy.
Gracia's half-time adjustments changed things last game. Change is needed again. Let's see if he can impact the course of the game again.
SECOND HALF
45' - Double change for Valencia. Guedes and Kang In off, Vallejo and Jason on
46' - Goal for Valencia! 1-1! First shot on target by Maxi Gomez and it's a goal! Kondogbia finds Jason in midfield who does the same for Wass's advanced run. Wass puts in the cross and Maxi strikes it first time and into the net! Great team effort. Maxi refuses to celebrate the goal against his former side.
54' - Yellow card shown to Esquerdo for a strong follow through on the tackle on Nolita. Free kick given away in a dangerous position.
56' - Goal for Celta Vigo. 2-1. Iago Aspas scores directly from the free kick. After spending so much time setting up the way and adding additional players behind it to prevent a shot under the wall, Iago Aspas simply goes for the top corner and scores.
58' - Paulista misjudges the trajectory of the long ball which results in Nolito going clean through on goal, 1v1 against Domenech. Jaume manages to save the shot and the ball is cleared. That could've been much worse
64' - Paulista gets a header on target from a cross, forcing the keeper to save and push it over the crossbar.
65' - First set of changes for Celta. Denis Suarez and Beltran are replaced by Yokuslu and Miguel Perez
71' - Third substitution for Celta. Emre Mor is taken off, and Brais Mendes come on to take his spot.
72' - Gracia with another change for Valencia. Correia replaces Esquerdo. This sees Wass move to midfield and Correia take over at right-back.
79' - Final set of changes for Celta. Murillo and Tapia are replaced by Araujo and Gabriel Veiga Novas
83' - Almost a third goal from the away team as Brais Mendes's shot hits the crossbar.
84' - Final change for Valencia. Sobrino replaces Musah. Miguel hits the Valencia post as soon as play restarts. Celta could be up a few goals now.
87' - Celta temorarily down to 10 men after Aidoo walks off due to a head injury from a clash with Vallejo.
90' - Seven minutes of additional time is signaled by the 4th official.
90+1' - Yellow card shown to Okai for a tackle from behind on Wass.
90+2' - Maxi Gomez takes the resulting free kick and hits it low, managing to force a save from the keeper.
FULL-TIME
A chance to build momentum is not taken by Valencia. Celta take all three points and give Gracia quite a bit to think about.
The frailties shown against Levante are now beginning to appear as a persisting problem rather than a one-time thing. If management wasn't convinced that quality signings were needed, hopefully this will wake them up.
Unfortunately, the defense wasn't the only problem this game as the midfield looked very permeable and ineffective both offensively and defensively.
Kang In and Guedes had an especially disappointing game, with those two often expected to be the difference makers in a game. Their head was completely out of the game and it manifested as poor attitude towards the game.
Vallejo and Maxi have shown that they are capable of converting chances when they are provided with the service. Today, there wasn't much service, let alone quality service. The one good chance that Valencia got was converted by Maxi Gomez to cancel out Celta's first half goal.
Esquerdo again involved in the action as he gave away the free kick which Iago Aspas converted to get ahead. He cannot be solely blamed though as the opposing player was given plenty of space and forced a tactical foul from Esquerdo with no backup available.
Full-time stats. 23-9 shots, 6-3 shots on target, 52-48 % possession, 81-81 % pass accuracy.
Next game is Saturday the 26th at Mestalla against Huesca.