Valencia start off their first game of the season in a local derby against Levante UD at the Mestalla. This will be a great chance to evaluate the level of the team and hopefully build momentum in what would be the first of a series of "beatable" opponents.
Valencia's preseason was eventful. Javi Gracia took over as head coach and bean training the team on August 10. Key players like Parejo, Rodrigo, Coquelin and Ferran have all moved on to other clubs, another key player - Garay - had his contract expire with no renewal, Costa's loaned ended, while Piccini was recently loaned out. To deal with the absences, Javi Gracia heavily relied on the youth players as well as some of those returning from loans like Racic and Jason Remeseiro.
Valencia had 4 preseason fixtures in total, playing against Castellon (W: 1-0), Villareal (W: 2-1), Levante (D: 0-0) and Cartagena (W: 3-1) and remained unbeaten throughout.
Levante's most notable loss in the transfer window was Borja Mayoral, who has been a rumored Valencia target, since his loan period has ended. Levante most notably brought in Jorge de Frutos and Dani Gomez from Real Madrid, while most other transfer activity was either free transfer arrivals or promotions from their youth team.
Levante played 5 preseason fixtures with some common opponents to Valencia's preseason. They faced Mallorca (W: 2-1), Valencia (D: 0-0), Cartagena (W: 2-1), Villareal (W: 2-1), Castellon (W: 1-0) and also managed to remain unbeaten.
The scorelines and results from the preseasons of both teams are actually really similar. Levante did play an additional game against Mallorca though.
SQUAD
The most notable absentees from the squad list are Gameiro, Jason and Cillissen, all missing due to injury. Lato is also not on the list, as he was not deemed fully ready after struggling with a muscle injury.
Due to the absences, Rivero, Centelles, Musah and Alex Blanco supplement the first team. Furthermore, Wass is listed as a midfielder and Guillem Molina gets on the list in defense.
Javi Gracia has recently expressed his dissatisfaction and concern with the lack of signings and had some strong words in his press conference. Anil Murthy's promise of having at least one signings before the start of the season was broken. However, the coach insists that those who are here are ready and can compete.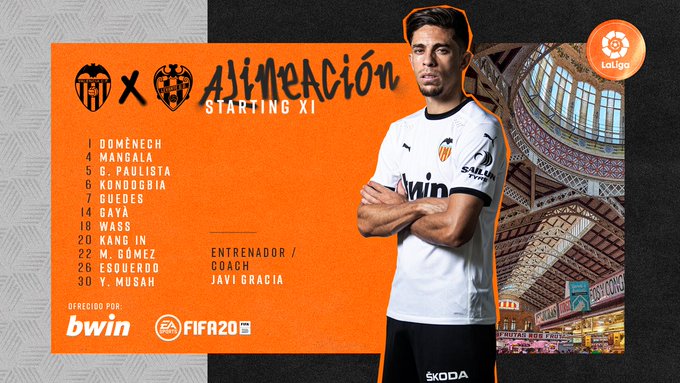 Bench:
Rivero, Thierry, Diakhaby, Guillamon, Centelles, Molina, Soler, Cheryshev, Racic, Sobrino, Vallejo, Alex Blanco
FIRST HALF


1' - Goal for Levante. 0-1. About 30 seconds in before Esquedro loses the ball and is quickly punished for it. Morales runs into the box and perpendicular to the goal, dribbling past Kondogbia, avoids Paulista challenge and slides in between him and Wass before slotting it past Domenech at the far post.
5' - Shaky start from Valencia. The ball is being given away time after time in dangerous positions.
9' - Gaya plays a pass along the touchline for Guedes to run into. Guedes sends a low cross into the box aimed at Maxi Gomez but the defender gets there ahead of him.
11' - Goal for Valencia! 1-1! Kang In sends the corner all the way to the far side where Paulista had found a pocket of space. Paulista just manages to squeeze the header between the keeper and the post. The service and goal-scoring from corners was really lacking last season, so this is great to see.
16' - First change of the game for Valencia as it looks like Mangala has picked up an injury. Diakhaby is his replacement.
18' - Goal for Levante. 1-2. Total pin-ball chaos at the back for Valencia. Diakhaby was drawn out of position and out of his penalty box. Morales gets the cross in which results in shot after shot at Jaume which he blocks one after the other. The ball falls to just inside the box where Melero strikes it into the net.
19' - VAR is checking the goal and after a few minutes the goal is overruled due to handball. Lucky break for Valencia. Back to 1-1. The defense looks really vulnerable.
34' - Jaume Domenech with a fantastic save to deny Levante from taking the lead. Morales picks out Miramon in space on the right flank and continues his run into the box. Miramon sends a cross to the near post and Morales is there to head it but Jaume stop it.
36' - Goal for Levante. 1-2. The ball is given away by Guedes in a dangerous position just outside the box. Levante string together some passes between a square of players before picking out Morales centrally at the edge of the box. Diakhaby is drawn out to deal with him but he dummies his challenge before picking out the top right corner of goal. Nothing Jaume can do about that.
39' - Goal for Valencia! 2-2! Kondogbia plays the ball out from the back and finds Maxi Gomez in the center of the pitch. The striker turns away from the defender and spreads the ball out wide to Kang In. The youngster takes a few touches and is patiently waits for Maxi Gomez to make the incisive run in the box, threading in a fantastic through-ball. Maxi takes a touch and fires the ball across goal into the far post.
44' - Maxi plays the ball into space for Musah to run into which he does, managing to stay onside. He holds his run and waits for his teammates after a heavy touch. He pulls the ball back for Maxi Gomez at the edge of the penalty box where the striker tries a shot from distance that is spilled by the keeper. No one is in a good position to take advantage of the spill.
45' - Two minutes added by the referee for stoppages.
HALF-TIME
Mixed reaction at half-time. On the one-hand this is some of the worst defending from Valencia on display. On the other hand, this is quite a good showing in attack.
Levante took the lead quite early with a complete collapse at the back. Valencia would continue giving the ball away and could've fell even further behind. The one chance that Valencia got from a corner was well-taken. Being a threat from these set pieces will add an extra dimension to Valencia's attack that was lacking in previous seasons.
Mangala's injury resulted in an early substitution for Valencia. Hopefully, these injuries don't persist like they did last seaosn. His replacement Diakhaby would be caught several times out of position, both resulting in goals. The first over-turned by VAR and the second stands.
Valencia would equalize for the second time out of nothing. It was a 6v2 at the back with Levante outnumbering the Valencia players yet patience from Kang In and smart movement from Maxi would unravel their defense.
Kang In, Maxi Gomez and Yunus Musah have really stood out this first half. They seem the most alert, most determined and are fully of energy. Naturally, they have caused the biggest problems for Levante. Javi Gracia really needs to sort out the defense in the second half. Even experienced players like Mangala and Paulista have looked very fragile against this Levante offense.
Half-time stats. 2-2 goals, 4-8 total shots, 4-5 shots on target, 44-56 %possession, 82-84% pass accuracy.
SECOND HALF
53' - Kondogiba does well to dispossess Levante in his own half. He quickly finds Guedes who drives the ball forward. He looks up and finds Musah's run and picks him out. He out paces his marker and gets into the box before taking a shot that hits the frame of the goal. Great chance!
59' - First substitution for Levante. Dani Gomez replaces Sergio Leon
62' - Yellow card shown to Rober Pier for a heavy challenge on Maxi Gomez
71' - Triple substitution for Valencia. Cheryshev, Racic and Vallejo come on for Guedes, Esquerdo and Kang In
72' - Wass with a wonderful diagonal ball that sets Vallejo up for a one-on-one against the Levante keeper. Unfortunately he could take advantage of the opportunity and had his shot blocked.
74' - Goal Valencia! 3-2! The substitutions by Gracia team up for the goal. Cheryshev puts in an early cross into the box. Maxi Gomez lets the ball go through for Manu Vallejo, who takes one touch away from the defender and scores past the frozen keeper. It's nice to see both forwards looking sharp and lethal.
76' - Double change from Levante. Vukcevic and de Frutos come on for Melero and Bardhi
84' - Musah goes down from fatigue and some cramps.
85' - More changes from Levante. Postigo and Coke on, Radoja and Duarte off.
87 - Final substitution for Valencia. Musah is finally taken off, and Sobrino come on.
89' - Yellow card shown to Racic for time wasting.
90' - Four minutes added by the referee for stoppages.
90+3' - Goal for Valencia! 4-2! Cheryshev intercepts the Levante's ball out from the back and brings it forward for a counter attack. Maxi Gomez is picked out with a through ball and looked like he would grab a second but his shot bounces off the post. Thankfully, it falls to Vallejo, who made no mistake and smashes the ball into the roof of the net.
90+4' - Yellow card is shown to Campana for dissent.
FULL-TIME
A winning start for Javi Gracia. After a first half where the team looked vulnerable defensively, there was a lot of anxiety. In the second half, this wasn't the case though as the team looked a lot more stable.
Valencia seemed comfortable in the second half. Musah almost grabbed a goal in the opening few minutes of the half. Javi Gracia made a triple substitution all of whom would change the game. Talk about impactful subs.
Racic brought much need calm and collection in the midfield whereas Cheryshev and Vallejo would be instrumental to getting both the third and fourth goals for Valencia. They have definitely made a case for their selection in future games.
Full-time stats. 4-2 goals, 14-19 shots, 8-8 shots on target, 44-56 %possession, 80-86 % pass accuracy.
It seems likely that Javi Gracia will use the first half as leverage to squeeze one or two signings out of Anil and Lim. There is plenty of positives to take away and a step was made in building momentum. The coach has shown that he can make impactful decisions and made the team lethal in front of goal. The defense still has a lot of question marks on it though and he will certainly look to address that.
Next game will be on Saturday the 19th away against Celta Vigo. Amunt!