The final game of a season that couldn't possibly end fast enough for some Valencia fans. This was supposed to be the decider game on which of these two rivals would take the 4th spot and qualify for the Champions League. Unfortunately, only Sevilla managed to make it to the end of the path. They have already qualified for the Champions League, while Valencia play this game with the hope that they might qualify to the Europa League. A win here is not enough though, results from the Real Sociedad and Getafe games have to go in Valencia's favor as well.
The news since the last matchday has been a continuation of the discussion on who the next Valencia coach will be. Sources say that Lim could decide on Monday at the earliest and by the end of the week at the latest. The most discussed names have been Bordalas, Javi Garcia and Ruben Baraja, with names like Laurent Blanc, Valverde and Emery all fading away. It remains to be seen what Lim will do.
Sevilla arrive at this game with qualification secured. They are already looking ahead to their second leg Round of 16 of their Europa League fixture against Roma no doubt. In their last match day they played out a 1-1 away draw to Real Sociedad.
Valencia's last game was their final one at Mestalla for the season. They beat an already-relegated Espanyol side by a narrow 1-0 margin thanks to a goal from Gamerio that was set up with a brilliant Ferran through ball.
FORM ***all competitions
Sevilla: DWWWW
Valencia: WLWDL
SQUAD
Gaya and Rodrigo's absence continues as they work to recover from their injuries.
Costa will miss this game due suspension after he picked up a red card against Espanyol. This will mean that youngster Guerrero will be the likely starter.
Diakhaby will also miss this game with a suspension from accumulation of yellow cards, meaning Javi Jimenez gets another call up.
Esquerdo and Koba Lein are called up from the youth team to complete the squad numbers caused by absences.
Going the other way, Manu Vallejo has recovered and is available for selection.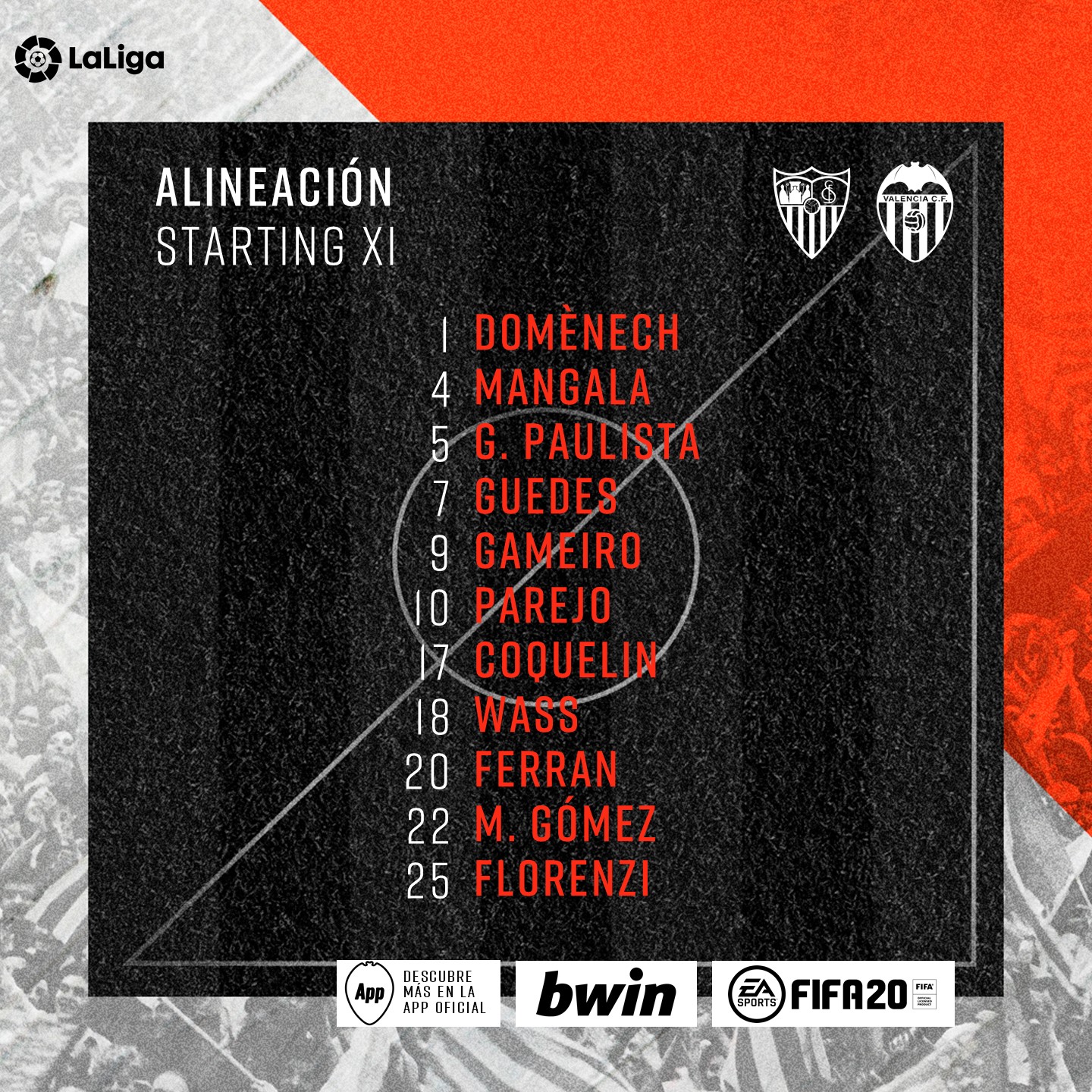 Bench:
Cillissen, Thierry, Guillamon, Jimenez, Guerrero, Kondogbia, Soler, Kang In, Esquerdo, Koba Lein, Vallejo, Sobrino
FIRST HALF
5' - Coquelin forces the opposing left-back into a rushed clearance which falls straight to Guedes with space ahead of him. He takes a few touches forward and fires from distances but Bono sees it all the way and parries.
15' - Jesus Navas wins back the ball at the edge of the Valencia box. Joan Jordan finds Navas again in the wide position who then plays the ball into the box to Oliver Torres. The youngster takes a touch and shoots at a narrow angle, forcing the save from Jaume nonetheless.
22 ' - Early substitution for Valencia, Guedes is subbed off after picking up an injury. Good thing this is the last game of the season. Unfortunate if he has to suffer another long-term injury. Soler is his replacement.
23' - Sevilla play the ball between themselves on the right flank before releasing a ball over the defense to Ocampos who acrobatically strikes at the ball and gets it on target. Jaume can save easily from such a tight angle.
28' - Diego Carlos with a long ball over the Valencia defense for Munir to run onto. He gets into the Valencia box but can only hit the side netting.
38' - Parejo's free kick is on target and caused some trouble for the keeper due to the bounce just before it made it to him. He manages to avert the danger and play goes to a corner.
45' - Five minutes are added by the referee for stoppages
SECOND HALF
47' - Reguilon tests Wass and is allowed quite a bit of space. He fakes that he is going for the run and instead picks out an incisive pass between Wass and Ferran to find Munir in the box. Munir's shot hits the far post and deflects away from goal towards Soler who clears. That was close.
52' - Yellow card shown to Carlos Soler for tripping Oliver Torres in a tactical foul after the player had pulled away from him.
55' - Goal for Sevilla. 1-0. Oliver Torres and Gudelj exchange passes on the left before Torres plays a ball for Reguilon to run onto. It seems like it's going out and Parejo watches it on its way, however, Reguilon perseveres in his run and puts in a sliding challenge to keep it in. He takes it past Parjeo near the goal line, gets past Wass as well sending him to the ground. Parejo is busy claiming the foul against Wass and Reguilon doesn't wait, he takes a touch to open up the angle at goal and blasts it into the top right corner. Really sloppy defensive work from Parejo and Wass.
71' - Two changes in quick succession from each team. For Valencia, Maxi Gomez and Ferran Torres come off to be replaced by Sobrino and Kang-In Lee. For Sevilla, de Jong and Munir are replaced by Suso and En-Nesyri.
79' - Sevilla take off Oliver Torres and bring on Franco Vazquez in his place
82' - Final set of changes from Voro. Coquelin and Wass off, Kondogbia and Correia on.
83' - Parejo spreads play out wide for Correia on the right. He draws the attention of the opposing left-back and finds Gameiro's run behind the defender with a good pass. Gameiro drives the ball into the box and takes aim at the far post but his shot fizzles past the post.
84' - Jaume's clearance is blocked by En-Nesyri who heads the ball down to Suso. Suso takes a touch past Kondogbia causing him to lose his balance, and then another one to set himself up for the shot which is on the wrong side of the post.
85' - Final change for Sevilla. Lucas Ocampos is subbed off and Sergi Gomez takes his place.
90' - Five minutes of additional time signaled by the fourth official.
90+3' - Kondogbia receives the ball from Parejo and tries a shot from distance but its wide.
90+5' - Florenzi attempts a cross for Mangala but the keeper sithere to it first.
FULL-TIME
Hardly surprising based on recent results. The most surprising part was that they didn't lose by more. The team struggled against two relegation sides in their previous two games and now against a rival that has nothing more to play for this season.
Sevilla's goal sums up this game. One player had more spirit in him to fight for a lost ball while two Valencia players watched and tried to get the referee to intervene instead of doing so themselves. Parejo was never someone you would want defending in your own penalty box and he showed everyone why again today.
Valencia's only chance at the Europa League was if they got the win and all three points. They couldn't do that but even they could, they would be level on points with Granada and Real Sociedad in 6th place. The tie breaker is head-to-head matches where Valencia would beat Granada but lose to Real Sociedad, meaning Sociedad would qualify. However, depending on the Copa del Rey results, if Sociedad were to win, Valencia would've got the additional spot. Lot of if's but it's too late for that now.
Full-time stats. 12-6 shots, 3-2 shots on target, 61-39 %possession.
With the season over the owner has to take a hard look on how to rebuild this team. Learn from the mistakes of the past and stop trying the same thing over and over expecting different results, it won't happen and is just a fool's strategy. With no European competitions to partake in next season, it is the perfect time to rebuild and properly this time. No band-aids, no shortcuts. The hard way. The new coach has to be someone who can take this task and a proven record that has credibility with the players and allows them to get behind his ideas. That is the most important step. Next, he has to be involved in weeding out the players and having a say in the signings for next season. If these decisions are only evaluated from a business lens, the team will continue to suffer.
All that is the least that can be done for the fans that stuck with the team throughout the season. And for those that didn't, that would be a step to win them back.
Thank you everyone for keeping up with the posts throughout the season. Between us in the writers team, we managed to cover every game this season.and your comments under each thread were definitely something we look forward to reading. Stay tuned for more posts reviewing the season and player performance, keeping you up to date with transfer activity and preparations for the next season. Amunt!