The penultimate game of the season and the last one at Mestalla. This would usually be a time in which teams would be fighting tooth and nail and mustering up every last bit of willpower and strength to achieve their goals. For these two teams here, Valencia and Espanyol, the season is over though. Valencia cannot practically qualify for either European competition while Espanyol are seeing out their last 2 games before bidding farewell to the first division as they cannot escape relegation in the time remaining. Nothing left to fight for and everything positive will only be a consolation prize.
Who will occupy the bench of Valencia for the coming season(s)? That has been the question that the media has been covering. Around three days ago, the talk was all about Laurent Blanc. This week it's learning more towards Bordalas.
Valencia come into the game following one of the most miserable games of the season. They played another relegation side, Leganes, away from home and went down 1-0 at half-time due to a penalty conceded. The home side were barely troubled. In the second half, Valencia got gift after gift. Leganes were reduced to 10-men via red card, Valencia were awarded a penalty and Leganes parked the bus, conceding all possession to Valencia. The home team made entirely defensive subs while Valencia brought on all the artillery they could off the bench. Yet still, the man advantage wasn't made use of, the penalty that was awarded was missed, and despite all the possession and firepower on the field Leganes would not concede. They would walk away with all 3 points.
Espanyol welcomed Eibar to their home grounds in the previous matchday. Despite having an equal amount of chances and over 70% of the possession in the game, they suffered a 0-2 defeat with both Eibar goals coming in the first half; one from open play and one a penalty.
The previous encounter between Valencia and Espanyol in La Liga ended in a 1-2 win for Valencia away from home. Espanyol would take the lead from a penalty due to a Diakhaby handball. Valencia evened out the game with a Parejo penalty after Rodrigo was taken down in the penalty box. Maxi Gomez scored the winner, meeting Rodrigo's cross to the near post with a header past the Espanyol keeper in the 80th minute.
FORM ***all competitions
Valencia: LWDLL
Espanyol: LLLLL
SQUAD
Gaya and Rodrigo are still in the process of recovery and miss the game. Manu Vallejo spent the last 3 days in the hospital and will miss this game as well. Esquerdo has been called from the youth team to complete the numbers.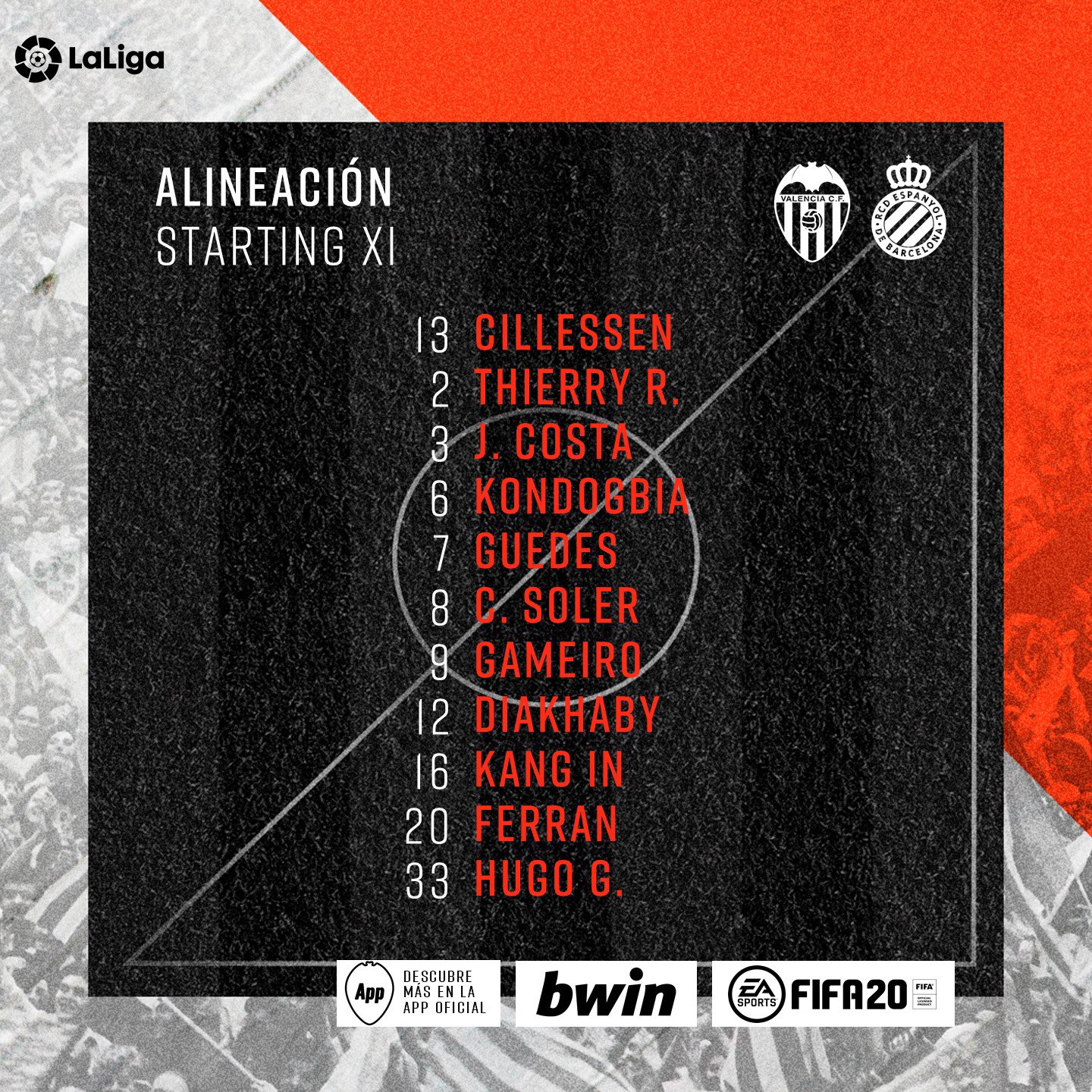 Bench
: Domenech, Mangala, Paulista, Wass, Florenzi, Guerrero, Parejo, Cheryshev, Coquelin, Esquerdo, Sobrino, Maxi Gomez
Starting XI looks very different. Mostly young players with Kondogbia, Costa, Cillissen, and Gameiro for experience. Thierry and Guillamon finally get their start under Voro. Parejo also finally gets rested.
FIRST HALF
17' - Goal for Valencia. 1-0! Ferrran Torres puts in a fantastic through ball behind the defenders for Gameiro to run onto. He gets into the box with the two center backs on his heels but he manages to slot it past the keeper at the near post.
36' - Fantastic save by Cillissen to deny a dangerous change from Espanyol. Didac Vila had put in a great cross for Raul de Tomas but Cillissen denied him the goal. Saves like these are the equivalent of goals.
39' - Yellow card shown to Pipa for dangerous play.
45' - Three minutes of stoppage time added by the referee.
SECOND HALF
59' - Yellow card shown to Diakhaby for tripping Raul de Tomas.
63' - First change for both teams. Valencia replace Kang-In with Coquelin while Espanyol replace Marc Roca with Oscar Melando.
66' - Yellow card shown to Raul de Tomas for a push on Kondogbia
69' - Yellow card shown to Didac Vila for a rough challenge on Kondogbia
71' - Single change for Espanyol. Raul de Tomas is replaced by Compuzano. Double change for Valencia. Correia and Ferran are taken off, Florenzi and Cheryshev are brought on.
77' - Final set of changes for Valencia. Diakhby and Gameiro make way for Paulista and Maxi Gomez.
80' - Yellow card shown to Coquelin for a tactical foul to stop the advancing Espanyol player
81' - Yellow card shown to Bernardo for a rough challenge on Maxi Gomez
85' - Espanyol are really going for it with a triple change. Sergi Darder, Lei Wu and Bernardo are replaced by Ribaudo, Lozano and Vargas.
90' - Yellow card shown to Jaume Costa for a lunging challenge on Pipa as he was about to get into the penalty box. VAR review the footage and calls the referee to check. The yellow card is overruled and a red card is shown instead. Valencia down to 10-men. The replay shows that he had his studs up and made contact with the calf of Pipa. Dangerous challenge.
FULL TIME
Narrow win against the last place team in the league. Voro made a lot of rotations and changes from previous games, fielding a team composed largely of younger players. Still with these changes it wasn't enough for a convincing performance against Espanyol. However, there is plenty of room to grow and work with this young team, a lot of which don't have many minutes playing with each other, in the positions they did today or minutes at all in general.
Full-time stats 6-15 shots, 3-6 shots on target, 52-38% possession.
With Real Sociedad, Getafe and Villareal all dropping points this matchday, Valencia is still mathematically in contention for a Europa League spot. Depending on the results of the next and final matchday of the season, as well as the final of the Copa del Rey, the teams who qualify will be determined.
For Valencia, the final match of the season is away to Sevilla on Sunday, July 19.