Valencia return to Mestalla to face against Real Valladolid for matchday 35 of La Liga. The players and management have changed their words to align with reality and have been talking about Europa League being the season's objective. This was even happening before the last game despite the Champions League being mathematically possible. There is still debate as to whether or not that's worth it. Regardless, the team had quite a bit of work to do to achieve even that goal.
The past three days have featured rumors of who the next coach for Valencia could be. Names included Ernesto Valverde, Mauricio Pochettino, Massimilliano Allegri, Marco Silva and Laurent Blanc.
There was also news that Kang In has specifically asked to leave the club as he feels that he will never get the minutes he wants. Voro did feature players like Mangala, Sobrino and Vallejo which were out of favor for previous coaches, so it will be interesting to see if he gives Kang In a chance as well. Correia is another player desperate for minutes.
Valencia come into this game on the back of a 2-2 away draw at Granada. While Valencia were lucky to come away with a draw based on the chances that Granada had, the team did show improvement from the previous game in one key area: they got chances in front of goal and converted them. Not many chances, but they ended up in the back of the net. This was an area the team struggled with all season. The goals came from two players who needed a confidence boost. Vallejo scored after some perseverance from Cheryshev in finding him with a great pass, cancelling out the Granada lead quickly. Guedes would get Valencia in front with a beautifully struck shot from outside the penalty area. Unfortunately, the defense had a lapse to both allow a free kick and leave enough of a gap for the shot to pass through onto goal.
Real Valladolid played out a very tight game against Alaves at home. The game was even on almost every metric and the scoreline reflected that up until the 88th minute when Joaquin Moreno managed to put the home team in front, leaving the away team no time to respond.
The first fixture between these two teams in La Liga was in December with the game ending 1-1. With the game remaining scoreless for 82 minutes, Real Vallodolid found the goal in the 83 minute. Valencia would find the equalizer late in injury time as Ferran plays the ball across the face of goal where Manu Vallejo tapped the ball into an empty net.
***FORM (all competitions)
Valencia: DLLLW
Real Valladolid: WDDDL
SQUAD
The positive news in terms of personnel is the return of Ferran Torres after missing last game due to injury. Additionally, there was worry that Jaume Costa picked up an injury against Granada as he was subbed off in half time for Guerrero. However, those worries were alleviated and he is included in the squad list for this match.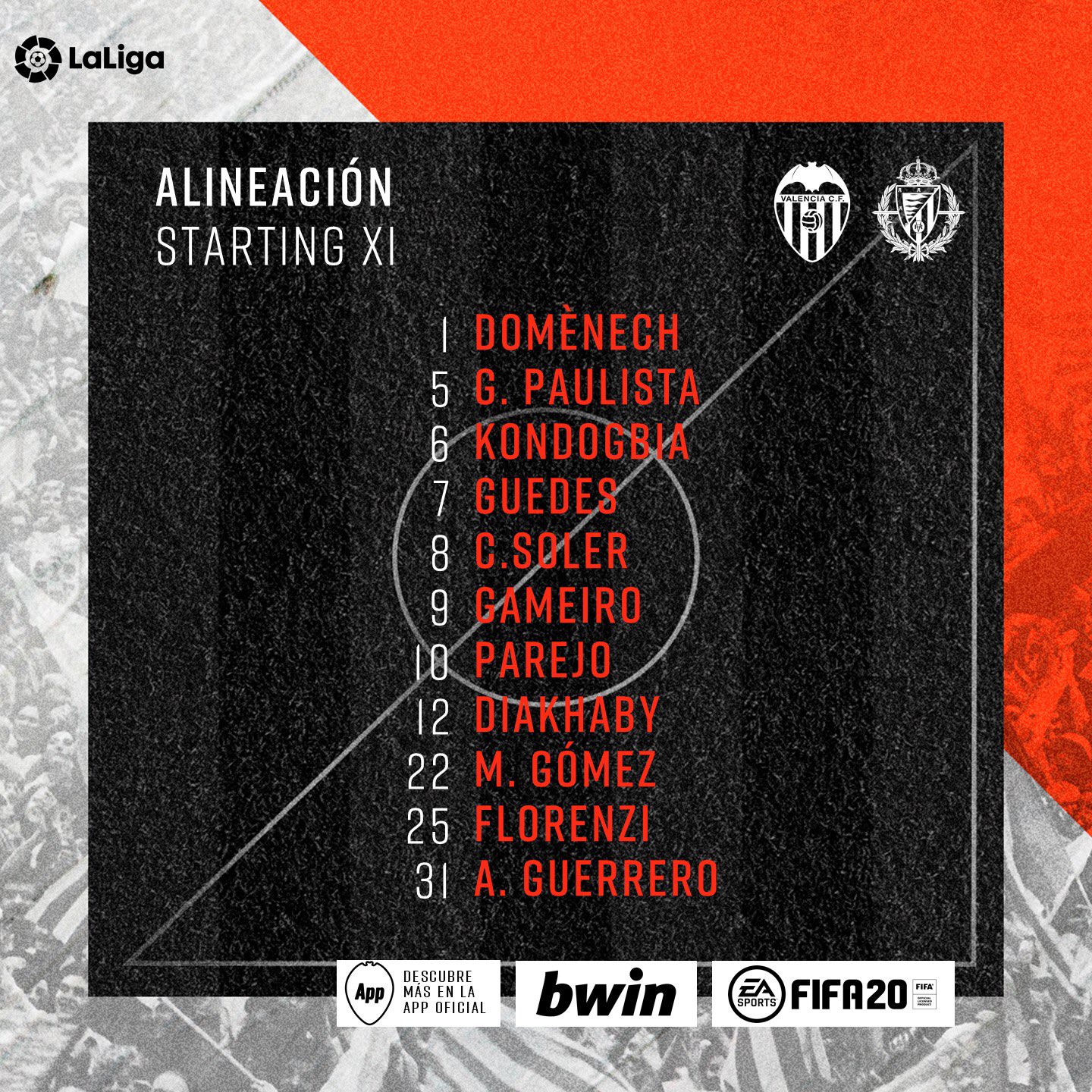 Bench: Domenech, Thierry, Costa, Mangaka, Wass, Guillamon, Cheryshev, Ferran, Coquelin, Vallejo, Sobrino

FIRST HALF

30' - GOAL VALENCIA! 1-0! Good pressure from Valencia to win the ball back in the opposition half. Guedes carries the ball forward through the middle and picks out the run of Gameiro on the right. Gameiro looks up and plays a ball between the defenders legs, across the face of goal where Maxi Gomez pokes it past the keeper.
45' - Four minutes of injury time added by the referee

SECOND HALF

46' - Substitution for Valladolid. Ruben Alcaraz comes on for Federico Emeterio.
47' - Goal for Real Valladolid. 1-1. A cross from Valladolid is deflected by Soler and falls fortunately to their strikers in the penalty box. Victor Garcia has his back to goal with Diakhaby pressuring him. He turns quickly and fires at the far post, beating Cillissen.
59' - Triple substitution for Valladolid. Enes Unal, Ben Arfa, and Victor Garcia are replaced by Sergi Guardiola, Pablo Hervias and Sandro.
64' - First changes in personnel for Valencia. Kang In Lee replaces Carlos Soler, Manu Vallejo replaces Gameiro and Coquelin replaces Parejo.
71' - Yellow card shown to Adrian Guerrero for a rough foul on Pablo Hervias
75' - Yellow card shown to Kondogbia for tripping Sergi Guardiola
83' - Double change for Valencia. Wass comes on for Florenzi and Cheryshev replaces Guerrero (strangely).
84' - Final change for Valladolid. Kiko Perez off, Javi Sanchez on.
88' - GOAL VALENCIA! 2-1! Kondogbia and Guedes play a one-two on the right flank before laying it off for Kang In right at the edge of the box. Kang In takes a few touch inside and fires at the near post, his shot masked from the keeper by the defender marking him and the ball sneaks just inside the post. He took a risk at a critical time and it paid off.
90' - Five minutes of injury time added by the referee
90+2' - Yellow card shown to Guedes for a a heavy challenge on Kiko

FULL-TIME

First a loss (although could've been worse), then just barely scraping a draw (although could've been worse) and finally a narrow win (although could've been worse). This has been the team's performance after Celades left. The improvement is coming in small intervals but it's there. Let's hope the next game carries this momentum forward.

The results keep improving under Voro. First off, the team had shots and most of them were on target, That's a very important step forward. The flip side of that still remains in that Valladolid were allowed the same number of shots and similar number on target despite seeing less of the ball.

Once again, a substitution made by Voro had the intended effect on the game and resulted in a positive outcome for the team. Kang In was given some play time as predicted in the preview to this game, following the pattern of Voro giving more bench players chances in previous games.

The first goal for Valencia was a very team-spirited goal. They pressured together to win the ball and then strung together quick passes to counter-attack and give Maxi Gomez the chance to score.

The goal for Valladolid was a combination of a failure to close down both the player delivering the cross (marked by Soler) as well as Victor Garcia in the penalty area (marked by Diakhaby), and a good piece of individual skill by Garcia.

Valencia's winning goal also involved some combination play between Kondogbia and Guedes to bring the ball forward. However, Kang In took on responsibility himself to set up a good angle and squeeze the ball past the keeper. masked by his marker.

Full-time stats. 8-8 shots, 5-5 shots on target, 57-43% possession.

Next game is on Sunday July 12th away to Leganes.