Five games remaining for Valencia to rescue the situation and achieve their goal of Champions League qualification. Phrases often heard from the club are "one game at a time" and "every game is a final for us". These were used so much to the point where they don't mean anything anymore, especially since the actions that follow contradict these words.
More words that came this week were from owner Peter Lim's family with regards to the discontent of the fans at the club. His daughter made a short statement along the lines of 'Valencia is ours and we can do whatever we want with it'. At a time where tension is high, statements like these only add to the tension and come off as combative and irresponsible.
Peter Lim's son, on the other hand, wrote a more thought out message in which he communicated sentiments of understanding and empathy with what the fans were thinking and tried to unite under a common goal of the better of Valencia CF. He also explained his father's absence from the scene and from football matches, pointing to his age (66). He says that as his father approaches 70, he cannot make these long trips frequently.
While the statement was a lot more responsible and aimed at de-escalation, in contrast with his sister's message, it still seemed to avoid taking responsibility. There are also parts that don't add up. The spirit of working together for a common goal is nice and all, but it cannot be taken seriously be a management that has demonstrated an inability to work with or negotiate. Whether that be player contracts, coaching decisions or with regards to the stadium. Also, it should be said that the few times Lim has visited Valencia, it was a stopover or detour on his way to Manchester or Paris or some other place. It communicates a lack of interest in the affairs of the club and makes it seem like Valencia isn't a top priority. Now that this was addressed, fans can only hope that this time real change comes and it's not just empty words. Now back to the match.
Granada played out a 0-2 away win against Alaves in their previous fixture. Despite having the lesser portion of possession and chances, they still managed to walk way with a win and a clean sheet. Antonin and Soldado were the two scorers for Granada, scoring mid-way into the first half and in the first few minutes of the second respectively. Soldado will look to make a statement against his former side this game, as Alcacer did recently.
Valencia, on the other hand, suffered a 0-2 home defeat against Athletic Bilbao. It was the first defeat at Mestalla this season. Both goals for Bilbao came from Raul Garcia and were the result of poor passes from the Valencia players. Twelve minutes into the game, Kondogbia's pass was intercepted and quick passes to a wide position followed by a squared ball to Raul Garcia saw Valencia go 0-1. Jaume Costa's pass out from the back in the first few minutes of the second half would also get intercepted and 2-3 passes found Raul Garcia at the edge of the penalty area. He took a touch and shot from distance and managed to beat Cillissen. Valencia would come into the game and take over for the rest of the game with the vast majority of chances going there way. Despite that, as well as changes in personal and strategy from interim coach Voro, the team could not finish despite the quality of chances. Maxi Gomez and Rodrigo were both off their game in front of goal and it wasn't to be.
Valencia beat Granada 2-0 in the earlier match between these two teams at Mestalla. Wass scored the first goal for Valencia late into the second half, being first to react after Maxi Gomez scuffed the delivery from Gameiro's cross. Ferran would score the second, 8 minutes into injury time, capping off a solo run that exploited the space that was left behind by the Granada players in their attempt to equalize.
FORM ***all competitions
Granada: WLDLD
Valencia: LLLWL
SQUAD
Rodrigo has picked up an injury (partial tear in the outside collateral ligament of his right knee) during the last game that will see him miss the rest of the season with the expected recovery time being approximate 1.5 months. Rodrigo has been Valencia's main source of goal since the return of the league. Valencia will have to explore other options such as using Gameiro, Vallejo or Sobrino to fill the void. Additionally, Ferran and Guedes have also played there for Valencia in the past, there are plenty of options.
Ferran suffers from a discomfort in his inner right thigh so he's out of the squad list. There is no estimate yet on how long his absence will be.
Gaya will miss this game also as he recovers from his injury that had him miss the last game as well. Should be about a week or so until he is expected back.
Esquerdo and Adrià Guerrero (left-back) join the first team in this squad list.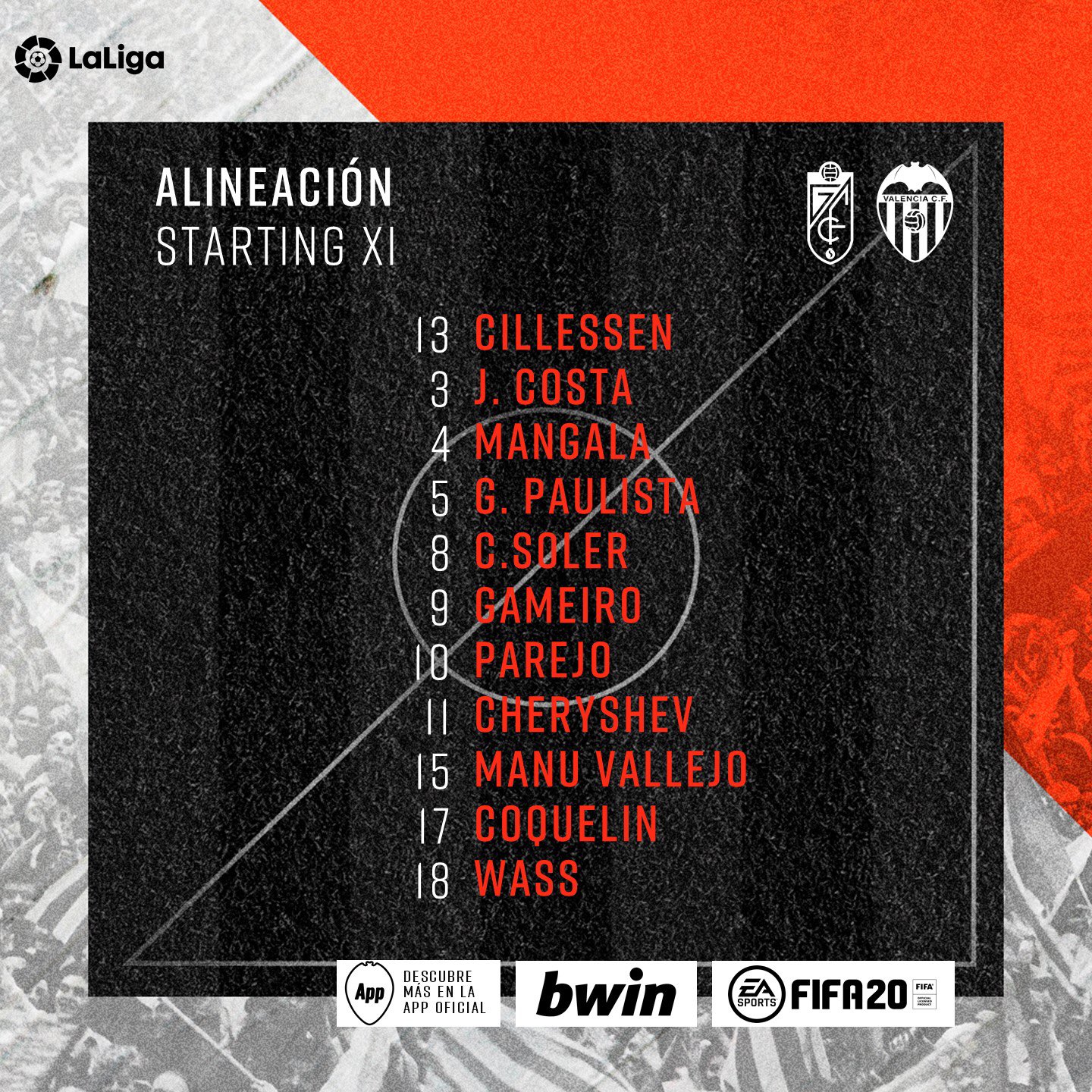 Starting XI features many changes. Costa continues to cover for Gaya's absence. Mangala rejoins Paulista in the center of defense, ahead of both Guillamon and Diakhaby. Wass is chosen over Florenzi. Cheryshev and Soler will play the two wide positions after proving useful last game as substitutes. Vallejo takes the place of Rodrigo in attack. Gameiro starts instead of Maxi Gomez.
Bench:
Domenech, Thierry, Diakhaby, Florenzi, Guillamon, Guerrero, Kondogbia, Guedes, Kang In, Esquerdo, Maxi Gomez, Sobrino
FIRST HALF
14' - Parejo with a mistake that could've cost Valencia a goal. Thankfully, Daniel Wass is there to clean up.
27' - Different free kick play from Valencia. Parejo plays it short to Wass who puts in the cross first time to Mangala. Unfortunately, he is penalized for a foul and the play goes to waste.
35' - VAR check for a potential handball by Mangala. The decision goes Valencia's way and the penalty is not given.
39' - Carlos Neva puts in a cross to the near post to find the run of Carlos Fernandez. Cillissen produces a great save to deny a very good chance for Granada.
43' - A crossfield ball to the Valecnai penalty area is controlled by Soldado under pressure from Mangala. Soldado manages to win himself some space and get a shot across the face of goal. The ball goes wide.
45' - Three minutes of time added for stoppages.
45+1' - Yellow card shown to Foulquier for a take-downon Vallejo who had dribbled past a few of the Granada players.
45+2' - Parejo plays a ball into space for Gameiro to run onto on the right flank. He manages to square the ball across and almost finds Vallejo but the keeper gets there first.
HALF-TIME
Quite an underwhelming half. Many of the most potent players for Valencia started on the bench or are injured. The ones that have played haven't troubled the Granada goal too much. In fact, yet again Valencia have failed to produce a shot, let alone a shot on target, in this half.
Granada had all of the chances in the half and caused the bigger threat in general. A save from Cillissen as well as some key tackles from Wass and Paulista have helped keep the score level thus far.
Valencia's most dangerous chance came from a Gameiro cross in the final minutes of the game, intended for Vallejo. Unfortunately, Granada got to the ball first to deny the chance.
Half-time stats. 4-0 shots, 1-0 shots on target, 54-46 %possession.
SECOND HALF
45' - First substitution for Valencia. Jaume Costa is replaced by Adrià Guerrero
48' - Good chances for Granada. Cillissen commits himself to deal with the corner delivery. He gets a hand to it but Soldado gets his header on the ball and sends it towards the center. With Cillissen out of position, Domingos gets a header and hits the post. The offside flag goes up. It wouldn't have counted regardless.
54' - Machis opens up the Valencia defense with a through ball to Soldado. He strikes at goal but it's way too high.
58' - A through ball from Granada is poorly dealt with due to miscommunication between Wass and Cillissen. The Granada player carrying the ball back into the box is taken down by Coquelin and a penalty is awarded. VAR checks the decision. The penalty stands.
60' - Goal for Granada. 1-0. The penalty from Carlos Fernandez is converted, sending Cillissen the wrong way.
62' - GOAL VALENCIA! 1-1! Manu Vallejo with the equalizer, getting his second goal of the season. Cheryshev puts in a a great through ball under pressure, taking out three defenders. Vallejo, completely through on goal, quickly rolls the ball past the frozen keeper.
65' - Double change for Valencia. Vallejo and Cheryshev are replaced by Maxi Gomez and Guedes.
66' - Granada with a single change. Eteki is replaced by Vico.
68' - GOAL VALENCIA! 1-2! The corner delivery from Parejo is headed away. The ball falls to Paulista who passes back to Guedes who was waiting outside the penalty area. He hits it first time, smashing the ball into the top right corner of the net. This is the level fans expect from Guedes.
70' - Second change for Granada. Victor Diaz Miguel is taken off and Antonio Puertas is introduced.
72' - A well executed counter attack for Valencia end with a cross from Soler to Gameiro who made a run between the center backs. Gameiro goes clear through on goal and shoots it straight at the keeper. He really needs to finish from such a good position.
73' - A cross from Granada is headed down by Fernandez to Soldado. He takes a touch inside the penalty area and fires at goal from the volley but Cillissen is equal to it.
80' - Substitution for Valencia. Sobrino replaces Kevin Gameiro.
82' - Granada with their final set of changes. German Sanchez and Carlos Neva are taken off. Jesus Vallejo and Gil Diaz come on their place.
83' - Cross from Granada is sent to the air by Parejo and falls fortunately to a Granada player in the penalty box. He plays a short pass to Soldado who is quick to shoot but he still cannot score.
85' - Goal for Granada. 2-2. Mangala conceded a free kick at the edge of the box. Fede Vico finds a gap through the wall in the space left between Coquelin and Sobrino. Cillissen cannot reach the ball as it settles into the net at the near post.
87' - Final change for Valencia. Parejo off, Kondogbia on.
89' - Yellow card shown to Guedes for dissent against the referee.
90' - Seven minutes of injury time are added by the referee.
90+4' - Yellow card shown to Herrera for a very late challenge on Guerrero.
90+6' - Yellow card shown to Wass for a shove.
FULL-TIME
While the first half was one to forget, the whole game picked up in the second half. Valencia showed up in this second half and made it a proper game. In the end, Valencia can only walk away with one point. However, it was great to see some signs of intent and life from this team as they came back into the game.
Granada took the lead with a penalty due to a rash tackle by Coquelin. Valencia responded quickly with Cheryshev and Vallejo teaming up to carry the ball forward in the final third and find the space for a goal. It was a good finish from Vallejo, especially having been away from the field for so long. Cheryshev did well to persevere in his attempts to pass the ball into space.
Voro strangely replaced both Cheryshev and Vallejo soon after their goal, bringing on Guedes and Maxi Gomez. Despite that, it wouldn't take long for Valencia to take the lead after that. Guedes showed real quality to strike the ball with such accuracy from that distance. He was always capable of such goals and it's good to see him grab another goal and continue to build confidence. This was his second goal since the restart and both goals were of high quality.
Granada would then go on to equalize after Mangala gifts a free kick at the edge of the area to Granada. That was the first mistake. Then, Coquelin and Sobrino allowed a space in the wall which Vico capitalized on to beat Cillissen. Another self-inflicted injury to Valencia.
Granada had the vast majority of shots and chances in the game. They almost reclaimed the lead and Valencia was very fortunate to see out the game as a draw.
Credit to Voro for making the most of the squad available to him. Despite the injury to key players, he was able to achieve an away draw and a come back into the game, all while using rotations and giving some players much needed game time.
Full-time stats. 14-4 shots, 5-3 shots on target, 56-44 %possession.
Next game is on Tuesday July 7 at Mestalla against Real Valladolid.