This matchday sees Valencia play against a direct rival for the Champions League positions away from home. With Sevilla dropping points earlier to Valladolid, a win this game will give Valencia a better chance at qualification. Valencia cannot afford to keep missing opportunities created by the mistakes of rivals, but must instead look to punish them.
Lots of news surrounding Valencia recently. Celades was rumored to have submitted a resignation which he has denied in his latest press conference, saying that he has not and will not do so. When questioned about the rumors of the loss of confidence and respect of the locker room, he says that he felt very supported and respected at all levels of the organization.
It is also worth noting that this is Valencia's final game before the transfer window officially opens on July 1st. It remains to be seen what changes will come with it but what's clear is that fans want real change in the team. Let's see if that will happen at all, or what form will these changes, if any, come in.
Villareal come into this game having played Sevilla at home in a 2-2 draw at home. Former Valencia striker Paco Alcacer put the home side in the lead a third of the way into the first half before Escudero evened the game 5 minutes from half-time. Villareal would go into the half-time break with a lead following a Pau Torres goal into first half injury time. Another former Valencia player, Munir El Haddadi would grab the final goal of the game mid-way into the second half, leave the two sides with a point each.
Valencia's last matchday against Eibar away from home was a sub-par performance in every way. The team failed to get a shot on target until the last few minutes of regulation time against a team that is fighting a drop into the relegation zone. While the result was only a 1-0 loss, Eibar was allowed to have complete control of the game and Valencia was left chasing the ball. The only goal of the game came from a Kondogbia own goal from a corner that was no dealt with properly. In the final minutes of the game, Mangala received his second yellow card of the game and was sent off.
Villareal currently lead Valencia by two points. They have 48 to Valencia's 46 points. With these point totals, Villareal are 6th in the league while Valencia are 8th.
FORM ***all competitions
Villareal: DWWWL
Valencia: LWLDL
SQUAD
With Mangala missing the game through suspension and Diakhaby out with an injury, one of the two youngsters, Guillamon and Jimenez, are expected to start alongside Paulista for this game.
In midfield, Coquelin has pushed himself for a quick return and was just cleared to make this lineup.
After an absence last game for unknown reasons, Sobrino returns to the squad list.
All else remains the same.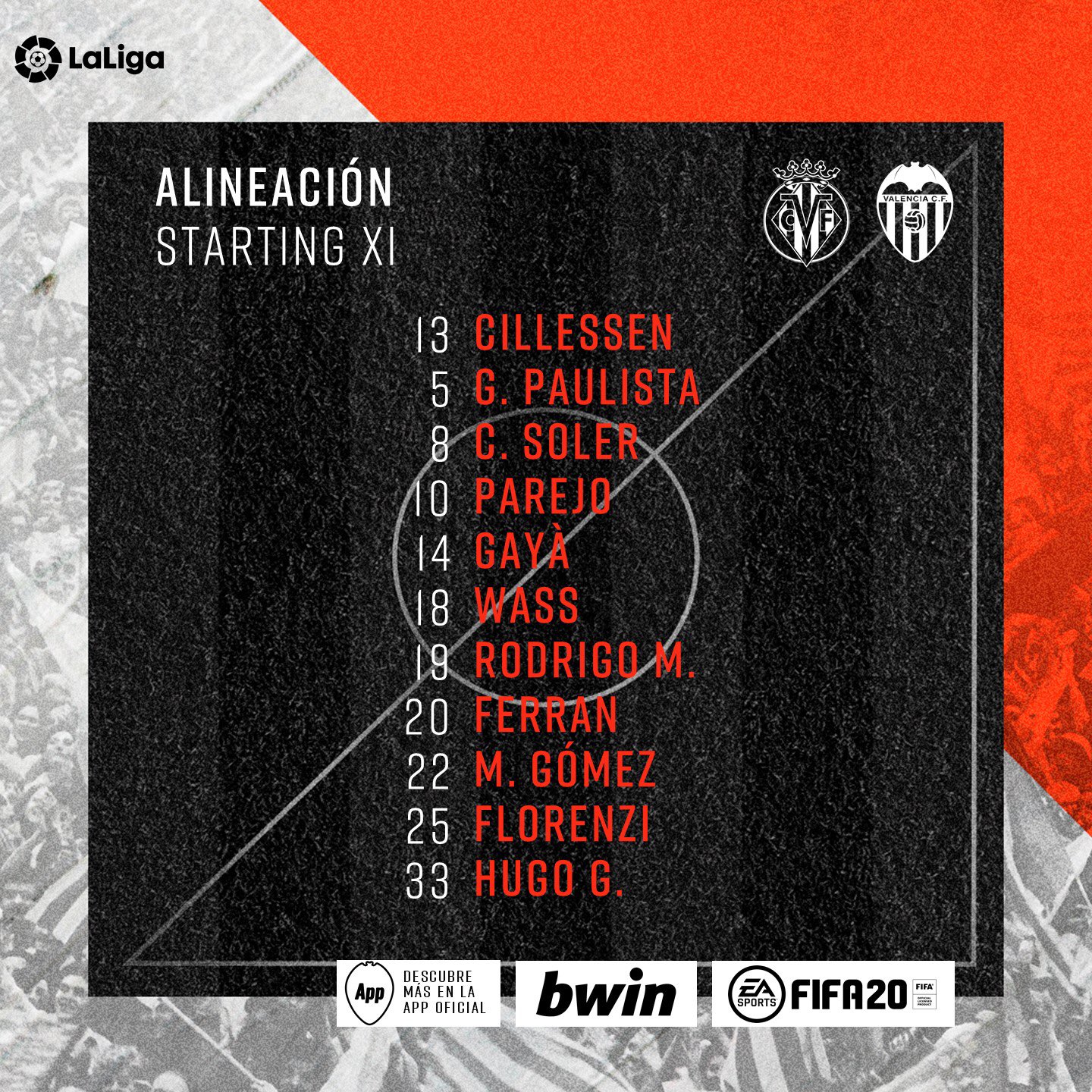 Guedes returns to the bench for this game while Maxi starts. Strangely, neither Coquelin or Kondogbia start. Wass occupies their role instead.
Bench:
Domenech, Thierry, Costa, Jimenez, Kondogbia, Coquelin, Kang In, Guedes, Cheryshev, Vallejo, Gameiro, Sobrino
FIRST HALF
5' - Villareal capitalize on a heavy touch from Gaya following Cillissen's pass, and take possession in an advanced position. Chukuweze cuts inside and takes a shot to the far post, which is just wide.
10' - Another chance for Villareal as Mario Gaspar puts in a cross for Alcacer to head. The effort is wide.
13' - Goal for Villareal. 1-0. It had to be Paco Alcacer. He doesn't celebrate the goal though. Gerard Moreno with a diagonal ball over the defense as Paco stays onside and volleys past Cillissen to the far post.
20' - Villareal are very dominant in this first half. Valencia need to react before they fall further behind.
35' - Ferran had two chances to put in a cross, one for Maxi and one for Rodrigo, but both times he's denied the space to do so. These are the best chances that Valencia has had in this first half which says a lot. So far, not a single shot on or off target.
39' - Alcacer taking a shot at every chance he has. Definitely trying to prove something.
40' - First change for Valencia. Jaume Costa replaces Gaya who seems to have picked up a knock/injury.
42' - Yellow card shown to Guillamon for a pull back on Gerard Moreno who had gotten past him and about to break into the box. Free kick for Villareal.
43' - Cillissen saves the header from Raul Albiol that resulted from the free kick.
44' - Goal for Villareal. 2-0. The goal keeper sends the ball to the opposite end. Santi Cazorla knocks the ball into the air in the direction of Gerard who produces a volley from just inside the box and beats Cillissen.
45' - Four minutes of injury time added by the referee.
HALF-TIME
A complete disaster of a half. The weaknesses were seen in previous games against Levante and Eibar have been amplified and exploited against a bigger team. Despite what was said in the build-up to the game, Villareal came to win and make a statement, Valencia did not. It's difficult to remember when the last time the team turned around a two-goal deficit away from home.
This is another half where Valencia do not have a single shot on target. Even worse, they don't have a single shot at all.
Paco started the game with clear intent to score and he got his wish with a volley. He did not celebrate out of respect for his former side. He did, however, continue to try to take a shot at every reasonable occasion he could, even from a free kick.
Gerard Moreno grabbed the second goal for Villareal in similar style, producing another volley to beat Cillissen.
Chukweze has been a nightmare for the defense. He lurks in the space left behind by Gaya and poses danger with his speed and dribbling.
Unfortunately, Gaya picked up an injury in the final minutes of the half and was replaced by Costa, further adding to the teams woes.
Wass in midfield, is not working and causing more defensive issues than normal. Kondogbia or Coquelin must come on first thing after the break to help stabilize things.
Half-time stats. 11-0 shots, 4-0 shots on target, 56-44 %possession.
SECOND HALF
45' - Celades takes Ferran Torres off the field and brings on Guedes.
49' - Yellow card shown to Jaume Costa for a pull-back on Chukweze who had gotten away from him.
51' - Guedes connects with the ball and puts it across for Parejo whose shot is deflected by a defender over the goal.
53' - Paco gets another shot on target from distance but Cillissen saves.
55' - Parejo managed to find a great through ball to put Soler through but it was called offside. Replay shows that it actually wasn't the right decision. Unfortunate.
60' - This is not looking any better than the first half from Valencia. Celades still holding his substitutions.
64' - Villareal replace Vincete Iborra with Bruno Soriano.
65' - Valencia uses their third change of the game. Parejo off, Kondogbia on. Hopefully, this means Soler plays more centrally and Wass plays wide.
67' - Wass puts in a good delivery from the free kick won by Maxi Gomez. The delivery is just barely behind Maxi. It is called offside anyway.
75' - Villareal comfortable just passing the ball around and having Valencia chase the ball. Valencia cannot win it back. Valencia hasn't shown enough to indicate that a comeback is possible.
79' - Double substitution for Valencia. Kang In and Gameiro come on for Soler and Rodrigo respectively.
80' - Villareal replace Gerard Moreno with Moi Gomez.
84' - Gameiro gets put through on goal from a Kang In Lee through ball. His shot is blocked by the keeper. The offside flag goes up again yet replay shows that it was a questionable decision for the second time.
88' - Three changes for Villareal. Cazorla, Chukwueze and Alcacer come off, Morlanes, Bacca and Ontiveros on respectively.
90' - Five minutes of injury time added by the referee.
FULL-TIME
Total embarrassment of a game. This game on paper is between two rivals. On the field, it couldn't be further from the truth. Villareal showed up, Valencia didn't.
After a first half in which Valencia fell behind 2-0 thanks to volley goals from Alcacer and Moreno, Valencia had it all to do in the second half. Yet, all that was seen was more of the same. No sense of urgency, responsibility or ownership of the situation.
Javier Calleja is screaming directions at his team to maintain focus, and Celades is looking lost and silent on the sidelines. You wouldn't be able to guess whose team was winning based on their reactions. The difference in coaching is clear.
It is looking really difficult for Valencia to qualify to Champions League at this point. Mathematically, still possible with 7 games remaining. But with the way the team is playing, it seems beyond grasp. The suspension of the league was an opportunity to reclaim injured players, gather thoughts and reflect on the failures and success of the season in hopes of improvement. There doesn't seem to be an improvement to speak off despite the reclaimed players.
Full-time stats. 15-2 shots. 4-2 shots on target. 52-48 %possession.
Next game is another tough match. Valencia play at Mestalla against Athletic Bilbao on July 1st. Coincidentally, it's the day the transfer market opens.