Valencia travel to play Eibar where they will look to build on the three points they have gathered from last week's matchday against Osasuna. With Sevilla and Villareal playing out a 2-2 draw earlier, Valencia will also looked to close the gap on their Champions League rivals.
Eibar come into this game following a 1-1 away draw to Getafe. The away team would concede first in the 30 minute, but would manage a comeback in the 6th minute of first-half stoppage time to even out the score. A fairly even game overall.
Valencia put out one of the best first half performances of their season against Osasuna three days ago. They managed to score three goals with Rodrigo scoring two goals, the first of which was ruled out for offside after a 3 minute VAR review, much to the frustration of the team who had submitted a complaint about unjust VAR rulings. Guedes scored in the window between Rodrigo's goal, displaying some of his better form by staying on his feet as he was pressured by 3-4 Osasuna players before cutting inside and firing in between two more to the top right corner of goal. Unfortunately, the second half saw a massive drop in performance. This was party due to the tactical change from Osasuna, going from 5 at the back to 4, which went unaddressed by Celades, as well as the subsequent substitution of Kondogbia who was controlling the midfield. This resulted in surrendering all control of the game to Osasuna and exposing the Valencia back line to lots of pressure. Fortunately, Paulista was there to aid Cillissen's efforts in keeping the opposition at bay. Valencia had a few glimpses of goal on the counter attack but couldn't produce the final product.
The previous fixture between these two teams in La Liga was played at Mestalla and ended 1-0 for Valencia. Maxi Gomez grabbed the only goal of the encounter, finishing with a header to meet the cross provided by Wass.
Eibar currently sit at 17th with 29 points, 3 off Mallorca who are in the relegation zone. Valencia are 8th with 46 points, 7 points off 4th place Sevilla.
FORM ***all competitions
Eibar: DDLLL
Valencia: WLDLD
SQUAD
A few changes in the squad list. Gaya and Kang In both return to the list, having served their suspensions. Meanwhile, Diakhaby has picked up a training injury (muscular discomfort) and misses this game as a result, with Javi Jimenez taking his spot. Coquelin is also still recovering from his injury, giving Esquerdo another call-up.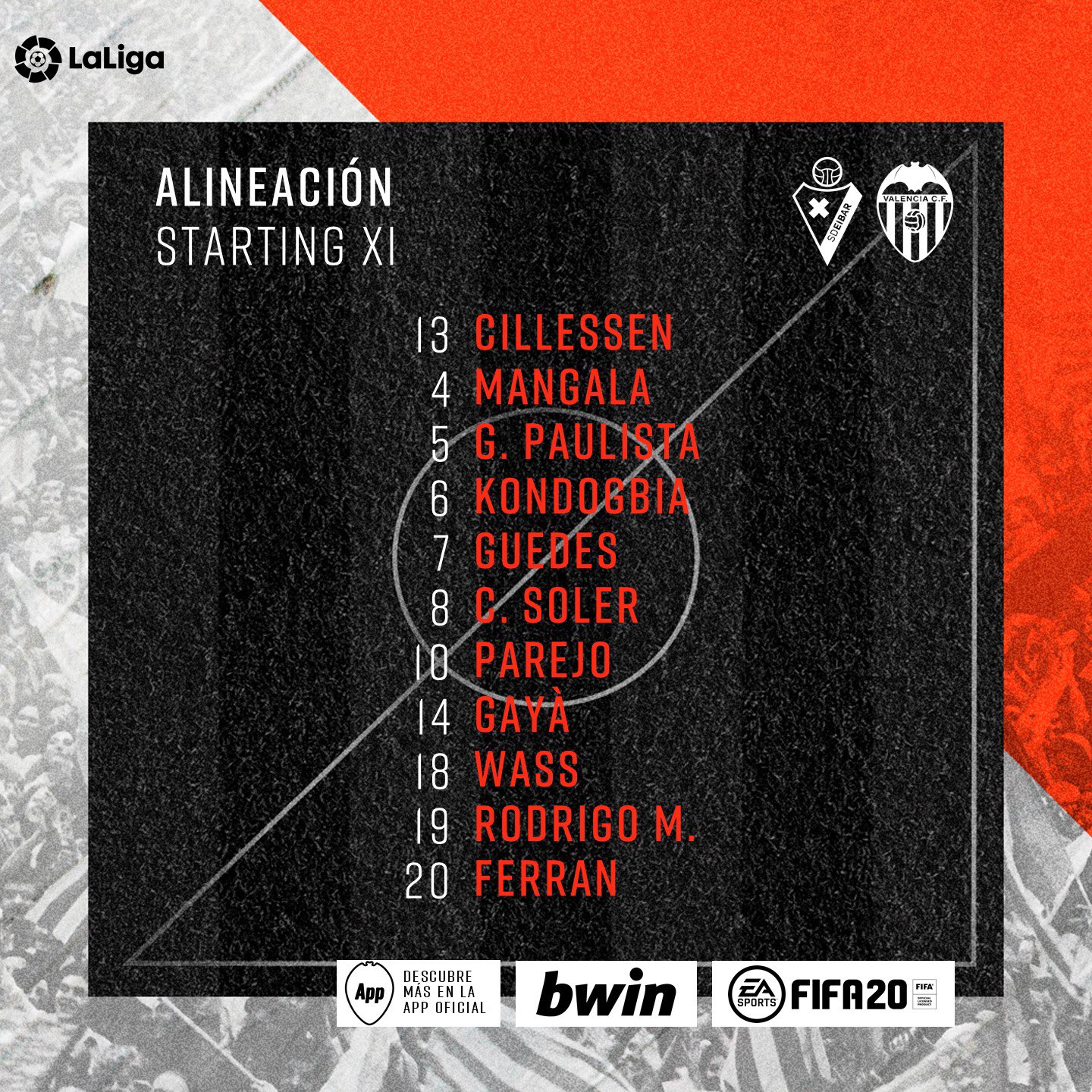 In the starting XI, Celades gives Guillamon a rest and calls on Mangala to play alongside Paulista. He continues his alternation of responsibilities in right-back with Wass starting over Florenzi this time. Finally, he opts to keep Maxi Gomez on the bench and will play both Guedes and Ferran in the same team, with the latter playing in the front two alongside Rodrigo.
Bench:
Domenech, Thierry, Costa, Florenzi, Jimenez, Guillamon, Cheryshev, KangIn, Esquerdo, Gameiro, Vallejo, Gomez
FIRST HALF
5' - Eibar are pressing high up the pitch forcing Mangala and Cillissen into awkward position and pressuring them to make rash clearances.
10' - Valencia still having trouble getting out of their own half. Players are forced into mistakes and are giving away possession under pressure.
12' - Valencia can't afford to keep sending these long balls up the field with no target man to receive.
16' - Goal for Eibar. 1-0. Kondogbia puts the ball into his own net following an Eibar corner. The delivery had went over Rodrigo's head, past Mangala and onto the path of Kondogbia. Unfortunate goal to concede.
21' - Good chance for Valencia. Wass finds Ferran in the box with a pass from a wide position. Ferran turns and passes to Guedes who lets the ball run through to Gaya on the opposite end who had found some space for a shot. The shot is wide.
26' - Yellow card show to Escalante for a late challenge on Kondogbia.
27' - Ferran with a fine bit of skill, taking on two defenders and slipping through the space between them. He sends a tantalizing ball towards the far post but Rodrigo cannot meet it as it took a slight deflection for a corner.
32' - Another chance for Valencia as Soler finds the overlapping run of Gaya into the box. The Eibar defender tugs on Gaya's arm bringing him down. The referee ignores the claims of a penalty, signalling for Gaya to get up.
40' - Just when the team had worked up a good attacking move, Parejo's pass to Wass misses its mark, letting Eibar off the hook.
45' - Three minutes added for stoppages.
HALF-TIME
Not good enough, although kind of expected. Valencia normally do this strategy away from home, where they concede complete control to the opposition and are content with absorbing pressure. In the second half, is when the team attempts to actually starts playing. At home, the strategy is reversed where the team plays their game in the first half and sometimes gets a goal, and then they sit back and let the opposition do their thing.
Eibar had almost complete possession in the first 15 minutes or so of the game with Valencia forced to clear haphazardly when they did end up in possession due to Eibar's high pressing. Unfortunately, this strategy does not work without a target man. Maxi Gomez is on the bench, so Rodrigo tried to fill that role and not very successfully at that.
The goal for Eibar would come from a corner delivery which was not dealt with and had slipped through all the way to Kondogbia who sent it past his own keeper. Mangala was in the best position to clear but he missed the ball altogether.
The team would get more possession with some chances. However, Valencia barely posed a threat to the Eibar goal with the chances being squandered either due to poor finishing such as with Gaya's effort or a breakdown in the attacking play as a result of poor passing.
Half-time stats. 5-2 shots, 3-0 shots on target, 40-60% possession.
SECOND HALF
46' - First change for Valencia. Soler is replaced by Gameiro. Guedes and Ferran will play the wide positions while Gameiro joins Rodrigo in attack.
53' - Ferran finds Gaya's overlapping run on the left. Gaya quickly squares the ball to Rodrigo whose shot is is just wide of goal. He seems to have lost his footing at a critical moment before striking the ball.
56' - Gaya with a sliding to challenge to deny Correa's shot at goal.
57' - Valencia is trapped in their own half just like in the first half and is suffering under the pressure.
58' - Yellow card is shown to Mangala for a late challenge. Free kick in a decent position is awarded to Eibar.
59' - The shot from the free kick was dipping just below the cross bar but fortunately Cillissen push it over.
62' - Double substitution for Valencia. Guedes is replaced by Cheryshev and Wass is replaced by Florenzi.
68' - The team cannot string together more than 2-3 passes at a time before giving away possession.
72' - Florenzi cannot hit the target despite receiving the ball at a good position in the box. Parejo had found him wide, he then plays a short pass to Ferran and makes a run into the box where Ferran finds him again. It's a shame he couldn't hit the target.
74' - Yellow card shown to Charles Dias for shoulder checking Kondogbia.
77' - A member of Valencia's technical team is shown a red card by the referee for dissent.
78' - Double substitution for Eibar. Sergi Enrich and Cristoforo come on to replace Charles Dias and Pedro Leon respectively.
80' - Yellow card shown to Sergi Enrich for a late sliding tackle on Kondogbia.
82' - Exposito puts in a good cross for Sergi Enrich who gets good contact, heading the ball towards the far post. Cillissen keeps Valencia in the game by parrying the effort with the tip of his hand.
83' - Yellow card is shown to Orellana for time wasting.
84' - Final change for Valencia. Ferran Torres is replaced by Maxi Gomez.
86' - Gaya plays the ball over the Eibar defenders to pick out Gamerio who tees up Cheryshev. The shot is too high this time and Eibar escapes the pressure again.
89' - Second yellow card shown to Mangala, followed by the red. He is sent off the field of play. It seemed like a 50/50 jump for the ball. It is a bit harsh.
90' - Six minutes of injury time added by the referee.
90+2' - Final change for Eibar. Sergi Alvarez replaces Kike Garcia.
FULL-TIME
Still not good enough. A single shot on target the entire game against a team that is fighting for survival this season. Yet again, when rivals slip up in the league, the team fails to take advantage of the situation and end up giving up points. The team remains 7 points away from 4th place Sevilla.
Exactly the same story as the first half. Control was surrendered to Eibar and any glimpse of a chance was wasted by poor finishing or a bad pass in build up. Some of the basics continue to elude this team. The result against Osasuna seems like a one-off based on the performance today, rather than a cause for optimism.
To top it off, Mangala has managed to get himself sent off in the final minutes of the second half further causing further complications to the center-back situation this season. The good that comes from this is that, baring an unexpected injuries, Guillamon and Paulista should start again next match with Jimenez providing cover if needed.
Full-time stats. 14-6 shots, 6-1 shots on target, 46-54% possession.
Next match is on Sunday the 28th, away against Villareal. An important match, although with the result today the struggle is harder regardless of a result there.