Nine games left...one game every three days for about a month. That's how much time Valencia has to overcome the poor run of form, overcome a 6 point gap to fourth place and make the Champions League.
To many fans, this achievement is far-fetched especially given the poor quality they have seen from the team. There are many signs of troubling times: contract issues, disciplinary problems, loss of motivation and most importantly no results. For now, the owner stays silent and it remains to be seen what his next move will be.
Valencia played their previous game away from home against Real Madrid. The first half was a relatively good performance from the team. They caught Real Madrid off-guard and reduced their efforts to tame shots from distance which Cillissen used as catching practice. The team struck the post (Rodrigo's shot) and even went ahead with a goal from Rodrigo but it was controversially ruled offside after extensive review by VAR. Maxi Gomez was ruled to have interfered with play from an offside position in the build up to the goal. Rodrigo, Maxi Gomez and Celades have all spoken against the ruling alongside many other players from other teams. The second half had the team lose motivation and drop their performance several levels in disappointment about the two missed opportunities. A miscommunication between Wass and Gameiro resulted in a counter-attack that ended in a Benzema goal, Asensio scored a corner-kick delivery seconds after coming on, and Benzema would finish off Valencia after controlling a cross and smashing it into the net.
Osasuna suffered an even heavier defeat in the last matchday. Despite playing at home, they lost 0-5 to Atletico Madrid. Joao Felix scored the visitors only goal in the first half, and scored again 30 minutes from full-time before Llorente, Morata and Carasco added to the tally.
The match between these two teams earlier in the season ended in a 3-1 home win for Osasuna. Valencia did take the lead through Rodrigo in the 14th minute. Rodrigo would then be shown a red card 15 minutes which was a catalyst for Osasuna to get back into the game. They equalized within 5 minutes of the red card, took the lead quickly after half-time and finished the game off 10 minutes from full-time.
Valencia come into this game in 8th with 43 points while Osasuna sit at the 13th position with 35 points.
FORM ***all competitions
Valencia: LDLDW
Osasuna: LDWLL
SQUAD
The good news is that Paulista is back in the squad. He will probably play alongside Guillamon who has shown some potential at the back in the past two games. This might be Celades's preferred set up at the back for the rest of the season with Garay probably not playing again for the team and both Mangala and Diakhaby being unreliable.
In bad news, Gaya and Kang In will both miss this game with suspensions. The former due to accumulation of yellow cards, while the latter due to his red card in the previous game. Additionally, Coquelin picked up an injury in the final minutes of the Real Madrid fixture and will miss this game as a result. Esquerdo and Pablo Gozalbez from the Valencia youth team join the first team to make up the numbers.
Luckily, it seems that the injury to Maxi Gomez that was talked about by Rodrigo in the post-interview seems to be not that serious, hence his appearance in this lineup.
It will be interesting to see if Celades will give Vallejo, Sobrino or Cheryshev any prolonged game play or if he will look to maintain a similar team to the ones seen in the previous two games.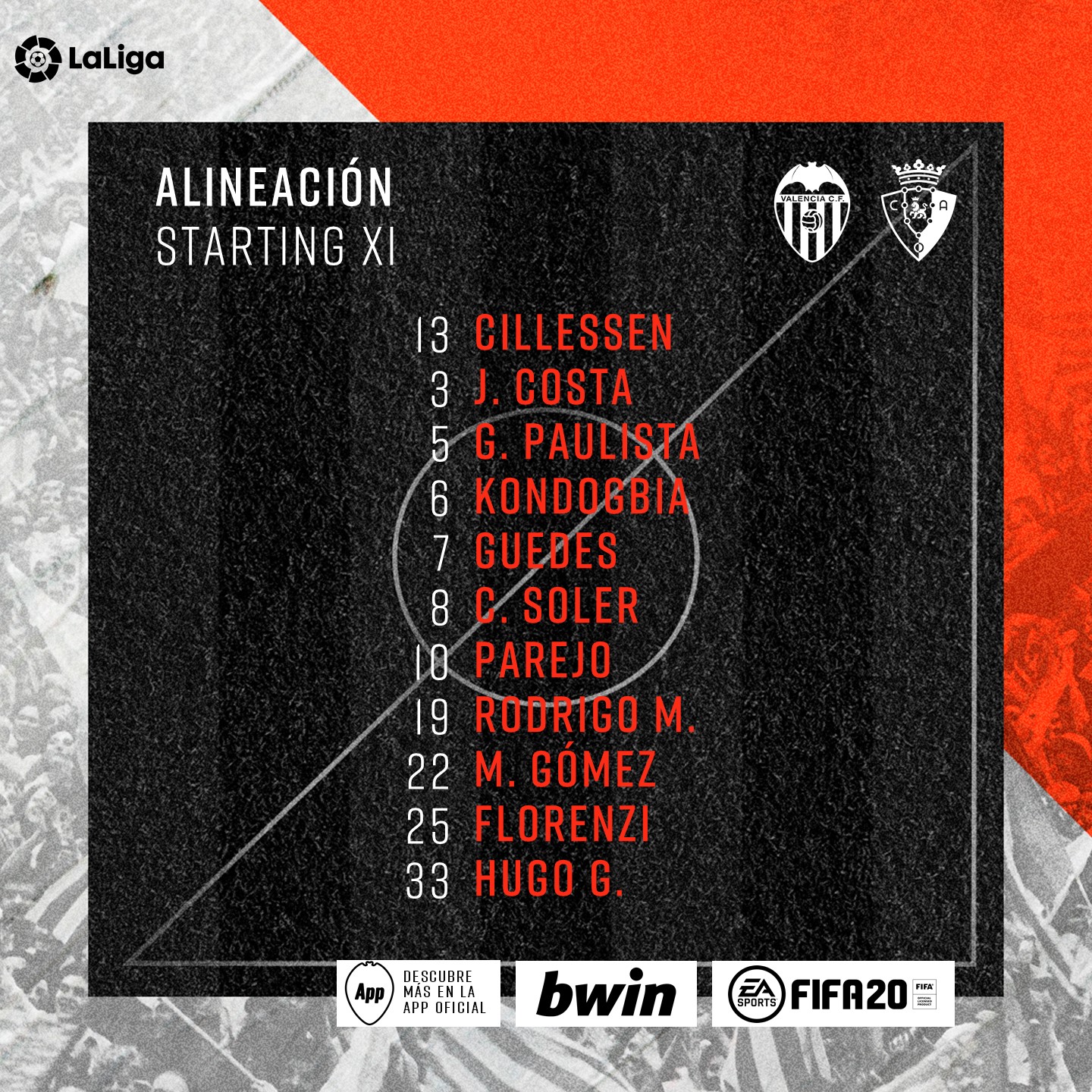 Bench: Domenech, Thierry, Mangala, Diakhaby, Wass, Cheryshev, Ferran, Esquerdo, Pablo Gozalbez, Gameiro, Vallejo, Sobrino


FIRST HALF

2 - GOAL VALENCIA! Rodrigo puts Valencia ahead. Florenzi played a well-hit lob behind the defense for Rodrigo to run onto on the right flank. He runs towards the goal line, looks up and decides to cut inside and slot it past the keeper. Maxi Gomez and Soler did well to distract the defenders by making runs into the box.
5' - Back to 0-0! VAR has spent 3 minutes checking the goal for offside. It has just been overruled again. The team cannot get demotivated by this like last game. They must keep going. Strange that this time they didn't even show the VAR decision lines for offside and went straight back into the game.
9' - They just showed the VAR decision lines and it looks like Rodrigo's arm is just a fraction ahead of the opposition defender that's furthest back.
11' - GOAL VALENCIA! 1-0! Guedes some individual piece of skill following the pass from Jaume Costa. He takes on the first defender beats him and is on his way to ground after some contact. He perseveres forward, barely maintaining his footing, beating a second and third defender and making his way into the penalty area. He cuts towards the center and fires between two defenders to the top right corner. This is what Guedes is capable of when he plays boldly and takes on defenders. A typical Guedes goal. This is what he was brought in to do. Hopefully, this gives him confidence to do more.
14' - VAR spent the last three minutes checking this goal also. There was no reason to do so. It's almost like they're looking for a reason to rule out these goals. The decision finally goes in Valencia's favor.
21' - Parejo picks out the run of Florenzi on the right flank. He puts in a great cross which Rodrigo controls and fires towards goal but the defender got his body in the way.
26' - Yellow card shown to Guedes for hitting a defender in the face with flailing arms
35' - GOAL VALENCIA! 2-0! A misplaced pass Osasuna lands at the feet of Guedes in an advanced position, setting up a 3 on 3 at the back for Osasuna. Guedes threads a pass through for Rodrigo who had made a run into the box. Rodrigo pokes the ball past the advancing keeper. Good to see the team finally take advantage of the mistakes of other teams.
45' - Six minutes of stoppage time added by the referee.
45+5' - Adrian cuts inside from the left and forces Cillissen to parry, resulting in a corner. The corner delivery is headed away by Maxi Gomez.

HALF-TIME

Good first half over all with the result to show for it. Osasuna don't look anywhere near the side they were in the first encounter between these teams. Their defense has been shaky and full of gaps and their offense cannot seem to find any gaps or chances in the Valencia defense.

One can point to the fact that the quality of opposition is the reason why Valencia has walked away with this advantage in the first half. That much is clear. In the same vein though, Valencia has also been in poor form and often struggled against teams of all levels. So this is progress. 45 minutes of progress. Everyone is aware though that Valencia can show drastically different forms across halves.

Rodrigo started off the scoring for the third time since the restart but had it ruled offside yet again. This time, the team didn't let it get to their heads and continued to play with the same intensity. Guedes found a spark of his top form and demonstrated his ability to to take on players, beat them and produce a quality shot to top it off. Rodrigo would get his chance again 10 minutes from regulation time, set up by Guedes who had been in the right place at the right time to take advantage of an Osasuna misplaced pass. The pass to Rodrigo was well hit and well timed, leaving Rodrigo with the simple task of poking it past the keeper which he did.

The defense and keeper have looked largely untroubled by Osasuna and have yet to be tested. It would be great if they could maintain focus and see out a clean sheet to build confidence and establish this pairing as starters.

Half time stats. 4-3 shots, 3-1 shots on target, 55-45 %possession.

SECOND HALF

46' - Three changes for Osasuna. Cardona, Navas and Perez are taken off. Gallego, Roberto Torres and Ruben Garcia are brought on in their place.
52' - Soler with a shot at goal but it's blocked by the keeper
53' - Osasuna return the favor with a shot by Ruben Garcia. Cillissen can only parry.
58' - First change by Valencia, Kondogbia off, Wass on.
64' - Yellow card shown to Estupinan for a late challenge on Maxi Gomez
65' - Paulista with a great challenge to deny the advancing Osasuna attacker in the penalty area
66' - Two more changes from Valencia. Guedes and Maxi Gomez are replaced by Ferran and Cheryshev respectively. Guedes seems visibly frustrated with the decision. He has a yellow card so it's a reasonable substitution. He has done well this game.
69' - Osasuna's coach uses another substitution, bringing on Merida for Darko
71' - Osasuna with their best chance yet. Oier meets the cross from Torres with a header from a good position but it's wide of goal.
75' - A good chance for Valencia on the counter attack. Parejo had won possession and found Cheryshev on the left flank. Ferran had made an excellent run between the center backs but the pass was over hit and the chance goes to waste.
77' - Last change for Osasuna. Adrian Lopez is replaced by Arnaiz
81' - Space opens up for Osasuna to counter attack after dispossessing Ferran Torres. The cross comes in from the left flank and Cillissen does just enough to get in the way of the opposition forward to deny him the chance at a shot.
83' - Paulista steps in again to deny the shot at goal following a cross. The ball safely goes out of play for a corner.
85' - Yellow card shown to Ruben Garcia for leaning into Ferran Torres while jumping.
87' - Osasuna put in another dangerous cross. Arnaiz manages to squeeze the low cross in past Guillamon, aiming for Gallego. His shot is wide.
89' - Final change for Valencia. Rodrigo is taken off and Esquerdo is brought on in his place.
90' - Cheryshev kickstarts a counterattack for Valencia, picking out Ferran Torres on the left side and continuing his run forward. Ferran drives forward, cuts insides and crosses past Cheryshev towards Soler. The Osasuna defender gets in the way of the cross and it falls to Cheryshev who gets the shot on target but it's easy for the keeper to deal with. Five minutes added for stoppages by the referee.


FULL-TIME

An important three points for Valencia and a clean sheet to top it off. Despite a drastic drop in performance in the second half, the team managed to see the game out.

Osasuna changed tactics in the second half. Taking off one defender in their 5-man back line in favor of a more attacking lineup. It worked well and the Valencia midfielders had a lot on their plate to deal with, often getting pressured off the ball and having their passes intercepted. This was made even worse when Kondogbia was taken off in the 58th minute, with his replacement Wass, not offering as much defensive prowess.

Paulista and Gulliamon were suddenly being tested where in the first half they weren't troubled much. Paulista especially has saved the team by dealing with many dangerous crosses that made their way to their target in the penalty area. Cillissen also did his part in intervening when he could. It was good to see that this backline is capable of withstanding the pressure. However, it is not a wise idea to concede complete control of the game completely to the opposition, even if it is Osasuna. This could very well be punished in future games.

Offensively, with Guedes and Gomez off, Ferran and Cheryshev posed the danger for Valencia in the few occasions that they had on the counterattack. Most notably, the run for Ferran which was missed by Cheryshev's cross, and the cross from Ferran which was chested down by an Osasuna player towards Cheryshev only to be hit towards the keeper.

It should be noted that there was another controversial VAR moment 2 minutes into the first half, when Rodrigo had put the team into the lead. In the post-match interview, Rodrigo was vocal yet again that he feels the VAR has denied himself and his team of plenty of opportunities. It was also strange that even Guedes's goal had 3 minutes spent in review when there was no point of contention at all. The game could have easily been 3-0 at the end of the first half.

The next game for Valencia is Thursday the 25th of June away to Eibar. Hopefully, the bit of good in today's game carries forward and the coach addresses as much of the bad as possible before the next game. Amunt.