After narrowly missing out on the three points in the last matchday, Valencia travel to Madrid where they will play the second place team in the league.
This game will also be played behind closed doors with the precautions and adjusted rules that were observed in the previous matchday. As a reminder:
Teams will now by allowed up to 5 substitutions instead of 3.
There is a limitation that these substitutions can only be made over 3 occasions (not including half-time) to avoid time wasting and disruption.
Teams will also be allowed a squad of 23 instead of 22 players.
Finally, 12 players will be available on the bench for selection instead of the usual 7.
Real Madrid should be a much tougher game at every level. They are a high caliber team and the game is played away from home where Valencia have struggled time and time again this season. The game will not be played at the Bernabeu though, but rather at the Estadio Alfredo Di Stefano since Real Madrid will be upgrading their current stadium.
Real Madrid come into this game on the back of a 3-1 home against Eibar on the 14th. Their 3 goals all came in the first half with Eibar's goal coming in the second as a result of a fortunate deflection.
Valencia played out an average game against Levante with many of the flaws that were seen earlier in the season persisting on in this game. Rodrigo did manage to grab a goal in the final couple of minutes of regulation time before Diakhaby threw away the lead by giving away an unnecessary penalty in stoppage time. Throughout the week, some of his colleagues joined Celades in defending him from public criticism.
These two teams had two encounters so far this season. The first was the La Liga fixture at Mestalla that ended in 1-1 draw. Carlos Soler had put Valencia in the lead in the 78th minutes and they were set to win until the 6 minute of stoppage time when Benzema managed to find the net to deny the three points to Valencia. The second occasion was in the Spanish Super Cup match that was played 2-3 weeks after in Saudi Arabia. Valencia did not look too interested in that game and suffered a 3-1 defeat. Real Madrid completely dominated the game, scoring 2 in the first half, and one in the second whereas Valencia's only goal came from an injury time Parejo penalty.
Real Madrid currently sit second in the league with 59 points while Valencia are 8th with 43 points.
FORM ***all competitions
Real Madrid: WLWLL
Valencia: DLDWL
SQUAD
Similar squad list to last week with Paulista, Garay and Piccini missing the game due to injury.
Kondogbia returns to the list having served his 1-game suspension due to accumulated bookings. His addition results in Javi Jimenez being forced out of the squad list. He is chosen over Coquelin to start in this game.
Guillamon maintains his spot in the starting XI but will be joined by Mangala instead of Diakhaby. A worrying sign but Celades probably wanted to send a message to Diakhaby and/or go for more experience against this Real Madrid team.
Elsewhere, Wass returns to the starting lineup instead of Florenzi, Ferran is preferred over Guedes and, just like last game, Maxi Gomez complements Rodrigo in attack.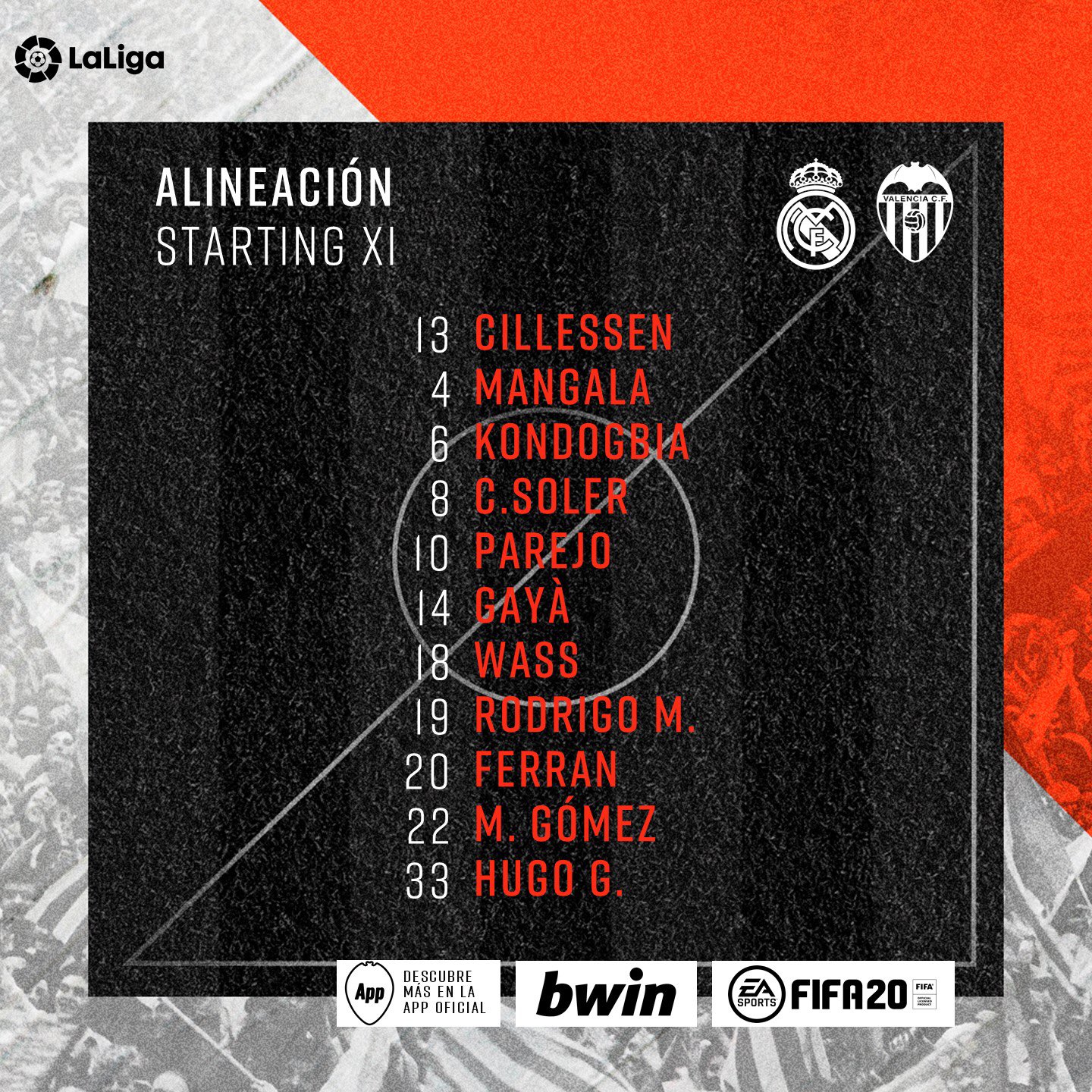 Bench: Domenech, Costa, Diakhaby, Florenzi, Thierry, Coquelin, Guedes, Cheryshev, Kang-In, Gameiro, Vallejo, Sobrino
FIRST HALF
3' - Real Madrid having the majority of possession this early in the game. Casemiro has attempted a shot from distance but Cillissen smothers the shot.
10' - Real Madrid on the counter attack get another chance at goal. Benzema's wide run is followed by a pull-back for Toni Kross who shoots but Cillissen saves.
11' - Another chance for Real Madrid as Kross squares the ball for Benezema who does the same in turn for Hazard yet Cillissen saves again.
12' - Toni Kross with another shot from distance and Cillissen is equal to it again.
14' - Maxi Gomez turns and picks out Rodrigo with a through ball into space sending Rodrigo through on goal. He has time to look up and set up his shot, aiming at the far post and does exactly that, hits the post. Good chance for Valencia. Replay shots a slight touch from Courtois that denied Rodrigo.
16' - Hazard tests Cillissen from distance again and Cillissen saves.
20' - Goal for Valencia is overturned. Rodrigo had put Valencia ahead. The play started with a loose ball following a defelection from Gaya's cross. Soler gathers, turns and sends the ball into the box towards Maxi Gomez, who appeared to flick the ball to Rodrigo who had started the run when Soler had possession. Rodrigo gets onto the ball in plenty of space and has no trouble beating Courtois from this range. VAR checks for a long time, calls the referee over and after some contemplation overturns the goal for offside on Maxi Gomez. It was by a hair and denies Valencia from the lead. It's back to 0-0.
22' - Yellow card shown to Gaya for protesting the VAR decision.
29' - Carvajal gets past Soler at the edge of the Valencia box, and runs through to the space between Mangala and Gaya, setting up a 1 on 1 against Cillissen. Mangala attempts to pressure him and narrow his angle which made the save from Cillissen a bit easier.
43' - Kondogbia decides to try his own shot from distance at Courtois and hits it with enough power that the keeper couldn't catch it and could only parry it.
45' - Five minutes of stoppage time added by the referee.
45+4' - Benzema breaks through towards goal, released by Hazard. Guillamon puts in a sliding challenge that nullifies the danger.
HALF-TIME
This half has actually been relatively good from the Valencia perspective. Real Madrid no doubt had the majority of chances and possession but it was all tame. Every shot was hit straight at Cillissen. Valencia dealth with a period of intense pressure from the opposition but absorbed it well. On the other hand, Valencia has managed to hit the post and score a goal that was overruled after 3-4 minutes of checking by officials and the referee before the judgement was made.
Real Madrid seemed mostly uninterested in penetrating the Valencia defense and instead opted for long range efforts from Hazard and Kroos. This was strange especially since Valencia didn't have their 2 first choice center backs, Paulista and Garay. It was expected that Madrid would be a lot more bold and put lots of pressure on Mangala and Guillamon, both of whom haven't played much this season. Guillamon had a 2 good tackles, one to deny Modric from advancing into the box early in the half and one at the very end to derail Benzema from his run into the box. He has also put in a few good passes forward to kick start some Valencia plays. The commentary team was certainly impressed with him, calling him fearless against Real Madrid and pointing to the fact that he is a two-time World Champion with the Spanish youth team.
Valencia's offensive transition, facilitated by Kondogbia, Parejo and Maxi Gomez who had dropped back, caught Madrid off-guard on multiple occasions. Ferran and Gaya have also done well to exploit the space left by the Madrid full-backs, with the former forcefully taken down multiple times.
The final product is still missing and is usually Valencia's biggest issue. The overruled goal was too close to call as offside and is definitely a step in the right direct. Hopefully, the team continue to put pressure on Real Madrid as this looks very winnable based on how the first half went.
Half-time stats. 9-2 shots, 8-2 shots on target, 56-44% possession.
SECOND HALF:
49' - Ferran continues to be taken down every time he touches the ball, first by Mendy a few minutes ago and now by Hazard
58' - Double substitution for Valencia, Ferran off for Guedes and Maxi off for Gameiro.
60' - Goal for Real Madrid. 1-0. A miscommunication between Gameiro on the right flank and Wass who had made his way forward, gives possession away to Real Madrid on the counterattack. Hazard plays a one-two with Modric, takes on Guilliamon and gets the pass through to Benzema despite the youngester's sliding tackle. Benzema has no trouble beating Cillissen from that range and with that much space.
65' - Hazard makes a run across the edge of the Valencia box and tees up Modric for a shot which Cillissen can only parry for a corner.
68' - Celades will use two more changes. Soler is taken off for Cheryshev and surprisingly Parejo is replaced by Coquelin.
70' - Mangala does well to keep up with and win the ball from Hazard who had been played into tons of space.
73' - Real Madrid's first substitution is Asensio, he comes on for Valverde.
74' - Goal for Real Madrid. 2-0. Asensio scores within seconds of coming on. The corner from Kross makes it clear to the opposite flank to Mendy. He takes out Wass with his pace and pulls the ball back for Asensio who curls the ball away from Cillissen and into the net.
76' - Valencia's final change sees Rodrigo come off for Kang-In Lee.
82' - Second change for Real Madrid. Vinicius Jr comes on to reokace Hazard.
83' - Vinicius outpaces Guillamon, gets into space and puts in a cross into the box. Gaya had to cut across to deal with it.
84' - Yellow card shown to Guillamon for handball. Free kick given away in a dangerous position.
85' - Kroos is on-target from the free kick and Cillissen is forced to tip it over the crossbar.
86' - Goal for Real Madrid. 3-0. Guedes gets dispossessed at the edge of the Madrid area by Casemiro, setting up a counterattack. Kroos carries the ball forward and attempts a pass which deflects fortunately for Asensio out wide. He puts in a cross to Benzema in the center who takes it down with his right foot around Guillamon and scores in the top-left corner with his opposite foot.
89' - Red card shown to Kang-In for continuously clipping at the heels of Ramos.
90' - Four minutes of stoppage time added by the referee.
FULL-TIME
A disgrace of a second half. The team that showed up in the first was no where to be seen in the second. Madrid was allowed all the time and space on the ball. When you're complacent against Real Madrid, you get punished and this second half was a punishment.
Valencia didn't have a single shot, on or off-target in the second half while Real continued their intensity from the first half. Based on that, there was no way to win this game.
The miscommunication between Wass and Gamerio led the first goal. A completely avoidable mistake that was taken advantage of by Real Madrid. After that, the team just shut down and many players stopped trying. This was also on the back of Valencia introducing Guedes and Gameiro onto the field in an attempt to catch Madrid on the counter as with the first half. With the lead established, Madrid had no need to come forward. They were content to have Valencia chase the ball and sought to tire them out.
Taking off Parejo signaled a defensive mindset and an intent to sit back and let Madrid come forward. Even when Kang In was introduced as the final substitution, he was instantly caught sleeping in midfield. It seems the motivation is lacking heavily from everyone even the youngsters.
Madrid made only 2 changes while Valencia used all 5 but the Real Madrid squad still played with more energy and intensity.
To top off this result, Kang In got himself sent off for a rash series of challenges on Ramos, Coquelin picked up and injury in the final minutes of the game and according to Rodrigo in the post-game interview, Maxi was also taken off due to injury.
We have seen multiple players now, especially younger players, show a lack of discipline. This definitely needs to be addressed and is a clear sign of unrest within the team.
Full-time stats. 17-2 shots, 14-2 shots on target, 61-39 %possession.
Next game for Valencia is on Sunday the 21st at Mestalla against Osasuna.