After slightly more than 2 months of suspension due to health risk posed by COVID-19, La Liga finally returns for its 28th matchday. While play has resumed, safety precautions are still in effect and will be evident by the empty stadium and the way which players interact (handshakes, hugs, etc). Valencia has already played a game behind closed doors in the second leg of the Champions League Round of 16 against Atalanta. Many fans showed up to support Valencia and could were audible from just outside the stadium but it remains to be seen if that will occur again.
There are some temporary changes to the game as well. Team will now by allowed up to 5 substitutions instead of 3. There is a limitation that these substitutions can only be made over 3 occasions (not including half-time) to avoid time wasting and disruption. Teams will also be allowed a squad of 23 instead of 22 players. Finally, 12 players will be permitted on the bench instead of the usual 7.
Previous form and matches will probably be less indicative of current form based on the length of the break but it should be explored as a summary.
Valencia currently sit 7th at 42 points, 4 points behind their target Champions League positions. Their previous match was 3-4 loss at home against Atalanta in the Champions League Round of 16. In La Liga, Valencia were held to a 1-1 draw away from home to Alaves in the last matchday before the league was suspended.
Levante find themselves at 13th position in the league with 33 points heading into this derby. Their last fixture before the suspension was 1-1 home draw to Granada.
The previous fixture earlier in the season between these two ended 2-4 in favor of Valencia. Levante finished the first half with a two-goal lead. In the second half, a Levante own goal followed by a brace from Gameiro turned the game around to a 2-3 lead for Valencia. Levante had a red card shown to one of their players about 15 minutes from full-time. Valencia would capitalize with a late 88th minute goal from Ferran to seal the victory.
FORM ***all competitions
Valencia: LDWLL
Levante: DLWLW
SQUAD
While Valencia have been in poor form, the blame was often placed on the length of the injury list as well as the length and recurrence of those injuries, especially those to key players. With the suspension of La Liga for all this time, almost all of those names have recovered and are available for selection.
There are two exceptions to this. Garay who is still recovering from an earlier injury, Paulista, who recently picked up an injury (muscular overload in right thigh) during Monday's training, and Piccini who was had to undergo a scheduled second operation.
Kondogbia is missing from this list due to suspension from accumulated bookings.
Key changes in lineup are: Cillissen in goal over Jaume, Guedes in the starting lineup over Ferran Torres after spending the last few matches on the bench, Florenzi over Wass in right-back and Hugo Guillamon playing alongside Diakhaby to cover for the absence of Paulista. Javi Jimenez also makes an appearance on the bench,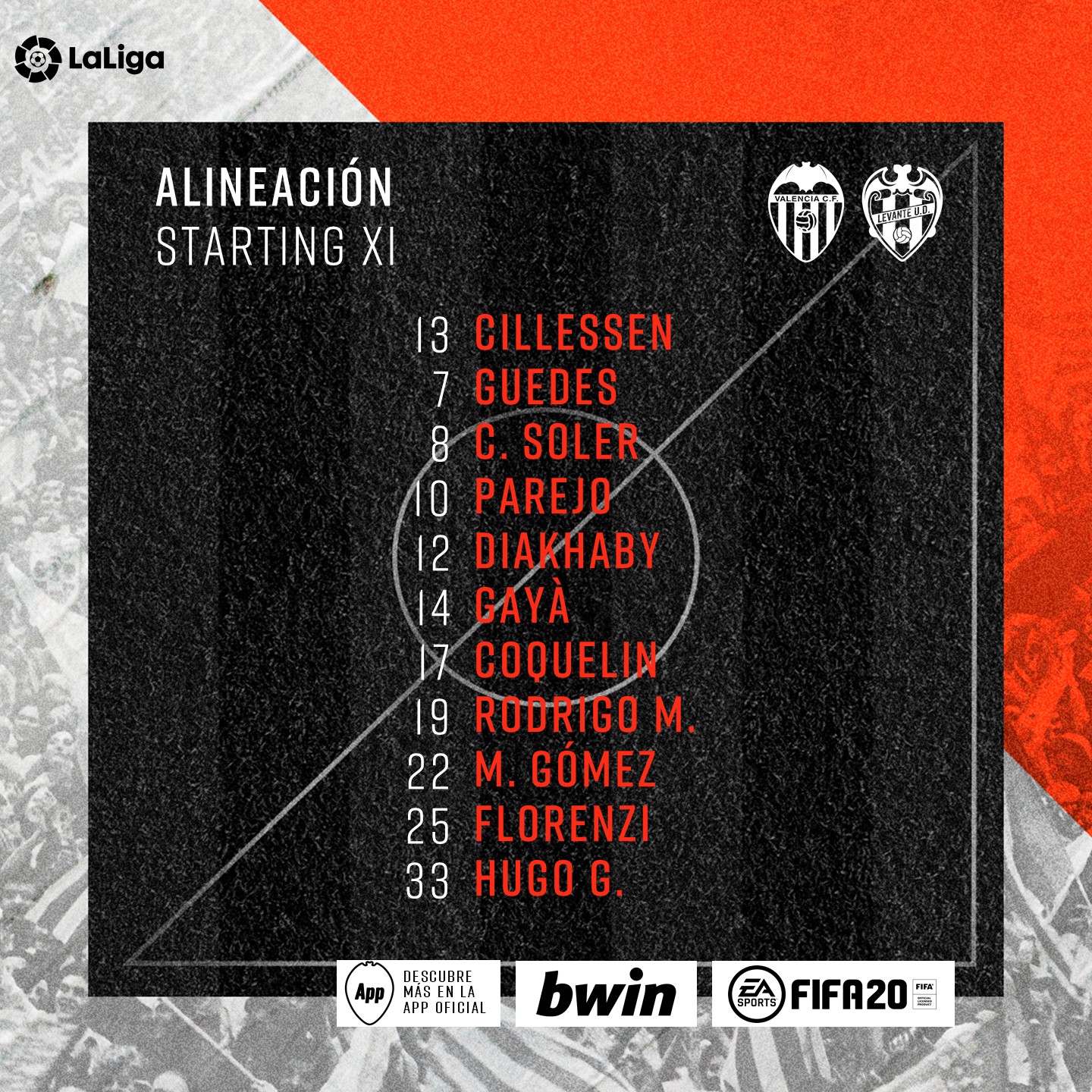 Bench: Domenech, Thierry, Wass, Mangala, Jimenez, Costa, Kang-In, Cheryshev, Ferran, Vallejo, Gameiro, Sobrino.
FIRST HALF
5' - Valencia with an early chance in the game. Guedes plays a through ball for Gaya who had made an overlapping run. Gaya plays a delightful cross towards Maxi Gomez in the center but it it's just out of reach of his outstretched leg.
17' - Morales races with Diakhaby for the ball on the left flank. He gets there slightly ahead of Diakhaby and crosses to Roger Marti who had gotten in front of Guillamon. Fortunately, Cillissen intercepts the low cross and denies the chance.
27' - Parejo tries to set up Florenzi on the edge of the box from a free kick but the pass is intercepted by Levante setting up a 4 vs 3 at the back. Florenzi did well to get back in time and put enough pressure on the Levante player forcing a corner in the end.
29' - Soler plays a through ball for Rodrigo to run onto on the right flank. Rodrigo drives forward and attempts to pickout Maxi Gomez but the cross is intercepted. The ball falls back to Soler who had made his way into the box. He fires at goal but it bounces of the crossbar. Very close.
38' - An interception by Coquelin sets up a counter-attack for Valencia. Play is transitioned quickly from the right flank to the left where Rodrigo finds Gaya with a through ball. Gaya surprises the defense by cutting across and taking a shot towards the far post. His shot is a bit too high and a bit too wide.
43' - Yellow card shown to Guillamon for excessive pressure on Roger Marti.
45' - Two minutes are added by the referee for stoppages.
45+1' - Yellow card shown to Roger Marti for a late challenge on Parejo.
45+2' - Parejo with a brilliant cross from the free kick. Rodrigo meets the delivery with a nod across goal, Diakhaby gets a touch and hits the top left corner of the goal. There was some suggestion that he was offside but it doesn't matter since he didn't score.
HALF-TIME
Decent first half from both teams. There was though, a lack of intensity, probably due to the absence of fans in the stadium.
Both teams had their chances to take the lead with Valencia arguably having the better of the two. Both Soler and Diakhaby hit the post, in the middle and end of the half respectively.
Levante's tactic seems to be to try to exploit the inexperience of Guillamon in defense with their experienced forwards. He has already been caught by surprise and drawn into a foul in this half. While Levante had a few good chances the end product was very tame in comparison.
For Valencia, Guedes seems to be playing with a lot more calm and composure, rather than the frustration that was evident before. However, the goal seems more likely to come through Maxi Gomez or Rodrigo who have both been quite involved in offense.
Overall, quite decent, better than expected but not convincing enough given the amount of time. The fans already know the team is capable of doing some linkup play as they have seen many occasions, although not consistently. However, the finishing blow that was lacking, looks to be still missing thus far. The team has the whole second half to begin to change that.
Half-time stats: 4-5 shots, 0-3 shots on target, 56-44 % possession.
SECOND-HALF
53' - Yellow card shown to Miramon for pulling Guedes to impede his run.
56' - Two changes for Valencia: Gameiro for Maxi Gomez and Wass for Florenzi.
60' - Double change for Levante: Rochina for Melero and Mayoral for Morales.
64' - Guedes and Gaya team up again with a through ball from the former to find the overlapping run of the latter. Gaya plays the ball across goal but no one is there to finish it and travels all the way to the other side of the box. Rodrigo picks it up and finds Guedes in the center but his shot ends up in the stands.
66' - Rodrigo receives a pass from Parejo on the goal-line. He cuts inside past 2 defenders and takes a shot and succeeds in forcing a saves out of the keeper.
68' - Third change for Valencia. Soler is taken off and Ferran Torres replaces him.
71' - Yellow card for Vukcevic for a pull back on Rodrigo to impede his run.
73' - Double change for Levante. Bardhi off, Tono Garci on. Vukcevic off, Radoja on.
74' - Second yellow card shown to Roger Matri for a reckless challenge from behind on Guillamon. He is shown a red card and walks off the field. This is Valencia's chance to take control of the game.
82' - Rodrigo chests a cross towards goal but is denied by Postigo who was guarding his goal.
84' - Final change for Levante. Campana off, Pablo Martinez on.
87' - Change for Valencia. Cheryshev on, Guedes off.
89' - GOAL VALENCIA! 1-0! Guillamon picks out Gaya with a great through ball and Gaya produces yet another great cross this time for Rodrigo who pokes it past the keeper.
90' - The referee adds five minutes of additional time for stoppages.
90+5' - Diakhaby with another blunder. He handles a player in the penalty box in the dying minutes of the game and gives away a penalty to Levante. The referee awards the penalty after an extensive VAR check.
90+8' - Goal for Levante. 1-1. The penalty is converted. So much for a win, in typical Valencia fashion it is thrown away,
FULL-TIME
The goal finally came in the closing minutes of original time. In much similar fashion to the last fixture between these two teams, Levante received a red card in the final 20 minutes of the game and Valencia grab a goal less than 5 minutes from full-time. All Valencia had to do was see the game through. In the final minute of stoppage time for no reason whatsoever Diakhaby gives away a penalty for being too handsy with the Levante player. This isn't the first time nor does it look to be the last.
Valencia should have walked out the winners as the chances they got were better. They were still far from the level required to be at Champions League level evidenced by the fact that they needed a red card to score and even then ended up giving up the result in the dying minutes of the game.
Gaya was the outstanding player of the match, providing three crosses, all of which cause lots of danger to the Levante defense, and one of which resulted in a goal. Rodrigo who looked one of the most dangerous in the first half, alongside Maxi Gomez, ended up with the goal from that cross. Honorable mention goes to Coquelin, who didn't get much time on the ball but put in quite a few key tackles in midfield.
The team played worse in the second half compared to the first and it was quite painful to watch. The only positive was the goal.
Full-time stats. 8-8 shots, 3-6 shots on target, 56-44 % possession.
Next game is on Thursday the 18th, away from home, against Real Madrid. The team needs to step it up quite a few gears before that game.