Valencia return to Mestalla to play Atalanta in the return fixture of the Champions League Round of 16. They have it all to do and just about all of the odds are stacked against them. They have to comeback from a 4-1 scoreline in the first leg while in poor form, against opposition that are in good form, with no crowd support at home, and where every goal scored against will make the situation that much worse.
That being said, Atalanta did show several signs of vulnerability in the previous game. Their commitment to playing with high attacking intensity left huge gaps in their defense; gaps which Valencia managed to get into but not punish with goals. If anything changes tonight, it has to be this. The quality in the final third has to be spot on, the opportunities that Atalanta's style of play will give are too good to pass up.
Valencia come into the game on the back of a 1-1 away draw to Alavés. Despite being dominant in the first half, the team failed to score from open play when the chances were presented. The team did manage to score albeit through a well-struck Dani Parejo free kick. The reigns of the game were surrendered to Alavés in the second half allowing them to take 10 shots, one of which ended in the back of the net.
While Valencia have had 3 games since the last Champions League fixture, Atalanta has had only 1 game which they played on the first of March. They played Lecce away from home and demolished them with a 2-7 scoreline. At half-time the game was at 2-2 and they managed to score 5 with no reply in the second half. Lecce is in the relegation spots in Serie A but it's still not easy to score 7 away from home. That being said, they did manage to score 2 in the first half alone, which yet again shows that Atalanta are vulnerable if the chances are taken.
Atalanta have scored 70 goals in 25 games in Series A. This is the 3rd highest in the European top 5 leagues, behind only PSG at 75 goals (27 games) and Bayern at 73 goals (25 games).
Valencia form (all-competitions): DWLLD
Atalanta form (all-competitions): WWWWW
SQUAD
According to Superdeporte, Managala, Costa and Correia are left out of the squad by technical decision and not injury. Paulista misses this game since he is served the second game of his 2-game suspension for the red card in the game against Ajax. As such, in defense it will likely be Diakhaby and Guillamon, unless Celades decides to use Kondogbia, Florenzi or Coquelin as cover for that spot.
The midfield is complete, fully fit and ready with Kang In returning the squad as well after being left out in the weekend fixture.
In offense, Sobrino also returns to the squad as an attacking alternative.
Last game, Celades opted for a 4-1-4-1 formation which had its pros and cons. It remains to be seen whether this will be the case again.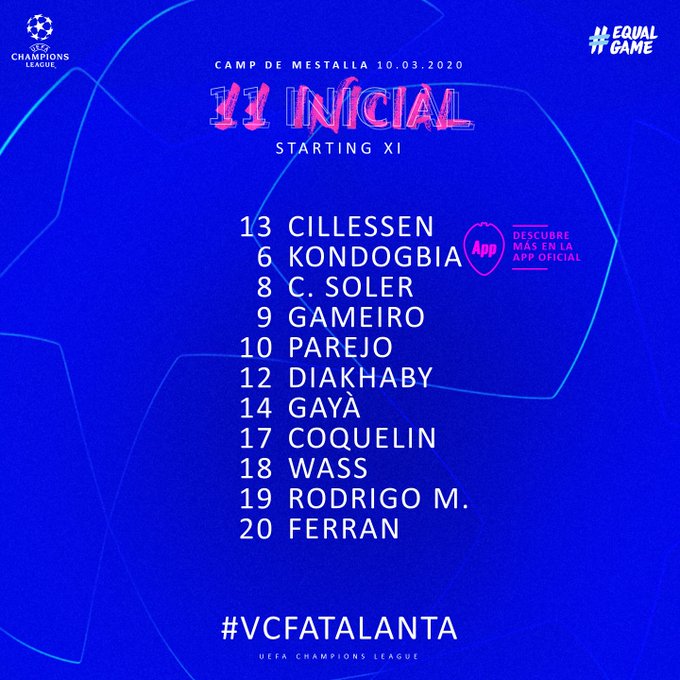 Bench: Domenech, Florenzi, Guillamon, Guedes, Cheryshev, Kang In, Sobrino
With the rest of the starting center-backs out, Coquelin will cover their spot in defense next to Diakhaby.
The team returns to a 4-4-2, with Rodrigo back in the starting XI alongside Gameiro where he will look to drop back and help with buildup. In the first leg, it was Guedes and Maxi that made up the attack.
Despite Florenzi being available and having experience versus Italian sides, Wass is preferred in this game by Celades.
Cillissen starts over Jaume for the third game in a row.
FIRST HALF
It seems that the Valencia fans showed up outside the stadium to support the team and are cheering from the outside audibly enough to hear in the stadium.
1' - Penalty for Atalanta after Diakhaby dived in and tripped up the Iličić in the penalty box. Not a good way to start by any means.
2' - Goal for Atalanta. 0-1. Iličić fires the penalty straight down the middle and Cillissen went slightly to the right. His trailing legs just missed the ball as it sailed in.
8' - Rodrigo with a good shot on target, curled towards the far post from the edge of the penalty area. The keeper spilled the effort but no Valencia players were close enough to capitalize.
21' - Goal Valencia! 1-1! Rodrigo with a great throughball for Gameiro, that's just onside. Gameiro does well to get around the keeper and slot it past him.
33' - Yellow card is shown to Francis Coquelin.
41' - Diakhaby concedes yet another penalty for a poor challenge. Yellow card is shown to Diakhaby.
42' - Goal for Atalanta. 1-2. Iličić scores yet again. Valencia now needs 5 goals to rescue something from this game.
44' - First substitution for Atalanta, de Roon off, Zapata on.
45' - Three minutes added for stoppages.
HALF-TIME
The task at half-time is more difficult that when the first team walked onto the field. Instead of 3 goals without conceding over 90 minutes, the team now has to score 5 without conceding in 45 minutes. With the way the team looked in the first half, it doesn't look like it's happening.
Atalanta have come into this game looking to add to their lead and not sitting on it and they've done just that. The nerves got the best of Diakhaby on two occasions and caused him to make two silly fouls to concede penalties that just make life easier for Atalanta.
Valencia did manage to score in between those goals and it was one of the few times that Rodrigo and Gameiro managed to link up well. The finish from Gameiro was very composed.
The team has looked quite deflated after the second goal, no doubt they see the great obstacle in front of them and the impossibility in overcoming it.
Coquelin in defense looks decent, although he has these urges to run into midfield and help out his team. He is still a midfielder at the end of the day and no doubt he will carry those tendencies with him.
SECOND HALF
45' - First substitution for Valencia, Diakhaby off, Guedes on. This change has an attacking intent clearly.
46' - Goal for Valencia! 2-2! Rodrigo sets up Parejo for a shot at the edge of the area but it's blocked and deflects wide for Ferran. He has the time and space to look up and find a a delightful cross which Gameiro meets and heads into the net. Four goals to go.
57' - Yellow card shown to Kondogbia for a late challenge on Iličić at the edge of the penalty box.
63' - Yellow card shown to Daniel Wass for a diving challenge on Gomez. The referee had waived advantage but went back and booked him.
64' - Valencia have upped the pressure on Atalanta this second half, forcing them into poor passing and loss of possession.
66' - Goal for Valencia! 3-2! Soler did well to win back possession in his own half to start. He got the ball to Parejo who had spotted an advanced run from Ferran. Parejo plays a beautiful lob over the defense for Ferran to run onto. The keeper went out to meet him and Ferran punished him with a chip over him and into the goal. Great vision from Parejo to spot the well-time run from Ferran and good finishing to match.
68' - Coquelin attempts to play Zapata offside but ends up letting him go through, although at a tight angle, on goal. He fires across goal but Cillissen does well to save his leg.
70' - Goal for Atalanta. 3-3. What was initially a Valencia attack was ended when Guedes made a mess of the ball in the opposition penalty. After some deflection, the ball landed at Kondogbia's feet and he attempted to run towards the Atalanta goal. He was dispossessed, setting up a 4 v 2 at the back for Valencia. Being outnumbered, Zapata was easily picked out and squares the ball for Iličić. He takes a touch past Parejo, cutting across goal and slots it past Cillissen at the far post for his hat-trick.
73' - Second change for Valencia. Coquelin off, Cheryshev on. Kondogbia has stepped back into defense in his place.
77' - Second change for Atalanta. Alejandro Gomez off, Malinovskyi on.
78' - Final change for Valencia. Rodrigo off, Florenzi on.
79' - Cheryshev with a brilliant cross across goal from the left. Ferran just missed the contact with the ball. That would've surely been a goal. There is potential in these crosses if there are runs to meet them.
81' - Goal for Atalanta. 3-4. Freuler drew the attention of Gaya, Wass, and Kondogbia (the entire defense), and takes them all out with a pass for Iličić who curles it past Jaume at the far post.
83' - Final change for Atalanta. Palisic off, Tameze on.
85' - Yellow card shown to Freuler for obstructing the run of Carlos Soler.
90' - Two minutes added for stoppages.
90+1' - Gameiro gets a chance at a hat-trick after Ferran Torres produces a brilliant turn past the defender followed by a through-ball to send him through on goal. The striker could only hit the keeper.
FULL-TIME
Everyone knew it would take a miracle to turn around the first leg scoreline and there wasn't one today. Atalanta eliminate Valencia and advance to the Champions League quarterfinals. Going through tonight would have earned Valencia around 10 million euros in prize money.
Atalanta yet again showed their attacking prowess, scoring 4 goals against Valencia in the second leg just like the first. This time around though, 2 of those were gifted through silly penalties.
While there were many disadvantages this game, the team still managed a better performance than the first leg. Although this performance still had many issues, if the team played the same way in the first leg, this tie could have been very different.
This team doesn't score three goals much and yet have done it today. Makes you wonder why the same cannot be done week-to-week. The funny thing is even with no actual center backs on the field for Valencia, the same number of goals was conceded in the second half as the first.
Ferran put in another praise-worthy performance today. He has the mentality of a winner and it showed today. He ran every minute of the game and was producing moments out of nothing for the team. He was the least predictable player on the ball and caused as much trouble as he could because of it.
Full-time stats. 3-4 goals, 16-11 shots, 7-5 shots on target, 60-40% possession, 80-72% pass accuracy.
This result reduces Valencia's season objectives to just one. Qualify for the next season of the Champions League by finishing 4th in the league.
Next game is on Saturday, March 14 against Levante in La Liga at Mestalla. The next two games for Valencia will be played behind closed doors as well, as ruled by the Spanish football federation.