Valencia are on the road again to play Deportivo Alavés at the Mendizorrotza.
Deportivo Alavés come into this game having drawn 1-1 away against Leganes in La Liga's previous matchday. They struck first shortly after the half-time break but it only took 13 minutes for Leganes to equalize.
Valencia's last matchday had them win a close match against an out-of-form Real Betis at Mestalla. The crowd was looking for the team to respond and it took til the second half for that to happen. Gameiro with a brilliant piece of individual play helped the team take the lead, while Parejo doubled it up, capping off a nice string passes from the team. Betis did manage to grab one back in stoppage time but it was too late for them to make a comeback.
With those results, Valencia sit 7th in the league with 42 points while Alavés are 11th with 32 points.
The game between these 2 teams earlier in the season at Mestalla ended in a 2-1 victory for Valencia. Maxi Gomez scored in the first half and Parejo scored in the second from a penalty. Alavés's goal came in the final minutes of the game.
Alavés rank 12th in home form for this season. With 13 games played, they have won 6, drew 4 and lost 3. Over those games they have scored 17 goals and conceded 10.
Valencia rank 12th on away form. Having played 12 games on the road, their record stands as 3 wins 2 draws and 7 losses. In those games, 14 goals were scored and 26 conceded.
Alavés form (all competitions): DWLWD
Valencia form (all competitions): WLLDL
SQUAD
Celades has recovered both Coquelin and Rodrigo for this game. Kang In is absent by technical decision. Guedes is officially listed as forward.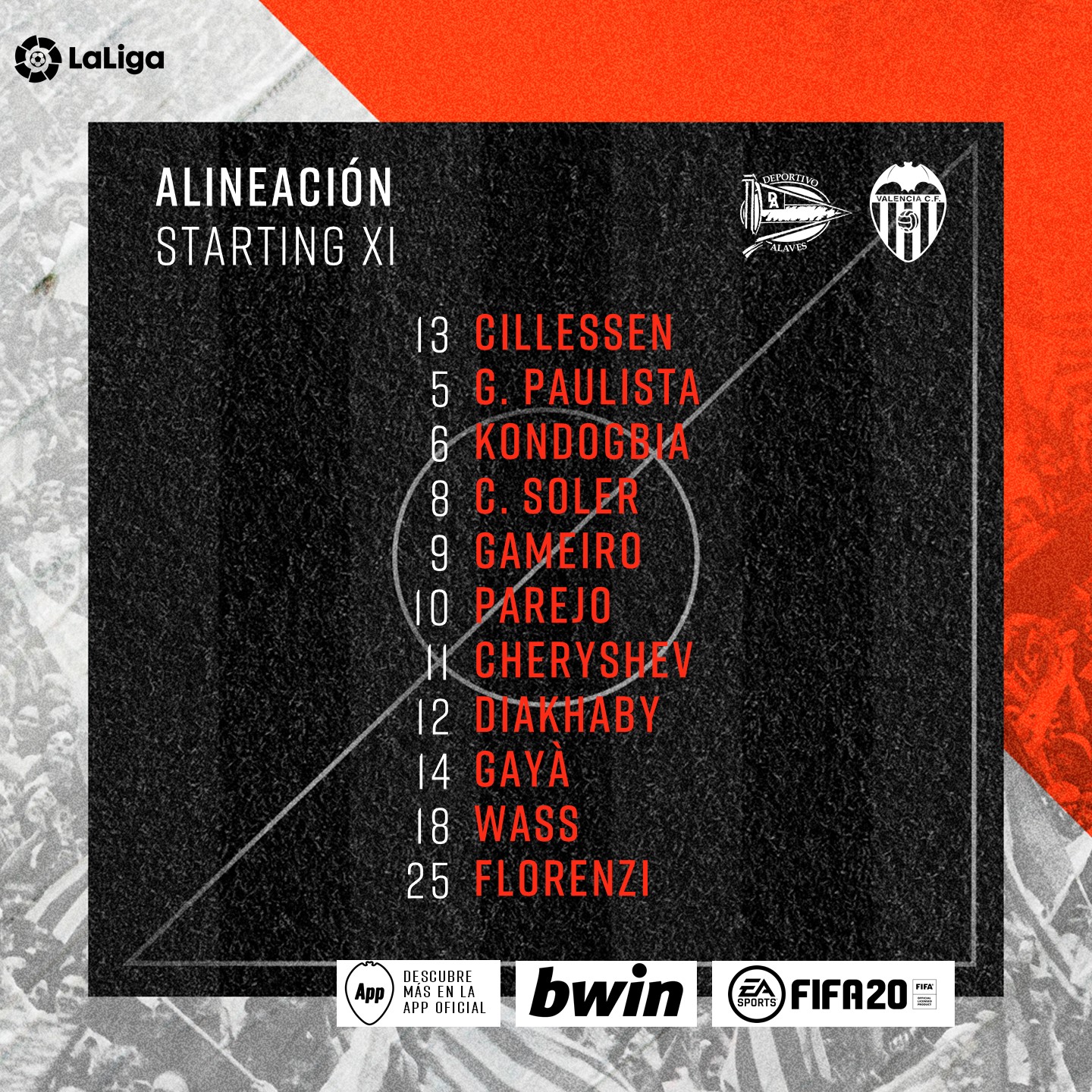 The Valencia website lists Gameiro as the only forward in this starting XI. Interestingly enough, it lists 5 midfielders: Kondogbia, Parejo, Soler, Wass, and Cheryshev. This could very well be a 4-1-4-1 such as the one used in the second half against Betis. The team's performance improved with that formation so it would be great if Celades had decided to go for the change. It remains to be seen who will play the midfield role and who will play wide between Soler or Wass.
The bench is looking strong with very good substitutions that can make a difference. While they are fit, it seems that Celades would like to rest them with the upcoming Champions League fixture in mind.
Bench: Domenech, Costa, Guillamon, Coquelin, Ferran, Guedes, Rodrigo

FIRST HALF
1' - It does look like it will a 4-1-4-1 as predicted from the lineup. Soler is playing centrally and Wass is playing wide.
8' - Diakhaby with a very good sliding challenge to stop a dangerous run into the penalty area.
19' - First shot of the game for Valencia. Gaya moves the ball centrally to Gameiro, who spreads it back out to Cheryshev on the left. Cheryshev looks up and plays a cross to Parejo, who controls it with his chest and then strikes towards goal. The effort is high and wide.
24' - Florenzi passes along the touch line to Gameiro on the right. Gameiro takes a touch past the defender and then produces a burst of pace to beat the defender for the ball and run into space. He spots Cheryshev at the far post and picks him out despite a touch from the defender on the cross. Cheryshev chips the keeper and then gets taken out by him, claiming a penalty as the ball gets cleared off the line.
27' - Parejo makes a piercing run past the Alavés midfield and gives the ball to Cheryshev in space. Cheryshev puts in a low cross across goal but the Valencia players do not attack the ball. There is a lack of movement in the penalty box when these crosses are being put in. The players need to attack the ball and be ready at the far post. They cannot just stand still.
31' - Parejo delivers a short corner to Gameiro and quickly receives it back. He plays a long cross to Soler on the opposite edge of the penalty area where Soler waits in space. He takes a touch and fires at goal but it's high and wide. He gets tackled with a late challenge and wins a free kick though. Parejo to take.
33' - GOAL VALENCIA! 0-1! Parejo curls the ball to the near-side of the goalkeeper and scores straight in the top corner. Nothing the keeper could do about it even though it was at his advantageous side.
34' - Yellow card shown to Kondogiba for a late challenge. He will be suspended for the next fixture against Levante.
35' - Yellow card shown to Lucas Perez for dissent against the linesman.
37' - Joselu with a diving header at goal following a cross from the opposite side. It's hit straight at Cillissen.
39' - Yellow card shown to Ximo Navarrow for a late challenge.
41' - Yellow card shown to Rodrigo Ely for a late challenge from behind on Gameiro.
HALF TIME
One of the better first halves from Valencia, especially away from home. The team seemed calm and composed especially in defense and midfield which is a significant improvement over the rushed and nervous team that played in recent away fixtures.
According to commentary, Alavés is a team that is usually secure and disciplined at the back and looks to strike on counters. Valencia typically have had trouble breaking down those defenses. This is seen again today with Gameiro's pace causing some problems for Alavés's defense but the goal threat is not there. The goal had to be produced for a free kick that was struck beautifully by Parejo from an ideal range, leaving the keeper with no chance.
Cheryshev has produced a few crosses to good positions but the movement in the area is lacking from his teammates. This could be an adjustment that is suggested by Celades at half-time.
The team looks more stable with this change in formation. The ball moves across the field with more fluidity and there are several passing options for players on the ball. These options make the passing more secure and force Alavés to put in more work to reclaim the ball.
Half-time stats. 0-1 goals, 3-5 shots, 1-2 shots on target, 42-58% and 80-88% pass accuracy.
SECOND HALF
57' - Great chance for Valencia. Gameiro makes a diagonal run into the box under pressure from the Alavés defenders. He plays a one-two with Soler at the edge of the box and finds Cheryshev who had made himself available to receive the ball. He crosses to the far post where Florenzi volleys at goal but he hits the wrong side of the net.
60' - Yellow card shown to Gaya for tripping up the Alavés forward who had gotten away from him. Free kick given at the edge of the box.
62' - Yellow card shown to Joselu for a push.
64' - First change for Valencia. Florenzi off, Coquelin on.
65' - First change for Alavés. Luis Rioja off, Borja Sainz on.
71' - Second change for Valencia. Gameiro off, Guedes on.
72' - Goal Alavés. 1-1. A free kick is delivered into the box where Laguardia meets it and heads it down to Edgar Mendez. He strikes the ball into the ground and over Cillissen. Both Diakhaby and Cillissen attempted to stop it but couldn't.
76' - Second change for Alavés. Victor Camarasa off, Pere Pons on.
77' - Guedes receives a knock on the head and has stayed down. The team has called for the stretcher urgently but it took them quite a while to respond. He has managed to get but has blood on his face and his shirt.
80' - Guedes returns to the field after being examined by the medical staff, having his kit replaced and confirmed in good health by the referee.
81' - Final change for Alavés. Fejsa off, Sanchez on.
82' - Final change for Valencia. Cheryshev off, Rodrigo on.
83' - Yellow card shown to Edgar Mendes for a late challenge on Wass.
89' - Yellow card shown to Diakhaby for a tactical foul on the Alavés player.
90' - Five minutes added by the referee for stoppages.
90+5' - Valencia has a handball claim overturned by VAR correctly.
FULL-TIME
After a great first half, the performance took a dip in the second. Alavés was allowed to get back into the game and by getting 10 shots in the second half, sure enough they found their goal.
A free kick, followed by a head down and a shot into the ground was the source of the goal. It can be argued that both the initial header as well as the shot should have been better contested by the Valencia players.
That being said, this was a significant improvement over recent away performances. At least, the team didn't get hammered. A step in the right direction but the end product is still quite a ways away.
It was good to see that Celades trying new things with the formation and player positions. It seems he also has a better time making earlier substitutions with confidence rather than hesitation. The problem with the substitution is the type. The Coquelin substitution is a cautionary defensive substitution. This signals a different type of mentality than one that was needed. Rather than go for the second to put away the game, he went to protect the existing lead.
If Celades can refine his changes, he could hope to salvage something from the season. There is still a lot of doubt to be answered though.
This result sees Valencia and Alavés remain 7th and 11th respectively, with the added point leaving them with 43 points and 33 points respectively.
Full-time stats. 1-1 goals, 13-6 shots, 2-2 shots on target, 43-57% possession, 78-82% passing accuracy.
Next game is the return fixture on Tuesday the 10th against Atalanta at Mestalla in the Champions League Round of 16. No doubt mind will wander towards that now, if they haven't already. Valencia have a big 4-1 scoreline to overturn and have to do it with no home support as the game will be played behind closed doors. Amunt.