Valencia travel to Milan in the UEFA Champions League Round of 16, a position the club hasn't achieved since the 2012-13 season. Their opponents, Atalanta have never been in this position before.
Atalanta's road to the round of 16 was tough. They were placed in Group C alongside Manchester City, Shakhtar Donetsk and Dinamo Zagreb. Manchester City were the run-away winners of the group with 14 points with Atalanta narrowly squeezing in second with 7 points; 1 point ahead of 3rd and 2 points ahead of 4th. They started off with a 4-0 away loss to Zagreb, 1-2 home loss to Shakhtar Donetsk and a 5-1 loss to Manchester City away from home. They managed to turn it around in the reverse fixtures achieving a 1-1 draw against Manchester City at home, a 2-0 win over Zagreb also at home and a 0-3 away win against Shakhtar which sealed their qualification to the next stage.
Valencia had one of the toughest groups to content with. Chelsea the Europa League winners, Ajax the Champions League semi-finalists and Eridivisie champions, and Lille the Ligue 1 runners up. In addition, they started the fixtures on the back of a change in coaching staff. They surprised and took 3 points from Chelsea away from home to start before suffering a heavy 0-3 at Mestalla to Ajax. Then they struggled to a 1-1 draw against Lille away from home. In the return fixtures Lille were beaten 4-1 at Mestalla, Chelsea were challenged in a tough 2-2 draw, and with everything to play for, the team managed to edge out Ajax to secure top spot in the group.
Coming into this game, Atalanta have been in a good run of form. Their attacking prowess become noticed by many others as they won several games by wide scorelines. A 1-2 away win against Roma this weekend earned them 3 points, 4th spot in the Series A standings and widened the gap between them and 5th place Roma.
Valencia's weekend fixture was an intense 2-2 draw at home against Atletico Madrid. Having had a poor run of games before this game, it was important that the team showed up in this game. The first half was lacking but the second half performance had many positives to take away. The draw sees Valencia finish the week in 7th with 38 points.
Atalanta have 63 goals scored in 24 games. This is the 3rd highest in the top 5 European Leagues with PSG being ahead on 67 goals and Manchester City at 65 goals but both having played an additional game. This is the kind of fire power Atalanta hold this season. On the flip side, Valencia have generally had a better time against teams that love to come forward and attack, catching them off-guard with quick counter-attacks. It needs to be said though that Valencia's form drops away from home.
Atalanta form (all competitions): WWWDW
Valencia form (all competitions): DLLWW
SQUAD
Cillissen has returned to the squad list, having recovered from his injury. It remains to be seen if he will start, especially given the importance of this game.
In defense, Paulista was added to the injury list for the next 3-4 weeks after a late challenge in the game against Atletico. Mangala and Diakhaby will be expected to partner up and deal with the Atalanta attack. Guillem Molina from Mestalla B team is also available for selection, likely as a substitute to cover the center backs.
Florenzi is still down with the chicken pox, so he is out of this game as well. As such, Thierry Correia has returned to the list, but Wass is expected to start.
Neither Coquelin or Rodrigo has managed to recover in time for this game, despite that being the goal for them. Celades will have to count on Kondogbia and Guedes to address the gap left by their absence. Rodrigo will be out for yet another 8-10 days which means he will likely miss the 2 next La Liga games as well.
Finally, it seems that Kang In has also picked up an injury in the last training session before travelling; a story that has become ever so frequent this season with different players.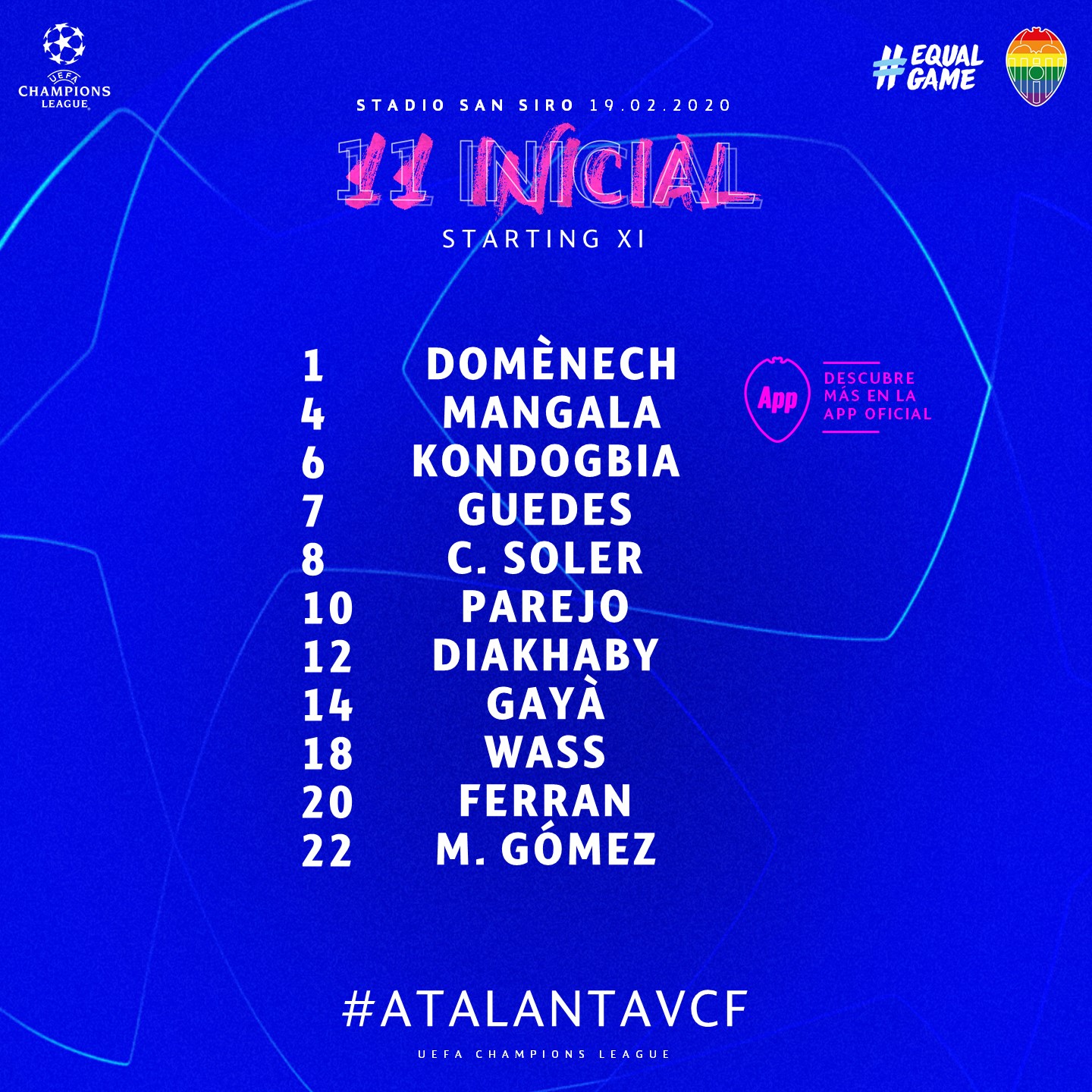 The starting XI is exactly the same as the weekend fixture with the exception of Diakhaby replacing the injured Paulista. Guedes will play upfront alongside Maxi Gomez yet again according to the Valencia website which lists him as a forward, not a midfielder for this game.
Bench: Cillissen, Molina, Costa, Correia, Cheryshev, Gameiro, Sobrino
MATCH
Good to see how Domenech give each player a one-on-one pep talk in the tunnel before the game. A leader emerges in these type of games.
3' - Early free kick for Atalanta after Parejo fouled the opposing captain on the edge of the penalty area to prevent a counter-attack. The free kick is hit over the crossbar.
5' - Valencia earn a free kick on the opposite end but Parejo's delivery cannot get past the first defender.
7' - Pasalic goes clear through on goal with a through ball and faces Jaume one on one. He has the time to take a few touches before shooting but Jaume reads the shot and saves. Good save to deny a very dangerous chance.
13' - Parejo with another free kick in a similar position to the first and yet again the delivery is sub-par.
15' - Goal for Atalanta. 1-0. Hateboer was waiting at the far post for the cross across goal and fires at the far side of goal. Jaume gets a touch but cannot keep it out. Gomez was allowed to much time and space on the ball to pick out a cross. Ferran and Wass should've done better to prevent the cross.
20' - Atalanta flood the Valencia box with attackers every time they come forward but do leave spaces behind as a result. Unfortunately, Valencia have yet to find a way to exploit that.
30' - Valencia keep winning free kicks on the right flank in an advanced position. This one caught Atalanta off-guard as it was taken quickly. Ferran is through on goal but has a tight angle and hits the post. The ball falls to Guedes in the center but he cannot buy himself the space to get a clear shot under pressure from the Atalanta defense. Instead his shot is blocked and deflects to Gaya who's cross is in turn deflected for a corner. The corner is delivered poorly yet again and cannot get past the first defender.
34' - Gaya puts Guedes through on goal with a fantastic lob over the defense. Guedes shoots at the far post with Mangala and Maxi Gomez both waiting at the far post. The ball goes out of play much to the frustration of Maxi Gomez who wanted a cross. It is strange to see Mangala is up in attack in that play.
36' - Valencia loses a lot of attacking momentum with these passes. They are always played behind the receiving player or with too much strength, buying the Atalanta defenders time to get behind the ball.
40' - Atalanta are through on goal again with yet another through ball, this one played between Wass and Mangala. Gomez misses the goal entirely but it wouldn't have counter regardless with the offside flag going up.
41' - Goal for Atalanta. 2-0. Illicic receives the ball at the edge of the box from a wide position. He shrugs off the challenge from Soler, takes a touch past Mangala and Kondogbia and fires at goal straight to the top right corner of Jaume's goal.
45' - One minute added for stoppages.
HALF-TIME: Valencia hasn't gotten into the game yet. Another half with not a single shot on goal. One effort, from Ferran, did hit the post, Another close effort was squandered when Guedes went for a shot instead of squaring the ball across to his teammates.
The game was pretty open as many expected with Atalanta being as offensively-oriented as they are. Still, with all the spaces the forwards runs and shots end up being blocked. Atalanta is given the opportunity to track back and deal with the counter attacks due to poor quality passes when transitioning. It is not ideal for players making runs to have to slow down or run back to get a misplaced pass. The priority should be to get forward with assurance that the pass will come.
In defense, the team is often double or triple teaming Atalanta forwards but failing to win the ball. Both goals came as a consequence of this. The Atalanta players can somehow squeeze passes even when under pressure from the 2 or 3 defenders. There needs to be more decisive challenges. No point in the double and triple marking if it's just posturing. Only in the final minutes of the first half did Kondogbia step up and start shutting down the midfield. This needed to come much earlier. This needed to come much earlier. Unfortunately, like with the Atletico game, this was done late. At that point, Valencia was already two goals down.
Jaume had a good early save to deny Atalanta from a goal, but could've arguably done better for the first goal and second goals; though it should be said that both efforts should've been dealt with by better closing down from the defense.
It is possible to turn this game around still but a lot has to change. Valencia need an away goal to take into the second leg from this fixture at the very least. Hopefully, this can be done without conceding further.
Half-time stats. 2-0 goals, 7-6 shots, 3-0 shots on goal, 49-51% possession. 81-83% shot acccuracy.
49' - Atalanta almost grab a third goal. Wass dropped to the ground after a foul but the referee didn't give it, leaving Valencia completely exposed on the right. Gomez runs into the space and is picked out, delivers a cross to the far post but Diakhaby gets enough on it to deflect it away.
51' - Ferran finds Soler with a curling cross straight to his feet but he cannot direct the effort at goal. It's wide.
57' - Goal for Atalanta. 3-0. This keeps getting worse. Gomez outmuscles Kondogbia for the ball and plays a short pass to Freuler ahead of him. He takes a touch, cuts inside and uses Diakhaby and Parejo to mask Jaume vision of the shot; allowing him to curl it to far post and score.
60' - Valencia with their best chance of the game. Ferran intercepts the keeper's pass, takes a touch and finds Maxi Gomez unmarked in the penalty box but the shot is hit directly at the keeper. This was the chance the team needed. Again, chances like this need to end up in the back of the net.
62' - Goal for Atalanta. 4-0. Hateboer is played clean through on goal. Diakhaby managed to catch up with him but again no decisive challenge. He runs with him into the penalty box and drives the shot into goal at the near post. Jaume fails to get a touch even at his near post. The defense is completely in shambles this game. Gaya and Mangala did not deal with the initial pass and Wass was out of line on the opposite end, playing the Atalanta player onside.
65' - First change for Valencia, Guedes off, Cheryshev on.
65' - Goal for Valencia. 4-1. Cheryshev scores straight off the bench, giving Valencia a nice away goal. Palomino made a defensive error after some miscommunication with the goalkeeper, giving away possession to Cheryshev. He takes a shot from the edge of the penalty box to the far post. It was hit low and with power and beat the keeper. Great shot!
69' - Valencia with another chance. Parejo with a fantasic through ball along the touch line for Ferran. He curls a cross for Maxi but it is deflected, falls to Cheryshev who shoots but this time his shot is blocked by the Atalanta defender.
72' - Second substitution for Valencia, Maxi Gomez is replaced by Gameiro.
74' - First change for Atalanta. Caldara is replaced by Zapata. Looks like an attacking change, a defender for a forward.
75' - Parejo's cross is headed away from Cheryshev and falls to Soler at the edge of the box. He fires on the half-volley but he cannot hit the target.
79' - Yellow card shown to Hateboer for a pull on Cheryshev
80' - Second change for Atalanta. Gomez off, Malinovskyi on.
82' - Diakhaby gets arm to the throat and is bleeding from his mouth. The medical staff comes on and his teammates call for a sub but the player signals that he can continue.
90' - Four minutes added for stoppages.
90+1' - Final change for Atalanta. Pasalic off, Tameze on.
FULL-TIME
A pretty one-sided game. The second leg needs a perfect performance from Valencia and a horrible game from Atalanta to turn this around; which is quite frankly difficult to see happening. The team did manage a 3 goal victory in the Champions League against Lille this season and will recover some players before that fixture, so there's that. However, I suspect that in the minds of many, this tie is over.
The critic for this game is the same as many other games this season. This is indicative that there hasn't been much improvement over the weeks. It's easy to blame this injuries and those do in fact excuse some lack in performance but not this much. Even when those players were fit the team still struggled.
The preview for this match detailed how good offensively Atalanta was and pointed to the fact that Valencia do better against open teams. Atalanta did show up with the fire power, did leave spaces behind but without punishment.
This game was different to the game against Getafe in that there were shots and on target. There was some effort, but no quality to capitalize. This was more similar to the game against 0-3 defeat at home to Ajax where the opposition were given to much space to take shots and crosses from wherever they pleased with being contested. On the other hand, the chances that the team got were not converted. Both of that game and today, the team lacked decisiveness - in scoring and in making defensive challenges.
No doubt in the press conference the fans will get another apology and the promise of a turnaround at Mestalla yet many will question those words having been repeated so often.
Full-time stats. 4-1 goals, 11-17 shots, 5-4 shots on target, 52-48% possession, 79-81% pass accuracy.
For now, all the team can do is focus on the next game. There is no room for sulking or complaining. The tough fixtures will continue and the team needs to step up.
Next game is on Saturday away at the Anoeta against Real Soceidad, another rival for the European competitions.