Valencia return to Mestalla to face against Real Betis after a week to evaluate the mistakes that happened over the past few games. Hopefully, the team comes out with a response, motivated by the home crowd, to secure some points.
This match day is also special because it feature a tribute to Valencia legend David Villa before the game. He announced his retirement earlier a while back and surely Valencia cannot go without honoring his contribution to the club. From 2005 to 2010, Villa scored 108 goals and 25 assists over 166 games. He had a double digit scoring record in every season at Valencia. In 2008, he also helped the team to win the Copa del Rey. He is currently 12th in the La Liga top scorers list of all time. For the National Team, he was instrumental to the team's success in the 2008 Euros and the 2010 World Cup. Many thanks to David Villa and good luck to him in all his future endeavors!
Valencia have had a tough time recently. Recent heavy losses to Getafe (3-0), Atalanta (4-1) and Real Sociedad (3-0) have shaken the belief of many in this team. These were all away games and Valencia sit at 12th if only the away games are considered. With 12 away games played the record is 3 wins, 2 draws and 7 losses, 14 goals scored and 26 goals conceded. At Mestalla, Valencia has done quite well and have the 4th best home form in La Liga. With 13 games played, the record is 7 wins, 6 draws and no losses, 21 goals scored and 11 conceded. With this in mind, there is reason to be optimistic since this is a home game.
Real Betis has had recent misfortunes as well. They have failed to win in their last 6 games in all competitions. All of those games though were tightly contested and were either draws or slight losses. Real Betis's would be 14th in the league on away form. In 12 away games, they have won only 1, drew 6 and lost 5. They scored 10 goals and conceded 20. Their previous game was a 3-3 home draw to Mallorca.
In their previous match earlier in the season, the two teams played a close game. With the score at 1-1, a late Canales free kick in stoppage time was the difference between the two teams in the 2-1 scored game.
Valencia currently sit at 8th with 38 points while Real Betis are 13th with 30 points.
Valencia form (all competitions): LLDLL
Real Betis form (all comeptitions): DDLDL
SQUAD
Nothing new in goalkeeping, Domenech and Cillissen are both called with the former being favored by Celades recently. It remains to be seen what role Cillissen will play this season.
In defense, Paulista and the medical team but in good work to have him recover ahead of schedule. Hopefully, the recovery is complete and not rushed. He is an instrumental player to this team and it's good to have him back. With Mangala and Garay injured, Hugo Guillamon is called again to supplement the defense, although Diakhaby is still likely to start alongside Paulista. Gaya has also been feeling better after the knock he received against Getafe and should be back to speed now. Finally, Florenzi has recovered from his chicken pox and returns to the squad.
In midfield, only Coquelin is missing due to injury with no information yet as to when he will be back. Last game, Guedes was left on the bench by Celades by technical decision, probably due to performance. It would be interesting to see if this is the case again this match.
In offense, Rodrigo has tried his best to recover for this game since he knows he is needed but he couldn't do it in time. There were reports that Celades would like him for the return fixture against Atalanta and doesn't want to risk a relapse in his injury. As such, he might play little to no part in the La Liga match after this one as well. For this game though, he is not fit. Celades has also recovered Maxi Gomez for this game who was suspended last game due to accumulated bookings. He will likely start alongside Gameiro although Cheryshev and Guedes are available as alternatives.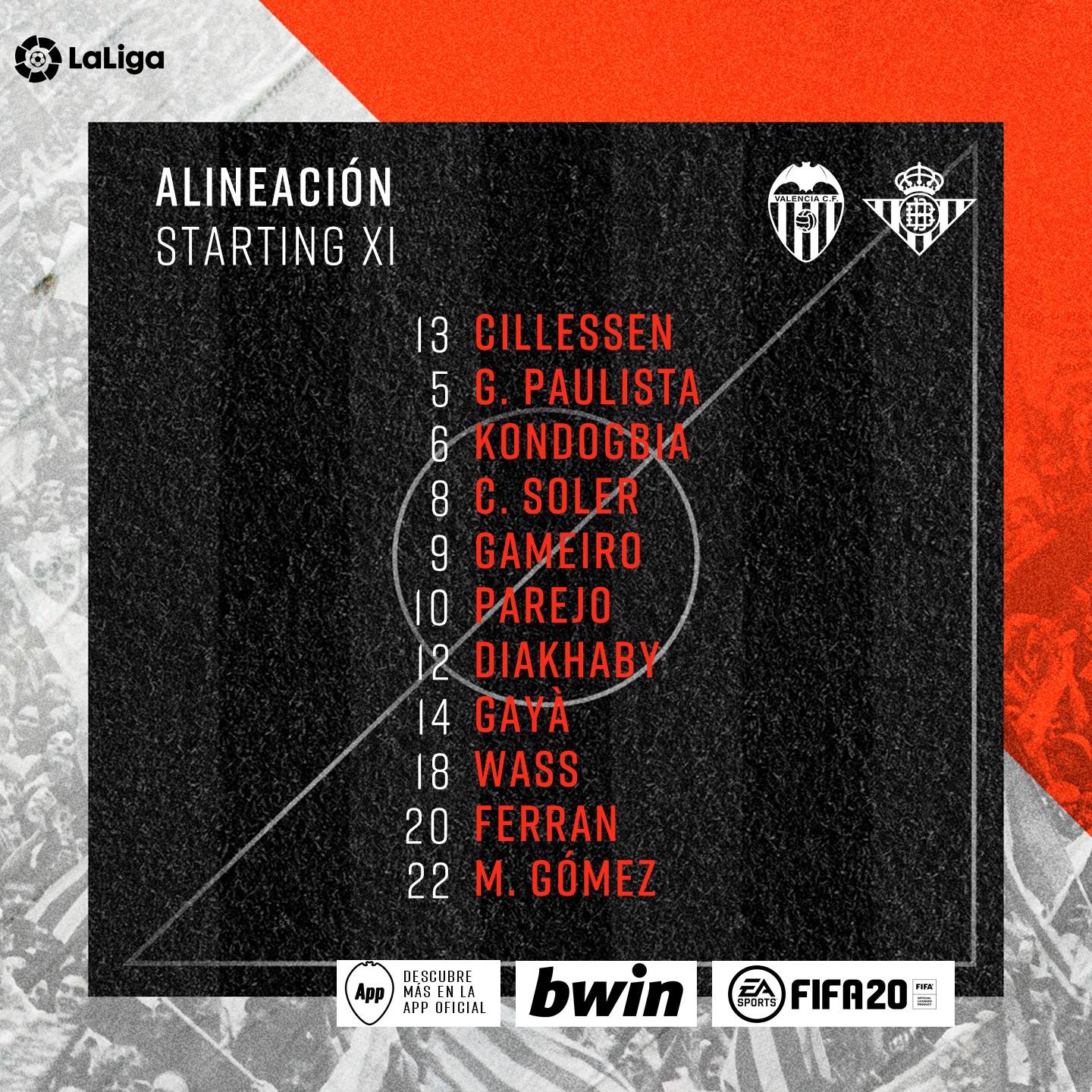 Cillissen gets his first start in a while over Domenech. Wonder if reason results had something to do with this. Wass starts in right-back despite the availability of Florenzi. Guedes remains on the bench.
Bench: Domenech, Florenzi, Guillamon, Cheryshev, Kang In, Guedes, Sobrino
MATCH
8' - Valencia started this game with some good pressing, denying Betis the breathing room that other teams have had in recent fixtures.
10'- Parejo does well to intercept the pull-back from the Betis player to Fekir, however, he then gives away the ball to Fekir in his own penalty area resulting in a shot on goal. The shot is hit a tight angle and Cillissen can save.
17' - Joaquin with a freekick from the left edge of the box that curls around the wall towards the near post. Cillissen does well to get across his goal and save the effort. Diakhaby clears for a corner.
31' - Yellow card shown to Alex Moreno for a high foot that strikes Maxi Gomez in the chest
34' - Yellow card shown to Kondogbia for a late challenge on Canales
42' - Ferran with a ground cross to Carlos Soler who gets a shot despite pressure from the defender. The shot was simple for the keeper to save.
45' - A pull-back from Wass to Soler is cleared by Betis but Kondogbia was the quickest to gather the ball and run with it. He finds Gaya at the left edge of the box and picks him out. Everyone expected a cross but the full-back took a shot and did well to force a save from the keeper.
HALF-TIME
A decent half. It was an improvement on recent performances for sure. The team was present at least and showed some good signs. This is all in relative terms though. It is expected that the team does better at home since the record is so good at Mestalla.
Now there were some worrying signs. There were a few instances of miscommunication that gave away the ball in the penalty area, resulting in free chances for the Betis players. There was an additional instance that resulted in an unnecessary corner after an overhit backpass from Soler to Gaya.
The team did set up some chances in the half. Gaya had a long range effort hit the crossbar Soler had a shot on target, and Gaya got another chance from the edge of the box that tested the keeper. There was also a chance for Gameiro to put it in a good cross for his teammates in space but he couldn't manage a good delivery as his cross was stopped by the first defender.
Betis's dangerous chances came from Parejo's giveaway that resulted in Fekir's shot and Joaquin's curling freekick effort at the near post.
Ferran looked like he picked up a knock and was testing out his leg for a while but he managed to continue to play as normal. Hopefully, that's nothing serious. Guedes appeared to be warming up as a precaution, so he is ready to come in at short notice.
Half-time stats. 4-6 shots, 2-2 shots on goal, 36-64% possession, 75-88% pass accuracy.
46' - First substitution for Valencia. Maxi Gomez off, Guedes on. Time for Guedes to step up.
47' - Betis play a through ball behind Wass setting up a pull-back to Fekir in a dangerous position. He takes a shot and his effort hits the post and bounces out of play.
50' - So much of the Betis danger is self-inflicted by Valencia with some very poor back passes and miscommunication between players.
60' - GOAL VALENCIA! 1-0! Gameiro with a brilliant effort to score, Guedes had received the ball from Gameiro wide on the left and runs towards the goal line under pressure from Emerson. He manages a pass to Gameiro at the edge of the box and goes to ground under the challenge after. Gameiro takes a few touches to set up a good shot and curls a beautiful shot to the far post. Nothing the keeper can do about that finish.
65' - Gameiro hold possession in midfield, manages a pass to a Parejo who plays it first time for Guedes to run onto. Guedes cuts inside, taking out the defender and chooses to shoot from the edge of the box, with Gamerio available for a pass. The shot is hit right at the keeper and is saved.
71' - Double change from Betis. Joaquin and Edgar Gonzales off, Tello and Carlos Alena on.
74' - Valencia with their second substitution. Gameiro is replaced by Cheryshev.
75' - Yellow card shown to Emereson. Cheryshev had intercepted the pass to him at the edge of the penalty box and he had to take him down to stop a dangerous chance.
76' - Parejo's free kick hits the wall and goes over the goal for a corner. The short corner is not successful and the ball has to be passed back all the way to Cillissen due to the Betis pressure.
78' - Ferran cross the ball to the near post where Cheryshev is waiting. The ball is played right to his feet but he cannot direct the shot towards goal.
79 - Yellow card shown to Guardado for a late challenge. The keeper had waived play on for advantage but went back and booked him.
80' - Parejo's delivery is played to the far post where Diakhaby is space. He stretches for the ball but it's just beyond his reach.
81' - Final change for Real Betis. Guardado off, Loren Morón on.
86' - What a chance for Valencia! Wass with a long clearance to Guedes on the center of the field. He runs forward but is taken down by the Betis defender. Ferran takes over the ball and carries on forward with support from Cheryshev against one Betis defender. He passes the Cheryshev who shoots at the far post but his effort is narrowly wide.
87' - Final change for Valencia. Ferran off, Sobrino on. Ferran is holding his leg on the way off.
88 ' - GOAL VALENCIA! 2-0! Parejo scores! On the right flank, Ferran makes a back pass to Parjeo who in in turn passes to Soler in the center. Soler plays a great throughball to Wass who is pressure by two defenders. He takes a few touches looking for an opening while Parejo runs into the box to provide support. Wass picks out the short to Parejo who had made himself available. Parejo takes one touch forward and finishes so well to the far-post.
90' - Three minutes added by the referee for stoppages.
90+2' - Goal for Real Betis. Paulista misjudged the height of the ball and missed his header to clear. This left Morón clear through on goal and he had no trouble beating Cillissen.
90+3' - Four on two chance for Valencia and Sobrino manages to mess up the pass, giving Betis time to recover their defensive shape.
FULL-TIME
A much needed win. The team managed to pull off the result at home as expected, remaining unbeaten at Mestalla.
The team put in a lot more effort in the second half, setting up several chances and managing to score two of them despite Maxi Gomez being subbed off.
The first goal came from good link-up between Guedes and Gameiro on the left, followed by a moment of individual brilliance from the latter.
The second came from the opposite flank following some quick passes between Ferran, Wass, Soler and Parejo. For this goal, one can see quite the potential from Soler to make these incisive forward passes into the box.
It's a shame that Maxi had to be substituted with injury and the team and fans can only hope that it is not a prolonged absence. However, the team did well to pull through even without him.
Full-time stats. 10-14 shots, 5-5 shots on target, 35-65% possession, 74-88% pass accuracy.
This win is a step in the right-direction. A small step. The 3 points move Valencia up to 7th with 41 points. Of course, many teams have yet to play this weekend.
That being said, it was still too close for comfort. The team played at home and it was still a close game, which has happened several times before. Next game is away so it will be interesting to see if the team can manage a result then too.
Next game is on Friday, March 6th away from home to Alavés . Amunt!