Valencia travel to play Real Sociedad at the Anoeta Stadium, in yet another away game. These games have been a clear area of weakness for Valencia this season.
Real Sociedad come into this game with a big accomplishment in hand. Last week, they had did half of the job required to get into the 2019-20 Copa del Rey final beating Mirandes 2-1 at home with all goals scored in the first half of the game. In the quarter-finals before that, they shocked everyone beating Real Madrid 3-4 away from home.
In their previous La Liga fixture, they played a derby game against Real Socieded at home and walked out 2-1 winners with all goals coming in the second half. The win had them finish the week at 8th position with 37 points..
Valencia, on the other hand, come into this game with a 4-1 loss away from home in the Champions League against Atalanta. This game was an example of just how much Valencia suffers away from home. The chances were there, as Valencia had 17 shots, 4 of which were on target. Even so, even the most reliable Valencia players in front of goal could not put their chances away. The goal for Valencia came from a change in energy provided by Cheryshev's introduction, which saw him score within a minute of his substitution. The four goals scored by Atalanta were a consequence of gaps and indecisiveness in either defense, goalkeeping or both. Cheryshev and Gaya have both come out after the game to call for discipline in execution and team unity.
Valencia's previous La Liga fixture was at home against Atletico and the team showed character to come back into the game in the second half after a poor first. The game finished 2-2 and showed glimpses of what the team can do at home. Many pointed to Atletico being weakened by injuries, however Valencia suffered some of their own. The result saw Valencia finish 7th with 38 points. Despite the lapse in form recently, Valencia is only 2 points away from 4th place.
Valencia and Real Sociedad are one point apart which gives the game more weight again. This is another chance to make a gap between Valencia and a direct competitor for the European places. Both teams have similar goals scored and conceded.
Real Sociedad form (all competitions): WWWLW
Valencia form (all competitions): LDLLW
SQUAD
With Cillissen fully recovered, it will be interesting to see what his role will be given that Valencia has 2 competitions remaining.
In defense, Gaya will miss this game with a muscular discomfort in his thigh. This means Jaume Costa will get some game time for the first time since the Granada fixture in the Copa del Rey. Mangala and Diakhaby will likely pair again in defense despite the Atalanta result, although Celades has also called Hugo Guillamón from the B team in this squad list. He could surprise and give the youngster a chance. Finally, Florenzi is still down with the chicken pox, although he has started training again, so Wass will start in right-back again.
In midfield, Valencia recover Kang In, who missed last game after he had troubles with his knee in training before the match. Coquelin is the only absence in midfield, still dealing with injury. Esquero is called as a spare.
In offense, Maxi Gomez misses the game due to accumulated yellow cards. With Rodrigo still injured, this leaves Celades with only Gameiro and Sobrino. Guedes has filled the role in recent games but there were reports that Cheryshev could be given a chance instead.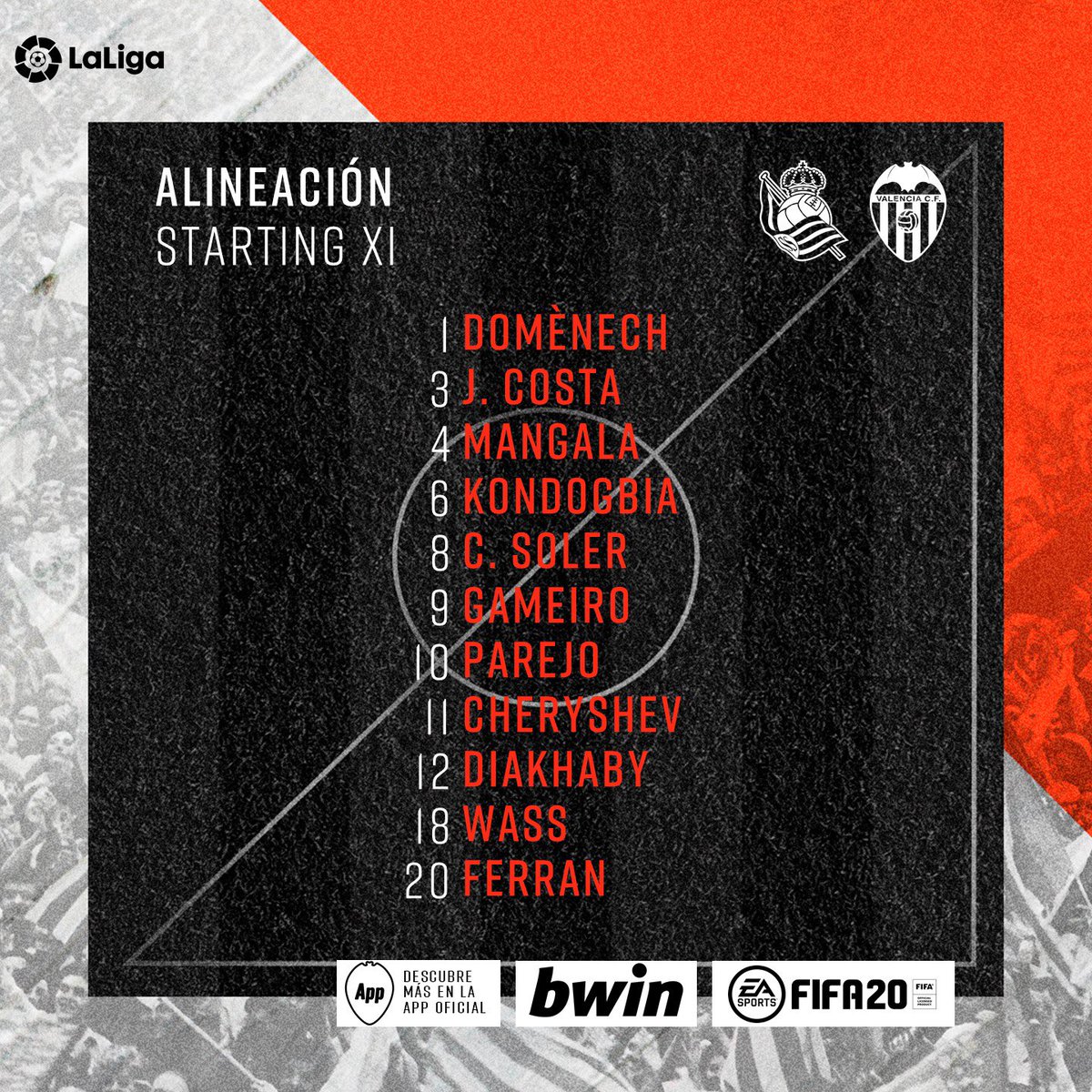 ***The Valencia website labels Cheryshev as 'Forward', confirming that he will play alongside Gameiro in attack.
Bench: Cillissen, Correia, Guillamon, Esquerdo, Kang In, Guedes, Sobrino
MATCH
1' - Ferran spots and picks out a run from Gameiro, setting him to go clean through in a one on one against the goalkeeper. Gameiro takes a few touches and misses the goal completely. Luckily for him, the offside flag was raised so it wouldn't have counted anyway.
11' - Goal Real Sociedad. 1-0. Mangala's pass forward was intercepted. The following pass from the Real Sociedad player deflects off Kondogbia and finds its way to a wide position where Zeluda was waiting. He plays a cross towards the center and Merino gets a free header on goal. Diakhaby had given him space and tried to jump to head away the cross instead. Unfortunately, it was too high for him and the striker got his free header. Jaume Costa could have also done more about that cross, he stood so far away from Zeluda with hands behind is back.
16' - The ball is pulled back for Isak at the edge of the penalty area, he takes a touch and fires at goal. Jaume saves it falls back in play. Diakhaby is first to the ball and clears.
20' - Diakhaby just abandoned the team on the cusp of a cross to go complain to the referee that he wanted a penalty. Not very professional.
26' - It's clear that the team has been instructed to use long-balls to transition to attack as quickly as possible. Although, Gameiro is not the ideal target man, he's managed to run onto the ball well when it's come to him at a reasonable height. When he doesn't the team has been quick to get the second ball but the following pass forward has been called offside 3 times now.
32' - Jaume Costa almost gives away a penalty by handling the opposing player in the penalty area. VAR suggests that the challenge wasn't enough for the player to go down.
38' - Yellow card shown to Mikel Merino for a challenge on Ferran Torres. The resulting free kick is crossed into the area by Parejo but deflected for a corner.
39' - Cheryshev dribbles past his marker and runs to the goal line before pulling the ball back to Ferran Torres in the center. He takes a shot but the defender heads it away for another corner.
45' - Two minutes added for stoppages.
45+1' - Goal for Real Sociedad. 2-0. The corner kick is headed on to the far post by Mikel Moreno to Nacho Monreal. Cheryshev attempts to stop it with his foot but the Real Sociedad player got there first.
HALF-TIME:
Simply the continuation of the Valencia away form this season. Valencia has the fourth most goals conceded away from home so far this season and they conceded 2 in one half today.
The defense looks very lost out there. The Real Sociedad players are not being closed down, getting all the space they want and need to pick out crosses and time their shots. Both goals, there was loose/no marking on the opposing players. It is unacceptable.
In offense, the team's plan to play the long balls forward was not very successful. The final pass has been called offside every time.
Hopefully, Celades can wake this team up in the half-time talk. Conceding a goal right before the break is not good for confidence and with the game already at 2-0, this could get real bad in the second half if the team doesn't respond.
Half-time stats: 2-0 goals, 10-2 shots, 3-0 shots on goal, 52-48% possession and 82-77% pass accuracy.
45' - First change for Valencia at half-time. Mangala has come off and Hugo Guillamon is brought on.
46' - Another offside for Valencia in the pass behind the defense from Soler to Gameiro.
48' - Goal for Real Sociedad. 3-0. Januzaj with a long range effort fired across goal and beating Jaume. Three Real Sociedad players passed their way around the entire Valencia midfield and defense to set up that chance. There is no decisiveness in challenging for the ball, there is some fear in applying pressure. The team needs players who are willing to throw themselves in front of the ball, putting their body on the line, NOT this. Surely, there is no way back from this.
56' - Just about all the Valencia players in the penalty box defending and four Real Sociedad players find the room to set up a shot to almost score the fourth goal.
58' - Shot at goal from Odegaard is spilled by Jaume and two Real Sociedad players are first to the ball - Merino and Isak. Luckily, Jaume manages to save the effort.
59' - Jaume Costa plays Cheryshev into space along the touch line. Cheryshev drives the ball forward and squares the ball for Gameiro who scores. Jaume Costa's pass is called offside. He held the pass for so long unnecessarily. Goal would've given the team some hope.
64' - Second change for Valencia. Carlos Soler off, Kang In on.
70' - Real Sociedad are using their first substitution. Januzaj is taken off, Willian Jose comes on.
77' - Oyarzabal plays a through ball to Willian Jose in the penalty area. He keeps Diakhaby at arm length, takes a touch and fires at goal but Jaume is equal to it.
79' - Final change for Valencia, Ferran off, Sobrino on.
83' - Kang In with a great pass to Sobrino on the opposite flank. Sobrino takes on his marker and beats him, cutting into the box for a clear shot at goal. It's high and wide. Same problem, cannot hit the target. It's good to see someone try to take on and beat defenders instead of turning back though.
84' - Second change for Real Sociedad. Isak off, Sangalli on.
87' - Yellow card shown to Jaume Costa.
88' - Final change for Real Sociedad. Oyarzabal off, Munoz on.
90' - Two minutes added for stoppages.
90+1' - Sandalli sets up a 2v2 with a through ball to Odegaard. He takes too many touches on the ball and in the end his shot is saved by Jaume.
FULL-TIME
Not what was required by any measure. After an embarrassing performance mid-week, this was supposed to be a game where the players go out and prove to the fans that they care and will try to turn it around. The fans got more of the same.
All three goals came from a failure to close down and apply pressure on the opposition players. Upon re-watching the third goal, it seems that the players are training ground cones for the opposition to pass around. Jaume Costa gave Januzaj too much space for the shot rather than trying to make life difficult for him. The players should be willing to throw their bodies in front of the ball not run away from it.
The team crumbles away from home in a strange way. Being edged away from home is understandable since the home team has advantage but now it's gone to being thrashed away from home. The defense is in shambles and the final pass is still missing. The stats for this game tell quite a story.
For positives, it was good to see that Celades made substitutions quicker this game, rather than waiting to the late parts of the second half to do so. Also, Ferran, Cheryshev and Gameiro applied decent pressure to the opposition in the first half.
Full-time stats: 3-0 goals, 19-6 shots, 7-1 shots on target, 46-54% possession and 83-82% passing accuracy.
This result sees Valencia drop out of the Europa League spots to 8th position with 38 points while Sociedad are 4th with 40 points.
Next game is on Saturday when Valencia return to Mestalla to play Real Betis in La Liga.