Valencia return to Mestalla for the second big game in a series of big games this month. It is a game against a rival for the Champions League spots, a chance to redeem the recent poor performance and build confidence for upcoming games.
Valencia's last game, losing 3-0 away to Getafe, was to many, including Celades himself, the worst game of the season. It's not an exaggeration by any means. The team barely contested the match in a match against a direct rival. It's a game where hardly anybody showed up, defense in shambles, midfield invisible and strikers without a single shot on target.
Atlético managed a narrow 1-0, win at home against Granada in their last game. The goal from Correa came in the opening 6 minutes of the game but the team struggled to build on that lead.
On the back of those fixtures, Valencia sit 7th at 37 points, while Atlético are 4th with 39 points. This game is a chance to overtake them, another 6 point game.
It should be noted that Atlético have conceded the second lowest goals in the league, behind only the league leaders. That being said, their goals scored have been lacking this season.
This is a La Liga home game, where Valencia is one of three teams (Barcelona and Real Madrid the others), who are undefeated at home. Valencia have 7 wins and 5 draws at home in La Liga.
Valencia La Liga form: LWWLW
Atlético La Liga form: WLDLW
SQUAD
In response to the result of the last match, Celades has given the team a day of rest after the game and recently organized a team dinner to get away from the negative atmosphere and help with team bonding.
Cillissen is still struggling with his injury and remains out of the squad with no estimate yet on his return.
In defense, Gaya has picked up a knock in the last game against Getafe. The opposing team thought he was diving but it seems that he is actually struggling with an injury as a result. However, it seems that he insisted that he participate in training and the match. It remains to be seen if he will start or if Jaume Costa will take over.
Wass returns to the squad having been suspended in the previous game. It is expected that for next week's Champions League fixture, Mangala and Diakhaby will feature together since Paulista is out with a suspension. Although there were also rumors that Piccini could fill in if he is fit and is required. Celades could start those two together this game to get them used to playing alongside one another or he could see this game as too important to risk and play Paulista instead. Let's see what happens there.
In midfield, Cheryshev finally returns to the lineup. The midfield would be complete now but for Coquelin picking up another training injury and missing this game. Kondogbia will certainly be given another start as a result.
Gameiro has also recovered to join the team. However, Rodrigo who has been carrying and playing with a knee injury for the past few games, has been deemed not in condition to start. He will be rested with the goal of recovery before next week's game.
Atlético have some key players missing including Diego Costa and Joao Felix.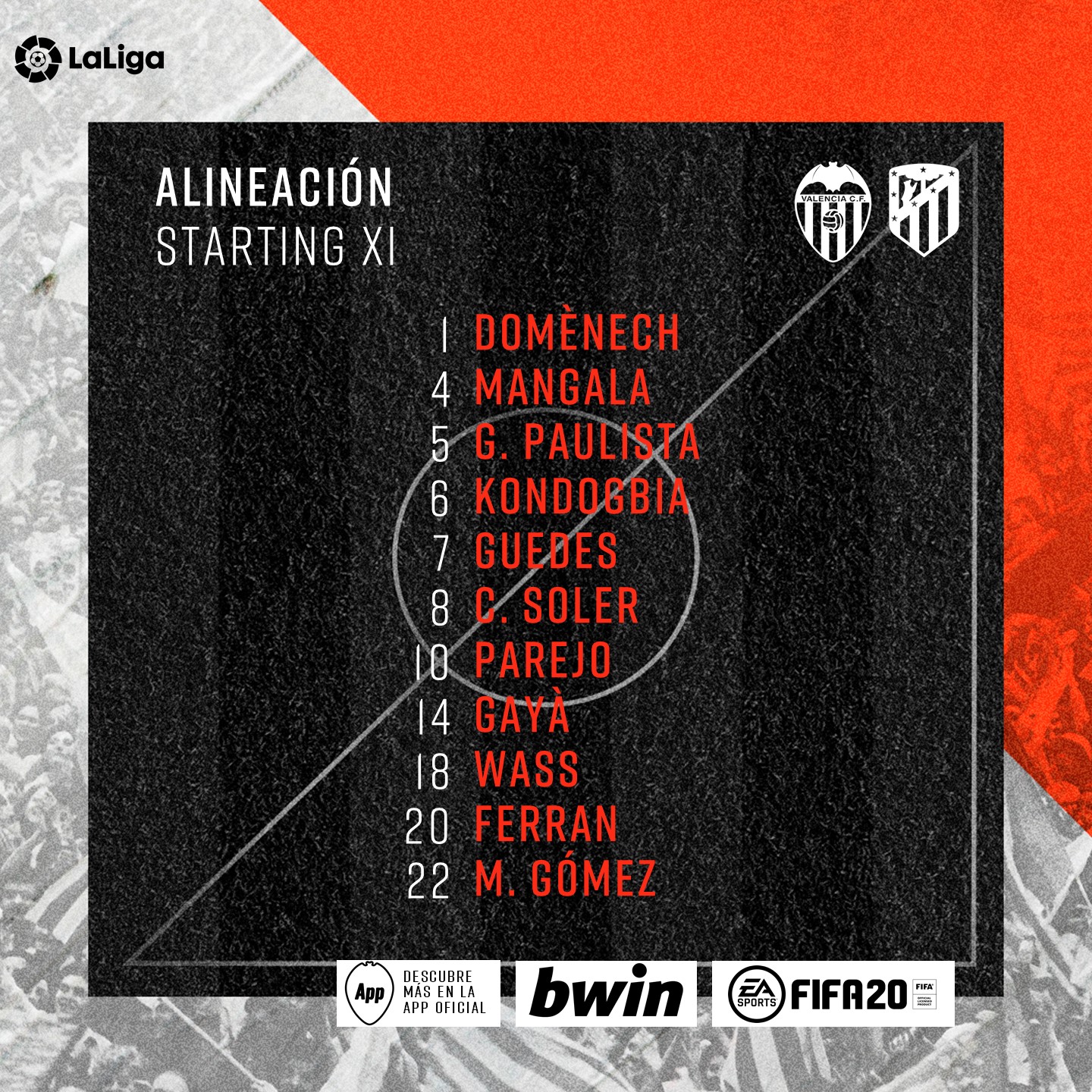 It should be noted that on the club website, Guedes is listed as a forward and NOT as a midfielder as he was in previous games. This is clearly a 4-4-2 still but Guedes is playing where Rodrigo normally plays and will try to link up the midfield with attack. This is the first time this partnership between Guedes and Maxi will be tried.
Bench: Rivero, Diakhaby, Costa, Cheryshev, Kang In, Gameiro, Sobrino
MATCH
1' - It is in fact 4-4-2 with Guedes playing alongside Maxi Gomez. It seems Celades still think Soler and Ferran should start on the left and right flanks respectively. They usually switch positions though so it can happen again this game.
5' - Sloppy and nervous start for both teams. The ball is moving end to end but the poor passing puts those plays to an end.
15' - Goal for Atlético. 0-1. A bunch of unfortunate deflections in defense. Gaya's got in the way of the incoming pass on the right flank but the ball goes through to Atlético. This left Mangala against Correa and Vitolo. They play the ball between them in the presence of 3 Valencia defenders before Correa plays a cross into the box which Paulista gets a touch to block but it goes through again. Llorente picks up the ball and fires from point blank range to score.
22' - Atlético forcing Valencia into a similar position to the game against Getafe. High pressure when out of possession causes the Valencia defense to clear out with a long ball which the Valencia players cannot contest with the Atlético holding the physical advantage.
26' - Yellow card shown to Lodi for a late challenge on Daniel Wass.
27' - Decent delivery from Parejo's free kick. Maxi heads to the far post where Paulista attempts to volley it back across but it is blocked for a corner.
32' - Great link-up between Gaya and Soler on the left. Clever one-two to take out the Atlético defenders and put Gaya through into space in a good crossing position. He managed to pull off the cross but Oblak is quick to smother the ball.
40' - GOAL VALENCIA! 1-1! The corner from Parejo is delivered to the far post where Maxi had slipped away from the defense. He controls and crosses to Paulista who heads it for a goal.
43' - Goal for Atlético. 1-2. Parejo is dispossessed in midfield and sets off a solo run from Thomas Partey. He gets away from his markers and fires from the edge of the box to the near post and slots it into the goal past the outstretched hand of Jaume.
45' - One minute added for stoppages.
HALF-TIME: There were signs of some improvement from last game but there are areas that still remain the same. This was a half were Valencia dominated possession (60%) but could only manage 1 shot on target with that possession. Fortunately that shot on target was a goal.
Atlético took the lead due to a combination of fortunate deflections and sloppy defending. Despite being outnumbered in the penalty area, they still managed a goal. Valencia's equalizer came 5 minutes from the break and from a unlikely source - a corner kick. Usually, these corners end up falling straight to the opposition but clever movement from Maxi turned a delivery that seemed overhit into a chance to score. The players thought they would take a lead into the change room but Atlético would respond 3 minutes after. Parejo was caught off-guard by Partey who went on to run and score despite all the players around him.
The team still struggles against high pressure and aggression. Even the experienced players end up giving possession away or are forced into clearances that give back possession to the opposition. In offense, the ball cannot make it into the penalty area with the defense being packed into the box. Gaya, Guedes and Ferran have looked most likely to do so but are especially are being closed down instantly by 2 or 3 players every time they pick up the ball.
48' - Parejo caught again and dispossessed, this time at the edge of the penalty area, he flails his arms and signals to the referee before realizing that he needs to chase the ball. Thankfully, it was cleared by the defense.
50'- Ferran with a bright moment, taking on two defenders on the opposing corner and squeezing between both of them. Unfortunately, his cross cannot find a Valencia player in the box.
52' - First substitution for Atlético, the booked Lodi is replaced by Vrsaljko.
54' - Yellow card shown to Paulista for being persistent in his claims that there was a handball by Atlético even after the referee had already called for a corner. He will miss the next game. This is not what the team needs when they are already short on defenders. Soler needed to hold him back after continuing his protests after the yellow card.
58' - Yellow card shown to Vrsaljko for striking Soler with his arm while jumping. Free kick.
59' - GOAL VALENCIA! 2-2! Another goal from a set piece. Parejo delivers to the center of the box and the Atlético defense fails to get to it. Kondogbia was closest to the ball and gets a touch on his way down under pressure from the Atlético defense to secure the goal.
60' - First change for Valencia. Guedes off, Gameiro on.
63' - Momentum is switching in Valencia's favor at the moment. The team has begun putting pressure on the Atlético players. winning possession and setting up one attack after the next.
65' - Atlético with an offensive change. Santiago Arias off, Alvaro Morata on.
67' - Yellow card shown to Mangala for a challenge from behind on Saul.
70' - Yellow card for Simeone for protesting the free kick awarded to Valencia for a challenge on Parejo by Morata.
72' - Kondogbia is having a great second half. He is making sure Atlético are trapped in their own half with great interceptions and dispossession. The team needs this version of him every game.
73' - What a chance from Valencia. Ferran Torres breaks away from his marker with a clever first time touch from the pass. He runs past and takes on another defender, squeezing a cross past him right to Gameiro's feet but he misses! That needs to be scored, such a good position and great effort went into setting up that chance.
77'- Final change for Atlético. Koke is replaced by Carrasco.
78' - Yellow card for Maxi Gomez for using his arms in a challenge. He will miss the next game as well.
79' - Second change for Valencia. Soler off, Cheryshev on.
81' - Jaume with a brilliant diving save to deny a point blank header from Morata! That was dangerous but this kind of save is the equivalent of a goal.
82' - Ferran giving his marker nightmares, beating Vrsaljko yet again and providing great service for Maxi Gomez to run onto but again the shot misses the goal completely. The team needs more quality with these chances.
88' - Just about complete domination from Valencia in the second half. All that's missing is the winning goal. Corner kick.
89' - The corner is cleared towards Gaya who hits it first time at goal and the keeper has to stretch to save it.
90' - Three minutes of stoppage time added.
90+1' - What a pass from Parejo. A diagonal long ball forward behind the opposing right-back for Gaya to run onto. He tries a cross but cannot direct it well enough to find a Valencia player.
90+2' - Paulista goes down under challenge in the corner. It seems he cannot continue. More misfortune in defense.
90+3' - Final change for Valencia. Diakhaby replaces Paulista. Paulista is writhing in pain on the touchline. This looks worrying.
FULL-TIME
Almost there. Despite a slow first half and an early mistake in the second half, the team had a very good second half. They did just about everything apart from finish the game off. Gameiro and Maxi Gomez each with a chance, served on a plate of gold courtesy of Ferran Torres. There was no end product though.
Valencia surprised this game by scoring both goal off set pieces. This is normally an unlikely source for the team but it shows what can be done with good execution and focus in delivery.
Ferran proved himself once again to be quite a talisman for the team. The opposition could not deal with him at all in the second half. He was against experienced players and still came out on top.
In midfield, Kondogbia showed his best version in the second half. He scored the second goal, being the quickest to react and meet Parejo's delivery. He controlled the Atlético players and helped trap them in their own half for the majority of the half.
Stats for this game 64-36% possession, 9-8 shots, 3-3 shots on target, and 82%-75% pass accuracy. A lot more respectable that last game, especially given the opposition. That being said, this was a weakened Atlético team due to injuries to key players.
It was unfortunate to have both Paulista and Maxi Gomez booked. This will see them both miss an important game against Real Sociedad. For Paulista especially, the booking was bad news for an already short-handed defense. Seeing the state he was in at the end of the game, in extreme pain, could mean another big injury. I suspect the club will expedite the arrival of a central defender in the near future.
Valencia remain undefeated at home and end the day at 6th with 38 points, while Atlético remain 4th with 40 points.
Next, the team travel to Milan to play in the San Siro against Atalanta in the Champions League Round of 16. That game will be on Wednesday, February 19th. Amunt!