We return to La Liga where Valencia, having been eliminated from the Copa del Rey mid-week, can focus completely on the remaining two competitions. This game is crucial for the season since the team can deny a direct rival for the Champions League spots 3 points and gain 3 of their own, moving a step closer towards the season's objectives.
Getafe have had 6 days of rest between their previous fixture. They played away from home in La Liga against Athletic Bilbao and scored a goal in each half with no answer, securing a 0-2 win. Not an easy feat.
Valencia on the other hand, have had only 3 days of rest after their last fixture, in which they suffered a 2-1 loss against Granada. Soldado had scored in the first 3 minutes of the game and it took Valencia 37 minutes to respond with a goal of their own. The game would remain tied till stoppage time of the second half where the deadlock was broken by a goal that came in injury time from a penalty due to hand-ball and there was no time to recover. The loss meant Valencia would be eliminated from the competition. There have been several complaints in the news from Valencia staff and personalities criticizing the unfairness of VAR.
In their La Liga campaign, Valencia hosted Celta Vigo at Mestalla in the last La Liga fixture and secured a narrow 1-0 victory thanks to a goal from Carlos Soler. As the story has been at many times this season, the performance was not convincing but somehow the required result was achieved.

The game between these two in La Liga earlier this season at Mestalla was intense. Getafe took the lead in the first minute of the game. Valencia would remain behind until the 30th minute when they would go on to score 3 goals in 10 minutes, two from Maxi Gomez and one from Kang In. With a 3-1 scoreline, the team went confidently into half-time only for Getafe to turn it around with 2 goals in the second half to equalize the scoreline, ending the game in a 3-3 draw.
Getafe sit at 3rd in the league with 39 points, while Valencia are 5th with 37 points.
Getafe La Liga form: WWWLL
Valenica La Liga form: WWLWD
SQUAD
The good news this week in training was that Cillissen, Cheryshev and Vallejo have all rejoined training sessions with the team. It remains to be seen when they will get called up again but they will be handy reinforcements in a tough month of fixtures.
Both Wass and Coquelin are out of this game due to accumulation of bookings and so Correia and Esquerdo have be reintroduced into the squad list. I don't see either of playing though, especially with Florenzi available and several options in midfield.
There was news that Parejo had suffered some discomfort during training and might miss this game but it seems that he's fine and is in the list.
Gaya and Gameiro both missed the midweek game through injuries picked up in training but only Gaya has been recovered for this game.
In other news, Ferran has expressed his intent to continue with the club and renew his contract so a deal is expected in the near-future.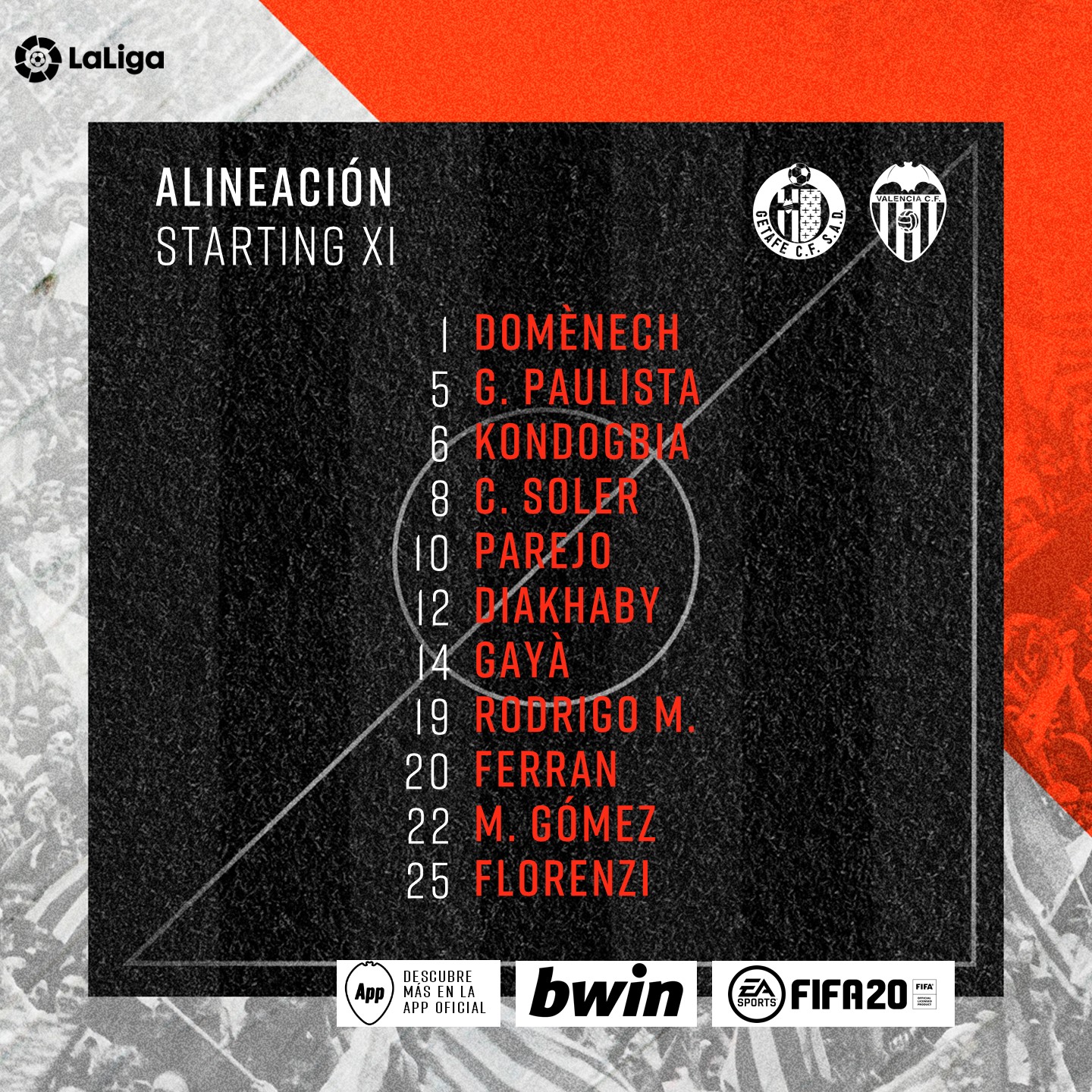 Bench: Rivero, Mangala, Correia, Esquero, Kang In, Guedes, Sobrino
MATCH

5' - Getafe with an early chance via a throw in. Cucurella receives the ball in an advanced position. He cuts inside and plays the straight to Molina who squeezes in a shot past Paulista but Jaume dives down quickly to parry it for a corner.
9' - Valencia being forced to punt the ball across the field to clear several times. Possession keeps returning to Getafe, allowing them to go on the offensive yet again.
16' - Paulista goes down under a challenge from the Getafe player. He appears to be really struggling to get up, staying down for a while before being helped off the field. Mangala is ready to come on.
17' - Paulista returns to the field for the time being.
18' - Molina with another great chance. Nyom crosses the ball from a wide position, having bought some space with a touch away from Gaya. Molina heads it towards goal but it's wide.
24' - Yellow card shown to Getafe's Nyom.
25' - Not a single shot, let alone a shot on goal, from Valencia so far into the game. Getafe with 61% possession, 6 shots, only one of which is on target.
30' - The team is struggling to put together any sort of attacking move under the Getafe pressure. The only way the ball gets forward is with a long ball out from the back, but possession falls to Getafe most times.
35' - Ferran and Soler have switched flanks back and forth a 2-3 times already this half. Is this part of the game plan or a decision from the players?
38' - Molina fights with Diakhaby over the ball and has the strength to take him down and go past him. He passes to Maksimovic who is quick to strike at goal but Jaume denies him. The ball is still in play and falls to Cucurella who takes one touch around the defender and tries to curl one to the far post but Jaume with another great save to match the effort.
40' - Ferran has stayed on the left and Soler on the right, doesn't seem like they're switching back anymore, at least for this half. This might suit them better.
45' - One minute added by the referee for stoppages. Valencia trying to just get through the half without conceding. They give a way a last minute corner though.
45+1' - Cucurella delivers the ball straight to Molina's head but his glancing header is wide. It's strange how he missed that, very fortunate for Valencia.

HALF-TIME: Not what was expected or required from the team in such a crucial game. Getafe dominated on nearly every statistic that half. 58-42% possession , 12-1 shots, 3-0 shots on target and 68-60% pass accuracy. The offensive stats alone are reason for concern.

Jaume has been solid to maintain the scoreline. The defense has done their defensive duties well but have got to stop these long ball because they are simply not working. Not even Maxi Gomez is getting at the end of them. It's just playing right into Getafe's plan and returning possession to them. With the ball going from defense towards offense and back to Getafe, the Valencia midfield has hardly got into the game, contributing only defensively. The few times they have got the ball, their passes would give the ball right back.

Getafe's pressure and aggressive style usually causes trouble for the team but after all the previous encounters, the team should have an understanding of how they play and a game plan to deal with it. Some players are trying to draw fouls and get the Getafe players booked but a lot of the times the referee is waiving play to continue.

One thing to watch out for is the knock Paulista received early on, hopefully it's nothing serious as the team has enough injuries already.

The hope now is that Getafe feel demotivated from a first half where they have failed to capitalize on their advantages and are starting to grow tired from exerting all that pressure. Valencia should be able to settle into the game and string together some passes and attacking moves. They need to get shots on goal.

45' - Celades has not used any substitutions in the break which is relief from concern about Paulista. It also seems that Ferran and Soler has retained the positions with which they ended the half.
53' - Getafe take advantage of Gaya being out of position, having joined the earlier attacking play. They play a long ball to Molina in a wide position. He holds the ball and waits for Mata to run into the box before squaring the ball for him. He turns around and shots, but Jaume yet again is equal to it.
58' - Getafe goal. 1-0. Molina splits the defense with a through ball for Mata. Jaume save the initial shot but the ball stays in play. Mata beats out both Diakhaby and Paulista to the ball, having started behind both of them and taps it past Jaume. Need quicker reactions there. The two defenders left it all for the keeper to do.
60' - Substitutions from both teams. Rodrigo off, Guedes on. Nyom off, Kenedy on.
62' - Fight breaks out after Gaya goes down in the opposing penalty area. The Getafe players didn't like it and crowded around him to which the Valencia players all rushed in to protect their teammate. The referee issues out yellow cards for Paulista, Ferran and Damian Suarez for their involvement. Maxi also gets booked for dissent against the referee.
67' - Getafe score again. 2-0. Molina just made the entire defense look like amateurs. He took out Diakhaby with a ball through the legs and then another touch past both Kondogbia and Paulista to go through on goal and still had it in him to find the goal after that. Parejo gave away the ball to start that attacking play. How does Valencia turn this around with only 2 shots and none on goal?
69' - Second substitution for Valencia. Kang In Lee replaces Carlos Soler.
70' - Yellow card for Diakhaby.
75' - Yellow card for Arambarri for a shove on Guedes.
77' - Direct red card shown to Florenzi for a challenge on Cucurella, going in with both legs. Valencia have 10-men and no shots on goal. This game is surely gone. Florenzi will miss the next game also.
79' - Second change for Getafe, Molina off, Angel Rodriguez on.
81' - Celades would rather have Ferran cover as right-back than use Correia.
87' - Getafe score. 3-0. Mata scores. Diakhaby being unprofessional and stopping his track back thinking the referee will call for a foul on him. He was beaten and the whistle did not come. Angel goes through. It's 2 vs 1 against Paulista. He tries a rash sliding challenge but it was predictable. Angel takes a touch away from him finds Mata, who then does the same to Jaume before finishing.
89' - Final change for Valencia. Maxi Gomez off, Sobrino on.
90' - Six minutes of stoppage time is added.
90+1' - Terrible luck, just when Guedes and Kang In link up to set up a good shot to take a first shot at goal, Kang In slips and cannot make contact for the shot.
90+3' - Getafe with another chance. Cucurella with a cross to the far post for Damian. He's in a good position for a shot but Gaya steps in in-time to block the shot.
90+5' - Yellow card for Etxeita for a late challenge.

FULL-TIME

The worst kind of game. Everything on the line at a crucial point in the season. The team doesn't show up. Not a single shot on target the entire game. No one stepping up to make a difference. A red card making any hope of a comeback gone. Every 50/50 challenge goes against, the benefit of the doubt completely given to the other team despite their aggression. All that culminates in a loss against a rival to which no one wants to lose, especially after the back and forth in recent season. Valencia lose their chance to get into the top 4 this week.

Shots 22-5, shots on target 10-0, possession 53-47. passing accuracy 69-66%, 3 goals with no answer. Beaten in every area of the field. Not nearly good enough. In fact very poor. This is a team that's supposed to be a rival, meaning about the same level, not a team that's 2 divisions above. That's certainly how it looked like today.

Some players completely gave up in the final 10 minutes of the game. Players stopped tracking back, left it to someone else or the referee to intervene, passed like they were on the training ground and didn't respond to the pressure, the occasion or the performance in the first half. Credit to those who still tried.

Nothing much to add about this game as it was a game to forget by all means.

The team has gone from decent wins, to narrow wins to just-edging it with minimal effort, and now the losses have come as some have predicted. Eliminated against Granada and humiliated against a rival in the span of one week.

Looking forward, this should serve as a wake-up call. The team needs to respond. Yes, there have been many injuries but this cannot be blamed on that. Yes, there have been a few refereeing decision that have gone against, but again no excuse. For players not willing to put in the effort, there needs to be some bench time, no matter how crucial they are though to be for the team. Consistent good performance must be rewarded and consistent bad performance must be deterred.

Next game is against Atletico Madrid in La Liga at Mestalla on Friday. One can only hope the team shows up then cause they weren't there today. Amunt.