Valencia travel to Granada to play in the quarter finals of the Copa del Rey. This is one of three possible games remaining for Valencia on their road to defending their title as the reigning champions of this competition.
Granada and Valencia have both got to this stage by going through extra time in their last fixtures. Granada faced Badajoz away from home and each of the sides scored a goal at the beginning and at the end of the 90 minutes in a 2-2 draw. Granada would win the game with a goal 4 minutes into the second half of extra time. Valencia, on the other hand, was unable to break the 0-0 draw against Cultural Leonesa even after 30 minutes of additional time, forcing a penalty-shootout. Jaume Domenech would prove to be a hero in a game that very much needed one and saved two penalties to help Valencia move forward.
In La Liga, Granada faced Espanyol this past weekend. They came back from behind to secure a 2-1 win, cancelling out an Espanyol penalty with two goals on either side of the half-time whistle. That win sees them finish out the week at 10th position with 30 points.
Valencia come into this game having struggled into a 1-0 home win against Celta Vigo. Soler broke the deadlock 13 minutes before the full-time whistle, earning a goal on his 100th appearance for the club and securing the win. With the win in hand, Valencia currently sit in 5th place with 37 points.
Both sides come in with a good run of results (not necessarily performances though):
Granada form (all competitions): WWLWL
Valencia form (all competitions): WWWWL
SQUAD
Domenech starts again, having a streak of four clean sheets in a row. Rivero backs him up as Cillissen is yet to rejoin training sessions due to his injury.
In defense, the team was hit with the bad news of Garay's 6 month injury duration. The club has conveyed their intention to sign a replacement soon. Although the transfer window is closed, there are clauses that permit clubs to sign still in the event of a long-term injury. The players that can be signed are restricted to those that play in the first or second division of the league, or players that currently have no club. With the deadline (Feb.3) of submitting the Champions League squad list to UEFA having passed, the new arrival would not be eligible to participate in the Champions League fixtures. For now, Mangala and Diakhaby will be counted on to cover the absence.
Additionally, Gaya struggled with an injury during training and misses this match as well. Costa will start instead. Either Florenzi or Wass will complete the defense as the countdown begins for Piccini's return to action.
In midfield, the novelty is the return of Guedes to the squad list, having been out for months to injury. Having a fully fit and in form Guedes can take the team to a new level but it remains to be seen if Celades can recover that version of the player.
Coquelin is likely to start this game over Kondogbia, since he is suspended for the next La Liga fixture. Celades has the full selection of midfield available to him with the exception of Cheryshev who is still in recovery.
In offense, Gameiro, like Gaya, also struggle with an injury and misses this game. Vallejo, like Cillissen, has not yet rejoined training sessions. This leaves Rodrigo, Gomez and Sobrino as the choices for Celades; although both Ferran and Guedes can fill any shortage there if needed.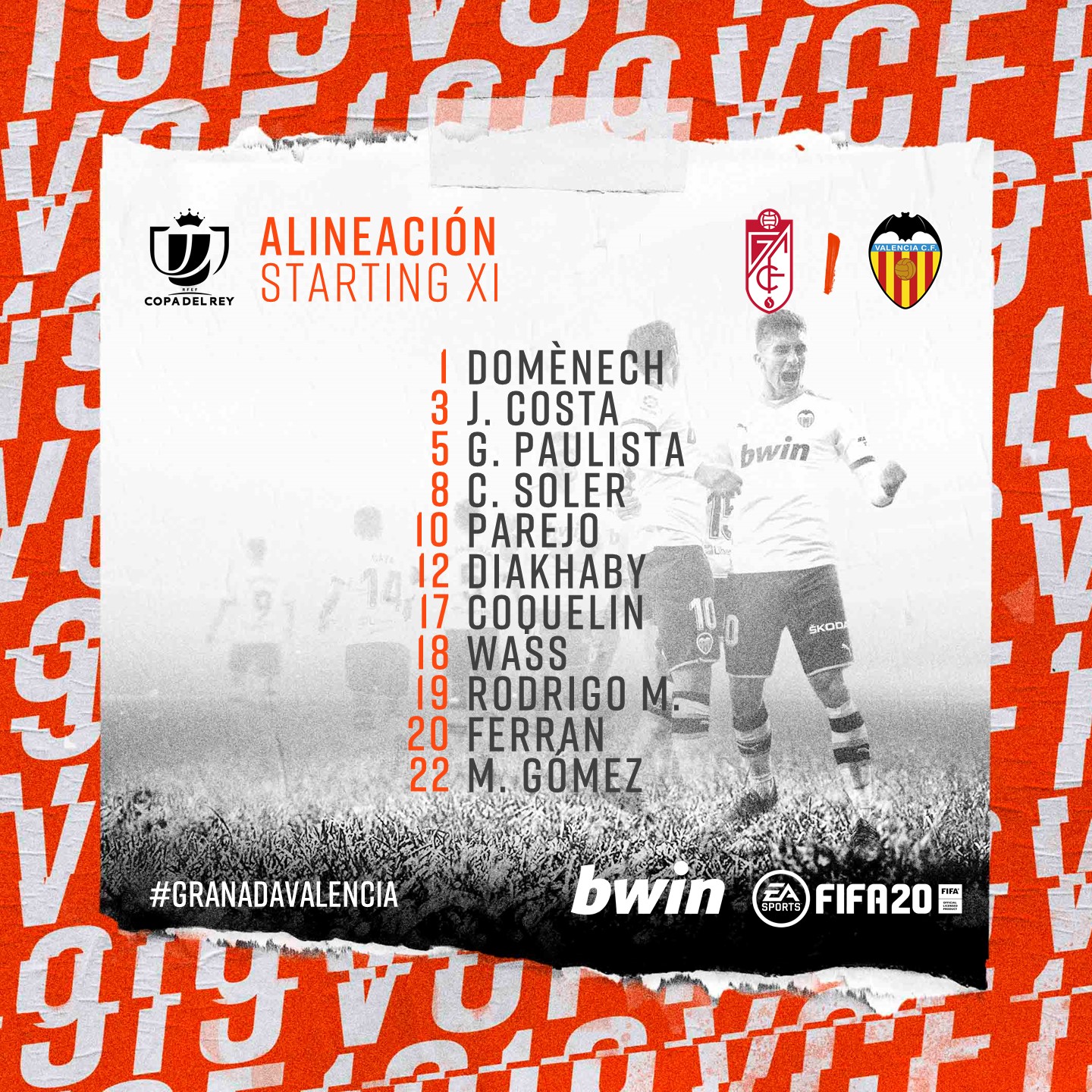 Bench: Rivero, Mangala, Florenzi, Kondogbia, KangIn, Guedes, Sobrino
MATCH
2' - Goal for Granada. 1-0. Poor start already. Parejo had given up possession in the play before and now Jaume Costa's sliding tackle sent Soldado clear through on goal. He took a heavy touch to start and it should've been punished there but Paulista stood his ground. Soldado side steps him and takes a shot from the edge of the box. Jaume gets a hand to it but cannot keep it out. Diakhaby was way out of position for that since he went on a needless run forward after he cleaned up from Parejo's earlier mistake. Big mess.
7' - Excellent chance for Valencia is squandered. Costa with a great cross to the far post where Ferran Torres is in space. He volleys the ball back towards the other post and finds Rodrigo with plenty of room. He fires but it's wide. He shouldn't miss the target from there.
8' - Granada retaliate with a chance of their own. A diagonal ball is played behind Wass and the Granada player is through on goal albeit with a tight angle to shoot. He takes the chance anyway and Jaume can only parry the effort back into play. The ball is cleared but it was a dangerous play.
14' - Goal for Valencia but it's overruled by VAR for offside. Parejo had played in Rodrigo with a through ball. Rodrigo strikes towards the far post and slots it past the keeper. It was a good finish too bad it won't count.
15' - Granada again retaliate, this time striking the cross-bar.
17' - End to end stuff here. Wass finds Ferran ahead of him, who then plays a low cross to the far-post for Maxi Gomez. Under pressure from his marker and with his side to the goal, he manages a slight turn and shot but cannot hit the target.
22' - Another chance at goal for Valencia. Wass with another great cross for Maxi. Maxi takes a touch and hits it straight at the keeper. He had the time and space for a touch and a strike. Cannot help but feel cross should've been played to his head not his legs. Good that he hit the target but should've done better from a good position.
30' - Granada hit the post again after Coquelin is dispossessed in midfield. Diakhaby attempted to prevent the shot by applying pressure to the striker but it was still a good hit despite that.
40' - GOAL VALENCIA! 1-1! Rodrigo scores again and this time there is no doubt about the goal. Ferran with a quick pass to Coquelin who plays a short cross to the far post from midfield. Rodrigo is unmarked again and the cross is easy for him to run onto and slot past the keeper.
42' - Yellow card shown to Gonalons for using his arms and legs to stop Ferran Torres's run.
45' - Two minutes added for stoppages.
HALF-TIME: A very open half with both teams showing vulnerability and fragility in defense as they go towards the victory. There were lots of back and forths with the ball moving end-to-end very quickly over the half. Valencia started very sloppily giving the ball away twice in the span of 2 minutes. The first resulting in Diakhaby taking the ball for a run to midfield and the second compounding the mistake of the first and with the defense left short-handed Granada scored. Valencia would go on to feed their strikers plenty of good chances in space in the penalty box but for some reason most efforts either miss or are hit straight at the goalkeeper. After an earlier blunder in front of goal, Rodrigo would go on to score, having gone through on goal by virtue of a Parejo through-ball. Despite the good finish, it was over-ruled correctly for offside. He would get a chance again to score following some very quick passing that caught the Granada defense off-guard. Ferran's pass to Coquelin took out two defenders and made it to Coquelin who took out the entire defense with an unexpected cross to Rodrigo.
The right-side has looked better than the left side of the team. Wass and Ferran have set up many chances for the team and linked up well. The left-side hasn't done too much going forward or back. The Granada right-back has kept them preoccupied. In defense, Costa's mistake combined with Diakhaby's poor choices led to the goal. Risky plays like that from the defense proved costly against Granada and for sure the tougher teams ahead will eat those chances up as well. It's good that Rodrigo finally got a goal but the forwards in general need to be a bit more clinical in front of goal, the service was good and the opposing defense open so there really is no excuse.
52' - Yellow card shown to Soldado for a very late challenge on Parejo
60' - Maxi Gomez plays a low cross across goal but none of the Valencia players can get to it. Rodrigo claims the ball on the far-post and pulls it back for Jaume Costa but he collides with the defender and nothing comes of it.
67' - Valencia with the first substitution. It's Guedes on for Ferran Torres. Soler moves back to the right-flank and Guedes takes his spot on the left-flank. It seems he would thrive in this type of game with all the space being given.
69' - Granada with their own substitution, the first of the game. Carlos Fernandez off, Machis on.
71' - Every time Guedes touched the ball so far, he was instantly tripped up by the opposition.
75' - Diakhaby actually playing well since the first goal. Another great tackle to deny Soldado from running through on goal.
77' - Granada set up a chance with a Soldado back-heeled pass for Machis. The shot on goal is parried by Jaume and cleared.
78' - Jaume Costa and Guedes struggling to deal with Machis, as he cuts inside past both of them and takes a shot at goal. Foulquier was already causing trouble on his own on that side.
80' - Second change for Granada. The booked Gonalons is taken off for Eteki.
86'- Valencia with their own change, taking off Rodrigo for Florenzi. This means Wass will move up to the right side of midfield, Soler moves centrally ahead of Coquelin and Parejo. Maxi remains as the lone striker. It looks like a 4-2-3-1.
90 - Four minutes of stoppage time added by the referee.
90+1' - Penalty for Granada. Maxi Gomez handled the ball in the penalty box. The ball was headed down by Jaume Costa onto his arm. VAR confirms the decision. Disaster in the last few minutes of the game.
90+3' - Goal for Granada. It's 2-1. Soldado scores from the penalty spot, sending Jaume the wrong way.
FULL-TIME
Valencia is eliminated from the Copa del Rey in the final minutes of the game. The penalty in the stoppage time is hard to recover from with so little time remaining. Granada go through to the semi-finals and the reigning champions go home.
The second half did not get as many chances as the first and it needed something like a penalty to settle the draw. Everyone had anticipated that the game would go to extra time but Granada had other plans and just edged it.
It was interesting to see Soldado celebrate both goals with the amount of enthusiasm he did. He has clearly moved on and felt joy from sticking it to his old side.
It was also an interesting decision from Celades to bring on Guedes, especially by sacrificing Ferran Torres in return. It would've seemed better to take off Carlos Soler instead since Ferran was contributing a lot this game. Guedes did not show much during the time he was on. It seemed like he was just trying to ease himself into the game rather than to make a difference. Nothing more can eb said as it is tough to get back into the game following a long term injury.
When Rodrigo was substituted for Florenzi, it became more clear that Celades could not help but keep the weekend fixture in mind and was protecting key players.
It would've been nice to win, especially against Granada. As the champions, losing to a bigger team would have looked better. However, this might be for the better. It's easier to say now but many fans would rather look ahead and focus on La Liga and the Champions League. One cannot help but think that Getafe wanted this game to go all the way to penalty shootout so that they can get a fatigued team to play against.
Next game is away to Getafe in La Liga on Saturday. This is a very crucial game to the season and it is paramount that the team really needs to show up. This team is one of Valencia's direct rivals for the Champions League spots. They sit at 4th with 38 points, 1 point ahead of Valencia. As such, this game is a chance to deny them three points and get three for the team, passing them in the table. Amunt.