The third competition of the season starts for Valencia with this match. With decent performances in the league and a qualification to the Champions League Round of 16, this is another competition in which Valencia can make a mark.
The format of the cup is 1 game knock-out, meaning both the semi-finals and finals are only 1 leg with no home and away tally or aggregate scores. The top 4 of the 2018-19 La Liga campaign all take part in the tournament. Valencia play Real Madrid in this semi-final while Barcelona face-off against Atletico Madrid in the other. The games will be played on a neutral ground but in Saudi Arabia, not in Spain. Two games separate each of the teams from winning a trophy.
Valencia faced off against Real Madrid earlier in the season and did very well. In fact, Real Madrid, having started the first 15 minutes or so on the front foot, struggled for the remainder of the game to deal with Valencia. Ferran and Rodrigo caused all sorts of problems for their defense while their own defense controlled Real Madrid's front line.
Valencia come into this game on the back of a 1-0 victory at home against Eibar, while Real Madrid beat Getafe in a convincing 0-3 win away from home.
The results left Valencia in 6th at 31 points and Real Madrid in 2nd at 40 points.
The form in the past 5 games is similar with Valencia having getting 11 points from the last 5 games and Real Madrid getting 9 points in the same number of games.
Valencia La Liga form: WDDWW
Real Madrid La Liga form: WDDDW
SQUAD
A very misleading squad list was released ahead of the game. There are several players who are on the injury list that cannot be part of this game but were included anyway.
Guedes and Piccini for sure will not be a part of this game as they are both still in recovery. Both will be expected back in the next month or two.
Rodrigo and Manu Vallejo will both also miss this game. Rodrigo is carrying an injury that will take him out of the lineup for the next 2 weeks, while Vallejo's return is set sometime in February. Rodrigo, especially, will be a big miss as he was very important in the last fixture between these two teams, helping with the quick defense-to-offense transitions for the team.
KangIn could be part of the list as this was his expected recovery time but still no confirmation on that. Mangala will likely not be a part of the game with other defenders available.
In Real Madrid's camp, the big news is that both Benzema and Eden Hazard will miss the game through injury.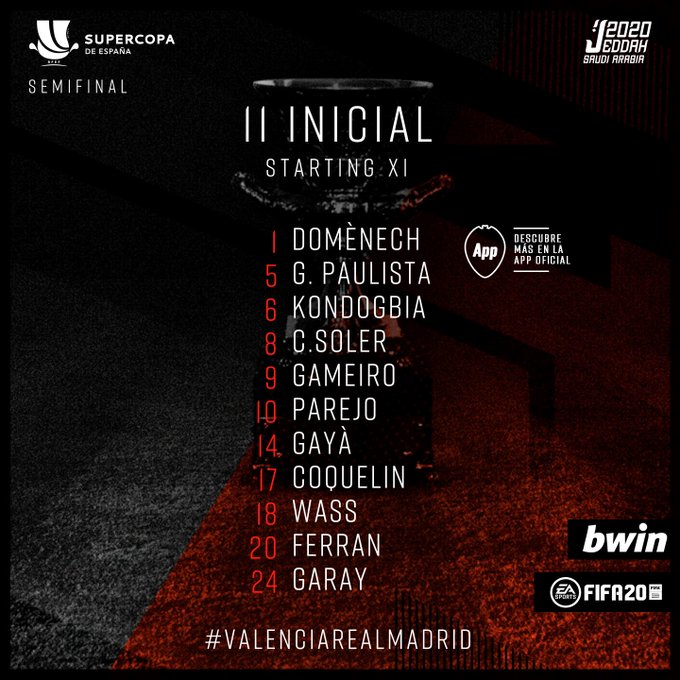 Domench is preferred yet again over Cillissen due to a good run of form. We will see what kind of role Cillissen will play from now on, especially with more competitions starting.
This could be either a 4-4-2 or a 4-3-3 since both Kondogbia and Coquelin are starting the game. Coquelin has been used in a wide position many times but he could also play in a double pivot with either Parejo or Kondogbia. Coquelin had some discomfort earlier and so he was a doubt to start but Celades counted on him nonetheless.
Maxi Gomez also had a bit of discomfort and he doesn't start the game but is available on the bench. It looks like Ferran and Gameiro will take on the responsibility of driving the attack and scoring.
Bench: Cillissen, Costa, Diakhaby, Esquerdo, Cheryshev, Sobrino, Maxi Gomez
MATCH
5' - Real Madrid with a great chance following from a free kick. The ball was crossed for Varane who had beat both Soler and Garay for the header at goal but Jaume saves.
10' - It seems Valencia is content with letting Madrid keep the ball and attack similar to the opening minutes of the previous game. Madrid doing the same play over and over without much success.
14' - Goal for Real Madrid. 0-1. Kroos with a quick corner while Jaume was off his line and he curled directly into the goal. Jaume tried to save but couldn't keep it out despite getting a hand to it. Unusual goal to concede when Madrid had been contained well prior to that.
25' - Valencia starting to get more into the game in the past few minutes but nothing threatening yet. Both Ferran and Gameiro are not being allowed space to play. Coquelin has been the stand-out player so far with the effort he's putting in.
28' - Great chance for Valencia. Ferran squares the ball to Coquelin who controls, shields it from the defender and sends Gameiro into the box with space for a shot. Gameiro fires but it's over the cross bar. You have to hit the target from that position at the very least.
38' - Goal for Real Madrid. 0-2. Carvajal plays a through ball past Gaya and Soler to find Valverde, who pulls it back for Modric. His shot is blocked by Garay but the ball falls to Isco who slots it into Jaume's bottom right-corner.
41' - Another chance for Real Madrid from a corner. Isco's glancing header hits the far post and falls to Jovic. His shot is is saved by Jaume but the ball is loose in the penalty box and it's cleared haphazardly. Almost a third goal there.
HALF-TIME: Valencia haven't put the same effort against Real Madrid as they did in the previous game. Of course, that was a home game so they had extra support from Mestalla. This game seems like a Real Madrid home game since the crowd made clear from their cheers and boos who their favorite is. The game can still be saved in the second half but there needs to be changes. Madrid's first goal was very unfortunate to concede. I guess you could say that there was no reason for Jaume to be so far off his line if this is a legitimate play.
Ferran and Gameiro barely get any space to work with and when they do they haven't linked up all too well. Our midfield is getting outmatched by the opposition midfield with only Coquelin putting up a fight. Soler and Coquelin are getting drawn into central positions and leaving the flanks completely exposed for Gaya and Wass to get outnumbered.
Madrid is pressuring high up the pitch and to good effect. The Valencia defense has scrambled to clear and Jaume is forced to punt the ball across the field but there is no way Ferran or Gameiro is getting to the ball ahead of Ramos and Varane in an aerial duel. Possession almost always returns to them. 65% possession with 3 shots on target, 2 of which are goals for Real Madrid. 35% possession for Valencia with no shots on goal.
48' - Maxi Gomez and Cheryshev are both warming up. It remains to be seen whether Celades will make an early substitution.
56' - Maxi Gomez will come on now, Kondogbia is taken off. Coquelin will move back into midfield, Ferran will return out wide while Maxi joins Gameiro in attack.
59' - Yet another close effort by Real Madrid. Through ball to Modric in the penalty box. He draws the defenders and pulls the ball back for Valverde who's shot is just wide of goal.
65' - Goal for Real Madrid. 0-3. Well it's all over now. Parejo with a horrible pass that is intercepted by Isco. Isco plays a through ball to Jovic who then does the same to find Modric just inside the penalty area. Coquelin and Paulista step up in front of him and he squeezes a shot past both of them that curls past Jaume at the far post.
70' - Second substitution for Valencia, Cheryshev on for Gameiro. He has been very ineffective so far. For Real Madrid, Marcelo comes on for Mendy to huge applause from the crowd.
72' - Chance for Valencia from a corner. The delivery is headed on to the far post by Coquelin where Ferran competes with Ramos for the header. He gets a slight touch on it but not enough to divert it towards goal. Goal kick for Madrid.
74' - Maxi Gomez receives the ball in space at the edge of the penalty box and decides to take a shot. It's hit really well with a lot of venom on it. Courtois parries the effort. At least there is a shot on goal now.
76' - Second change for Real Madrid. Modric is replaced by James Rodriguez.
78' - A second shot on target this time from Parejo, again from just outside the penalty area. Courtois saves but spills the ball. Cheryshev is first to it, tries to play Maxi Gomez. Maxi leaves the ball expecting someone is behind him but possession returns to Real Madrid.
79' - Another shot on target from distance, this time from Cheryshev and yet again saved by Courtois.
81' - Last change for Madrid. Mariano on, Jovic off. Celades will bring on Sobrino. Another attacking substitution. Coquelin is the player replaced.
87' - Yellow card for Casemiro. Sobrino was running into space and he took him out from behind.
89 ' - Parejo with a good delivery from a free kick. Ferran heads it into Maxi Gomez and the ball bounces back to Soler, giving him a free shot. He doesn't get any good contact on the ball, scuffing the effort and Courtois gets to the ball slightly before Maxi Gomez who was lurking nearby.
90' - Three minutes of time added for stoppages. VAR tells the referee to review the footage. He decides to give Valencia a penalty for a handball in the previous play. Parejo steps up.
92' - Goal Valencia! 1-3! Parejo smashes it into the top right corner.
FULL-TIME
Valencia are eliminated and Real are through to the finals. A goal from a Parejo penalty in the dying minutes of the game was hardly enough to salvage a quite poor performance. It's easy to say this after the loss, but losing in this tournament isn't that big a deal. The prize money isn't significant and the trophy hardly has any importance compared to the others. I wouldn't be surprised if Lim made a call saying to not bother playing seriously in this competition.
This could've been an opportunity to win over fans in another region with a surprising performance. But the performance was very disappointing. I would've at least wanted Valencia to push Madrid like last time. Hopefully, this doesn't carry on to other competitions.
Rodrigo was missed in attack, with the remaining players hardly able to provide what he does when he's on form. The midfield was outmatched by the opposition and the defense crumbled under the high pressure from the Madrid players.
Coquelin has been the sole positive for me in the absence of others. Even though seeing him being played in a wide position was already a bad sign for me going into the game due to past experiences, he at least put in the effort.
This loss does also give us an 11 day break to the next game. We return to La Liga on Sunday the 19th of January to play Mallorca at the Iberostar Stadium. Amunt.