Valencia return to Mestalla to play Celta de Vigo in the 22nd matchday of La Liga.
Valencia come into this game having secured a place in the quarter finals of the Copa del Rey against Cultural Leonesa. The game went to extra time and beyond that to a penalty shoot-out, testing the squad's fitness. It was disappointing that the team could not managed to score once against them over the span of 120 minutes.
Celta Vigo, on the other hand, had a week ahead of this game to prepare, having been eliminated at the Round of 32 of the Copa del Rey by Mirandés.
In the previous La Liga matchday, Valencia secured a 2-0 home win against Barcelona and surprised many.
Celta Vigo's game last week was against Eibar; a game which they drew 0-0 at home.
The result from the previous week mean that Valencia is at 7th position with 34 points, while Celta Vigo is in the relegation zone at 18th with 17 points.
Valencia La Liga form: WLWDD
Celta Vigo La Liga form: DDDLD
SQUAD
With the transfer market in its few hours and Valencia having made only one signing thus far, the squad looks largely the same.
Florenzi, the new loan signing, does get called up despite initial news saying he would be left out. This could be a good sign, meaning that he was deemed to be ready by the coaching staff. With Wass also returning to the lineup after an absence in the Copa del Rey due to discomfort, this leaves no room for Correia and he is dropped from the list. In the center of defense, Garay takes his spot back from Mangala, after also missing the mid-week fixture with some discomfort.
In offense, Rodrigo features again with the transfer saga involving him and Barcelona being finally over. They have settled on another player as they were unwilling to pay Valencia's asking price, preferring instead a loan with no purchase option; a proposal that Valencia would rightfully dismiss.

With regards to injuries, Jaume Costa is out of this game after discomfort during the mid-week game when he couldn't finish the game and had to be replaced by Gaya. Guedes continues training with the team and is expected back in the game against Atalanta. Piccini has also recently started training with the rest of the team. There is little information about Cheryshev, Vallejo's and Cillissen's injuries.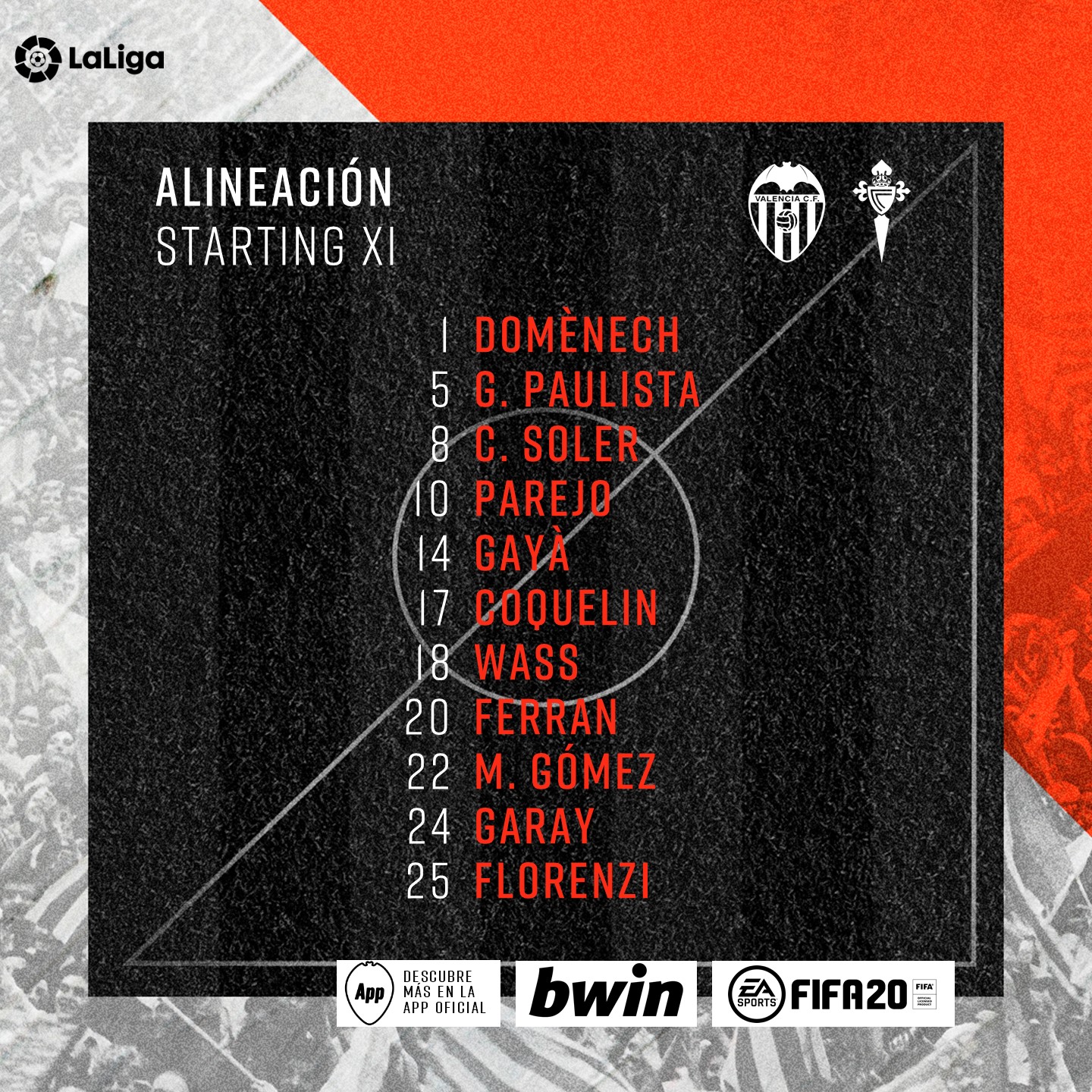 Celades went with Florenzi in the starting XI as right-back. It's a good game to get him adjusted to matches in Spain. Interestingly enough, Wass is also in the starting lineup, probably playing on the right-flank. This leaves room for Ferran to go play upfront with Maxi Gomez. While Rodrigo is available, he will be on the bench to start.
Bench: Rivero, Diakhaby, Kondogbia, Kang In, Gameiro, Rodrigo, Sobrino

MATCH

Wow, Murillo went around and exchanged hugs with every Valencia player and staff on field and on the bench. Good to see a positive return from a former player.

2' - Great chance right off the bat for Valencia. Parejo with a great dispossession in the opposition half, Wass picks out Ferran who then dummies his defender before squaring the ball to Wass in the center. The shot is just wide, he needs to hit the target there but great build up.
12' - Aspas with a driving run forward, Parejo attempts to tackle but misses him. Paulista intercepts the run but makes a mess of the clearance and it falls back to him in space for a shot on goal. Luckily, it's easy for Domenech.
15' - Corner wrongfully awarded to Valencia. Parejo hits it right at the nearby defender resulting in a throw in. The resulting play from the throw sees Ferran cross, Maxi nod the ball on to Wass but he is out-muscled by Murillo. The ball falls to Soler for a shot but it's just wide of the left post. Celta still upset about the corner being awarded while there are some appeals for a penalty for the challenge on Wass.
19' - Yellow card for Paulista for using his arm against Iago Aspas
22' - Florenzi goes on a wild run forward with Garay holding his pass for a while before playing a lob over the defense to send Florenzi through behind the defense. He surprises everyone with a volley and almost places it into the top right corner if not for the keeper's outstretched hand. He was offside anyway so it would've have counted.
32' - Yellow card for Daniel Wass for stepping on to the opposition player.
36' - Garay goes down after landing on his leg. While the medical team examines him, Diakhaby is warming up in preparation to take his spot.
38' - With a bit of treatment and after testing out his leg, Garay decides he can continue and returns to the field.
39' - Yellow card for Comesaña for a collision with Gaya to stop his run.
42' - Valencia will go through with the substitution after all with Garay concerned about his leg. Garay off, Diakhaby on.
45' - Two minutes added for stoppages.
45+2' - Parejo with a free kick after a challenge from Aspas on Maxi. Ferran connects with the delivery and heads it but it's wide of goal.

HALF-TIME: Pretty even game so far, with maybe a slight edge to Valencia in terms of the quality of the chances that came throughout the half. Celta does not look like they're trying to "park the bus" but are rather coming forward and attacking. This should leave room for the Valencia players to exploit and saves Valencia from the struggle of having to breakdown a tight-knit defense. However, there still hasn't been a clear chance so far.

Florenzi has seemed competent in his role and one can only assume that he will get better as he adapts to the team and to Spanish football. Parejo has also looked quite sharp, contributing with passing as well as some useful sliding tackles. The central defenders need to work a bit on their distribution of the ball rather than just returning possession to the opposition. Unfortunate about losing Garay in the first half. Hopefully, it's not a prolonged absence but it could be a significant loss ahead of some important fixtures this month.

50' - Yellow card for Florenzi for a challenge on the edge of the box. Free kick for Celta Vigo.
52' - Iago Aspas takes the free kick from a dangerous position. It's going in but Parejo clears it with his head off the line! It appears that Jaume whispered to Parejo to watch his back and cover the opposite side. Great coordination!
53' - Second substitution for Valencia. Florenzi is taken off and Rodrigo comes on. Roaring applause for Florenzi as he is walks off. Wass slots back into right-back, Ferran moves wide and Rodrigo takes his spot beside Maxi Gomez.
56' - Gaya decides to go on a solo run forward, going past the Celta midfield. Maxi is ahead of him in anticipation of the through ball but Gaya chooses Rodrigo at the far side in space. His touch is poor and the chance is wasted. Not a good way to start.
61' - Wass reclaims the ball after a Celta attack and picks out a beautiful ball forward to Rodrigo catching the defense off-guard. Rodrigo drives the ball forward with with his markers ahead, and Ferran wide. He tries a through ball for Maxi but it's over hit. Ferran is left wondering why he didn't receive the pass instead.
65' - Yellow card for Celta's Rafinha for following through on a challenge on Rodrigo.
71 ' - Rodrigo with another chance at goal after Maxi let the pass go through for him. The ball curls away from the post and out of play.
72' - First substitution for Celta Vigo. Sisto on, Araujo off.
73' - Celta with their own chance. Aspas sets up an opportunity for Gabriel Fernandez and he hits the target. Jaume can only parry the effort and Diakhaby has to clear for a corner.
77' - GOAL VALENCIA! 1-0! Carlos Soler with the goal. Diakhaby with a long clearance forward that finds Ferran in space ahead. He takes a touch to control and then plays a curling cross with the outside of his foot. Rodrigo is first to the ball and heads it back and down for Soler to run onto and slot it past the keeper.
79' - Celta Vigo with their second change. Their new signing Smolov comes on for Gabriel Fernandez.
80' - Yellow card for Maxi Gomez for a challenge with his studs showing.
82' - Celta showing their intent to win with an attacking change - their final one. Beltran is replaced by Santi Mina, who is applauded by the Mestalla crowd.
84' - Rodrigo receives the ball on the right flank in space. He cuts inside, takes on the defender, takes it away from him and picks out a shot at goal. The keeper saves it.
88' - Yellow card for Sisto for a late challenge on Parejo.
90' - Four minutes of stoppage time added.
90+1' - Yellow card for Coquelin for a shove.
90+4' - Aspas with a last minute free kick at goal. Jaume saves, almost spills it but eventually gathers it up. The referee blows the full-time whistle.

FULL-TIME

An important win, especially as rivals have dropped points and/or face difficult fixtures this week. This win gives Valencia the three points needed to finish the day at 4th place.

The debut performance from Florenzi was another positive. He looks like a solid player that will be very useful to have. He didn't complete the game but it was a glimpse of what he could do.

It was also unfortunate to lose Garay especially with critical matches ahead. The extent of the injury is still to be determined.

The second half had slightly more entertainment value than the first, particularly due to the goal. It was a very quick transition from one end to the other and into the net in 3 passes. Diakhaby to Ferran to Rodrigo to Soler and then goal. It was interesting that for that play Ferran and Soler had switched positions.

Valencia had several other chances throughout the half but yet again the problem persists. The ball gets to the final third and then there is a struggle to convert chances into goals.

Objectives wise the team is on track in all competitions and hopefully the performances step up to match the intensity of the schedule and fixtures ahead.

Next game is on Tuesday, February 4th against Granada away from home for the Copa del Rey Quarter Finals. Amunt!