Valencia return to Mestalla to face Barcelona in the 20th matchday of La Liga. This will not be an easy game as many have pointed out that Valencia has not beaten Barcelona in La Liga since, well, a very very long time.
This is the second match against Barcelona in this season. The first one, at the Nou Camp, was Celades's first game in charge of Valencia and the team got beaten convincingly with a 5-2 scoreline. Barcelona were up 2-0 within 7 minutes of the game. Kevin Gameiro managed to score one midway into the half to give the team a chance. Barcelona would score 3 goals in the second half to put the game beyond all hope. A Maxi Gomez goal in extra time would be the start of his goal scoring campaign for Valencia but was only a consolidation prize in the game.
Valencia and Barcelona have both had tough times in the Copa del Rey fixtures midweek. Ibiza scored early (7 minute) against Barcelona and kept the lead all the way to the 72nd minute of the game when Griezmann evened it out. The draw would drag out to stoppage time when Griezmann would go on and win the game in the 4th minute. Valencia played against Logroñés and although they scored midway into the first half, struggled to convert several chances afterwards in typical fashion. The game would then tense up and Logroñés was allowed to dominate extended periods of the second half. Valencia would maintain the scoreline but eventually had to play to run down the clock as they couldn't risk going for the win.
In the previous La Liga matchday, Valencia suffered a heavy 4-1 away loss against relegation side Mallorca. On the other hand, Messi guided Barcelona to 1-0 home win to Granada but only after they had been reduced to 10 men via red card.
Valencia currently sit at 7th with 31 points from 19 games, while Barcelona are 1st with 43 points from the same number of games.
It should be noted that Barcelona replaced their manager Valverde with Quique Setién only two game prior and they have struggled in both of those games (Granada and Ibiza).
Valencia La Liga form: LWDDW
Barcelona La Liga form: WDWDD
SQUAD
Cillissen was meant to start the previous fixture against Logroñés, however he felt discomfort during warm-up before the game and was replaced by Jaume as a last minute decision. The discomfort persists and he will be out of this game as well with Rivero providing cover as a substitute.
Cheryshev's injury also takes him out of this game but the estimated recovery time has yet to be announced. He missed the last game as well. Esquerdo is called yet again to the squad, this time as cover.
Paulista and Kondogbia, who were both suspended from the midweek Copa del Rey game due to bookings in the previous season, return to the lineup for this game.
All eyes will be on Rodrigo who has returned after missing two weeks with injury. In the meantime, he has been linked with a move to Barcelona to reinforce the side in the long absence of Luis Suarez through injury.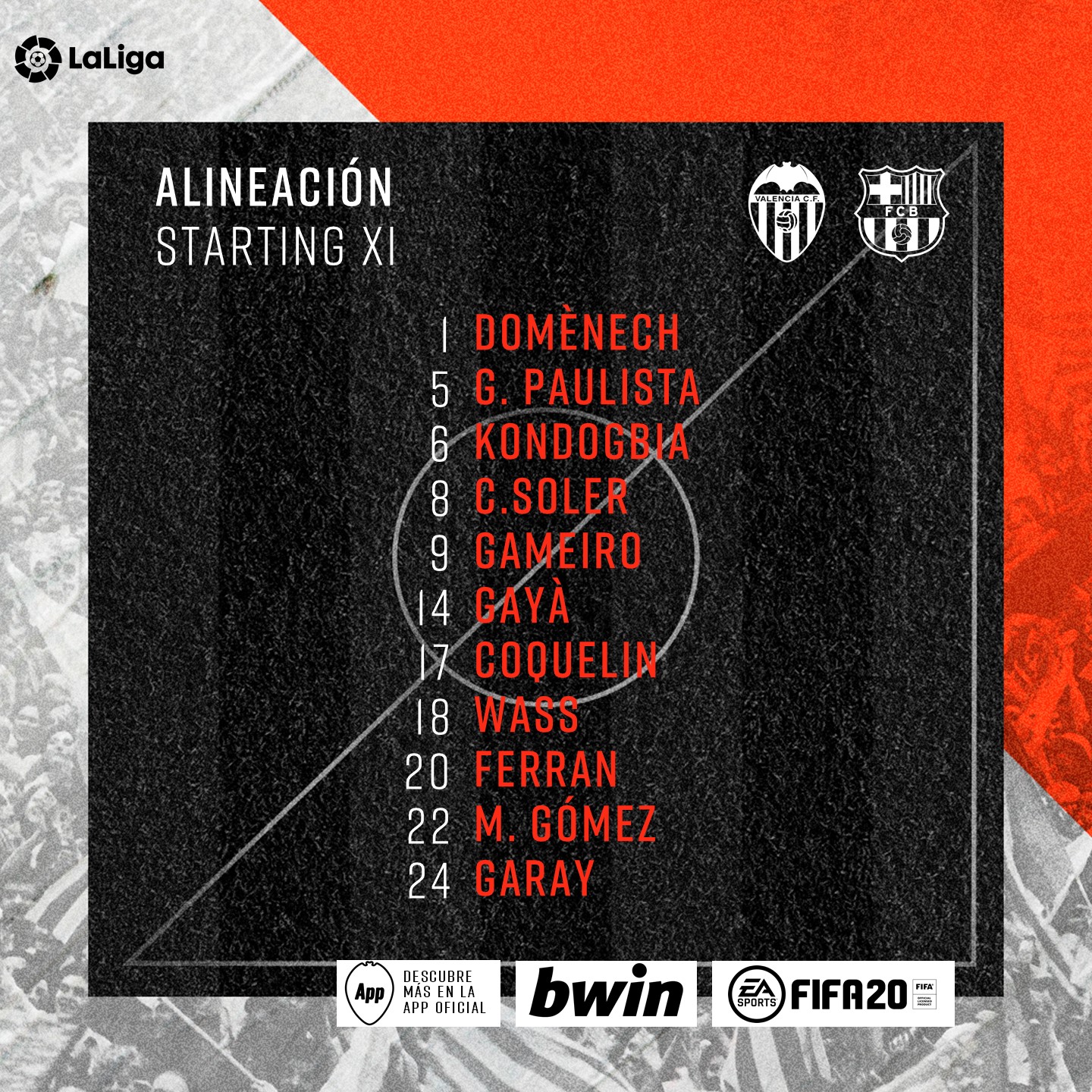 In midfield, as predicted, both Kondogbia and Coquelin start with Parejo's susupension appeal failing. Celades opts not to start Rodrigo in favor of a Gameiro/Maxi Gomez partnership.
It is most likely a 4-4-2 but if Soler joins the kidfield to join Kondogbia and Coquelin it could crowd the midfield to deal with Barcelona's midfield. Gameiro could then move wide and we would see a 4-3-3 but Celades is likely to stick to the familiar.
Bench: Rivero, Costa, Diakhaby, KangIn, Esquerdo, Sobrino, Rodrigo
MATCH
10' - Penalty for Valencia and a yellow card for Pique for the foul! Kondogibia's through ball attempt was blocked but Carlos Soler gathered the ball and found the overlapping run from Gaya. Gaya passes his defender and is through on goal before Pique intervenes and takes him out from behind. Maxi Gomez steps up to take since Parejo is absent.
11' - Ter Stegen saves the shot. Maxi hits it with the right power but it's at a good height for the keeper and he guessed the direction correctly. Ter Stegen seemed to be a bit off his line but it rarely gets called anyway. Unfortunate.
28' - Valencia with another great chance, started by Soler again. He picks out Maxi Gomez who had drifted wide. Maxi cuts inside and takes a shot and Ter Stegen pushes it into the crossbar and back out. It falls to Gameiro inside the box but again Ter Stegen saves his shot.
43' - Yellow card for Umtiti
45' - Chance for Barcelona early on. Messi picks out Ansu Fati with a through ball but the youngster cannot hit the target, it's well wide.
48' - GOAL VALENCIA! 1-0! An own goal by Jordi Alba. Wass starts the play with an overhead pass for Maxi Gomez. Umtiti intercepts with a header but it's poor and gives possession to Gameiro, who then delivers it to Maxi. Maxi scuffs the shot and it travels all the way across goal where Gaya manages to keep it in play and crosses it. The ball is headed across by Pique and then Jordi Alba but falls to Maxi yet again. He takes a shot and it deflects off Jordi Alba and into the roof of the goal past Ter Stegen.
52' - Yellow card for Sergio Busquets.
54' - Yellow card for Coquelin.
56' - Barcelona's first change is Arturo Vidal on for Arthur.
59' - First substitution for Valencia. Gameiro off, Rodrigo on.
77'- GOAL VALENCIA! 2-0! Maxi Gomez with the goal. It started with a Rodrigo throw-in straight to Ferran Torres in an advanced position. Ferran retains possession and waits for Maxi Gomez to get into the box and picks him out with a through ball. Rodrigo joins the players in the box but Maxi goes for the shot using the Barcelona defender to mask the keeper's vision and curling it around to the far post. Great goal! This is what he was signed for!
80' - Second change for Valencia. Maxi Gomez off, Jaume Costa on. Clearly a defensive change as Celades wants to retain this scoreline.
85' - Barcelona with a double substitution. Frankie de Jong and Fati off, Rakitic and Collado on.
89' - Valencia with their third and final change to run down the clock. Sobrino in for Soler.
FULL-TIME
Better than most people could've hoped for. A fixture that had been unwinnable for such a long time has finally ended in a win even without Parejo.
Barcelona seemed far off from the lethal force they used to be. Partially because Suarez was absent and partially because of the coaching change. However, even then it seemed like a very tame Barcelona. Their only good chance came from Ansu Fati at the start of the second half?
Valencia were unfortunate not to score from the penalty early on in the game. The decision to award was correct and Gaya did well to win it. He clearly anticipates the challenge and takes the ball away from Pique to draw the foul. It was Maxi's first penalty so it's alright. It would actually be favorable if the strikers start taking the penalties just so that they can get their goal tallies up and build confidence. In most other teams that is the case.
Valencia's first goal did come from a deflection which was fortunate. However, the play building up to the goal involved a lot of mistakes from the Barcelona defense. Umtiti's initial clearance was rushed and Gaya's cross, although it was headed away by Pique and then Jordi Alba, was not dealt with well enough and fell straight to Maxi Gomez.
The second goal put the game away and was good to see. A thrown-in from Rodrigo to Ferran caught the defense sleeping. They were drawn to Ferran leaving Maxi in space and he finishes really well. He is now at 8 goals in La Liga and looks like he will add more.
Good results with a clean sheet as the icing on the cake. It was unexpected but a very welcomed surprise. The team seems to cope better against more dominant teams and is good at punishing them with counterattacks.
Next fixture is this Wednesday the 29th when Valencia play Cultural Leonesa in the Copa del Rey Round of 16. Amunt Valencia!