Valencia return to La Liga to officially start the second half of the season. The team travels away to play Mallorca at the Iberostar Stadium.
During the break Valencia had a chance to recover some of the players on the injury list. These players have been the only reinforcements so far for the team with the transfer activity remaining fairly quiet since the window opened. The break also featured Valencia travel to Saudi Arabia to participate in the Spanish Super Cup, as the Copa del Rey champions. The result was disappointing with low effort and energy amidst a crowd that made their favorites clear from the get go. The team suffered a 3-1 defeat to Real Madrid with the only goal coming from a Parejo penalty in the dying minutes of the game. It would've been nice to win but I doubt the fans, players or club management is that upset about this competition.
In La Liga, Mallorca's last game had them travel away from home to play Granada. A game that they lost 1-0 with a goal in the first half. For Valencia, the last matchday was a home game in which the team delivered a 1-0 win against Eibar. Maxi Gomez scored mid-way into the first half with a great header assisted by Wass.
The last game against Mallorca earlier in the season ended in a 2-0 home win for Valencia with Dani Parejo scoring both goals. That game was Marcelino's last game in charge of the team despite the result.
Mallorca are in the relegation spots at 18th with 15 points from 19 games. They are tied for the 2nd worst defense of the league conceding 33 goals. Valencia are 7th with 31 points from 19 games.
A win for Valencia would take them to 5th place, 1 point behind Sevilla.
Mallorca La Liga form: WDDWW
Valencia La Liga form: LLDLL
SQUAD
The most notable addition to the lineup is KangIn who returns from a long-term injury. Ferran is also included in the list, after his injury estimate of a false flag with original estimates of injury between 3-4 weeks.
Garay is out of the list with an ankle discomfort that he suffered during the game against Real Madrid. As a result, Mangala returns to the squad list.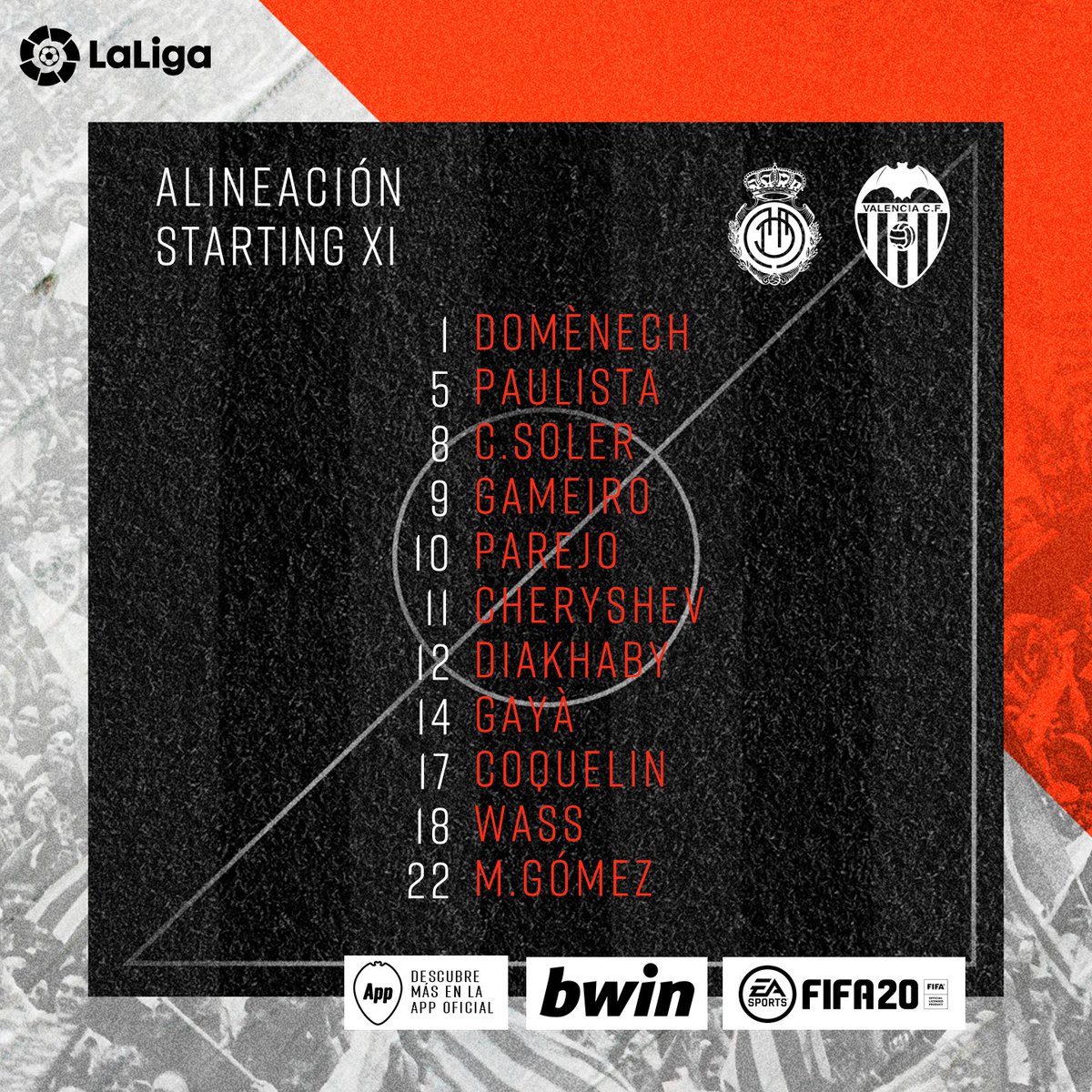 Bench: Cillissen, Mangala, Costa, Kondogbia, KangIn, Ferran, Sobrino

MATCH

6' - Yellow card for Dani Parejo. He will miss the next match against Barcelona due to accumulated bookings.
7' - Goal for Mallorca. 1-0. Raillo gets onto the end of the free kick delivery, unmarked. Wass was supposed to mark him but he seems to have slipped, giving him a free shot at goal.
12'- Yellow card for Coquelin. Two early yellows now for Valencia.
22' - Goal for Mallorca. 2-0. Budimir gets onto the end of a ball across goal and taps it past Jaume. The defending is atrocious, it's like the players are just training ground cones. Coquelin and Diakhaby who are usually solid, giving way too much space to Mallorca.
38' - Yellow card for Raillo.
41' - Goal for Mallorca. 3-0. This is getting really bad. Three goals down against a relegation side is just embarrassing. A through ball from Salva Sevilla splits the defense and isolate Budimir against Diakhaby. Diakhaby trips over his own feet and Budimir uses the opening to fire across goal to the far post and Jaume can only grasp for air as the ball sails past him.
44' - Celades with an early substitution. Ferran Torres replaces Cheryshev.

51' - Red card for Valencia. Parejo receives a second yellow card. It is surely all over at this point. The tackle itself looked clean, surprised that this was given. VAR didn't think this was a clear and obvious error?
55' - Yellow card for Salva Sevilla.
60' - Yellow card for Reina.
61' - Second change for Valencia. Kang In comes on to replace Gameiro.
64' - Mallorca with their first substitution. Pozo on, Hernandez off.
69' - Another change for Mallorca, the booked Salva Sevilla is replaced by Febas.
79' - Goal for Mallorca. 4-0. In a game like this, even this goal goes in. A long range effort from Dani Rodriguez rockets into the bottom right of Jaume's net. Jaume can do nothing about it. Mallorca play around Coquelin and Diakhaby like there not even there. What's going on?
82' - Goal for Valencia. 4-1. Ferran gets a consolidation goal. Even in the worst of games, he manages to get something. Wass with a simple ball into the box. Ferran is unmarked with space inside the box. The keeper is frozen as the shot sails into the net.
87' - Yellow card for Ferran Torres.

FULL-TIME

Where did this come from? The team looked very complacent against Real Madrid in the Super Cup but this is something else. What other team fighting for the European spots would let Mallorca walk away with this scoreline?

There really is no excuse for this. The players had time to rest, there was plenty of time between the previous game and this game to train and prepare, and the squad is more complete than it's ever been.

Players that are normally reliable showed up this game with minimal effort. They could not be bothered to close down the Mallorca players or apply any pressure whatsoever. The passing was very simple and nonchalant. There was a lack of intent today.

It's weird how even in earlier games against relegation sides, the team cannot find its way. They seem to do better in general against stronger teams. It's not like Mallorca or Valladolid parked the bus exactly, they actually went for it. Valladolid was a struggle. Mallorca ran over Valencia and could have had 1 or 2 more goals off of good chances as well.

Rodrigo's absence explains some of the woes in attack since he was the vital link in the chain in transitioning to offense. In defense, Garay was missing sure. But does his absence warrant 4 goals? The team will be screwed if he leaves then. Surely, there the team cannot be that different with these two players.

Valencia had been in good form in terms of results, not necessarily good performances though, before the break. Since then Celades had two games in a row where the team looked like a relegation side. Against Madrid is one thing but Mallorca is a different thing, not to take away anything from them.

Some will say these is an indication that the team is in desperate need of signings. The signings were needed regardless but this performance is more about character, intent and effort. Even the basics were lacking. It could just be a short-term lull in performances but Celades will start to feel the pressure if more of these occur.

Next game will be on Wednesday the 22nd against UD Logroñés in the Copa del Rey Round of 32.