Here we go, the big game is upon us. The team has a chance to reach heights that haven't been attained for a while - the Champions League Knockout Stages.
The team could not secure qualification in the last matchday, although they were very close. The 2-2 draw against Chelsea at Mestalla was a game where the scoreline could not possible tell the whole story. The chances came and they fell exactly to the players that they wanted them to fall to but it just wasn't to be. Those misses cannot be repeated here.
Ajax has beaten Valencia in the previous leg of this fixture earlier in the season. The team suffered a 3-0 loss at Mestalla, and that one was a game to forget. However, this is not the same team anymore. Celades only had a few games under his belt and not enough to time to gel with the team and implement his ideas. I think a win is a realistic goal, although the team will have to work very hard to get it.
Ajax come into this game with a 0-2 loss at home against Willem in the Dutch Eredivisie. They had dominated the possession that game but did not make the most of it. They played a day before Valencia did against Levante so they had an extra day of rest. The previous Champions League game saw Ajax win 0-2 away from home against Lille. That win leaves them top of the group table at 10 points from 5 games.
Valencia's weekend had the team play in a local derby against Levante. They had fallen two goals down in the first 20 minutes of the game and it was looking like a disappointing game. Aided by a late own goal at the end of the first half and some half-time change in ideas, they found the strength in the second half to score 3 more goals to secure a comeback and a 2-4 away win. In the Champions League, the 2-2 draw against Chelsea in the previous game leaves Valencia tied with Chelsea at 8 points. With the tiebreaker considered Valencia is currently second and would qualify.
All that is required is to match or surpass Chelsea's result since the tiebreaker favors Valencia. However, Chelsea have Lille at home and Valencia has Ajax away from home. The focus should be to go for a win and not worry about the other game. Go with the mindset that Chelsea will win their game and if they don't that's a bonus.
Ajax Champions League form: WWDLW
Ajax League form: LWWWW
Valencia Champions League form: WLDWD
Valencia League form: WWLWW
LINEUPS
In the last game against Levante, the team had recovered Diakhaby from injury but ended the game by losing Cillissen to injury. He misses this game. Garay is suspended from this game for yellow card accumulation. In training, there was more bad news as Maxi Gomez also fell to injury. This takes one of Valencia's top scorers out of this game. It will make the game harder no doubt. However, with Gameiro playing in good fashion last game, we have a good replacement.
Rivero is promoted to 2nd goalkeeper for the game and Bernad is called up as 3rd. In defense, Mangala returns to cover Garay's absense. Esquerdo continues to feature in the squad list and is joined by Pablo Gozálbez to complete the squad numbers.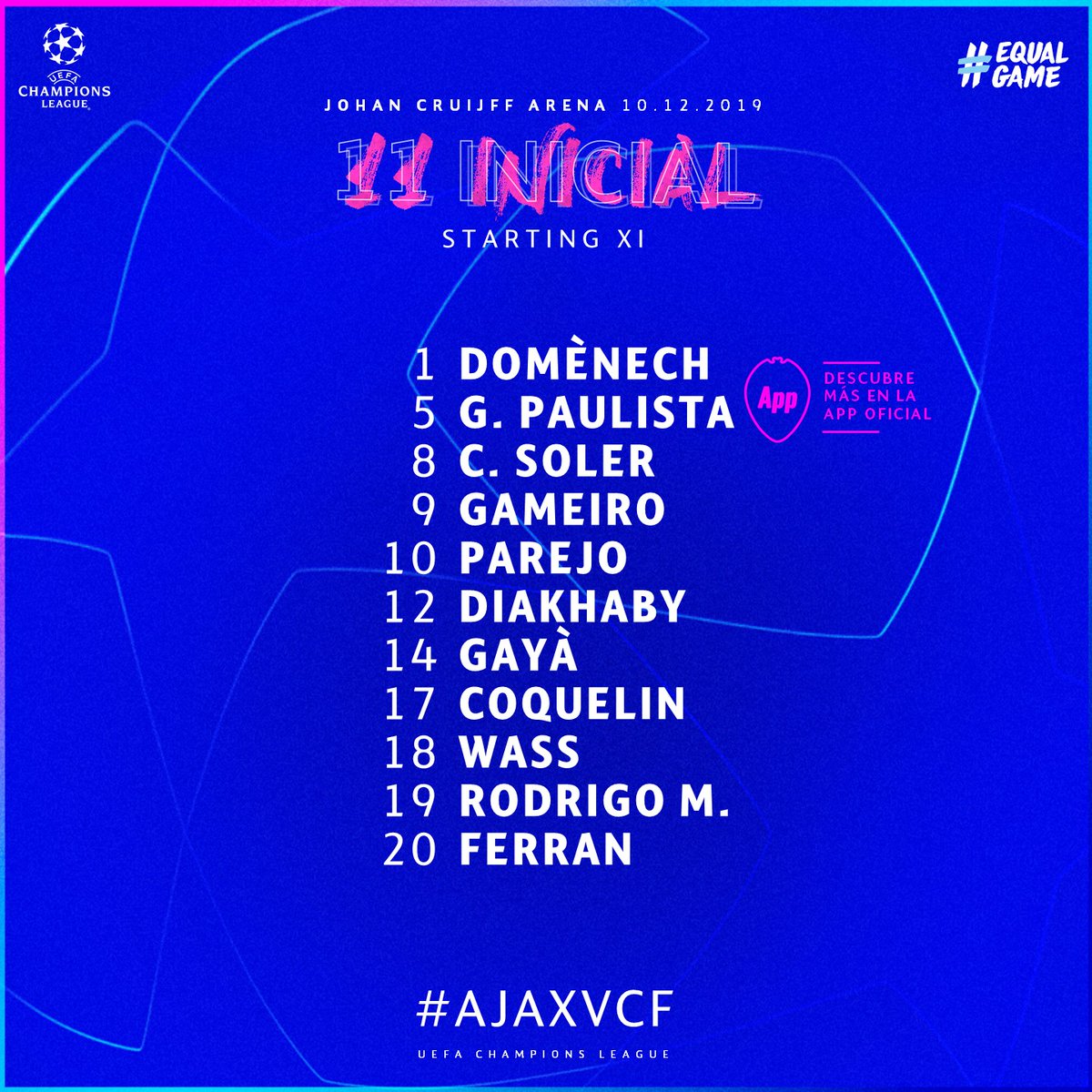 It looks like Celades will keep the 4-4-2 and not adjust for injuries. Diakhaby is preferred over Mangala as the starting CB. With the attacking players limited due to injury, the team only has Vallejo as an attacking substitution. Gaya and Correia can play further up on either side in midfield and that might free up Vallejo or Ferran to play further forward but only if necessary should this be done.
Bench: Rivero, Mangala, Costa, Correia, Pablo Gozalbez, Esquerdo, Vallejo
MATCH
2' - Great chance for Valencia is missed. The corner delivery is flicked on by Paulista at the near post to Rodrigo who gets a header of his own but cannot hit the target.
6' - The Valencia clearances are looking a bit sloppy, they always fall to Ajax players.
9' - Yellow card for Ajax, Alvarez trips up Soler who was running into space.
10' - Parejo takes the freekick but plays a short one to Gaya who tries to pick out Rodrigo but the pass was over-hit.
24' - GOAL VALENCIA! 0-1! Gaya picks out Ferran who disguises his pass to Rodrigo as a shot. Rodrigo fires the ball into the top right corner!
26' - So many Ajax fouls.
36' - Ajax with a very dangerous ball into the box, Jaume just manages to push it away.
42' - Gaya with a very good clearance after an Ajax free kick. The flicked ball was going towards goal.
44' - Gaya sets up a chance on the opposite side. Through ball from Soler to pick him out, he crosses to Gameiro in the center. Gamerio looks up finds Rodrigo, plays him in. Rodrigo feigns the defender and gets some space but his shot is blocked by another defender. Gaya with a real presence this game. Good to see after his injury.
HALF-TIME: Valencia with quite possibly one of, it not, the best first halves under Celades. The pressure applied forced Ajax into many mistakes that they don't normally make and the chances follow from them. In the first game, Ajax were allowed to keep possession with no pressure and this was addressed in some part today. Valencia almost took the lead 2 minutes into the game with an open header for Rodrigo but he couldn't hit the target. Rodrigo would then go on to score the goal that put Valencia ahead following a great build up. Gaya started the play in an advanced position, forcing a mistake from the Ajax defense. He found Ferran on the right and Ferran disguised his through ball to Rodrigo. Rodrigo would score this chance despite it being more difficult that his first.
Chelsea lead 2-0 in their game against Lille so Valencia must maintain this win to go through. Valencia usually play a better second half and if the first half was already quite good, the second half could be great. The guard cannot go down though. There were many dangerous plays by the Ajax players but the two banks of 4 have kept them at bay. Coquelin is also having quite a decent game in midfield winning possession and intercepting passes. Diakhaby is dealing with any aerial threats in defense.
45' - Half time substitution for Ajax. Dest in for the booked Alvarez.
48' - Lang draws out Paulista wide, beats him and sets up Ziyech for a change but he cannot hit the target, it's wide at the far post.
51' - Tadic clashes with Paulista and falls down on top of him, causing injury to his knee. He is getting treatment on the sidelines. We cannot afford another injury.
53' - First substitution for Valencia. Gameiro is replaced by Vallejo. Gameiro looked like he was struggling with a knock/injury. That's another player out. Paulista limps back onto the pitch.
54' - Rodrigo with a decent chance. He found the opening at the edge of the box and curled a shot at the far post but slipped in the last moment. The ball barely scrapes the top left corner of the post.
55' - Paulista putting his body in the firing range to block and Ajax shot. Possession returns to Ajax and another ball is played into the box. Jaume scrambles off his line and gathers up the ball pressured by Ajax players.
59' - Diakhaby getting to every cross and aerial ball first. Ajax struggling to get one past him.
66' - Ajax with a huge opportunity. de Beek setting up Tadic with a square ball into the area but he completely misses the target.
68' - Another linkup between de Beek and Tadic, this time from the right. The cross results in an overhead kick but it's wide again. Ajax really stepping up the pressure.
70' - Second change for Ajax, Lang off for Huntelaar
77' - Ajax getting really frustrated. Every touch on a Valencia players is getting awarded as a free kick. But Ajax doesn't learn and keeps at it.
78' - Yellow card for Jaume for time wasting.
79' - Vallejo makes a chance for him with a slick touch to pass between the left-back and the central defender. Tagliafico takes him out and gets booked. Yellow card only. Parejo with a free kick well within his range.
80' - In the protests and arguments that ensue, Parejo and Onana get booked. Yellow card for each.
82' - Parejo's free kick hit right at the keeper. Easy save.
83' - Van de Beek with a dangerous challenge on Gaya. Yellow card.
85' - Vallejo booked for a late challenge.
86' - Valencia content with playing the ball to the opposing corner flag to waste time.
88' - Ajax with their final change. Tagliafico off for de Jong.
89' - Miscommunication between Wass and Jaume running into each other. The ball is loose but Wass manages to clear, it falls right to an Ajax player at the edge of the box. He fires at the open net but Jaume reaches just in time to deny him. These saves are as good as goals.
90' - Five minutes of time added by the referee.
91' - Gaya gets beaten and the cross meets Ziyech at the opposite flank. He volleys at the near post but Jaume is up to it again.
93' - Red card for Valencia. Paulista with a moment of stupidity after a great game. He gets fouled and retaliates with a headbutt, getting sent off. Tadic gets booked for his involvement. It's a corner for Ajax.
94' - Celades still has one more substitution and he's using it. Mangala will come on to take Paulista's spot. Ferran Torres is sacrificed. Paulista will miss the next 3 games for suspension according to commentary.
95' - Mangala clears the corner in his first involvement.
96' - Diakhaby clearing every long ball that Ajax is putting in desperately. The referee blows the whistle! It's over!
FULL-TIME
Valencia held out! They've done it! They've beat Ajax, away from home, with a clean sheet and qualified at the
top
of the group. Chelsea finished second. Ajax is eliminated and goes to the Europa League.
The second half was pretty much all about the pair of Paulista and Diakhaby, as well as Jaume in goal. It was a barrage of Ajax efforts and their response to deny those efforts. Jaume produced some stretched clutch saves that are the equivalent of goals on the other side. Diakhaby dealt with every aerial threat. In the dying minutes of the game when Ajax got desperate and starting putting in long balls, Diakhaby was heading them away with ease, shutting down any hope. Paulista dealt with efforts on the ground. He caused a scare towards the end with his red card, reducing Valencia to ten men. It was a stupid challenge and could've cost the team, but luckily there wasn't much time left.
It was no surprise that someone was going to get sent off. The game had 8 yellow cards and Paulista's red card capped off the bookings. It was a straight red meaning he will the next few games for suspension. Hopefully Garay and Mangala will be fit enough to cover.
I think most people had written off Valencia for this game and it's good to produce this convincing performance on a night like this. Despite Ajax dominating possession, they didn't have a single shot on goal for the majority of the game. Only towards the end did they get their chance.
Valencia managed to frustrate Ajax drawing many challenges and capitalizing on them to win free kicks and disrupt Ajax's flow.
Very good game all round although unfortunate about the red card and Gameiro's injury. The effort really showed out there today.
This win will bring Valencia to the round of 16 for the first time since the 2012-13 season where they faced PSG. This win also brings 2.7 million euros for the result and 9.5 million euros for the qualification. This will help in the club's financial situation and give the club more leeway in transfer dealings.
Next game is on Sunday against Real Madrid in La Liga at Mestalla. With a win like this to take to that game, bring it on! Congratulations everyone! Amunt!