Final game of the year for the team. A chance to build on recent successes and cap off 2019 on a high note. 2020 will bring with it 2 more competitions in the Copa del Rey and Spanish Super Cup so the break after this game is much needed.
Valencia played against Real Madrid, the current joint league leader, in the previous game and what a game that was. While Valencia was on the back-foot for the opening minutes of the first half, they would settle in shortly afterwards and take the game to Real Madrid. Valencia after that threatened Real Madrid with each attacking play and quite frankly made their star-studded line up appear average. Their creative players were contained, and their defense was kept busy with Ferran and Rodrigo upfront. Valencia would take the lead through Carlos Soler who was set up by Wass following a nice counter-attack. Real Madrid would remain on the back-foot for the remained of the game until the stoppage time when Courtois would come up, win the header, and Benzema would react first to the spilled ball to beat Jaume. Valencia proved that game that they could go toe-to-toe with the big teams.
Real Valladolid have been in quite poor form recently in the league. Last game, they suffered a 2-0 defeat from Getafe away from home, conceding one goal in each half. They had a slight confidence boost mid-week in the Copa del Rey with a convincing 3-0 win away from home against Tolosa. They have difficult in front of goal, being joint 3rd for least number of goals scored. However, they have less goal conceded than us at this stage of the season.
Valencia come in at 8th with 27 points, while Valladolid are 15th with 19 points.
Real Valladolid La Liga form: LDDLL
Valencia La Liga form: DWWLW
SQUAD
Good news this game is the return of Cheryshev to the squad list. It is unclear yet if he will start but it's good to see the recovery is going well. This leaves, Cillissen, Piccini, Guedes, Maxi Gomez and Gameiro on the injury list. I guess you can even count Mangala there too. Still some crucial players but hopefully, with the New Year, we get a lot of them back.
Last game, Celades went with Ferran as Rodrigo's partner upfront, he could very well do it again although Sobrino and Vallejo are available to play there as well.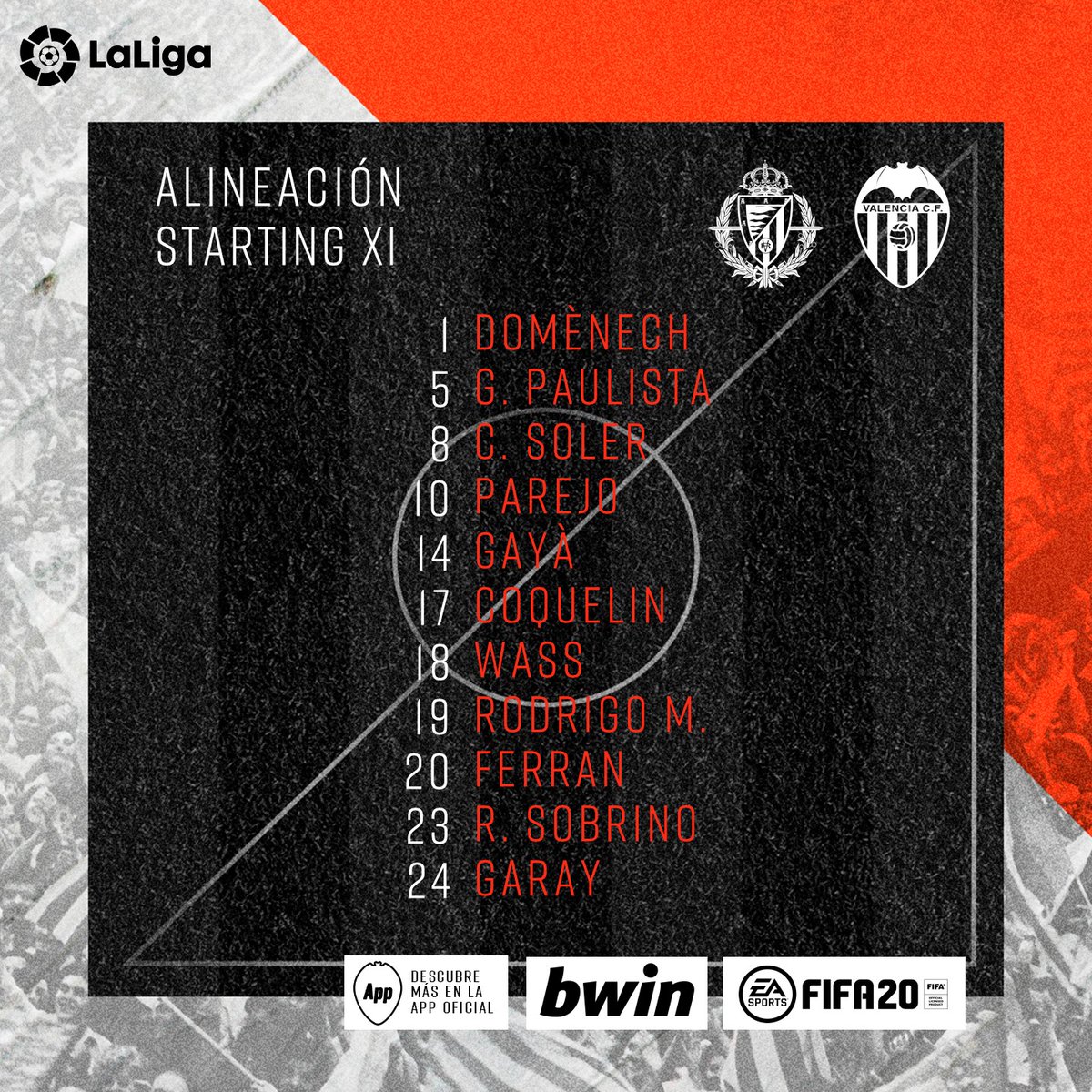 Indeed, we see that Sobrino will partner Rodrigo today. He did well prior to his injury, hopefully he can do so again. The rest remain as usual.
Bench: Rivero, Diakhaby, Costa, Esquerdo, Kondogbia, Cheryshev, Vallejo
MATCH
34' - Carlos Soler gets a yellow card for taking down an opposing player.
60' - First change for Valencia. Sobrino is taken off for Cheryshev.
68' - Rodrigo Moreno is substituted for Manu Vallejo. It seems like he's suffering some discomfort. Hopefully not a long injury. Valladolid also with a sub, Sergi Guardiola comes on for Sandro.
71' - Piano on to replace Hervias for Valladolid
78' - Valladolid with their final change, Anuar for Villa.
81' - Coquelin picks up a yellow card and gives Valladolid a free kick.
83' - Goal for Valladolid. 1-0. The free kick from Sergi Guardiola was well placed and it appeared that Jaume had saved it, clawing it out of goal. VAR shows the ball crossed the line before it was knocked back out. Seven minutes to salvage something from this game.
86' - Final move by Celades, Soler off, Esquerdo on. Maybe he's worried a second yellow?
90' - Parejo with an act of frustration, shoving an opposition player who was pecking away at him trying to get the ball. Yellow card for the captain. Four minutes of additional time.
90'+4' - GOAL for Valencia! 1-1! Manu Vallejo rescues a point. Valencia keep playing until the final minute and get a goal to show for the effort. Parejo plays the best pass he made today, picking out Ferran Torres out wide. Ferran proves decisive once again playing the ball with plenty of pace across goal to Manu Vallejo who was ready at the far-post.
FULL-TIME
It would have been great to finish off the year with a win but it wasn't to be. The team didn't show up for the majority of the game today. They only really woke up in the final minutes. The goal from Valladolid was the call to action needed.
Jaume had done a great job for the entirety of the match up to the goal. He kept Valladolid at bay as long as he could but he couldn't react to that well-placed free kick in time to stop it from crossing the line.
The team struggled to break down Valladolid and threaten to the the level we've seen against Ajax and Real Madrid in the game prior. Sometimes the "smaller" teams on paper cause more trouble and there was no solution to deal with it. The players on the bench offered more of the same and nothing significantly different. It was great that it eventually resulted in a goal from Vallejo, but Ferran and Parejo had more to do with that goal.
It would've been great if Celades could bring on KangIn, Gameiro, Maxi or Guedes to change the game instead of Esquerdo but that wasn't an option due to injuries. Hopefully we recover them and we can see what Celades can do with the full squad at his disposal. He hasn't really had a chance to have a significant amount of the time with the full squad and he's done fairly well. These reinforcements should take the team even further.
Everyone seems tired and needs to rest and recover before a busy start in the start of the second half of the season. The Copa del Rey, Spanish Super Cup, the Champions League knockouts and a La Liga race for top 4 await and we need everyone to play their part to achieve success.
It turns out Rodrigo only had a muscular overload and should make his return for the Spanish Super Cup game against Real Madrid.
The transfer window opens January 1st and there have been hints that signings will be made from multiple levels at the club. The priories are a right-back and some to rest Parejo because he seriously needs it.
Next game is Saturday, January 4th at Mestalla against Eibar. Amunt!