After the euphoria of qualifying to the next stage of the Champions League mid-week, Valencia have their next obstacle ahead of them - the 2nd place team in the league.
In a season where a lot of the teams have under-performed, Real Madrid is no exception. Sure, they are down a point to the league leaders (with a game to spare) but the road was bumpy on the way there. Even in the Champions League, they finished second by a margin to PSG.
Valencia come in with good form and good spirit, 4 wins from the past 5 games in La Liga. The game against Ajax away midweek, was a full 90-minute performance, great attack in the first, rock-solid defense in the second. Their previous La Liga game was a 4-2 away win to Levante in the local derby. The goals and results are starting to show, but Celades has to keep the team on track and doing the right things.
Real Madrid are also in good-form with a similar 4 wins in the past 5 games. They had an away trip to Belgium against Club Brugge mid-week in which they won 1-3. Zidane was criticized for playing an unconventional lineup, probably resting players for this game. In La Liga, Real Madrid beat Espanyol 2-0 at home.
Valencia La Liga form: WWLWW
Real Madrid La Liga form: WWWWD
SQUAD
With Gameiro getting injured midweek he will be out of this game's squad list. In good news we've recovered Kondogbia and Sobrino to reinforce the lineup. I don't know how fit Sobrino is, so it might be Rodrigo and Vallejo to start, we'll see.
Mangala get dropped from the squad list since Garay can play this game.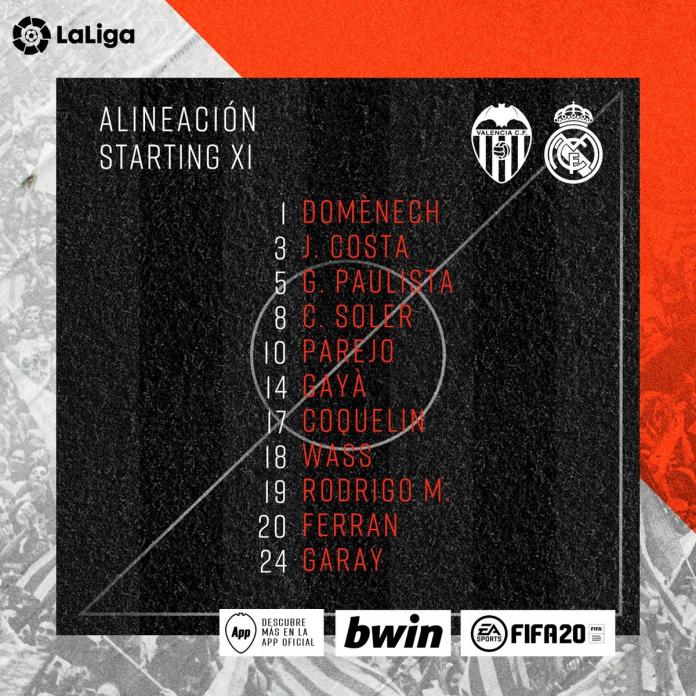 After a scare in the day building up to the game, Rodrigo is part of the starting XI. A good performance from him is much needed. He has managed to string together great performances in recent games and it will be required again today.
In the back line, we see both Gaya and Costa starting as the full-backs. Wass is pushed further up-field. This could be as part of a midfield trip or on the right-flank. If it's the former that means we have a formation change. If it's the latter it means Ferran is going to be playing alongside Rodrigo as the front two. This will be interesting as they are both very mobile dynamic players. They could cause all sorts of problems for the Real Madrid defense. Vallejo, for now, waits on the bench alongside Sobrino for a chance to get in on the action.
In midfield, Cheryshev should be back in the next game but he was ruled out as a technical decision in this game. Kondogbia is available but Coquelin who has more match fitness is preferred. Garay and Paulista are the chosen center-backs.
Bench: Rivero, Correia, Diakhaby, Costa, Kondogbia, Vallejo, Sobrino
MATCH
3' - Coquelin stepping in between Rodrygo and the ball to stop his run into the box. Rodrygo falls and tries to win the sympathy of the referee and angers Coquelin.
5' - Great touch by Jaume Costa to take out the defender and find Rodrigo. Rodrigo is in space, driving forward, plays the through ball to Soler but he loses the ball under pressure from Varane
6' - Valverde testing Jaume from distance with a low shot but the keeper parries it away.
8' - Coquelin stepping in again to take Modric off the ball after he found space at the edge of the box
9 - Real Madrid applying tons of pressure on the Valencia defense, forcing a few giveaways, Valencia dealing with it so far.
12' - Real Madrid are peppering away at Jaume's goal, forcing yet another save from Jaume
14' - Real Madrid switching play very quickly between flanks, stretching the defense. Kroos finds the overlapping run of Nacho, cross for Benzema, he gets to the ball first but heads it wide. Dangerous chance.
17' - Rodrigo with another transition play. He receives the ball between the lines, drives forward, picks out the run of Ferran with a through ball, Ferran gets away from Varane and gets a shot but the the keeper saves at his near-post.
20' - Jaume with another saves from a Rodrygo header after a cross from the opposite flank, delivered by Carvajal.
26' - The few times Valencia breaks free of the pressure and counter-attacks, Real Madrid is resorting to tactical fouls to bring the players down. Hopefully, they start getting booked for these.
30' - Modric takes out Coquelin from behind, yet another example of a tactical foul to stop the counter-attack.
34' - Coquelin is having a great game, defensively he stopped some dangerous plays and now he's pressured Modric all the way back to his own corner flag, forcing a hurried clearances that costs Real Madrid the possession of the ball.
37' - Yellow card for Valencia. Carlos Soler is booked for a kick on Carvajal
HALF-TIME: Well the team has survived that intense pressure. Real Madrid had the edge on possession, chances and shots on goal. A lot of the Real players were rested midweek so they have the energy to do so. The pressure has forced some mistakes from the Valencia end and Jaume was forced into save after save. He's looking sharp and has kept the scoreline the way it is. Coquelin was also instrumental to win back possession for Valencia and start attacks of their own.
Madrid's efforts mostly are long-range shots or a result of crosses from wide positions whereas Valencia is taking the usual direct approach for goal. Real Madrid were threatened by the Valencia counters though, often forced to take out the Valencia players in tactical fouls to stop them. Valencia got into the game more towards the end of the half.
Wass and Costa are linking up well on the right. The same can be said for Rodrigo and Ferran up front. They are causing trouble for two very experienced defenders, so it's a good sign. However, I think Soler is the weakest link in this game. He has given the ball away a lot, abruptly ending a counter-attack or giving Madrid possession in the Valencia half. This is not typical of him and no doubt will be fixed in the second half. Let's see if Valencia can step it up in the second half and get a goal.
46' - What a chance for Valencia. Paulista with a long clearance, Soler gets to the second-ball and plays a touch to send Ferran completely though on goal, 1v1 against Courtois. Ferran tries to beat the keeper through his legs but unfortunately cannot do that. That was the best chance of the game.
50' - Good pressure from Valencia in the start of this second half, Madrid being forced to amke mistakes.
53' - Another chance from Valencia. Valverde leaves his position to press the Valencia defense but the space is exploited by a pass from Parejo forward. Costa crosses the ball into the box but Ferran is smothered by the two center-backs and cannot get on the ball.
55' - Rodrigo holding his own under pressure from both Modric and Carvajal and still retaining possession for his team.
60' - First substitution for Valencia. Jaume Costa comes off and Manu Vallejo comes on. Wass returns to right-back. Vallejo is playing up front with Rodrigo and Ferran is moved wide on the right. Nacho often leaves a lot of space when he goes forward, Ferran can definitely exploit that.
62' - Parejo being a lot more direct this game, passes are playing first time to forwards, less side-ways passing than usual.
65' - Gaya with a driving run forward. Vallejo runs ahead of him drawing defenders away. Gaya plays a curling cross into the box, Rodrigo and Courtois rush towards it and the keeper just gets there first.
68' - Zidane using a double substitution. Bale and Vinicius come on for Rodrygo and Isco. Two very dangerous players have arrived.
73' - Unexpected mistake from Coquelin, leaves Benzema in space near the penalty area, he draws defenders away and picks out Vinicius but the pass is slightly over-hit. Wass blocks the ensuing shot with his body, resulting in a corner.
76' - Yellow card for Carvajal for a sliding challenge to stop Soler's run.
78' - GOAL for Valencia! 1-0! Soler with hist first goal in La Liga. Wass beats Nacho for the aerial ball from Parejo, picks out Rodrigo who is quick to drive forward. He returns the ball to Wass who look up, sees Soler arrive late in the box and he pulls the ball back for him. Soler fires straight into the roof of the goal. Brilliant!
81' - Real Madrid bring on Jovic to replace Modric, clear attacking intent. Valencia prepping to introduce Kondogbia.
82' - The second Valencia substitution is Coquelin for Kondogbia. Fresh legs to deal with Madrid's final 10 minutes.
89' - Final change for Valencia. Diakhaby is brought on to cope with the offense in the closing minutes, Ferran is rested.
90' - Yellow card for Valverde for following through on the challenge to Garay. Four minutes of additional time. VAR interrupts and corrects the referee. Valverde's yellow is overruled and Jovic receives it instead.
92' - Valencia with another excellent chance. Ferran and Rodrigo linking up exploting the space left behind. The shot is hit right at Courtois.
93'- Jovic scores for Real Madrid but the goal is ruled off for offside.
94' - Goal for Real Madrid. 1-1. Corner kick in the final minute, Courtois comes forward as well. He meets the corner with a header, it's saved by Jaume but Benzema is first to the ball and scores, three white shirts ahead of him. Unfortunate end to the game.
FULL-TIME
What a game. Plenty of back and forth. This second half though, Valencia made a star-studded Real Madrid to look average. All their threats controlled, every space/mistake exploited.
To control opposition of this quality for 90 minutes is in itself an accomplishment, to almost win a bonus, to draw quite unfortunate. This was perhaps their only good chance in the second half and it was a difference in reaction time. Valencia made two defensive substitutions in the last 10 minutes to deal with exactly this but Benzema was allowed the space that he needed and shouldn't have had.
The Valencia players were clearly exhausted at the end and a lapse of focus was not that surprising as a result. In the play that resulted to the corner, Paulista went to ground for a tackle very rashly in attempt to block the ball, making it easy to read for Benzema to read, get around and get back to a central position. There was very little left in the tank but the effort showed and that goes a long way with the fans. The last 10 minutes of the first, as well as the second half involved great effort and work ethic.
This result leaves Valencia in 8th with 27 points, 3 points away from the Champions League positions.
Parejo was awarded man of the match on the stream I'm watching. I think Coquelin made a good case to win it. Wass also was very involved and effective.
Next week is the final La Liga game of 2019. Valencia play away from home against Valladolid. Amunt!