In the pre-match conference in the game against Lille, Celades said that it was the most important game of the season. The team pulled off a 4-1 win that day. I think it's fair to say that this game takes its spot now.
Valencia's previous encounter against Chelsea in the group stage was coincidentally Celades's first game in charge. No one expected much but the team managed to take all 3 points, walk out with a clean sheet, and win away from home. Rodrigo's goal separated the teams on that occasion, coming at the 74th minute. Chelsea have been unbeaten in the Champions League since then, beating Lille, then Ajax and then in the return leg against Ajax secured a 4-4 draw after 2 Ajax players were shown the red card.
Valencia is tied with both Ajax and Chelsea at 7 points with 2 games to play still. After tiebreakers have been settled Valencia is 3rd. A win this game is enough to guarantee qualification though since the first tiebreaker is head-to-head games. This would make it impossible for Chelsea to catch up regardless of how the final game goes since they would at best be equal on points but lose the tiebreaker.
The team had a disappointing performance the last matchday in La Liga, losing to 17th place Real Betis away from home in the dying minutes of the game. Chelsea also come into this game with an away loss with a scoreline of 2-1 against Manchester City. Both sides carry several injuries.
Valencia Champions League Form: WDLW
Chelsea Champions League Form: DWWL
LINEUP
Coquelin and Garay both rejoin the team and make the squad list for this match which will no doubt be a boost. It remains to be seen if they're deemed fit enough to start the game.
Celades opted to play Wass in midfield alongside Parejo rather than Coquelin. He could still have hope that Wass can put on a performance like he did against Granada and/or Coquelin isn't completely ready to get back.

Garay returns to the defense with Paulista, Costa retains his spot as right-back and Gaya on the opposite side.

Ferran has put in several great performances and it's no surprise that he starts yet again. Soler starts on the opposite flank. Rodrigo and Maxi Gomez are the preferred strike force for Celades.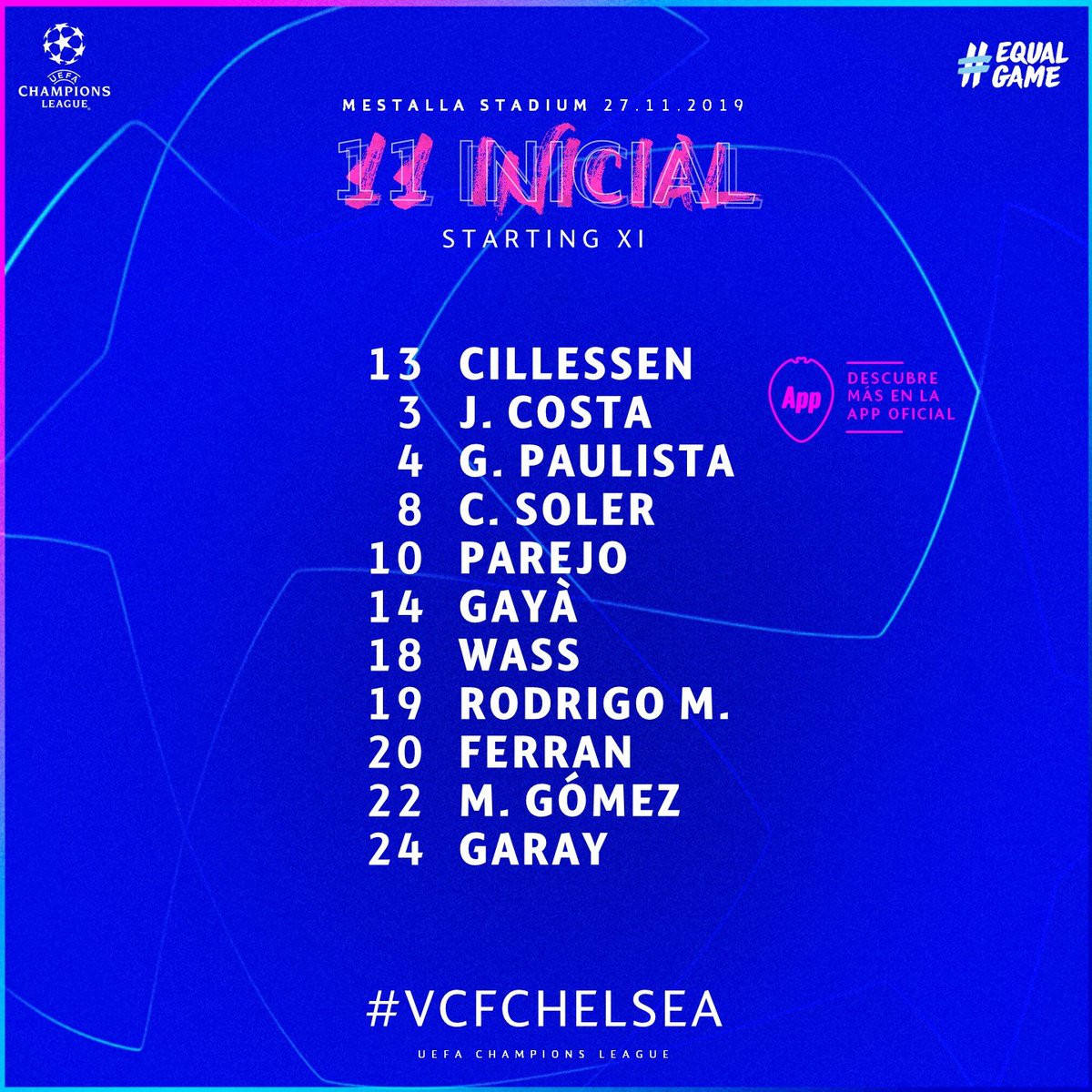 Bench: Domenech, Correia, Mangala, Coquelin, Kang In, Vallejo, Gameiro

MATCH

2' - James with a cross from the right that is not dealt with by the defense, it falls to Willian but he mishits it over the net with his head.
6' - Yellow card for Jorginho. Ferran Torres had gotten away from him into space and he was forced to bring him down. The resulting free kick is cleared for a corner.
17' - Chelsea seem to be relying on wide play to exploit the space left by full-backs.
18' - Parejo with a delightful through ball for Rodrigo, who had the time and space. He drives the ball forward, picks out Maxi Gomez but he misses the ball. That needs to be a goal. Very very unlucky.
21' - Costa from an advanced central position makes a cross to Carlos Soler who heads the ball towards goal but it's at a good height for the keeper.
29' - What is happening? Another chance for Valencia, ball falls to Maxi Gomez in plenty of space, yet it's nowhere near goal. It deflected sure, but that needs to end up in the back of the net. Great work by Soler and Ferran to press for the ball, good delivery by Parejo to find Maxi but the goal still eludes them. Come on Maxi!
32' - Yellow card shown to Daniel Wass for a body check.
35' - Ferran Torres has possession after a Chelsea mistake, he runs into the box but cannot find the space. The resulting counter from Chelsea results in a good chance. Willian crosses from the right-side to Abraham, the ball is parried, falls to Kante in space but hit over the cross bar.
38'- Another cross for Chelsea, falls to Abraham who fires at the top-right corner but Cillissen with a fantastic save to deny him.
39' - GOAL VALENCIA! 1-0! Carlos Soler with a volley from a Rodrigo cross. The chance started with a Cillissen goal kick, Ferran got the second ball, found Rodrigo in a wide position and he set up the chance for Soler.
41' - Goal Chelsea. 1-1! Kovacic receives the ball at the edge of the area with his back to goal, turns and beats Cillissen at the bottom-left corner.
44' - Pulisic goes past Garay and sets up Kovacic inside the box, but Cillissen parries the ball away for a corner.
45' - Two minutes added on for stoppages.
45+2' - Abraham collides with Garay and is forced off with an injury.

HALF-TIME: Close game. Chelsea started off well for the first 10 minutes or so before Valencia took command of the game. Two good chances in a row for Maxi Gomez should have gave Valencia a 2-0 lead but the quality wasn't there. Valencia would take the lead anyway though Carlos Soler following a Rodrigo cross. The joy would be short-lived as Chelsea respond quickly with a shot from outside the box via Kovacic. Parejo is playing the ball forward well and with a high degree of success. When Rodrigo or Ferran receive the ball, they have created danger so far. We need the next chance that falls to Maxi Gomez to be in the back of the net. We know he can score but he's had a sub-par game in terms of scoring thus far.

45' - Batshuyai on for Abraham.
49' - Chelsea goal is struck off since Pulisic is in an offside position. It seems clear but the VAR is taking quite a while to check.
52' - 1-2 Chelsea, VAR has found one angle where the goal is not offside and has given the goal to Chelsea. Garay with a yellow card for protesting.
54' - Yellow card for Azpilicueta for a hand to the face on Jaume Costa.
56' - Rodrigo with a chance after a mistake in the Chelsea defense. The goalkeeper comes out and Rodrigo attempts to chip him but cannot find the back of the net. You can't help but feel that should have been a goal as well.
62' - Penalty for Valencia! Soler plays a through ball to Gaya in the penalty box, Gaya is brought down and the referee calls for a penalty. Parejo steps up.
63' - Parejo is denied, Kepa saves the penalty. The chances are there but the goals today are lacking yet again.
66' - Substitution for Valencia, Gameiro on for Costa. Wass slots back into the right-back position and Gameiro joins the strikers. Costa called for the change following a collision, this is possible another injury.
67' - Cillissen with a good save from a 2 v 1 chance for Chelsea to deny Willian. The flag is raised for offside anyway.
71' - Jorginho off, Emerson on for Chelsea.
72' - Yellow card for Kante for a heavy challenge on Gaya.
73' - Celades makes a second substitution, Ferran off for Coquelin.
77' - Last change for Valencia, Kang In comes on to replace Soler.
79' - Yellow card for Kepa for wasting time. Final change for Chelsea, Mount on for Willian.
81' - GOAL VALENCIA! 2-2! Daniel Wass with a stunner. The ball was played to Rodrigo at the edge of the box, he steps over the ball, leaving it for Wass out wide. Wass does a half cross half shot and scores in the far post.
86' - Yellow card shown to Paulista for a late challenge on Jason Mount.
89' - A deflected shot from Batsuhuyai had Cillissen fooled but he managed to save it will his trailing leg. Great save.
90' - Seven minutes in additional time signaled by the referee for stoppages.
90+4' - Parejo finds Rodrigo out wide, he cuts inside, takes a shot but it's wide. Almost.
90+5' - I can't believe this. Gaya picks out Rodrigo at the back post and he somehow missed it. What terrible luck today.

FULL-TIME

I don't know what to say. This game, if it was won by amount of chances, would have Valencia superior. Parejo with a penalty, Maxi Gomez with two clear-cut chances from short-range, Rodrigo with several of his own. How has this game ended in a draw? These would all be goals any other day but not this one.

It will be rough to qualify now. Valencia will most likely need a good result against Ajax in the last game of the group stage, while Chelsea need to do the same against Lille. It's clear which one is the tougher task.

Next game is game is the derby against Villareal taking place on Saturday at the Mestalla. Amunt.