Celades called this game the "biggest match of the season" for Valencia CF. A win here would put the team in good standing to qualify from this group. Anything else, would make qualification increasingly difficult. Valencia have three games left in this group. Lille then Chelsea, and finally Ajax. Home, home again, then away.
Cheryshev's goal that game was a beautiful team effort: Wass to Parejo to Gomez to Gameiro to Cheryshev goal. Then, Diakhaby picked up two yellow cards in the span of just as many minutes, got sent off, and Lille put the pressure on. With the red card and a 6 minutes of additional time in which Lille equalized in the 90+5th minute and rescued a point. This game should be different. Playing at home, and barring any red cards, I think Valencia can win.
Lille come into the game with a 2-1 away loss to Marseille. Valencia come into this game following a 2-1 comeback away from home against Espanyol.
LINEUP
The biggest surprise on the matchday lineup? Mangala has finally been called. It's difficult to say though if that means he's fully ready or this is just a precaution. After all, with Diakhaby out due to suspension, only Paulista and Garay are available as center-backs. Coquelin has played there under Marcelino, but he is also out with an injury. That only leaves Mangala. Then again, there were reports that the plan was always to have him ready by November, and here we are. We'll see but I don't expect him to start.
Alright, so Diakhaby is suspended, Coquelin is injured. Other players still recovering from injuries are Piccini, Soler, Sobrino and Guedes.
Returning from injury, Gameiro joins the list of forwards. He is a very welcome addition, especially having set up a few goals for his fellow strikers this seasons including in the last game against Lille.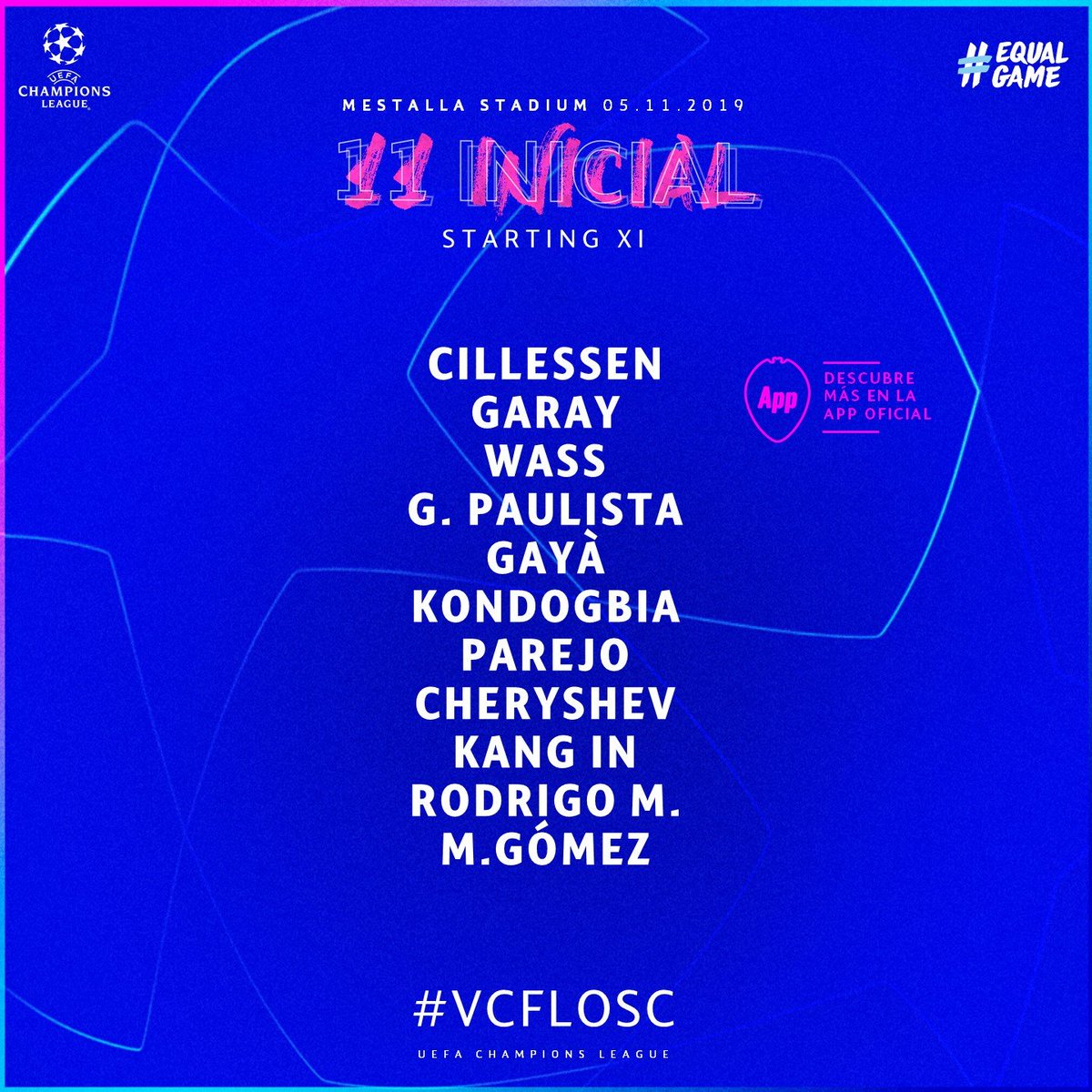 Minor changes in the starting XI this game compared to the game against Espanyol. Gaya starts this time, after being rested last game. He did come on but only in the last few minutes due to an foreseen injury to Sobrino. Ferran, who started last game, finds himself on the bench, with his spot occupied by Kang In. It's looking like a 4-4-2 to start.
Bench: Jaume, Mangala, Costa, Correia, Ferran, Vallejo, Gameiro
MATCH
6' - Handball claim on Kondogbia at the edge of the Valencia penalty area. Referee correctly calls it as not a handball.
8' - Lille with a tame shot on goal from distance, easy for Cillissen.
11' - Gabriel with a rough challenge on Kang In, referee whistles for a free kick. Parejo goes for a short ball to Gaya out wide, who then crosses to Kondogbia. He couldn't make a clean contact but referee says he was offside anyway.
13' - Lille player jumps with great momentum and slams right through Rodrigo from behind. Foul but no booking.
15' - Kondogbia dispossesses a Lille player and drives the ball forward, he picks out Cheryshev who has Rodrigo making a supporting run. The Russian decides to fire from distance rather than pick out his teammate. The shot is easily claimed by the Lille keeper.
18' - Dangerous early cross from Lille into the box, Paulista got a slight touch taking it away from the opposing player. The counter was started after miscommunication and mistiming in the linkup between Wass and Kang In on the right flank.
20' - Parejo is dispossessed, setting up a chance for Remy in the penalty box. Kondogbia with a great sliding challenge to block his shot.
25' - 0-1. Goal for Lille. Parejo with a terrible causal pass that is blocked by a Lille player and falls to Osimhen who found space between the Valencia defenders. He beats them for pace and slots the ball past Cillissen.
30' - More bad news for Valencia. Cheryshev is forced off the field of play after being examined by the Valencia medical team. This adds to the injury troubles this season. Ferran Torres is the replacement. He quickly wins a corner.
31' - Parejo's corner finds Gabriel Paulista, but his header is headed away from goal by the opposing defender. Kondogbia tumbles to the ground during that corner. Garay due to dissent against the referee. Yellow card.
34' - Handball against Lille, free kick Valencia. The keeper claims it before anybody else.
35' - Ferran linking up with Wass. The latter puts in a cross to Kang In. The header is on target but the keeper smothers it. Rodrigo was waiting for any spills by the keeper.
37' - Kang In and Andre clash as they challenge for the ball. Kang In gets there first and they both falls to ground as they collide. Andre gets booked. Yellow card.
38' - Rodrigo's through ball to Maxi is blocked, the ball falls to Kang In who tries at an angle just inside the box. It's blocked again.
40' - Valencia with another give-away this time Wass is the culprit. Soumare intercepts his pass, finds Remy. The shot comes from distance towards the top left corner but Cillissen keeps it out. Valencia creating many of their own problems, as the commentator puts it.
44' - So close. The best chance for Valencia. Parejo to Rodrigo to Kang In, he fakes the defender with a shot but picks out Gaya instead. The cross is for Rodrigo but his effort is right at the keeper. The ball is spilled back to Ferran, whose shot is deflected. Corner.
45' - Rodrigo with another chance from the corner but again the keeper saves.
HALF-TIME: Possession is being wasted so much this game with these tame crosses, and others that go straight towards the keeper. Lots of individual mistakes and carelessness giving away possession as well. This resulted in the Lille goal. Valencia could have rescued an equalizer and a confidence boost in the last 2 minutes of the half with 2 chances for Rodrigo but both shots were claimed by the keeper. Play needs to improve big time in the second half. This is not good enough. Kondogbia and Lee have been the source of the good in this half. Rodrigo is very involved also but is really missing the final touch.
54' - Second change for Valencia, Kang In off for Vallejo.
63' - Handball from Jose Fonte in the penalty box! Referee calls penalty! VAR check, and it's confirmed penalty for Valencia and yellow card for Fonte.
65' - GOAL Valencia! 1-1! Parejo equalizes with a penalty kick.
67' - Wass booked for a push on a Lille player. Yellow card.
74' - First change for Lille, Yazici for Renato Sachez
80' - Bradaric is booked by the referee. Another yellow card for Lille. Andre off, Araujo on for Lille.
81' - 2-1! Valencia are back in front! Paulista with a fantastic ball over the defense to Gaya. The defender made a mess of clearing it. Gaya gets into a good postion and his low cross finds its way into the net! The goal is recorded as an own goal though.
83' - It's now 3-1! Kondogbia with an absolute beauty. Parejo plays the ball to him in midfield he takes a few touches towards the box and smashes into the top left corner.
89' - Would you believe it's now 4-1? When is the last time the team scored 4 in one game. Rodrigo picks up the ball in midfield and plays a fantastic through ball for Ferran. He takes one touch, looks up and finishes to the top left corner.
90' - 2 minutes of additional time. Final change for Lille, Bamba on for Soumaoro. Valencia bring on Gameiro for Rodrigo.
FINAL THOUGHTS
This was quite a strange game. No one could have expected this scoreline at all, especially not after the first half.
There was a huge difference between the team that played the last 10 minutes and the one that played the game prior to that.
This scoreline is kind of misleading for the way the team played. There still remains huge areas of improvement. The wasted possession, misplaced passes and miscommunication in the first half were way too frequent and some even in dangerous positions. For a game described by the coach as "the most important" of the season. Those first 80 minutes were far from the performance that such an occasion deserved.
This could also be a moment where the team clicks. Another comeback, a vengeance for last game of some sorts, and 4 goals to boot.
Kondogbia had a great game. He helped his defense when needed and also helped drive the ball forward. He scored goals in previous seasons from distance but recently he barely even attempts shooting. This one was amazing and much needed to lift the whole stadium.
This game leaves Valencia in a 3-way tie on points with Ajax and Chelsea, 7 points each. With tie-breakers, Valencia still sit at 3rd. The team has a good change to go through but it all depends on the next two games which will both be tough. The home game against Chelsea is the one that people point to being the game to qualify.
Next game is on Saturday, at Mestalla, against Granada.