It's derby day for Valencia on this match day and the team has the advantage of playing at Mestalla. The team will be looking to get all 3 points and start making some progress towards the Champions League positions.
While Valencia is at mid-table (10th place with 20 points), the gap between them and 4th place Atletico Madrid is only 5 points. We're still 4 games away from the half-way point so there is way more than enough time to do so. It would be great though if we didn't have to wait till the final few matches to secure qualification but rather aim higher, especially with the usual contenders struggling.
Valencia come in the match on the back of an intense mid-week game against Chelsea in the Champions League at Mestalla which ended 2-2. Valencia had the best chances of the game and if they were tucked away, would have walked out with a big win no doubt. The finishing however was a huge let down with our 2 top goalscorers and Rodrigo failing to score those chances. In the last matchday of La Liga, Valencia lost a quite even game against Real Betis in the final minutes via a Canales free kick.
Villareal's last game was a defeat at home to Celta Vigo, a game which finished 1-3. They find themselves in a similar league position as Valencia. They sit at 12th place with 18 points. They will be looking to get past their poor form and overtake Valencia in the league positions.
Valencia La Liga form: LWWDL
Villareal La Liga form: LLDLW
LINEUP
In mid-week, Jaume Costa and Kang In were both added to the injury list. Kang In felt discomfort from the moment he was introduced but played through his injury in attempt to help the team. There is a 1-1.5 month estimate on his recovery time.
Garay has pain in his hip and back and will be out of this game because of that with Mangala likely to start instead. He should return in the following game against Levante though. With Diakhaby, they are aiming to have him back, in the best case, against Ajax but could very well take more. Kondogbia has similar estimates to Diakhaby.
Cheryshev will rejoin the group next week with the goal of being available against Levante but in the most likely case will take until the Ajax game.
For the two long-term injuries. Guedes needs until the new year for his return. They aim to allow him to fully recover and not rush. Finally Piccini needs slightly more and should return sometime in February.
Moving the other way, Ruben Sobrino has recovered and joins the squad list. Javi Jiminez and Esquerdo are called to reinforce the defense and midfield respectively and complete the squad list.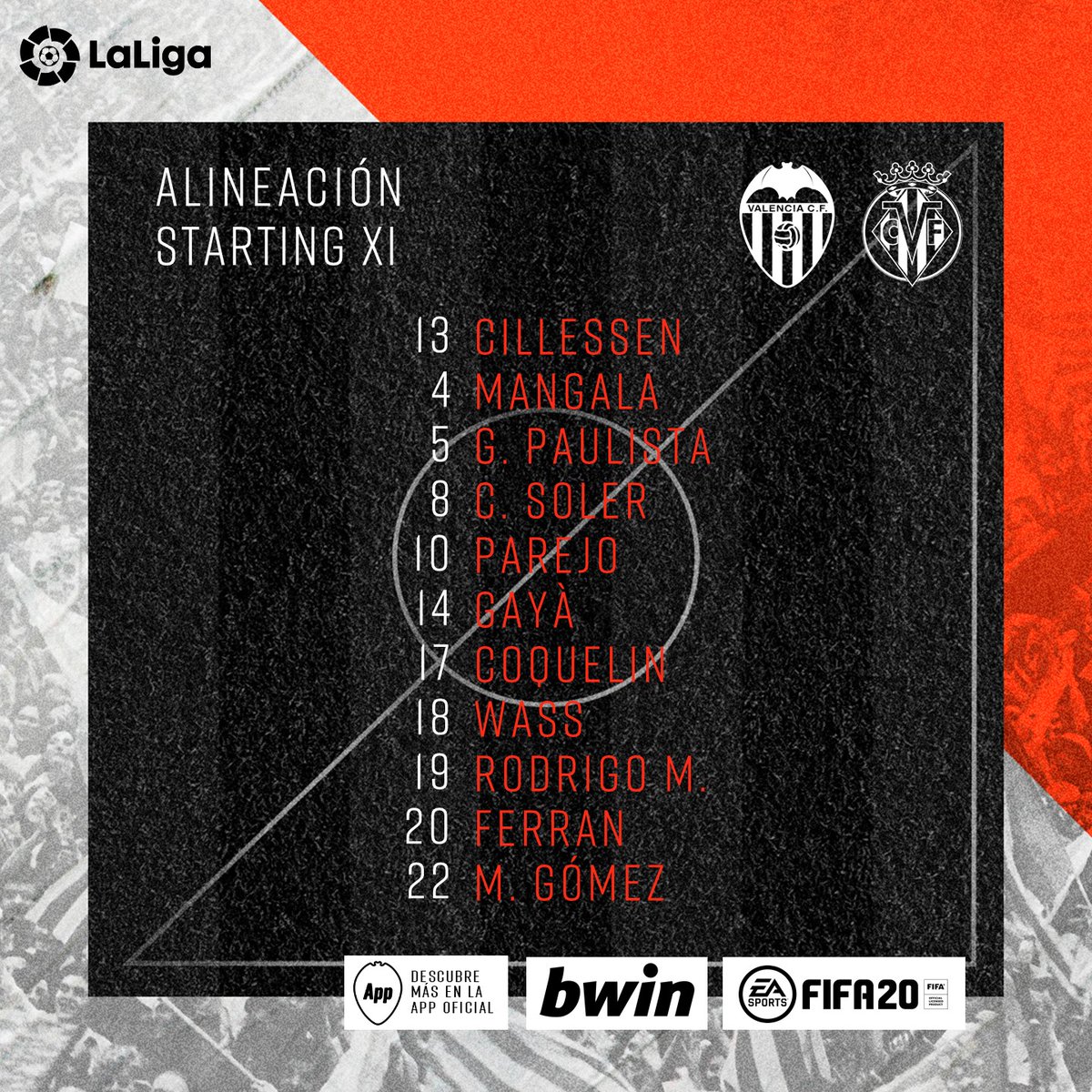 Similar starting XI to last game. 4-4-2. The changes are Wass returns to right-back, Coquelin takes his spot in midfield and Mangala takes over the injured Garay's spot.

Bench: Domenech, Correia, Jimenez, Esquerdo, Vallejo, Sobrino, Gameiro

MATCH

4 - What a brilliant run from Ferran Torres, he ran circles around the Villareal players. Too bad nothing came of this play.
13' - Penalty for Villareal. Gerard Moreno is found in space in the penalty area with a cross. He scuffs the shot, attempts to take another one but Mangala takes his down. Moreno steps up to take the penalty.
14' - Cillissen saves! That was quite a tame penalty and Cillissen guessed the right direction.
15' - Ekambi makes a run between Paulista and Mangala. He is picked out with a through ball and is through on goal but Cillissen is quick off his line to deal with it.
17' - Yellow card for Villareal. Raul Albiol is booked for a late challenge on Coquelin
18' - Why are both teams are giving away the ball so much?
19' - Trigueros will a long range effort to the top right corner but Cillissen saves.
30' - Ferran Torres with a chance but it's off-target.
36' - Gaya gets a chance at goal, it's on target but saved.
40' - Valencia get another chance via Ferran Torres but his shot is also saved.

HALF-TIME: Even at the break. I feel Valencia had the advantage in number of chances. It's a bit strange to see both sides give the ball away so much. The best chance came from a Villareal penalty after a challenge by Mangala but it wasn't hit with any conviction and Cillissen predicted correctly. Good work by him so far this half. Ferran Torres yet again also looks very lively and eager to get on the ball. I hope the team gets a good result in the second half, especially a home we should be the favorites.

49' - GOAL VALENCIA! 1-0! Gaya picks out a tight pass to Maxi Gomez on the left side of midfield. The Uruguayan looks up, sees the run of Rodrigo, turns and plays a delightful lob to Rodrigo who is pressured by two defenders. Rodrigo's first touch takes it away from the keeper and then he taps into the goal from an angle. Great play and what a pass!
53' - Goal Villareal. 1-1. Anguissa intercepts a pass to Parejo on the half-way line, drives the ball wide on the left, cuts inside and fires from just inside the penalty box to beat Cillissen in the bottom-left corner. Four defenders in front of him and they couldn't stop it.
55' - Yellow card for Gerard Moreno, foul followed by arguing with the referee.
59' - Valencia with a free kick on the left-flank after a foul on Gaya. Parejo delivers a great curling cross and Mangala gets a touch but fails to beat the keeper. So close.
61'- Rodrigo with a shot from distance to the far post but it's parried by the keeper for a corner.
62' - First change for Villareal, Ekambi off, Chukwueze on
65' - Villareal very emboldened in the last few minutes, they are retaining possession and chances in the Valencia half
69' - Celades take off Maxi Gomez and replaces him with Kevin Gameiro
70' - GOAL VALENCIA! 2-1! Ferran Torres with the finish. Soler spreads the ball wide to find the run of Daniel Wass who then delivers a cross to the opposite flank where Ferran Torres volleys the ball towards goal. The keeper gets a touch but cannot keep it out.
73' - Ontiveros comes on for Morlanes as Villareal's second substitution is used.
74' - Wass with a great through ball along the touchline to find Rodrigo in space. He drives the ball forward, looks up to see Ferran and Gameiro in support. He choose the latter but the delivery does not reach him.
75' - Yellow card for Dani Parejo.
79' - Parejo, Coquelin and Rodrigo all seem to be struggling with some discomfort. Final change for Villareal, Bacca on for Moi Gomez.
82' - For Valencia's second substitution, Coquelin is taken off, Esquerdo comes on for his debut.
85' - Last substitution for Valencia, Sobrino replaces Rodrigo.
90' - Four minutes added for stoppages by the referee.
93' - Pinball inside the Valencia penalty area with players using their bodies to block the shots from the Villareal players but struggling to clear the ball.

FULL-TIME

A much needed result. The game in the second half definitely improved. The loose balls in the first half were reduced in the second. The good chances the team got were put away and there was great link up between players for the goals.

Cillissen was fantastic today, denying many of the efforts from the Villareal players, including a penalty. That penalty is the difference between the two scorelines today.

Ferran proved once again he was a lethal finisher and has great technical ability. He's in many ways playing the way that Guedes is expected to play. Taking on players, beating them, drawing defenders to free up other players, and great finishing ability. He even helped out on defense in many occasions with little sign of fatigue.

While Maxi Gomez didn't score, the ball he played for Rodrigo was of great vision and execution to match. Rodrigo did well to control the ball in that tight space and beat the keeper.

Coquelin had a great day in midfield although I hope that his substitution wasn't from injury but just a precaution. He seemed to have some discomfort. It would be a shame to lose him again so soon after recovery.

Parejo's passing towards the end of the game suffered drastically. He wasn't near the level we saw against Chelsea. There were several times where he could've set up such great chances, he saw them but the delivery was poor. This is kind of expected since he never gets rested. It's clear that the coaching staff feel like we cannot afford to rest him but he's started just about, if not all, all the games where he was available.

Mangala was involved in a penalty for Villareal in the first half as well a good chance at goal in the second half from a Parejo free kick but his effort was saved by the keeper. He needs more time, no doubt, to regain match fitness but at least we have him ready.

Next game is away to Levante for another derby on Saturday next week. Amunt!