The international break is over and Valencia fly to the city of Seville to take on Real Betis for the 14th matchday of La Liga.
The break came at a somewhat convenient time in terms of injuries for Valencia, as they hoped to recuperate some of the players from a growing injury list. In terms of form though, the break came at a moment when the team was in form.
Last game against Granada, the team played the most convincing performance in the second half, getting 3 points, 2 goals and a clean sheet. Wass played a fantastic game all round and even got a goal to show for it. Ferran Torres showed pure quality and talent to score a fantastic solo goal. This performance left Valencia at 9th position with 20 points, 4 points away from the Champions League positions.
Real Betis haven't had a good season so far. They find themselves at 17th, one position away from relegation. Only four points separate them from Celta Vigo below them. Their previous match was a local derby in which they suffered a 1-2 defeat at home to Sevilla. They will certainly look to bounce back in this game.
Real Betis La Liga form: LDWLL
Valencia La Liga form: WWDLD
LINEUP
Valencia have managed to recover both Rodrigo and Carlos Soler in the break. They both get called in the matchday squad but it remains to be seen if they will actually start.
Two additions in this squad are Escuerdo who appeared last time in the list of midfielders, as well as Javi Jiminez in the list of defenders. Mangala also stays in the squad list.
What is interesting is that Wass is now listed as midfield in this list, rather than a defender where he normally appears. I wonder if this is a signal that Celades was impressed with Wass's midfield performance from last game and has decided to try it again.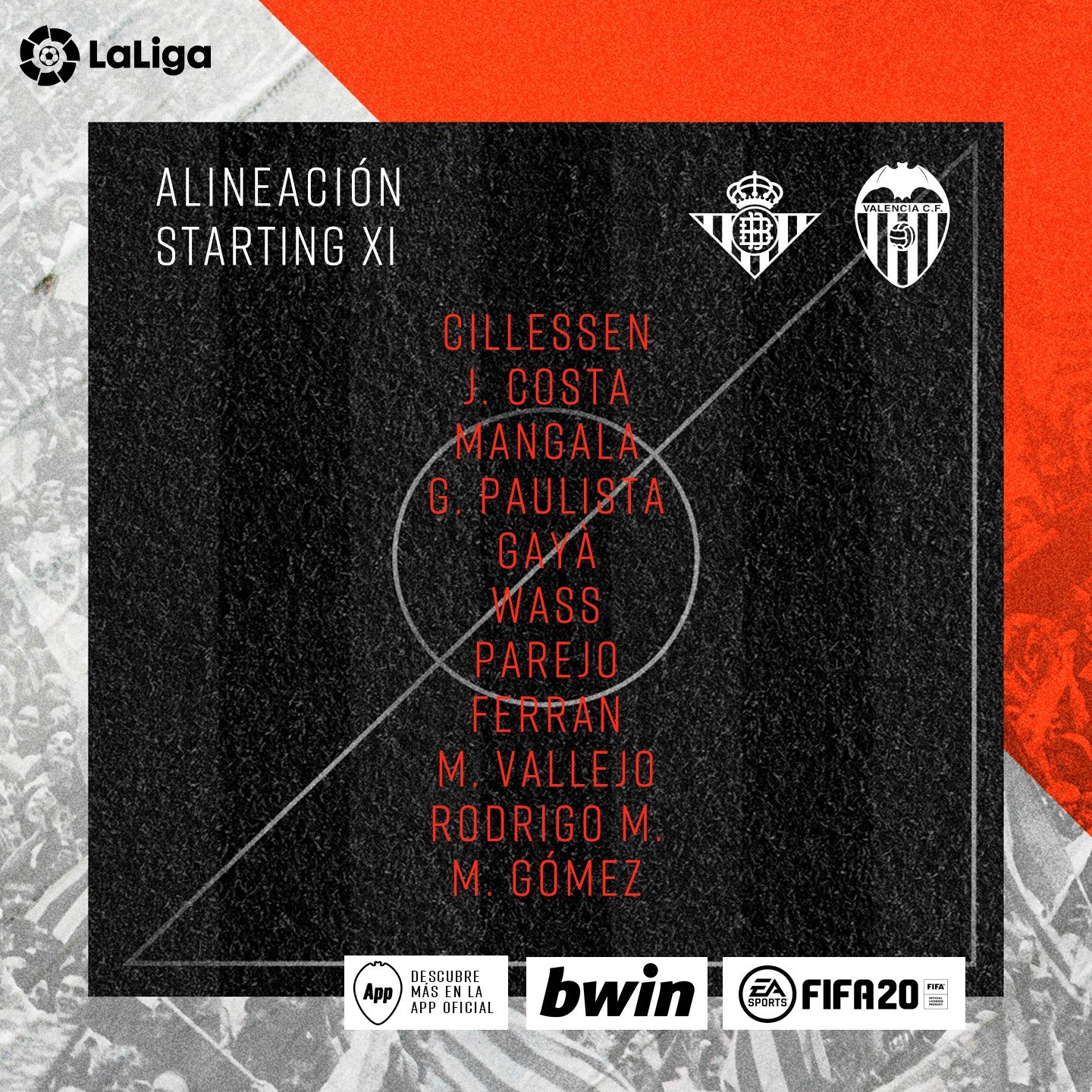 First start and first apperance for Mangala. It seems like Celades and the medical team finally think he's fit enough to play. It will be interesting to see if he can offer something different to Garay who was dropped from the starting XI and is not present on the bench either.
As predicted, Wass appears again in midfield after his performance last game. Jaume Costa takes over his spot in right-back as he has previously. Vallejo gets another start on the left-flank with Ferran Torres on the opposite side. Rodrigo and Maxi Gomez will play the strikers in the 4-4-2.
Bench: Jaume, Correia, Jiminez, Escuerdo, Soler, Kang In, Gameiro

MATCH

17' - Betis players goes down in the box after Mangala jumped above him to head the ball away. Betis fans and players claiming a penalty. The referees and VAR don't agree with their claims. Replay shows that Loren Moren was backing into Mangala
21' - Sidnei is in advanced position and test Cillissen from just inside the penalty area. Cillissen parries it away.
25' - Gaya intercepts a pass in midfield from a Betis player, makes a driving run forward and fires from range. The ball is deflected and a corner is won for Valencia. The delivery is not very good and the play results in a Betis counter attack that is stopped in midfield by Manu Vallejo for a throw in.
27' - Fekir tries another long distance effort, this time a powerful low shot. Cillissen dives down and smothers it.
31' - Yellow card for Real Betis, Gonzalez brought down Maxi Gomez who was starting a counter-attack.
32' - GOAL Valencia! 0-1! Ferran Torres with another moment of brilliance. He cuts inside from a wide position, takes out two defenders and manages to square the ball across for Maxi Gomez while under pressure. Maxi hits the ball cleanly and beats the keeper.
36'- Goal for Betis. 1-1. Alex Moreno goes on a run in space on the left flank, he is met by Jaume Costa's sliding challenge but Moreno goes past him. Paulista moves towards him in an attempt to block his cross but he manages to pick out Joaquin in space and the ball is smashed past Cillissen.
41' - Messy clearance from Valencia to deal with this Betis attack. Cillissen comes out to deal with the effort and attempts to smother the ball, the defender goes down and the ball is loose, it's haphazardly cleared. Some penalty claims but quickly dismissed by VAR.
44' - Fekir goes on a solo run moving past Mangala and shooting between the legs of Gabriel Paulista across Cillissen. The goalkeeper dives and stretches barely getting a hand to keep the game level.

HALF-TIME: Pretty open game with both sides looking to attack and counter-attack. The ball is mostly being driven forward by our wide players. The midfield seems largely ineffective. Wass has had very few touches and often misplaced/overplays the passes forward, causing some good runs to go to waste and relieving Betis from the pressure of the counter-attack. Rodrigo and Ferran are making the runs but the ball barely reaches them. Parejo similarly hasn't had too much impact. The set piece plays just give the ball back to Betis. The goal came from a great moment of inspiration from Ferran Torres to take on defenders and set up Maxi Gomez. The Betis goal came from a hasty sliding challenge from Jaume Costa that was dealt with by Moreno and left him in tons of space to pick out the pass to Joaquin. I would like to see Soler or Kang In come on in midfield to see if the quality of delivery going forward improves. The team usually plays better in the second half. Let's see if this will be true again.

49' - Penalty claim for Betis for a handball on Parejo. If it did happen it would be outside of the box. The referee waves play to go on.
51' - Another counter-attack getting ruined by bad passing. Betis corner is headed into another Betis player and cleared by Mangala. Several Valencia players made the run forward but I believe it was Manu Vallejo who overplayed the pass to make the counter-attack stop.
54' - Gameiro and Soler have begun warming up on the sidelines.
57' - Yellow card for Wass, he uses his arm to drag down Joaquin and stop his run. Free kick Betis. The free kick is player over everyone and straight out of play.
61' - Cillissen with another save, this time at his near post following some quick passing from Betis to set up the chance.
63' - Yellow card for Alex Moreno. He used his shoulder to shove Wass into the ground and stop a counter-attack.
64' - First change for Valencia. Manu Vallejo is taken off, Gameiro is brought on.
68' - Substitution for Betis, Gonzalez off, Iglesias on.
74' - Ferran Torres with a cross. It's blocked by a defender and falls to Parejo at the edge of the box. He has the space to pick out a shot at the top-right corner and the keeper is forced to parry over the goal.
75' - Second change for Valencia, Soler on, Rodrigo off. Soler will play on the left flank and Gameiro will move forward to join Maxi Gomez.
76' - Sidnei is forced off for Betis due to injury. Barragan is his replacement.
80' - Final Betis change, Loren off, Pedraza on.
83' - The amount of loose passes and wasted possession from both team in the last few minutes is quite shocking. It is resulting in a lot of back and forth play, end to end with no final product.
84' - Fekir goes on a solo effort, past Wass and fires from the edge of the box. The ball his the crossbar and bounces back out into play.
86' - Kang In is the final player off the bench for Valencia. Ferran Torres is taken off.
90' - Soler plays the ball out to the left for Kang In, he takes a few touches and takes a shot from an angle and beats the keeper but hits the crossbar. Good effort! Four minutes added for stoppages.
90+2' - Yellow card for Gaya. He went flying into the challenge. Free kick Betis.
90+3' - Goal Betis. 2-1. Canales scores directly from the free kick. Cillissen was completely beaten.

FULL-TIME

Betis clinch the game at the dying minutes and get all 3 points from a game. A draw would have probably been the fairest result given the performance of the two teams and how even the game was. In the end though, they just had that edge to get their goal so late into the game.

Valencia still has many players on the injury list and this lineup is different from the one that Celades would ideally start if all players are available.

The Valencia midfield was largely ineffective and conceded the territory to the Betis midfield. With similar chances and defensive errors, that might have just been the difference between the two sides.

Another good performance from Ferran Torres and another goal for Maxi Gomez leaves the team with some positives to take out of this game. Cillissen had several good saves as well when needed albeit a mistake in the 41st minute was fortunately cleared to avoid the consquence.

Next game is a big one. We're back to the Champions League on Wednesday in a crucial home game against Chelsea. This is the team's chance to secure qualification. I don't know if any more players will be recovered from the injury list by that time so we will likely see a very similar lineup against Chelsea.

The team's qualification to the Champions League earned the club 15 million euros. The club gets 2.7 million euros per win, 900k for every draw and the progression through the group stage into the knockout rounds earns around 9.5 million euros. These prizes are important for the team to allow better business in the transfer windows. Of course, the morale boost for the team and fans would also be huge. Backed by the home fans, the team should have a huge motivation to get a result from the game.