Matchday 13 of La Liga sees Valencia taken on Granada at home. Following the Champions League game against Lille in which Valencia took a 1-1 scoreline to 4-1 in the last 10 minutes or so of the game, Celades will look to build on that. That always has to be the message, move forward and not back.
The team is capable of showing glimpses or sparks of great play but consistency has been lacking. Players show up one match and are missing the next game and so on. Even within the same match there are players that fade in and out of the game. Celades has to harness those glimpses to make a solid team. Discipline and consistency are the key.
Granada is a team that has started this season well. They found themselves sitting in the top 4 for 5 weeks in a row, even ending week 10 as league leaders. They currently sit at 6th at 20 points, 3 points ahead of Valencia who are 13th with 17 points.
Last matchday Granada lost at home to Real Sociedad in the final minutes of the game.
Valencia La Liga form: WDLDW
Granada La Liga form: LLWWL
LINEUPS
With 7 players out with injury, Valencia's first team of 24 players is left with 17 players. Of course, we need 11 players and 7 on the bench, 18 players total. Celades had to call in Esquerdo from the youth team to complete the squad list. Mangala also is called up again, yet to play a minute.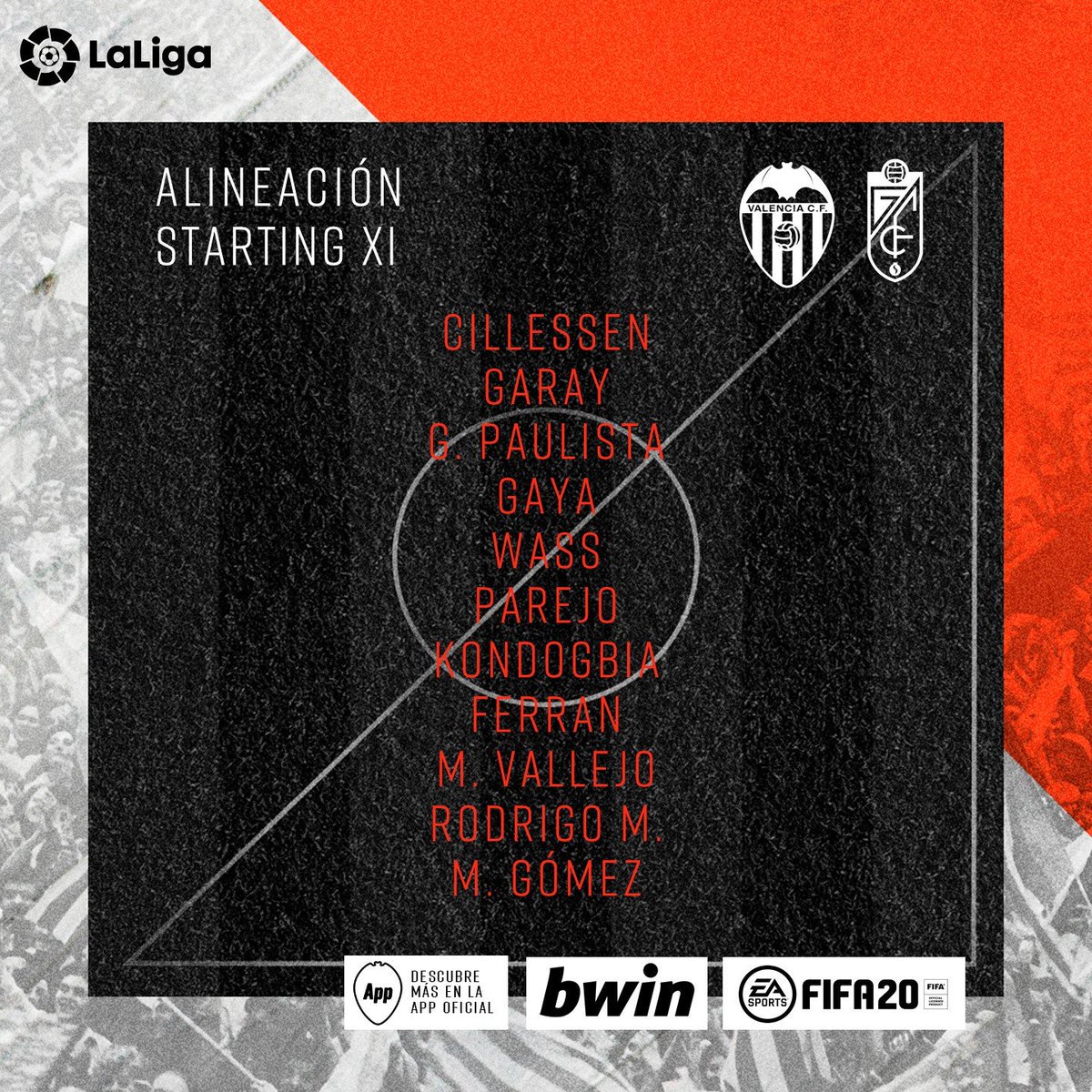 It looks like the same 4-4-2 set up we saw last game. There are two changes though. Celades starts Ferran Torres over Kang In Lee on the right. Manu Vallejo starts out on the left where Cheryshev started last game.
Bench: Domench, Mangala, Correia, Jaume Costa, KangIn, Esquerdo, Gameiro
MATCH

6' - Ferran Torres taken out with a rough challenge from behind. Free kick Valencia in a good position. Parejo uses the run of Vallejo as a dummy, and picks out Ferran wide but the resulting cross misses everyone in a white shirt.
9' - Maxi Gomez pressures a Granada player in the Granada half, he wins the ball and makes a run forward, struggling to stay on his feet. Rodrigo makes a run ahead but Maxi decides to shoot on his own to the far post. Tame effort in the end. Rodrigo looks on with disappointment.
12' - Rodrigo receives the ball deep in midfield and drives the ball forward, he spreads the play out wide to Maxi Gomez on the left and continues his run expecting the ball back. Gomez makes the cross but chooses the run of Wass instead. The ball is too close to the goal line and Wass cannot keept it in.
20' - Maxi Gomez seems to always be drifting to and receiving the ball in wide positions. I don't know if that's really effective.
22' - Parejo with a corner but misses everyone. Vallejo manages to take the ball off the Granada player at the edge of the box and tries a shot but it's wide.
36' - Kondogbia picks up an injury and is subbed off, Jaume Costa comes on. We now have no CDM's. Wass moves to midfield, in right-back.
38' - Yellow card for Granada's Gonalons for a late challenge on Maxi Gomez. Free kick in a decent position if we can get good delivery. The delivery is to Paulista but he collides heads with a Granada player, leaving them both on the ground.
44' - Another yellow card for Granada for Azeez. Late challenge on Dani Parejo.
45' - Three minutes of additional time.
45+1' - Gaya makes a run forward, passes to Wass in the center. He takes one touch and fires from distance forcing the keeper to stretch and save the shot. Good effort.

HALF-TIME: Pretty even half so far. Neither side had the edge. Lots of back and forth but lack of clear chances. Granada is letting Valencia play wide all they want but packing the central area with defenders. It will be tough to break down. It's a shame that Kondogbia left the field with injury but it will be an interesting opportunity to test out Jaume Costa in right-back. The struggle so far is the final ball. Parejo's delivery from set pieces hasn't been all that good recently. Rodrigo and Maxi Gomez can't seem to find each other on attacking transitions either. Second half performances are usually better so let's hope that happens again today.

46' - Two half-chances already for Valencia, one from Rodrigo, one from Maxi Gomez. Both were dealt with by the Granada defense.
50' - Rodrigo takes a knock and tells the medical team he cannot continue. He leaves for the tunnel, and Gameiro is brought on to replace him.
55' - GOAL Valencia! 1-0! Build up starts with Wass. He controls and makes a short pass to Parejo who finds Ferran out wide. Ferran plays the ball to Gameiro who has his back to the defender. He shields the ball and then returns it to Ferran. Ferran finds Parejo at the edge of the box who passes it into the net. VAR is checking if Maxi Gomez is interfering with play from an offside postion by blocking the keeper's vision.
58' - OVER-RULED. Referee checks the decision and overrules his initial goal decision. 0-0.
60' - Quini blocks Gaya's cross with his arms. Free kick but strangely no yellow card. It's a good position from the left edge of the box. Parejo goes directly for goal but it's easy for the keeper.
63' - Change for Granada, Gonalons off, Montoro on.
65' - Valencia with long periods of possession in the Granada half but the goal still eludes them.
71' - Vallejo with some quick feet tries to pass between two defenders but they obstruct him and he wins a free kick. Valencia getting so many set pieces around the box.
72' - Parejo's free kick hits the wall and out of play for a corner. The corner is headed out for another one.
73' - GOAL Valencia! 1-0! It's Daniel Wass's goal. Gaya's cross is headed away but falls to Gamiero on the opposite side. Gameiro puts in a cross of his own, Maxi Gomez can't get to it but Wass controls it and beats the keeper at his near post by firing the ball into the roof of the net. Good goal but VAR is checking again for a Maxi Gomez interference from an offside position as well as a potential handball from Wass. VAR gives the goal this time.
76' - Yellow card for Quini for a hand to the face on Vallejo. If he received a yellow for the handball earlier, he would be off.
79' - Granada keeps resorting to fouls to stop play. With all these stoppages and VAR checks, there will be quite significant additional time.
80' - Final change for Granada, Carlos Neva off for Carlos Fernandez.
83' - Great link up between Gameiro and Vallejo. Gameiro receives the ball and takes out a defender with a pirouette, plays a short ball ahead of Vallejo and continues his run. Vallejo returns the ball to him but he is pressured off it by the Granada defense.
84' - Final change for Valencia. Vallejo goes down and signals to the bench that he wants to come off. It seems he's fine to walk. Meanwhile Cillissen comes out and punches away the Granada free kick.
86' - Vallejo goes down again. He walks off and Kang In Lee comes on his place. All substitutions used for both teams.
88' - Yellow card for Montorro for dissent against the referee.
90' - Corner for Granada following a deflected shot from Soldado. The delivery is to the near post, it's flicked towards the far post and it's going in but Wass clears it away from goal. Seven minutes of additional time.
90+2' - Another yellow card for Granada, this time for Herrera for a raised arm on Dani Parejo as they were both contesting an aerial ball.
90+4' - Even this late on, Valencia is pressing for the ball and frustrating Granada. Maxi handles the ball in midfield, free kick for Granada. It is launched into the penalty area but cleared.
90+5' - Valencia move on the counter, 3 on 1. KangIn on the ball, Ferran and Gameiro making runs. Kang In plays a throughball for Ferran, the keeper comes out, Ferran finds Gameiro who walks the ball into the net. It is ruled offside for the initial pass to Ferran.
90+7' - GOAL Valencia! 2-0! Ferran Torres scores yet again. Cillissen launches the ball out wide to him with a throw right to the half-way line. He makes a sublime run, cuts inside taking out the Granada defenders one by one and fires from the edge of the box right into the top left corner. That's what this young man can do. That's why he's on the 10-man short list for the U-20 Golden Ball.

FINAL THOUGHTS

That second half sure brought the intensity that was needed. This half Valencia looked great. They gave Granada nothing and frustrated them over and over. Granada resorted to fouls in their frustration and got booked over and over.

While moving Wass to midfield was done through necessity due Kondogbia's injury, he would prove instrumental in this second half. He looked good in midfield and found himself in the right position to receive the ball and produced the quality to beat the keeper at his near post. He also a good defensive contribution, clearing a shot on goal in the last minute following a Granada corner.

Valencia kept up the intensity and with Granada seeking an equalizer they left many spaces behind. Valencia would score again but the pass from KangIn to Ferran in the build up was slightly offside.

Ferran would then go on a fantastic solo goal, started by a quick throw from Cillissen to him on the half-way line. He showed real speed, agility, technique and great quality to score.

This is the 4th clean sheet for Valencia in 17 games in all competitions. Mallorca, Bilbao, Chelsea were the fixtures this season where this has happened before.

On top of this, the game finished without a single booking for Valencia. No disciplinary issues.

The team had to make all 3 substitutions due to injury/discomfort. Luckily following this there is an international break to rest some of the players and recover many others.

The play certainly is improving and I would say this second half performance is probably the most convincing performance so far by the team. At no point did I feel that Granada posed a major threat. Their only real chance was the corner effort which was cleared by Wass. The next step would be to extend such a performance to the whole game.

As of this post, this win leaves the team on 20 points and in 7th place. There are still games left in this matchday of course, so this is subject to change.

Next game is on Saturday, the 23rd of November away to Real Betis. Amunt!