Three wins, five draws, three losses, that's Valencia's record so far, producing a total of 14 points from 11 games. At the middle of the table in 11th position is where the team finds itself. 15 goals for, 17 goals against.
Last game against Sevilla managed to be an even game. The substitute Ruben Sobrino, who barely gets time on the pitch, makes an appearance off the bench to score a fantastic glancing header to cancel out Ocampos's goal and rescue a draw.
Today's game is against a team that hasn't performed this season. They also sit far from they want to be or where they usually are. Espanyol find themselves second-last with 8 points from 11 games.
In their last game, Espanyol visited Athletic Bilbao were they suffered a 3-0 defeat.
Again, we cannot plan on this being an "easy" game as there have been none for the team recently. Every game is a challenge. Teams in relegation have everything to play for and can put one hell of a game.
Espanyol form: LWLLL
Valencia form: DLDWW
LINEUPS
In terms of lineups, Guedes and Gameiro are still recovering from previous injuries. Coquelin picked up an injury in the last game and was ruled out of this game. Carlos Soler is also out with an injury and further adds to the list of players to miss the game. Piccini still has 2-3 months of recovery to deal with, while Mangala is yet to be up to standard to get a start.
On the other hand, Rodrigo and Cheryshev return from their suspensions that made them miss the last game. They will be good additions to the lineup.
Finally, both Sobrino and Vallejo earned call-ups after their performance during the last game, with Sobrino managing to snatch the goal needed for a draw.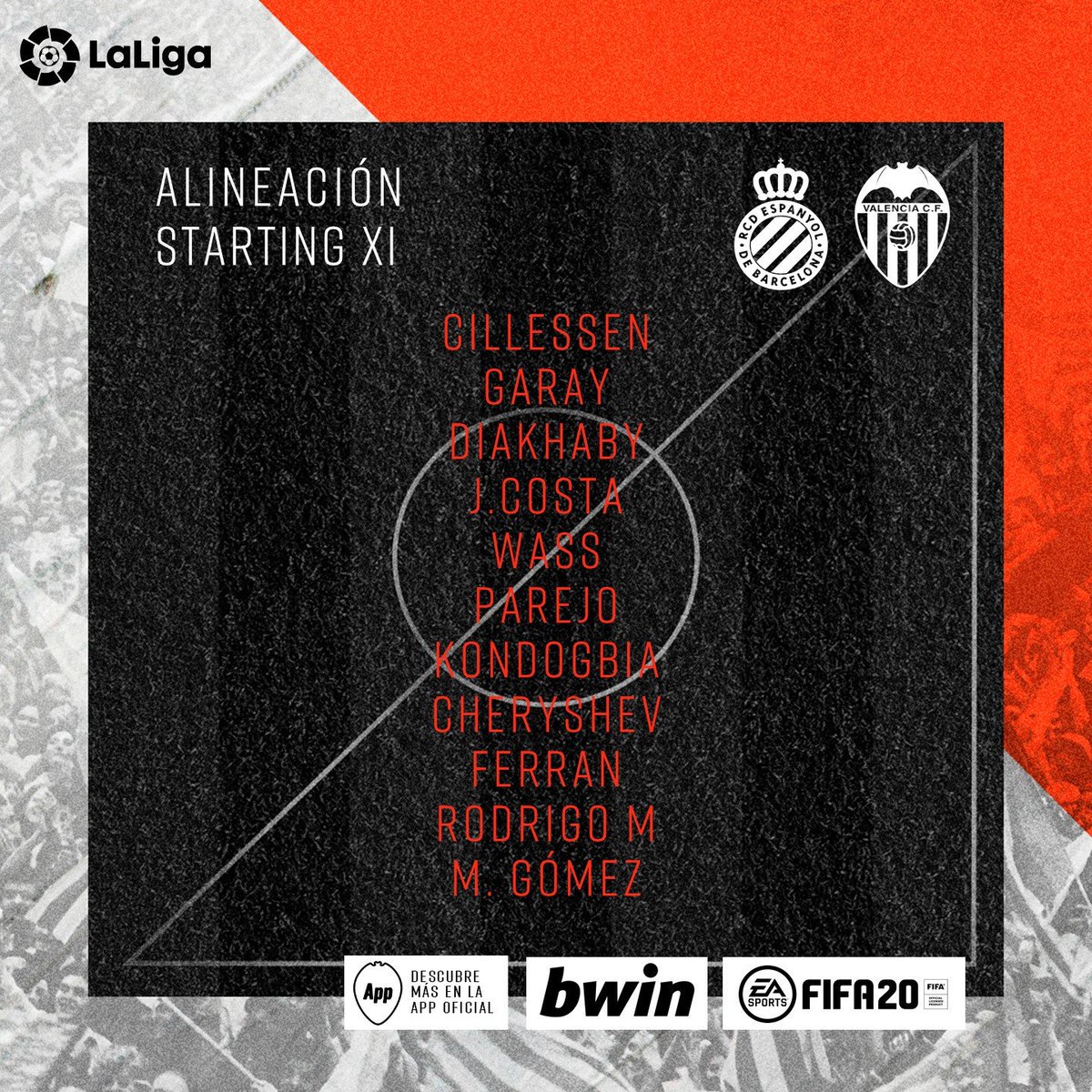 In defense, Diakhaby is brought in for Gabriel Paulista and Gaya is rested, giving Jaume Costa another start. Wass and Garay retain their spots in the lineup.
With Coquelin injured, the start goes to Kondogbia to partner Dani Parejo in midfield. Cheryshev and Ferran play to either side of them in this 4-4-2.
While Sobrino did have a great game last game, Rodrigo and Gomez are still preferred by Celades as the starting strikers.
Bench: Jaume, Paulista, Gaya, Correia, Kang In, Sobrino, Vallejo
MATCH
6' - Nice move from Maxi Gomez, dispossession the defender on the right flank. He makes a run and finds the run of Cheryshev who controls under pressure from two defenders, fire at goal but it's just above the crossbar. Good chance!
8' - Dangerous chance on the other end. A corner from Espanyol finds Darder at the edge of the penalty area, unmarked. He hits the volley into the ground and the ball bounces into the top left corner but a great save from Cillissen!
19' - Pretty even looking game so far, chances for each team.
20' - Parejo with a corner that misses everyone and curls straight out of play on the opposite goal line.
25' - Kondogbia with a great challenge to deny the run of Lei, who was about to go through on goal
30' - Penalty for Espanyol. The ball is headed down following a corner onto the arm of Kondogbia. Yellow card.
31' - 1-0. Marc Roca sends Cillissen the wrong way and slots it into the bottom right corner.
HALF-TIME: Unfortunate to be down 1-0. The penalty against Kondogbia was headed down onto his arm. Other than that the defense had a decent game, clearing everything that came their way. Kondogiba himself helped out a lot with that. In attack the transitions are there, but the final product is still lacking. The best chance has to be the one early on for Cheryshev. Hopefully, the team can be more productive in the final third in the next half.
53' - The referee blows the whistle for a challenge on Diakhaby in the penalty box following a corner. The Espanyol players protest and the referee checks with VAR. The referee is told to check his decision on the video screen and he takes all but 2 seconds to overrule the decision. It looks like Diakhaby handled the ball in the lead up to that challenge.
56' - Lei goes down in the box from just a touch of Kondogbia and appeals for a penalty, referee correctly waves play on.
58' - Garay takes out Sergi Dader to stop his run with a shoulder charge sending him to the ground. Free kick at the edge of the box for Espanyol. Cillissen guess correctly but Victor Sanchez's shot was just wide anyway.
62' - Double substitution from Celades. Ferran and Cheryshev are taken off, Vallejo and Sobrino are brought on.
64' - Rodrigo dispossesses the Espanyol defender in an advanced position. He makes the run and leaves the ball to Maxi Gomez. He tries to return the ball to Rodrigo but he overplays it and Rodrigo cannot reach it.
65' - First change for Espanyol, Lei off, Vargas on.
67' - Penalty for Valencia. Rodrigo is shoved in the back in the penalty box following a cross from Wass.
69' - 1-1! Parejo scores! Diego Lopez dives down to his right but Parejo sends it at a height that is too high for him to reach. Right direction, wrong height from the keeper.
71' - Brilliant build up play for Valencia. Parejo plays the ball to Rodrigo who plays it to Sobrino and continues on his run into the box. Sobrino attempts to return the ball but it again has too much weight on it.
72' - Parejo with a corner. He finds Ruben Sobrino but his header is hit straight at the goalkeeper. He had the chance to do again what he did against Sevilla.
73' - Ferreyra off, Campuzano on for Espanyol
76' - Kondogbia with a great strike following a run where he dummied out a defender to find the space. The effort is just wide. Close chance.
77' - Last change for Espanyol, Darder comes off for Granero.
80' - GOAL for Valencia! 1-2! Rodrigo and Kondogiba team up to dispossess the Espanyol player on the left flank. Kondogbia plays the ball to Vallejo who finds the wide run of Rodrigo. Rodrigo plays a delightful cross for Maxi Gomez on the near post who heads it past the keeper. Great service, and great goal.
86' - Jaume Costa clears a dangerous ball out of the box by twisting his body and hooking it out of play. He's gone down in pain. Meanwhile it appears Sobrino picked up an injury in the build up to that play.
88' - Jaume Costa returns to the field of play, Sobrino is taken off for Gaya.
90' - Six minutes added by the referee for stoppages.
FINAL THOUGHTS
This was a decent game. Espanyol had their chances but they dealt with one way or another, pretty or not, and contained by the defense, with some help from Kondogbia.
In offense, our three best chances were from Cheryshev early on, from Kondogbia from distance, the penalty from Parejo and from Maxi Gomez for the goal. Half of those were converted to goals. The linkup play and build up and transition is there for a lot of the attacks but the final ball is really the missing piece here. Rodrigo could've had 2 goals if the passes from Maxi Gomez and Sobrino were weighted correctly.
It's a shame that Sobrino had to be taken off due to an injury. It seems like every game the team picks up at least one more. Hopefully, its a quick recovery.
The handballs, penalties and booking are a persisting issue with the team. Need to get it under control. This game was surprisingly low booking with only 1 yellow card. There were many challenges that I felt deserved one such as the elbow to the back of Maxi Gomez's head or the dive in the penalty box from Lei.
Picking up points away from home is always good. It was even better for the team's confidence to manage a comeback from behind. Might not have been the prettiest of games and perhaps made harder than it should've been but a win nonetheless.
The team has a big game against Lille next in the Champions League on Tuesday at the Mestalla. This game was good for the confidence to take into that game. The game on Tuesday will be a challenge but it's also the best chance to stay in contention to qualify from the group. We cannot count on other team's slipping up but rather must be proactive and take charge, especially in the two home games we have.