Here we go! This will surely be an interesting game. The second game of the group stage, at home, against a formidable Ajax side. The last game in the Champions League shocked many. To get a result against Chelsea, away from home in the coach's second game (having lost the first 5-2) was shocking to many. This will be a different challenge. Valencia come into this one on the back of a 1-0 away win to a tough Athletic Bilbao side. The team is starting to find their groove and the differences in coaching style are starting to emerge but what doesn't change is that Valencia need a top performance to beat this Ajax side. Maybe even more than that against Bilbao. Both teams come in with a win in their previous Champions League game.
LINEUP
We were promised rotations every game and here we have another case of that. Cillissen remains unchanged in goal after a great performance against Bilbao. With Garay returning from injury, Diakhaby loses his spot in the lineup while Paulista and Costa appear again.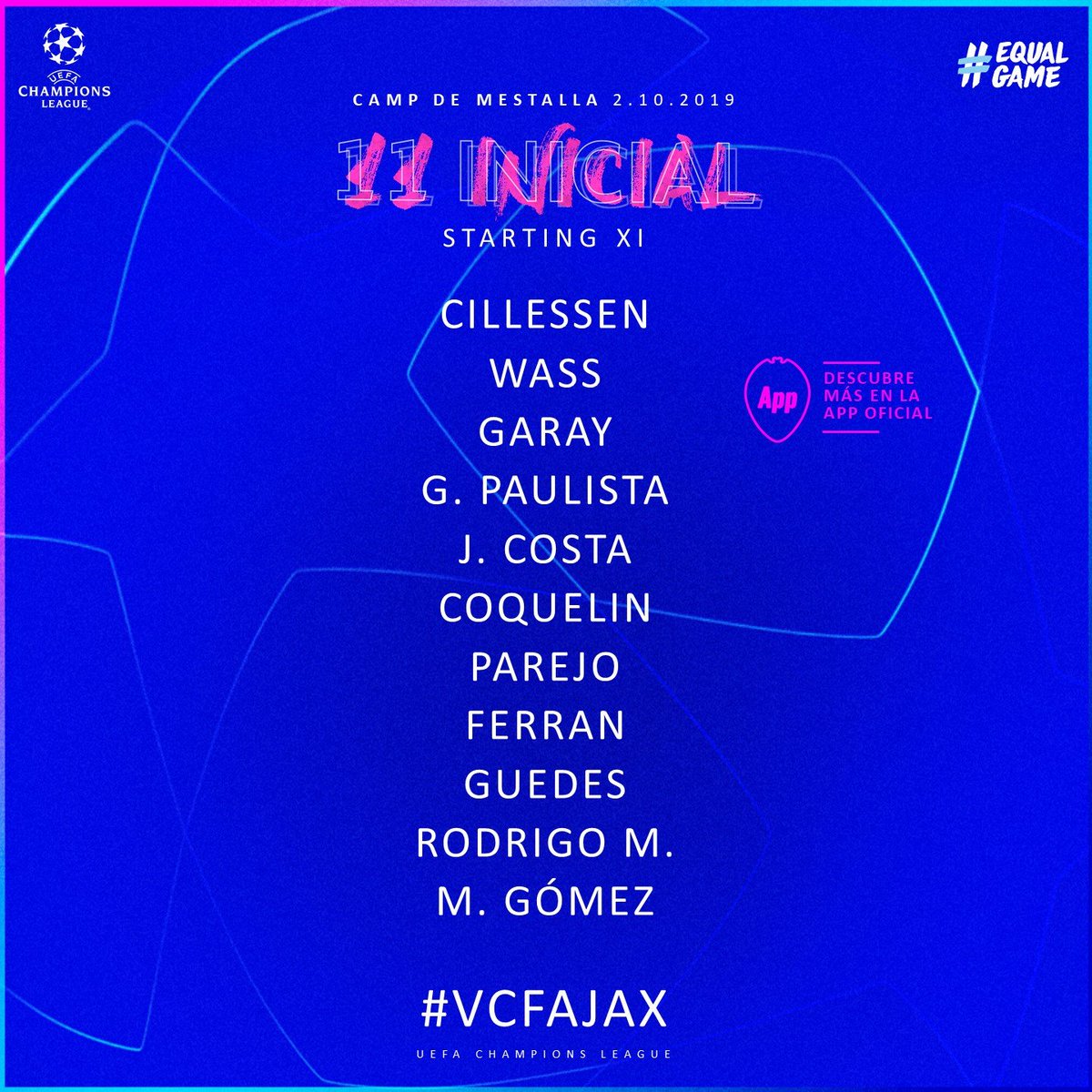 In midfield, one change. Guedes returns after spending two games on the bench. Hopefully, he will return determined and focused on earning back his spot in the team. Ferran joins him in the lineup on the opposite side, with Parejo and Coquelin in between. Maxi Gomez and Rodrigo are the forwards, with Gameiro still injured. Sobrino and Vallejo who got debuts last time, appear again as substitute options.
Bench: Jaume, Correia, Diakhaby, Cheryshev, KangIn, Sobrino, Vallejo
MATCH
8' - 0-1! Goal for Ajax from distance. Ziyech wasn't closed down and fired across the face of goal from the left-side and Cillissen couldn't save.
12' - Yellow card Ajax's Veltman for a challenge on Guedes.
25' - Penalty for Valencia, Guedes was fouled after a good build up. Parejo fires the ball into the sky missing. Valencia needed that goal.
27' - Yellow card for Tagliafico for obstructing Ferran Torres.
32' - Rodrigo with a great touch over the defender to set up a 2 vs 2, him and Maxi Gomez against the Ajax defenders. Maxi carries the ball forward and Rodrigo makes a run, but Maxi takes it too far and the cross is gathered by the keeper.
33' - 0-2 Ajax. The opposition build up play from the right with quick passing. The ball is pulled back for Quincy Promes who was left in tons of space as Wass was ball-watching and not tracking his man.
38' - Ferran Torres with a delightful cross to Rodrigo! He makes contact but hits the post. That should've been a goal, it was a simple tap-in, the team cannot afford to miss those.
41' - Ziyech fires from the edge of the box and hits the post. That was dangerous. Why does he always have the space. He's done these shots even last season, it should have been discussed to mark him more closely.
45+1' - Yellow card for Jaume Costa for a challenge on Tadic
HALF-TIME: Valencia had the lower possession of the ball for the first 20 minutes but had the majority 61-39 by the time the first half finished. Yet still, Ajax lead and they have outplayed Valencia quite frankly. The defense is looking really questionable. The forwards seem really selfish in the final third and often choosing the wrong option of shooting versus a great pass. That, or they take too many touches. The penalty decision was correct but the miss was horrendous. The shot needs to be on target at the very least and force the keeper to make a save. That was unacceptable.
46'- Corner for Valencia taken by Parejo. The ball finds its way to Ferran who shoots from the edge of the box, the ball deflects but the keeper makes a reflex save. That was close to a goal.
57' - Maxi Gomez taken off to be replaced by Kang-In.
60' - Yellow card for Martinez after he trips up Rodrigo on the edge of the box. The free kick is blocked by the Ajax wall.
62' - The opposition goalkeeper Onana is booked for wasting time. Yellow card.
66' - It got worse, 0-3. Very quick passing from Ajax and the defense might as well not have been there. Costa leaves his man in space, he picks out a pass to Tadic who delvers a through ball that takes out all four defenders who were holding a line. Van de Beek is left in space and he drives a low shot across goal into the opposite corner. There is no coming back from this. We're getting outplayed.
69' - Ziyech draws in the entire defense, giving Van de Beek space on the right to run into. He gets picked out and tries to chip the ball over Cillissen into the goal but the ball is headed clear off the line by Garay.
70' - Substitution for Valencia, Coquelin off, Correia on. Wass replaces Coquelin midfield while Correia takes his spot in right-back.
72' - Yellow card for Kang-In as he trips up Alvarez.
76' - Yellow card for garay as he pushes de Beek from behind. Free-kick. Ferran Torres is taken off for Cheryshev to come on.
81' - Yellow card for Promes for wasting time. Neres comes on for Promes.
82' - Yellow card for Blind as he trips up Rodrigo.
85' - Ziyech is replaced by Huntelaar.
86' - A cross from Ajax is headed clear to the edge of the area where Martinez claims it. He fires quickly with a powerful low shot. Cillissen gets a touch and the ball bounces off his glove hits the post and away towards the corner flag. Another close call.
88' - de Beek is replaced by de Jong.
FINAL THOUGHTS
I expected this to be challenging but not like this. All this talk of Ajax losing their best players meant nothing. They still dominated and look sharp as they did last season. Valencia got outplayed. Not to say they didn't get their chances. There were chances from Parejo's penalty, Rodrigo hitting the post, and Ferran's deflected shot. If Valencia had equalized from the penalty the tide of the game could've turned. There is no way to know for sure.
On top of the 3 goals, Ajax had several chances to make this score even more embarrassing for Valencia. The defense had taken the day off and Ajax were happy to exploit that. They were shooting from distance at every chance they got and hitting the target well. They weren't closed down. They also broke down the defense with sharp, quick passing. Cillissen looked shaky against his old team.
There seems to be this weird dynamic between Guedes and Rodrigo. In the final third, none of them looks to pick out the other. They would rather take the shot themselves or retain possession with unproductive touches. Even Maxi Gomez only squared the ball to Rodrigo in the 32 minute, after the chance had already gone.
It's interesting that both Barcelona and Ajax, who are cut from the same cloth in football philosophy, have beat us by this margin. You'd expect this from Barcelona but I don't think anyone predicted this scoreline today from Ajax. They did beat Real Madrid 1-4 at the Bernabeu, so they are capable and the fact is the performance did not respect the level of the Ajax team.
That being said, there were positive performances especially from the dynamic youngsters Ferran and Kang-In. They were always positive, moving the ball forward and creating chances. Rodrigo was good in build-up play and passing but his finishing let Valencia down when they really needed a goal. Paulista had a couple of good tackles that saved some blushes and those are recognized in a night where the defense wasn't at it's best.
Looking forward to next game, Valencia is at home again against Deportivo Alaves on Saturday. The last game before the International Break. It's the team's chance to end with a positive note. Some players will get a change of atmosphere with their national teams while others will have sessions with Celades to work on in depth. I believe Gaya and Gameiro will be back after the break. Also, Soler may be available then as well.