We're back to the Champions League for the 3rd game of the group stage. Today's the chance to show that last Champions League matchday against Ajax is all in the past. The team has a chance to play at least to cement their position as 2nd and within distance of 1st.
Valencia sit 2nd in the table at 3 points, tied with Chelsea on points but ahead on head-to-head. Today's opponent, Lille, sit at the very bottom with no points from 2 games.
Valencia come in having taken a point off a tough Atletico Madrid away from home. Lille come in on the back of a 2-1 loss to Toulouse away from home.
Both Valencia and Lille have lose 3-0 to Ajax. Valencia took 3 points off Chelsea in a 1-0 victory while Lille had a tight contest with Chelsea and just managed to lose out with a 2-1 scoreline.
While Lille is in last place, Valencia cannot afford to take the game lightly. Last year's results against Young Boys should be an example of what not to do. It is perhaps the most winnable game on paper in the group though. And, Valencia play Lille in the next matchday as well. This presents an opportunity to really collect points and get ahead while Chelsea and Ajax clash.
LINEUP
The lineup is largely unchanged from last game against Atletico Madrid. Cillissen retains his spot in goal as it seems that Jaume will be the designated keeper for Copa del Rey and Super Cup.
While Gaya has returned to the squad following injury, Jaume Costa starts this match probably as a precaution still. Garay is rested this game with Diakhaby as his replacement. Paulista and Wass complete the defense as usual.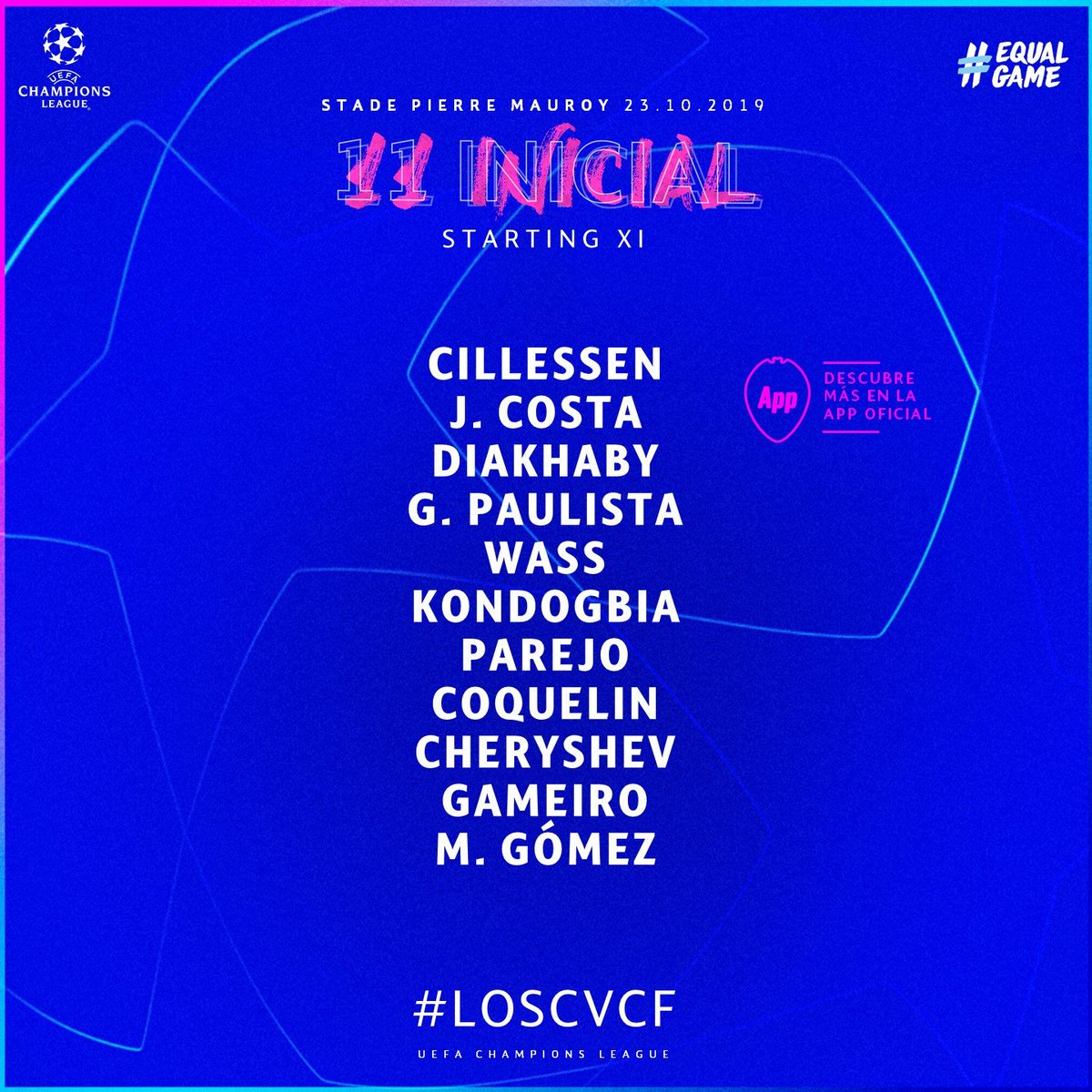 Kondogbia and Coquelin start together once again with Parejo, who was instrumental last game, especially in the second half. Soler who is still being eased into the game after injury starts on the bench. Gameiro gets a start, having come off the bench last game, over Rodrigo who is still out with injury. Cheryshev earns the start yet again with Guedes still out to injury. Maxi Gomez retains his spot as striker.
Celades started last game with a 4-3-3 and did well to adapt to the game and revert to a 4-4-2 when that wasn't working out for him. We saw last game that Maxi Gomez playing as a lone striker was isolated for huge portions of the game. This lineup looks like it could be either formation. If Celades came to the same conclusion about Maxi as we did, it would be a 4-4-2. In attack, this could still transition to a 4-3-3, with Coquelin moving towards the center and Cheryshev joining the attack.
Bench: Jaume, Gaya, Garay, Kang In, Ferran, Soler, Vallejo
MATCH
21' - Jaume Costa fouled by Celik. Yellow card for the Lille player.
41' - VAR check for a penalty following claims that Jaume Costa handled the ball. The ball rolls up his side and to the bottom of his shoulder. VAR rules no penalty. Araujo is booked for dissent against the decision. Yellow card.
46' - Celades brings on Soler for Kondogbia. This makes more sense. Valencia was having trouble getting the ball forward. Soler can do that.
63' - GOAL for Valencia! 0-1! Maxi Gomez with a wonderful through ball to send Gameiro through. He looks up, sees the run of Cheryshev and plays a great ball across to him. Cheryshev controls and fires to the far post, the ball passes through the keeper's hand. One of Valencia's only chances and it's a goal! Great build up and great finish.
65' - Gameiro comes off for Kang In. For Lille, Araujo is take off for Ikone.
71' - Yazici is replaced by Loic Remy.
82' - Diakhaby is booked for time-wasting. Yellow card.
84' - Barely two minutes later and Diakhaby manages to get himself a second yellow. Red card is shown Valencia is down to ten men. Diakhaby received the ball in an advanced position, losses possession and cuts across the Lille forward, taking him out in order to stop the dangerous chance.
86' - Djalo receives a yellow card for a challenge from behind on Maxi Gomez.
87' - Celades sacrifices Cheryshev to bring on Garay to complete the defense and see out this game. Lille go for more offense, taking off defender Djalo (who is also carrying a booking) for midfielder Bamba.
90' - Referee adds 6 minutes of time for stoppages.
90+4' - Yellow card for Maxi Gomez for a push on Andre.
90+5' - Lille goal. 1-1. So close. Two minutes from time and the lead is gone. An aerial ball is headed back into the box, the Lille players beats Garay to it and heads it down to Ikone. Ikone takes out Paulista and Jaume Costa with a slick touch and fires the ball into the roof of the net. Cillissen was well positioned but the ball just went over him.
90+9' - Foul on Maxi Gomez by Lille's Gabriel. Yellow card.
FINAL THOUGHTS
Well, this was exactly what I was speaking about in the preview. Lille played better. With Ajax losing to Chelsea earlier, Valencia could've set up a 3-way tie for first place. Instead Valencia barely showed up, especially in the first half. So many misplaced passes and possession periods wasted. The ball just couldn't get past the final third. This made me think of the impact and role Rodrigo has on our attacking transitions and what a difference it has been in the games without him.
Second half was definitely better especially with the introduction of Soler at half-time. This managed to earn Valencia a good chance, started by Gomez, carried by Gameiro and finished by Cheryshev. It was good at that point and Lille were getting frustrated. You could see them protest every action and every decision. Then, in the span of two minutes, Diakhaby manages to get booked twice and sent off. With 6 minutes of time to play and 6 additional minutes, plus Lille taking off a defender for a midfield player, it was a tense ending. Lille got a goal that left our defense looking the weakest it's been. Watching the goal over, three defenders were on Ikone and he takes them all out with a single move. Cillisen was set up well but was expecting a lower shot and that was not the case.
This was one game where it's hard to find positives other than the goal really. That was the only moment where it felt that the team were switched on.
Next game in the Champions League will also be against Lille, this time at Mestalla. As for the team's next game, it will be this Sunday away to Osasuna.